CINCINNATI -- How is this for a paradox:
Cincinnati is coming off the best two seasons in school history, back-to-back Big East titles and BCS bowl appearances, including a perfect 12-0 in the 2009 regular season. If any Big East team would seem to want to stay the course, it would be the Bearcats.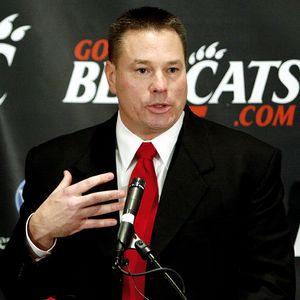 AP Photo/David Kohl
New Cincinnati head coach Butch Jones has a different style than the previous regime.Yet new coach Butch Jones espouses the phrase "change is good." And his players appear to have wholeheartedly accepted that premise.
Why in the world would Cincinnati want to change things now?
"We've won two Big East championships, and coach [Brian] Kelly and his staff did a great job here," Jones said. "[But] you're always fighting human nature, and that's complacency. So I think change is good."
Jones knows something about bringing change to a program used to Kelly's way. He followed Kelly at Central Michigan and built upon the success of his predecessor, culminating this past season with a 12-2 record and Top 25 finish for the Chippewas.
It helps that Jones runs a very compatible offensive system -- a high-tempo, no-huddle spread attack. But the similarities between Kelly and him pretty much end there.
While Kelly has the outsized personality and a politician's way with words, Jones is more of a low-key guy who emphasizes a family atmosphere. In his first meeting with the team, Jones wrote his cell phone number on a grease board and told the players to call or text them any time they wanted. This was a change from Kelly, who led the team like a CEO and had a more distant relationship with individual players, though his way certainly produced terrific results.
Quarterback Zach Collaros learned this new style when Jones called him on Christmas Day.
"Merry Christmas," Jones said. "We're going to be spending a lot of time together the next couple of years."
When Collaros and teammate Derek Wolfe went to Florida last week for spring break, Jones and offensive coordinator Mike Bajakian called to see how they were doing and ask about the trip.
"It's pretty cool that they're like that," Collaros said. "They take an interest in your personal life."
Unlike some other programs with first-year head coaches, Cincinnati players didn't have to put their names on their helmets when they took the practice field this spring. Jones called that a source of great pride.
"It's all about people," he said. "Part of being a family is knowing each other's names. So I expected us to walk out here and know each other's names. It's a small part, but it's a big part, too. The more we know about each other, the more we're willing to do for each other."
Maybe this approach is exactly what the Bearcats need. Their sense of trust shattered in December, when Kelly told them he wouldn't leave before the Pittsburgh game, only to break the news a week later at their season-ending banquet that he was headed to Notre Dame. Cincinnati's dispiriting performance in a 51-24 Sugar Bowl loss to Florida sure seemed to prove the team was distracted and disjointed.
But Jones isn't here to just hold hands and sing around the campfire. His practices burn with intensity, beginning when he chest bumps players during stretching. The offense must sprint to the line of scrimmage after every play, and anyone caught lounging will get some face time with one of the assistants, nearly all of whom are zig-zagging around the field and splitting ear drums during practice.
"We were high tempo before, but this is something new for us," linebacker JK Schaffer said. "It's another level."
The question is, can Jones get Cincinnati to another level? There's not much room left to climb after going 12-0, except for finally winning a BCS game and competing for national championships. That will be the hardest change of all, but at least Jones isn't starting from scratch.
"We're not coming in here and having to teach them a belief to win," Jones said. "They expect to win and they're extremely competitive, so that's been the great thing."