One of Utah State's goals this spring was finding a replacement for running back Robert Turbin, who suffered a knee injury during offseason workouts.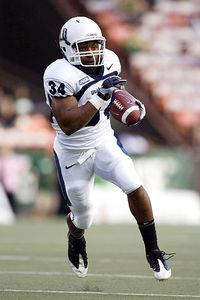 AP Photo/Marco Garcia
Utah State running back Michael Smith is stepping in for the Aggies while teammate Robert Turbin is out.
Turbin could be back early in the season, but in the meantime, the Aggies have to find a suitable backup plan in case Turbin's injury keeps him on the shelf for the entire year.
Enter Michael Smith.
Smith, a senior, was Turbin's backup last season and accounted for 290 yards and four touchdowns on 46 carries. He was the top contender heading into the spring campaign and has continued to secure that role with just two weeks remaining in spring ball.
During Saturday's scrimmage, Smith rushed for a game-high 112 yards and touchdown and had 91 yards receiving.
"I wouldn't say I am getting comfortable," Smith said. "I am learning my plays more and understanding the offense more. I am more comfortable. I haven't won the starting spot yet. They haven't told me that I am the guy. I am looking forward to leading this team and making a major impact."
When spring ball started, Turbin said the natural go-to guy would likely be Smith. But the Aggies have three capable backs in spring practices, including Derrvin Speight and Kerwynn Williams.
"Michael Smith was the second-string guy last season and behind him was Derrvin Speight. Both of those guys are going to be seniors and I believe that they can both get the job done," Turbin said. "They're two very, very different running backs and I think they can make a pretty decent one-two punch combination there."
But sophomore Williams also has been making a strong impression on coaches, which will only help the Aggies if they have to go to a committee approach. Coach Gary Andersen said he anticipated having to use multiple running backs to replace all the things that Turbin could do.
"I think it will be a committee situation, I really do because our backs are very different," Andersen said in an interview in March. "The thing that Robert brought to the table was he caught the ball very well. He was a very good zone runner, he was a physical runner and he was also a tremendous pass protector. I can't say that another back we have has all of those areas where he's such a quality player, but they'll work at it."
Turbin has tried to be at every practice and every meeting, cheering his teammates on and being a player-coach. Although his injury won't let him participate in spring ball, he still feels like he's part of the action.
Turbin said he's all about the team and he wants the best running back to play, which he confesses might not be him as he continues his rehab.
"I'm telling them stuff that I learned from the coaches and telling them stuff that I've experienced as a player," Turbin said. "Being injured is tough, but I still tell myself that I have to be out there to help the young guys. I want the best for the team."