1. The top remains unchanged: Boise State and TCU finished this past season as the top two nonautomatic qualifying teams, and that's probably how they'll open the 2010 season. Both teams had little to replace this spring and found some extra depth that will help this season. Boise State will be the team to beat in the fall, and if the Broncos get past Virginia Tech on Sept. 6, they might be the team to beat in the national title game.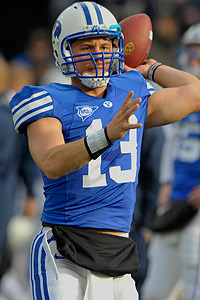 Boyd Ivey/Icon SMI
Riley Nelson is one of three quarterbacks vying for the starting job at BYU.2. Nevada is trying to be a dual threat: Nevada had the most dynamic running game in the country last season, but it wasn't enough to get a win over Boise State, something the team aspires to every season. The Wolf Pack know they need to get a consistent passing game in place if they want to challenge the Broncos, and with a talented crop of receivers available, diversifying the offense is possible.
3. Settling on a quarterback: Five of the 12 non-AQ teams profiled haven't named a starting quarterback heading into fall camp. The most publicized of those races is the one at BYU among Riley Nelson, Jake Heaps and James Lark, but the races at Troy, East Carolina, Northern Illinois and Fresno State are equally as intriguing, especially since most of the challengers are either walk-ons or freshmen.
4. Running back depth everywhere: The one thing none of the non-AQ teams profiled is lacking is a group of quality running backs. Some teams went into the spring with running back questions and came out with more running backs than they knew what to do with. The non-AQ teams are often among the leaders in rushing offense, and this batch of teams could all be hovering at the top.
5. Injuries make things interesting: While all of the non-AQ teams profiled should be at the top of their respective conferences, several of them have injury concerns that could be a big deal in the fall. Utah and Northern Illinois both have injured quarterbacks, while Boise State and BYU have concerns on the offensive line.