Duke's David Cutcliffe intent on winning
August, 4, 2011
8/04/11
5:00
PM ET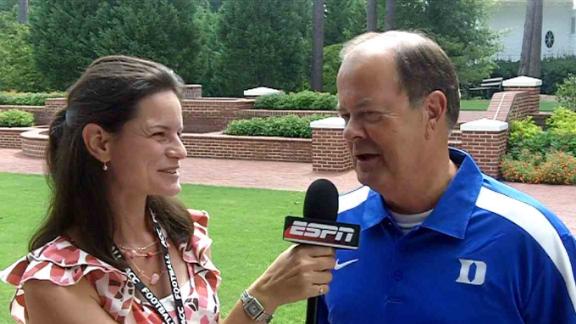 Every morning, Duke coach David Cutcliffe takes what he calls a "gratitude walk" during which he contemplates what he has to be grateful for, and at the end of every day he assesses everything that has been accomplished.
Over the past three seasons at Duke, a program that has had just three seven-win seasons over the past 48 years, Cutcliffe has had to learn to measure success differently.
"My whole life has been associated with the scoreboard," he said. "That's how most people measure me. I know when all of the dust settles it will say, 'David Cutcliffe,' and have a win-loss record, and that's what everybody will think. Either 'Hey, he was a good coach,' or 'Boy, he was a bad football coach.' But if we're doing what we're supposed to be doing, and doing it as well as I think we are, then at the end of every day I've kind of learned to be grateful for the things we've accomplished. We've accomplished a lot at Duke."
[+] Enlarge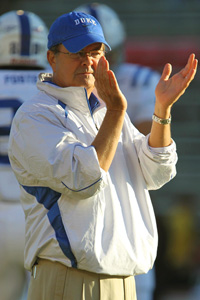 Mitch Stringer/US PresswireDavid Cutcliffe says the Blue Devils are good enough to be a bowl team this season.
Including 12 wins in three years -- two more than the program's total in the previous eight seasons. Facilities, attendance, fan support -- it has all improved under Cutcliffe. But he wants more. He is a former SEC coach who is used to winning and competing at the highest level. He led Ole Miss to four bowl games in six seasons and coached Super Bowl MVP quarterbacks Peyton and Eli Manning. He has participated in 22 bowl games.
An increase in ticket sales is nice, but Cutcliffe's bottom-line number is an increase in wins. Period.
"There's things you trick yourself into thinking, 'Oh, this is good,' but to me, I can't get away from that scoreboard," he said. "We want to win. Always. I'm not going to rest until that's what we consistently do. That's what our expectations are, to always win more than we lose. When we have special years, guess what? Anything can happen."
Duke fans want to know if it will happen this year.
The Blue Devils haven't been to a bowl game since 1994. Duke has shown flashes of potential and is a faster, better-conditioned program than the one-win team Cutcliffe inherited. The recruiting has improved, but the defense, particularly up front, must make significant strides this fall if the team has any chance of reaching the postseason. Duke has one of the top quarterbacks in the league in
Sean Renfree
and two of the ACC's most talented receivers in
Conner Vernon
and
Donovan Varner
.
"If you open your eyes and look at us play, you'd have to be blind not to see a difference," Cutcliffe said. "We're a good football team. Ask these guys who coach against us. They're not all just jumping for joy, wanting to play Duke anymore. They don't just put a W by it at the start of the season. They know there's a difference."
But are they good enough to be a bowl team?
"It is if we play as well as I think we should play," Cutcliffe said. "It is without a doubt. We're good enough to be a bowl team. People are going to look at me funny, but we were good enough to be a bowl team last year with a 3-9 record, we really were."
Duke has over 30 players on its roster who are freshmen and sophomores who should play this fall and make a significant impact. About 11 of those players are up front on defense, seven of whom were redshirted last year. The staff has recruited a higher-caliber athlete, but recruiting still remains one of Duke's biggest challenges.
"We can make them good players," Cutcliffe said. "If we're not recruiting good players, it's our fault, so we start with a guy good enough to win the ACC within our mind and then we get into grades. I don't start with the grades. I don't go in and ask, 'Who are the players you've got who can get into Duke?' I still get high school coaches who have six prospects and say, 'I've got one for you.' Does that mean he's not good enough? I don't want to talk about this one, I want to talk about these three and let me decide whether they can get into Duke or not. That's still part of the battle, and that's OK. It's not supposed to be easy, right?"
Nor has it been.
Cutcliffe knew what he was in for when he took the job at Duke. And he's still in it for the long haul.
"Everybody has moments when you think, 'Good gosh,' but actually, and this is the truth, I'm having more fun than I've ever had," Cutcliffe said. "I love reading John Wooden's stuff. I think the man was an incredible human being, forget coach. And as long as you feel rewarded, as long as you love the players -- that's how I gauge it -- I can endure anything if I love the players and who they are and what they stand for. And I love these kids beyond imagination in that regard. So I don't even think about that really. … I hope I do this 10, 15 more years. I'm in a great place in that regard. I'm not going to let this beat me up."