Schnellenberger leaves dual legacies
August, 11, 2011
8/11/11
6:17
PM ET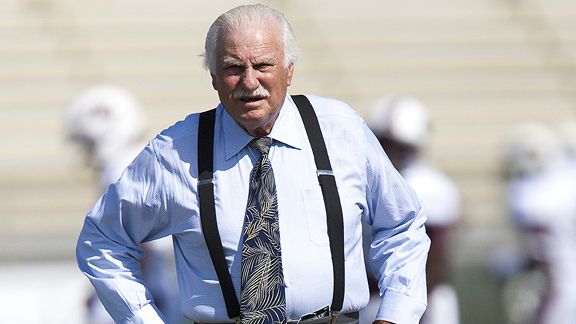 Michael DeHoog/Sports Imagery/ Getty ImagesHoward Schnellenberger led both Miami and Florida Atlantic to national prominence.
It is the rare coach who can catapult a college football program onto the map. Rarer still is the coach who can put two college football programs on the map.
Howard Schnellenberger achieved both, making his mark as one of the most influential college coaches in South Florida and perhaps the nation. It was Schnellenberger who started Miami on its path as a national program. It was Schnellenberger who built the Florida Atlantic program with his vision and hard work. Difficult to forget what he did at Louisville, too.
Schnellenberger gave himself completely to college football. But now, at 77, the time had come for him to take a deep breath and retire after a 50-plus year career.
His departure had been the subject of speculation for months. Schnellenberger is in the final year of his contract with Florida Atlantic and achieved what he set out to do when he arrived in Boca Raton. His baby, an on-campus stadium for his Owls, will open in October. That caps the perfect ending to a career that has seen its share of success.
Schnellenberger has learned from the best, playing for and coaching with Bear Bryant. In fact, he was coaching for Bryant the year FAU athletic director Craig Angelos was born. Schnellenberger then moved on to the NFL, where he served under Don Shula on the Dolphins' staff the year of the perfect season in 1972.
Hard to get better mentors than Bryant and Shula. So when Schnellenberger took over at the University of Miami in 1979, nobody should have been surprised when he predicted the Hurricanes would win a national championship within five years. Granted, the UM of 1979 was not the UM of today. There were no national championship banners. No swagger. No U.
But there was talent, and a man intent on bringing this program to national prominence, with the coaching chops to get it done. When his Hurricanes upset Nebraska 31-30 in the 1984 Orange Bowl to win the national championship, he set the future course for the program. Veteran Miami assistant Art Kehoe told The Associated Press: "I don't know if this program would have ever gotten off the map like it did without Howard's leadership. What he did for this place is unbelievable."
Miami went on to win national championships in 1987, 1989, 1991 and 2001, becoming one of the most feared programs for a stretch in the 1980s and 1990s. The Hurricanes of today are trying to recapture a little of the magic Schnellenberger spread while he was there.
But even more than winning that national title at Miami, Schnellenberger has taken immense pride in what he has done at FAU. When FAU announced it was starting a football program in talent-rich South Florida in 1998, many wondered how the program would survive, let alone compete. But Schenllenberger was the driving force, doing everything possible to get his program noticed.
The Owls began play in 2001, and incredibly, it was not long before the Owls were playing on the Football Bowl Subdivision level and winning bowl games. Just four years after moving up to FBS, Schnellenberger took his team to a bowl game and a Sun Belt title in 2007. They went back to a bowl in 2008.
But FAU was missing a place to call home. Schnellenberger drove that point home the day he began working for FAU, spearheading fundraising efforts to help make it happen.
"Three university presidents were involved in this, but one coach," FAU president Mary Jane Saunders said last week, when the lights were turned on in the stadium for the first time. "And it's coach Schnellenberger that made this happen."
With his white mustache, signature pipe and booming voice, Schnellenberger became an iconic college football coach. Is he Hall of Fame worthy? His career winning percentage of 52 percent falls short of the required 60 percent to be eligible. There also were missteps along the way. His one-year stay at Oklahoma ended in disaster. In fact, that season -- in which the Sooners went 5-5-1 -- is the only one not mentioned in his FAU bio.
No coach is perfect. And there is no disputing the impact Schnellenberger had at Miami and FAU.
He leaves behind dual legacies, something any coach would be proud to say.