Vick Ballard is quietly one of the SEC's best
August, 18, 2011
8/18/11
4:15
PM ET
When asked about who he thought was the toughest running back to bring down in the SEC, LSU linebacker Ryan Baker didn't hesitate with his choice.
He remembered his struggles with him, could see his face and his jersey clearly in his mind. But his name? Not so clear.
"I was really impressed with the guy at Mississippi State. I don't know his name," Baker said.
[+] Enlarge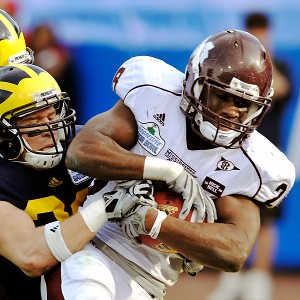 AP Photo/Stephen MortonMichigan safety Jordan Kovacs went from walk-on to honorable mention All-Big Ten as a sophomore.
No worries, Ryan, not many people do. It's just how it is for senior
Vick Ballard
. There are other running backs in the SEC that are higher on the pecking order for people. Alabama's
Trent Richardson
and South Carolina's
Marcus Lattimore
are just two of the names you'll hear more frequently than Ballard's.
It can get frustrating at times, but Ballard doesn't put too much stock in it. Besides, he spent 2010 flying under the radar and all he did was set a Mississippi State record with 20 total touchdowns, 19 of them rushing.
Ballard, who is a mixture of power and grace on the field, was one of five running backs nationally, and the only in the SEC, to have 19-plus touchdowns, average more than 5 yards per carry and have 950-plus rushing yards (968 to be exact) in 2010.
Not bad for a player who is a year removed from junior college ball.
Ballard has never been the best athlete at his position. He won't blow past people or consistently barrel through players, but he's always been a hard worker. When Mississippi State coach Dan Mullen was recruiting Ballard at Mississippi Gulf Coast CC in Pascagoula, the thing that impressed him was how everyone praised Ballard's work ethic and attitude before his skill. He had this determination that Mullen thought was really special.
"That is something that catches my attention, something that when you turn on the film and you watch, he's not the fastest player out there, he's not the most dynamic move, he's not a monster big back, he's just a great football player," Mullen said of Ballard.
But as Ballard begins his final season in Starkville, he's noticing that while he isn't the most talked about running back, his name does come up in more conversations here and there. That's refreshing, but it can also be a danger. Ballard doesn't want to get caught up celebrating the hype and forgetting his focus.
"I'm self-motivated, man," Ballard said. "When you have a lot of people talking to you, it's hard to stay humble. I try not to let it get to me and just stay self-motivated and let everything handle itself.
"In this league everybody's big everybody's fast. You get better in your head the mental aspect of the game. My coach always said the smarter you are the better you are."
And Ballard expects to be even smarter this fall.
So where will that put him on the impressive list of SEC running backs? He doesn't know and he really doesn't care. To him, there are too many factors that should come into play when talking about who's the best.
"We're pretty stacked in the SEC, but the way I look at it is we all do different things better than the others," he said. "I don't think you can rank us one, two, three, four, five.You have to look at as what aspect of the game we do better."
Ballard is just hoping that whatever he does not only makes him better but his team as well.