Your suggestions for new Cy-Hawk Trophy
August, 24, 2011
8/24/11
4:00
PM ET
The people spoke, and the Iowa Corn Growers Association listened. The
Cy-Hawk Trophy will be getting another new look
, and hopefully a better one.
A temporary trophy will be used for this year's Iowa-Iowa State game, while a permanent design will debut in 2012. The Iowa Corn Growers Association wisely is reaching out to fans for their input on the trophy.
We did the same, and the response, not surprisingly, was tremendous. Kudos to you folks.
[+] Enlarge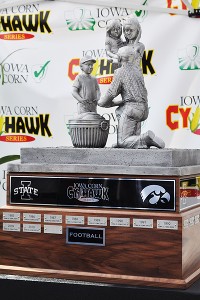 iowacorn.orgThe reviled new Cy-Hawk trophy, given to the winner of the annual Iowa-Iowa State football game, has been scrapped just four days after its unveiling.
Here are some of the best suggestions:
Mike from St. Louis:
Simple. Jack Trice in his Iowa State uniform shaking hands with Nile Kinnick in his Iowa uniform at mid-field.Captures Iowa/Iowa State, the two stadium names, two great icons, and the feeling of sportsmanship and state unity.
Gary from Houston:
How about making a bronze trophy of Chief White Cloud, the Chief of all Iowa, on a budding bronze field of corn on top of a walnut base. The total weight of the trophy should be 109 pounds equal to the distance in miles from Iowa City to Ames. Chief White Cloud's 1845 portrait appears to have scarlet, yellow and black in it. Of course he'll be holding a football to answer the "Hayden Fry" question.
Bob from South Elgin, Ill.:
The new trophy for the Iowa-Iowa State rivalry should have Jack Trice (Iowa States stadium namesake) and Nile Kinnick (Iowa's stadium namesake) facing each other on the gridiron. The slogan could be "we fight for our home turf". The symbolism of each man's heroic effort for freedom and equality goes WAY beyond the field of battle. It talks to the enduring qualities they both brought to each of us.
DZ from Waterloo, Iowa:
New Cy-Hawk Trophy Ideas-Go with the corn theme, have an oxidized copper ear of corn pulling down revealing a bronze football.Or have it be a football being peeled down like and ear of corn to reveal the corn beneath.
Derrick from Marion, Iowa:
My suggestion for a revised trophy would be to have a background with an agricultural setting (i.e. cornfields, barns, windmill, etc.) that transitions into the foreground which is representative of a football field. On that field have statues of Nile Kinnick and Jack Trice posing in prototypical poses used during their era in photographs. Locally the stories of each of these young men is well known; however, their story is less known outside the Midwest. I see their inclusion on the trophy an opportunity for their stories of equality and service to country to be told to those outside the Midwest. Each of these young men truly represented all that is good with sports and a trophy honoring them would be fitting and worthy of competing for.
Dave from Orange County, Calif.:
A big silver ear of corn, and each year the winners name is carved into a new kernel.. Think Stanley Cup of corn!! relevant and exciting.
Jason from Kansas City, Mo.:
Adam,I'm a Husker fan but thought of a great idea for the Cy-Hawk Trophy. Now picture this: On the base of the trophy is a field of corn in the shape of a Hawkeye, but where the eye of the Hawkeye logo would normally be, there is a twister (or cyclone) rising up from the field of corn, and either in or on top of the twister is the eye of the Hawkeye. Now, there's your trophy.
Brodie from Davenport, Iowa:
The trophy should be a giant thank you card from Iowa State saying "thank you for still putting us on your schedule"
Yvonne from California:
Keep it simple. The best college football trophies are a single symbol: a victory bell, a jug, a giant ax, a pig, the Axe. Take the basket of corn that's in the center of the current trophy and make a version of that the trophy. Then either put a base with the game scores under it, or have a plaque with the scores on the front of the basket.
A. McFadden from Cedar Falls, Iowa:
My suggestion for the annual Cy-Hawk Trophy:Showing the two mascots in a heated battle of "upper hand," with the usual stick being a stalk of corn with one of the visible ears of corn near the top of the stalk replaced with football with the usual corn husk surrounding it. This would embody the rivalry of "getting the upper hand" every year.
My take:
I absolutely love the suggestions that incorporate Jack Trice and Nile Kinnick. The legacies of both men should be celebrated as much as possible, and a rivalry trophy would be a great way to do so. My concern, as many of you point out, is that the trophy also likely needs a connection to corn because of the sponsor (Iowa Corn Growers Association). Would having a trophy with Kinnick, Trice and corn be too crowded? Perhaps. As Yvonne points out, the best rivalry trophies are simple symbols. I like the idea of a corn stalk being peeled to reveal a football. But if there's a way to display Trice, Kinnick and corn in a design both fan bases would enjoy -- as would the game sponsor -- it seems like the way to go.