Big East picks up the pieces
September, 18, 2011
9/18/11
12:32
PM ET
The Big East has been
raided for the second time
in eight years, losing Pitt and Syracuse to the ACC the way it lost Miami, Boston College and Virginia Tech back in 2003.
Frankly, the jolting moves are a blow to the future of the conference and put even more pressure on commissioner John Marinatto to try to save the league.
While commissioners Jim Delany (Big Ten), John Swofford (ACC), Mike Slive (SEC) and Larry Scott (Pac-12) have all worked to position their conferences for survival in the realignment sweepstakes, Marinatto has had to deal with squabbling among separate factions in his own league, trying to balance concerns from basketball members and football members. He made the bold move of bringing TCU into the fold last year, but what happened after that?
The Big East talked about positioning itself for its next media-rights deal but has since watched from the sideline as other leagues have made bolder decisions. The botched attempt at bringing Villanova into the ranks earlier this year only underscored that the Big East really had nobody leading the charge to secure its future.
Indeed, when Syracuse and Pitt officials joined an ACC conference call Sunday morning to talk about their decision to leave the Big East, each one referenced the need for stability. Although nobody referenced Marinatto or the future of the Big East, it was clear that Syracuse and Pitt had to look out for their best interests. And their best interest was leaving behind a conference in which they were flagship members.
Pitt chancellor Mark A. Nordenberg said he informed Marinatto as early as May 2010 that Pitt would be forced to look elsewhere for a new conference in the name of long-term stability.
[+] Enlarge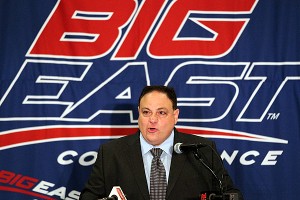 AP Photo/Stew MilneBig East commissioner John Marinatto knows he has his work cut out for him.
"We did make clear within the Big East that we were willing to work to improve the conference in any way we were asked, and we did that, but we also made very clear that if other opportunities did arise, we would feel as if we were obligated to seriously assess them looking at the long-term future of the University of Pittsburgh," Nordenberg said. "I made that point clear in writing both to the commissioner of the Big East and to the chair of the conference in May 2010. They each responded by indicating to me they thought the position I had articulated for Pitt was the position that had been embraced by all the other members of the conference, and they appreciated the care that I had taken to articulate that position for them."
Syracuse athletic director Daryl Gross did not want to characterize the Big East as unstable, but he mentioned self-preservation as the motivating factor for the move.
"It's more of what's in the best interest of our institution and what opportunities do you have for your institution that you look at things going on with your current conference and try to make the best decisions that are long-term decisions," Gross said. "These are very sophisticated, complicated processes that we go through to ensure the sustainability of our athletic department."
If Marinatto had a hard time keeping this group together, what will he do now that the seven remaining football-playing members of the league are re-evaluating where they fit in the landscape? Let's be honest: Nobody has any guarantee that the Big East will be able to survive this. Swofford said his league was happy to stay at 14 but did not rule out eventually growing to 16 teams. With its emphasis on remaining an East Coast conference, does that mean Rutgers and Connecticut could eventually join the fold?
When asked specifically about the possibility of laying off the Big East in the future, Swofford said, "We're not focused on that. I'm focused on this 14 right now and making that work the best that it can possibly work."
But there is no question that each remaining Big East school must think about its own long-term viability without any loyalty to rival programs or the league itself. Louisville athletic director Tom Jurich told local reporters, "
We just have to be aggressive
. ... I want to do the right thing. I'd prefer to be in the Big East, but we're not going to rule out anything."
Rutgers athletic director Tim Pernetti said the same: "We are a committed member of the Big East and will continue to explore all of our options and do what's best for Rutgers." Every other remaining Big East school expressed the same sentiment.
What would help the cause to keep the Big East a viable conference would be the dissolution of the Big 12. Picking up schools like Iowa State, Baylor, Kansas, Kansas State or even Missouri would stabilize the league. But how long would that work? Would Rutgers and Connecticut eventually bolt for the ACC or even the Big Ten should those conferences expand further? Is West Virginia a viable candidate for the SEC? Each of those conferences presents much more appeal than a newfangled Big East-Big 12 mash-up.
This mess is not over. Marinatto spent his day Saturday working the phones during the West Virginia-Maryland game. He finally issued a statement late Saturday, saying, "I continue to believe the Big East conference is well positioned for the future and that the events of the past 24 hours will unify our membership. We have been working steadily to solidify and strengthen the Big East and position us for our upcoming TV negotiations and I am confident that we will again emerge from this situation and remain strong."
The Big East survived in 2003. Will it again?
The tough work is ahead for Marinatto.