Celebrating Halloween across the Big 12
October, 31, 2011
10/31/11
11:00
AM ET
Don't get too spooked. It's just Halloween. Time for a little black-and-orange on the blog.
Scary movie --
Worst loss of the season: Oklahoma State 70, Kansas 28. Kansas' historically bad offense met one of the best offenses in the nation. The result? A 35-7 deficit after the first quarter and a 56-7 halftime score. How bad could this one have gotten? We can only imagine.
Nightmare on Joe Routt Boulevard --
Oklahoma State 30, Texas A&M 29. It had all been so dreamy. Fans at Kyle Field hoped a 17-point halftime lead against a top 10 team in Oklahoma State turned to a coronation. Nope. That lead was gone by the end of the third quarter, and Oklahoma State celebrated on SEC turf with a "Big 12! Big 12!" chant before Mike Gundy broke out some dance moves in the locker room.
Trick or treat --
Bedlam in December. This could be the best or the worst for Oklahoma State. Knock off an elite Oklahoma team to get to the national title game? That's how it should be. But lose a 10th consecutive game against the Sooners to have a dream season finish without the ultimate title chance? The stakes will be high on Championship Weekend.
[+] Enlarge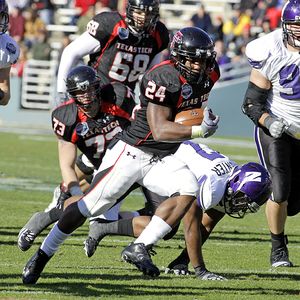 AP Photo/Sharon EllmanTexas Tech running back Eric Stephens' knee injury halted his quest for a 1,000 yard season.
Boo (boo) --
Eric Stephens
, RB, Texas Tech. Stephens was on his way to becoming the first 1,000-yard rusher at Texas Tech since Ricky Williams in 1998. The junior was rolling, until he dislocated his knee against Texas A&M and will miss the rest of the season. Definitely the most costly injury of the season, closely followed by
Dominique Whaley
at Oklahoma.
Night of the living dead --
Iowa State. Just when you think the movie's over, one last victim gets it from a villain left for dead. Paul Rhoads pulled a sneak attack and the Red Raiders had no chance. The Cyclones walked into a place they'd never won and a team that had lost four consecutive games by at least 16 points. The result? Iowa State 41, Texas Tech 7.
Jason Voorhees --
Missouri. Missouri's taken its share of knocks this year, though all four of its losses came to ranked teams. (OU, OSU, K-State, Arizona State.) The Tigers won't be killed. They rallied from a two-touchdown deficit for a season-changing win to beat Texas A&M in overtime for the program's first road win over a ranked team since 1997.
Black cat --
Texas Tech. Once again, the Red Raiders were a frightful sight. They beat Oklahoma in 2007, Texas in 2008, and moved to 4-3 against Oklahoma since 2005 with a national title hope-killing 41-38 win in Norman earlier this month.
Ghosts, Goblins, Ghouls – under-the-radar players:
Jake Knott, LB, Iowa State: Yet again, Iowa State's lack of winning ways has him overshadowed. He's made 70 tackles, 3.5 tackles for loss and two forced fumbles.
Steven Johnson, LB, Kansas: It's been an awful year for Kansas, but the Pennsylvania native and former walk-on brings it every Saturday. He has 19 more tackles than anyone else in the Big 12, with 89 stops.
Henry Josey, RB, Missouri: Talk about no respect. Josey doesn't get enough. The Tigers' waterbug has scooted his way to a Big 12-best 1,017 rushing yards, 175 more than anyone else in the Big 12. That's third-best nationally, and nobody with at least 50 carries has a higher YPC average than Josey's 8.55.
And a few suggested Halloween costumes:
Brandon Weeden: Barack Obama. The camera loves him, and the man knows how to work a crowd.
Robert Griffin III: Superman. He can do it all. However, his kryptonite seems to be Big 12 South powers. And he needs a defensive sidekick.
Bill Snyder: The Architect. He knows all and watches all, and seems a step ahead of everyone. Also apparently never leaves K-State's facilities. And Snyder would go with the old-school costume from almost a decade ago.
Mike Gundy: The GS Boyz. Whatever you want to call Gundy's dance moves, I have to say, its closest relative is the Stanky Legg.
Justin Blackmon: Pitbull. If he's on your offense, you know you're about to have a real good time. If you're defending him, you won't be having a real good time. And if there's a football game on, you're going to see him. And watching him is a real good time, with or without Dr. Pepper.
Collin Klein: Tim Tebow. Photo 1. Photo 2. Coincidence? I think not. (Honey Badger is already taken, and too easy.)
Christine Michael: The Juggernaut. Somebody's got to take the title of biggest wrecking ball. Nobody runs with more power.
Dan Beebe: A scapegoat. His ouster had to happen, but last I checked, the Big 12 has lost another member and endured a public snafu with West Virginia's halted entrance to the league since Beebe was shown the door.
Who would you want to see dress up as what?