Three-way West tie could get crazy
November, 7, 2011
11/07/11
12:43
PM ET
Call it the calm before the storm, but this whole SEC Western Division race could still get very interesting.
And if it does get interesting, you can bet that the jockeying for those top two spots in the final BCS standings will look like the shopping malls on Black Friday.
[+] Enlarge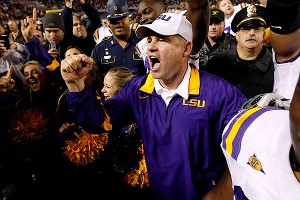 AP Photo/Dave MartinIf Les Miles' Tigers can win out, LSU would be an SEC championship game victory away from playing for its second national title in five years.
LSU is the team to beat now, no question. The Tigers have the big hurdle out of the way. They went to Tuscaloosa and took down Alabama 9-6 in overtime last Saturday.
That's LSU's second win against a top-5 opponent this season, and the Tigers handed the Crimson Tide only their second loss at Bryant-Denny Stadium in the last 27 games.
There won't be much drama involved if LSU takes care of its business the rest of the way. The Tigers will be in New Orleans on Jan. 9 playing for the SEC's sixth consecutive national championship.
The drama comes if Arkansas can knock off LSU in Baton Rouge on Nov. 25, and if that happens, the truth is that it's probably not good for the SEC.
Keep in mind that there's a stigma in voters' minds about a non-conference champion playing in the Allstate BCS National Championship Game.
There's nothing in the rules that says you have to win your conference championship to play for the national title, but I've talked to enough people who vote in these polls to know that there most definitely is an unwritten rule that says as much.
Does that change this season?
Maybe so.
But it's also important to note the BCS standings that would break a three-way tie in the West would not be the final ones, but the ones that come out following that final weekend of regular-season games.
And the way the SEC tiebreaker reads in a three-way tie of this nature is that the highest-ranked team in the BCS standings would get the West's berth in the SEC championship game. That is, unless the second highest team was within five places of the highest team. In that case, it comes down to head-to-head competition during the regular season between the two highest teams and the third team is eliminated.
In such a three-way tie, our BCS guru at ESPN, Brad Edwards, thinks the second-highest team would definitely be within five spots in the BCS standings, so it's going to come down to head-to-head competition.
That's when the fun begins.
It obviously would benefit Alabama to be sitting there in the second spot with Arkansas in the top spot. The Crimson Tide beat the Hogs 38-14 back in September and would go to Atlanta as a result.
But if LSU and Arkansas were to wind up in those top two spots, regardless of order, the Hogs would go -- assuming they beat LSU on Nov. 25.
Arkansas would almost certainly move ahead of LSU in the polls, but would LSU fall below Alabama?
Also, how much credit would Alabama receive at that point for its win over Arkansas, especially with it coming nearly two months earlier.
Often times, pollsters place a greater degree of importance on what teams have done lately.
I'm not saying that's fair. I'm saying that's the way it is.
Edwards also points out that LSU would likely have the highest computer ranking among the three West teams, which could help the Tigers make up for being a little lower in the polls.
It's pretty simple if LSU wins out. The Tigers would be an SEC championship game victory away from playing for their second national title in five years.
But if Arkansas throws a wrench into those plans on Nov. 25 in Baton Rouge, brace yourselves.
As Edwards points out, there's no way to break it down at this point without knowing the results of several games yet to be played. For example, the whole thing could be influenced by whether or not Oklahoma State and Stanford lose and how much room there is to drop LSU without dropping the Tigers behind Alabama.
In short, if we do have a three-way tie in the West come Nov. 26, be sure to have your calculators out and a bottle of aspirin close by.