New playoff = old BCS?
July, 3, 2012
7/03/12
2:00
PM ET
With each passing day, it appears as if the new four-team playoff is just another version of the old BCS.
The latest example -- the recently announced 12-year partnership between
the Orange Bowl and ACC
. That was not the news of the day, as the partnership was expected to be renewed. What has to be galling for Big East fans is the news that if the ACC has a representative in the four-team playoff, it will still send a team to the Orange Bowl.
Wait. I thought automatic bids were gone?
Not so fast.
[+] Enlarge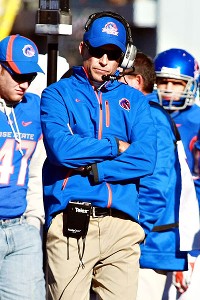 Brian Losness/US PresswireA move to the Big East might not make it any easier for Boise State to play in an elite bowl game.
Now, the ACC, Big 12, Big Ten, Pac-12 and SEC have guaranteed tie-ins into the biggest bowl games. Here is the quick breakdown:
ACC = Orange Bowl
Big 12 = Champions Bowl
Big Ten = Rose Bowl
Pac-12 = Rose Bowl
SEC = Champions Bowl
Just like the ACC and Orange, if any of these other conferences have teams in the four-team playoff, they get to send a backup to their tie-in game. Automatic bids, to use another word.
How is that different than the system we have today?
It's not. In fact, as many of you voted in our recent poll, the access for the Big East may very well be worse.
Under the current system, the Big East does not have a tie-in to a BCS game, but does get an automatic spot into the BCS. Under the new system, we have been told there are no more automatic spots. That has proven to be untrue if you are in the five "biggest conferences." So let's just say that a four-team playoff has teams from the ACC, SEC, Big 12 and Pac-12.
Of the 12 spots that are going to be available in the biggest bowl games, nine would be taken up. That leaves three available openings. And there won't be restrictions on the number of teams from each conference that get picked into these biggest games.
The chances that the Big East secures a tie-in to the Orange Bowl are remote. There really is no reason to believe the Big East would all of a sudden get one, when it didn't have one under the previous system. Especially with the recent chatter that Notre Dame could be in line for a tie-in with the Orange Bowl.
Big East senior associate commissioner Nick Carparelli took to Twitter on Tuesday to try to put a positive spin on the news, writing:
"The BCS Presidents made it very clear that there is still a lot of work to be done on the access issue. It's premature to assume that there won't be spots for other (conference) champions. The system was increased from 10 to 12 teams for that reason."
At least today, it really is difficult to see how college football has reformed itself. Bowls have as much weight as they always did. Big conferences have as much power as they always did. The outcry over Michigan and Virginia Tech getting into a BCS game this year over better teams like Boise State? Yeah, that is not going to be avoided in a four-team playoff.
Clearly, picking the top 12 teams to make it into the biggest games is too much to ask. Instead, America may very well be saddled with another "UConn situation." Sorry to keep picking on the Huskies, but there is no denying the outrage over an 8-4 UConn team making it to the Fiesta Bowl. How about an unranked 8-4 ACC team making it into the Orange? Party hardy!
Things look bad now, but as Carparelli wrote, there are still many unknowns. We still don't know how the selection committee will go about picking the teams for some of the open spots in these big games. One has to hope that there are provisions for those open spots that allow for conferences that don't have tie-ins to be selected. The way there are now.
Sound familiar?