FSU defense sets the tone early
October, 28, 2013
10/28/13
1:00
PM ET
TALLAHASSEE, Fla. — The script in each of the past two games has been the same. The opposition gets the ball first, hoping to generate some momentum. Florida State's defense has other plans, stealing the ball away and handing it back to the Seminoles' high-powered offense, which promptly finds the end zone.
Two games, two opening-drive takeaways, two blowout wins for Florida State. One side feeds off the other, and the avalanche begins.
[+] Enlarge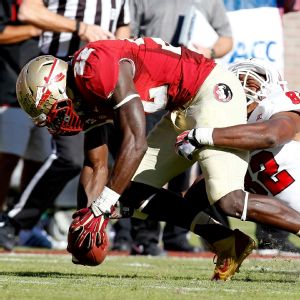 Don Juan Moore/Getty ImagesTelvin Smith's fumble recovery against NC State is one of eight FSU takeaways over the past three games.
"It's like when your iPhone goes dead, it gives you that energy to turn it right back on," receiver
Kelvin Benjamin
said of the early takeaways by the defense, "When we score quick like that, we throw it right back to them, and then they do it again."
Last week, the formula resulted in a 35-0 lead by the end of the first quarter. Florida State was just the fourth team to lead an FBS opponent by that margin after 15 minutes of play in the past decade. A week earlier, three first-half takeaways led to a 27-7 halftime lead. In its previous game against Maryland, Florida State alleviated any suspense early, too, taking a 21-0 lead into the break.
In each game, it has been dominance on both sides of the ball, but the season didn't exactly begin with the same level of energy.
The opening weeks were something of a dry run for Florida State's defense, which was still grasping the nuance of new coordinator Jeremy Pruitt's scheme. The unit was good, but the ferocious style and big plays weren't quite there yet.
In the past three games, however, Pruitt's unit has looked like the aggressive force he'd envisioned, and the results have been overwhelming. Florida State has created eight turnovers -- the most during any three-game stretch since mid-2011 -- and the offense has fed off each big play. Florida State has won its last three games, all against ACC foes, by a combined 163-31, with all but seven of those points allowed coming against backup defenders.
"When we get on a roll, we want to get it started fast and keep it going the whole game and never let up," said safety
Terrence Brooks
, who picked off a pass and forced a fumble against NC State.
If the results tell the story of the reinvigorated defense, it's the preparation that has set the stage.
The mantra from Jimbo Fisher is nothing new. He has been selling his troops on the power of practice for years, but there's a markedly different feeling during the week this season.
"Last year, people probably dreaded going to practice," quarterback
Jameis Winston
said. "This year, people actually want to go to practice just to compete against the other side. We're going to scrimmage against each other, and we're going to see what we're all about. It's a different mentality."
Perhaps Winston deserves a share of the credit. It's not a knock on previous regimes, but Winston's personality simply makes practice more fun.
There's smack talk between the sides, with Winston hyping up the offense, and the defense insisting on a stop. There's friendly competition between Winston and
Telvin Smith
or
Lamarcus Joyner
. And, perhaps as significant as anything, there's a chance for both sides to see what the other can do, and all that talent proves inspirational.
"You see what he does every week, and it's to the point where we know what Jameis and the offense is going to do," Joyner said. "To be able to have that belief in him, that helps us elevate the defense. It's like, these guys are doing it, now let's us go do it."
If anything, the quick-strike approach can be a bit exhausting. Linebacker
Terrance Smith
joked that, by the time he'd find a seat on the bench after a defensive stand, he'd have to run back onto the field for a kickoff. Tackle
Timmy Jernigan
said there were a few times in Saturday's game he'd hoped Winston could slow things down a bit.
"It's crazy because it seemed like as fast as we got them off the field, we had to go right back on," Jernigan said. "Sometimes I was like, dang, Jameis, just incomplete one pass. But it's fun when the offense is scoring like that and when the defense is playing at a high level."
Florida State isn't anticipating the fun will come to an end any time soon, but the challenge shifts a bit this week against Miami. The Hurricanes' run-first approach far more closely resembles the style Boston College ran with success against FSU than it does the spread attacks of Maryland and Clemson.
But what Florida State has found the past month is that once the momentum begins to build it's tough to stop. One big play begets another, and the biggest question on both sides of the ball is what to do for an encore.
"It's a momentum-setter," Smith said. "The defense sets the tone, and you see how things go."