Take 2: Motivation for Cardinal, Irish
November, 29, 2013
11/29/13
3:00
PM ET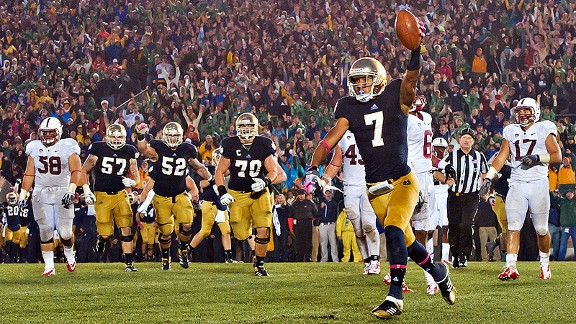 Matt Cashore/USA TODAY SportsLast season's loss could serve as motivation for Stanford.
Stanford and Notre Dame probably looked at this game in the preseason and wondered if there would be BCS implications. Well, there aren't. But both teams still have plenty to play for. Notre Dame reporter Matt Fortuna breaks down the Irish side of things while Pac-12 reporter Kevin Gemmell lays out the pros for Stanford.
Matt Fortuna
: If last week's game against BYU is any indication, Notre Dame is not taking this, or any contest, lightly.
Sure, the preseason goal of a return trip to the national title game was off the board by the end of a September. And further BCS hopes went up in flames with a flop at Pitt earlier this month. But with a long two weeks to decide whether to blow the rest of this season off or make something out of nothing -- while absorbing the potentially devastating news that Louis Nix's season, and likely Irish career, is over, too -- the Irish responded by putting together their most complete performance of the season against the Cougars.
BYU will not be mistaken for Stanford, but the Cardinal give the Irish plenty more to aim for than they had last week in the lead-up to Senior Day.
They are rivals, for one. The ties between the schools stretch from the field to the sideline to the administration. And they go after many of the same kids, too.
To add to that, Notre Dame has already beaten Arizona State and USC, two wins that look better and better by the week. A win in Palo Alto, Calif., would give the Irish a clean sweep this season of the Pac-12, no small accomplishment given how powerful that league has been this fall.
Plus, a win over No. 8 Stanford would give No. 25 Notre Dame its fourth win over a team that is currently -- and in the case of the Cardinal, will still be -- ranked in the BCS standings. (The Irish also handed No. 11 Michigan State its only loss.)
The only other schools with three wins over currently ranked teams? Stanford and ASU.
A win over Stanford would be make it two in a row for the Irish in the series, no small feat considering how badly the Cardinal had manhandled them in the previous three contests. It would also keep alive the possibility of a second straight 10-win season, another rarity, as the program had not accomplished such a feat since the 1991-93 campaigns, under Lou Holtz.
A date in the Pinstripe Bowl seems to be waiting for the Irish no matter how they play Saturday. But as
Cam McDaniel
told me in a passionate exchange following his career-best performance last week, to say Notre Dame has nothing left to play for this season is an "ignorant" statement.
Kevin Gemmell
: First off, the fact that both of these teams agree to annually play a tough nonconference game is awesome. Who knows what the strength-of-schedule factor will be when the new playoff format rolls around? But here's a couple of teams that don't dodge the big games.
As Matt noted, this is a huge game for recruiting purposes because there aren't many programs in the country that truly recruit nationally. These teams do.
Pending the outcome of the Territorial Cup (that's Arizona State vs. Arizona for all the Notre Dame folks) the Cardinal could either host the Pac-12 championship game for the second year in a row or could end up in Tempe next week. The outcome of this game has zero bearing on that. But either way, Stanford doesn't want to be heading into that game with a loss.
The Cardinal have a couple of streaks they'd like to keep alive, as well. For starters, Stanford is riding a 15-game home winning streak, the second-longest in the country behind South Carolina. The Cardinal are 12-1 at home against teams ranked in the AP Top 25 since 2009 and are 36-3 at home since the final game of 2007. A win could also lock up a fourth-straight 10-win season for Stanford.
That's all well and good. But the name of the game is momentum -- and Stanford needs to keep it going heading into the Pac-12 championship game, regardless of the venue.
A loss to the Irish stunts the momentum of last week's 63-13 thrashing of rival Cal. Further, should they fall in the Pac-12 title game, they'd plummet down the bowl game pecking order.
Finally, the national perception of the league is at stake. Matt notes Notre Dame's previous wins this season -- which includes wins over South Division champ ASU and USC -- but it goes back to last year as well. The Irish are currently riding a four-game winning streak over the Pac-12 following last year's wins over Stanford and USC. Should Notre Dame win, Brian Kelly gets my vote as Pac-12 coach of the year.
Stanford coach David Shaw and his players have reiterated several times this week that this year's game isn't about revenge. Stanford is a different team, Notre Dame is a different team. Makes sense. But somewhere deep down there has to be a little bit of bitterness for how things played out in last year's rainy, overtime game.
And let's not forget the greatest motivation of all. Whether it's Week 1 or Week 14, losing always stinks.