Plays that changed the FSU-OSU game
August, 31, 2014
Aug 31
12:42
AM ET
Considering the way the final three quarters played out, there were a dozen or so plays that stemmed the tide and flipped momentum in AT&T Stadium. Ultimately, three plays ended up having the biggest impact on the game, and they were all born out of mistakes. Florida State coach Jimbo Fisher agrees with the contemporary cliché that more games are lost rather than won, and Oklahoma State coach Mike Gundy has to feel that way after the No. 1 Seminoles defeated the Cowboys
37-31
.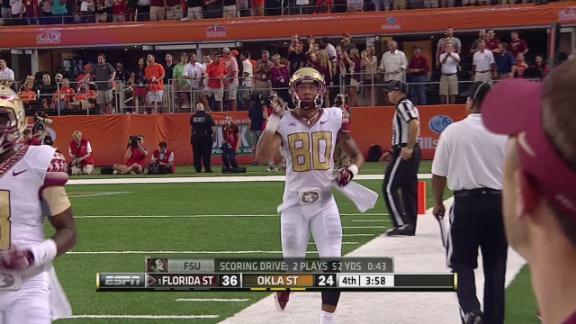 The decisive play came with a little more than four minutes left in the game. The Florida State offense struggled much of the night, and reigning Heisman winner
Jameis Winston
looked flustered throughout.
Rashad Greene
, now fourth all-time on the Seminoles' receiving list, ran a shallow cross, and as he broke to the middle of the field, the Cowboys cornerback bumped into a teammate, freeing Greene. The pass was a little behind Greene, so that little collision might have been the difference between an interception and what Greene did once he caught the ball -- go 50 yards for what proved to be the game-winning touchdown. Two plays earlier, Oklahoma State quarterback
J.W. Walsh
had fumbled the football when he looked poised to rip off a big gain. The Cowboys trailed by three and had a chance to take their first lead of the game. But Walsh was tripped up and fumbled, and Winston iced the game shortly thereafter.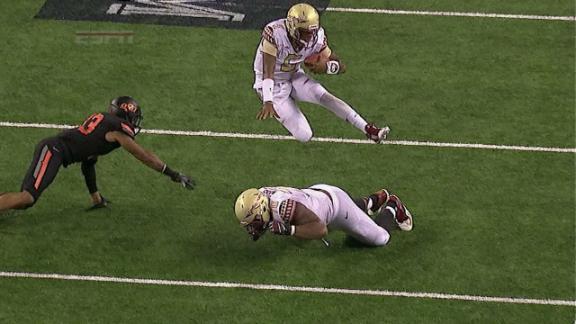 Winston looked like a Heisman winner on a 28-yard touchdown run in the third quarter. The 6-foot-4, 230-pound sophomore lumbered down the field, jumped over his offensive lineman, juked a Cowboys defender and then dove into the end zone. It was the kind of play we've come to expect from Winston but hadn't seen Saturday to that point. That touchdown was also set up by a series of Oklahoma State miscues. The Cowboys looked as if they would pin Florida State deep, but an errant snap on a punt gave the Seminoles the ball near midfield. The Cowboys defense held, but on third-and-11, Cowboys defensive back
Ashton Lampkin
, who was picked on constantly, was called for holding. It extended Florida State's drive, and Winston rumbled into the end zone the very next play.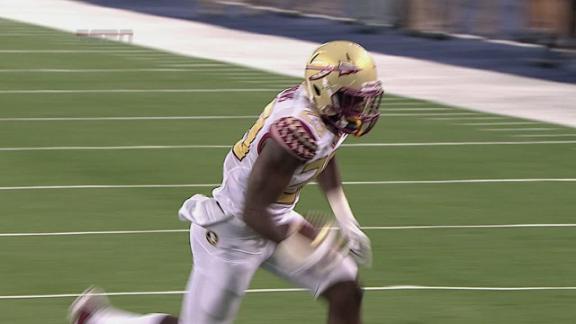 Florida State capitalized on the Cowboys' two turnovers, scoring touchdowns off of each. Oklahoma State managed only three points off the Seminoles' two miscues. The first Cowboys turnover came early in the game as
Nate Andrews
intercepted Walsh near the Oklahoma State end zone, and then Andrews walked in for the score. It was an outstanding play from Andrews, but it once again was precipitated by a special teams breakdown. The Cowboys fouled up the kickoff return and started the drive at their own 3-yard line. Walsh's interception was on the drive's first play, and it gave FSU an early 10-0 lead.
Good teams feed off their opponents' mistakes, and that is exactly what Florida State did.