NCF Nation:

021714 conference attendance
February, 17, 2014
Feb 17
9:00
AM ET
Few things can match the game-day atmosphere that surrounds college football every Saturday.
Yet, more and more, the at-home experience is intriguing for college football fans.
The Big 12 understands the challenges that continue to emerge as its member schools try to fill their stadiums each weekend, and the conference is trying to be proactive in overcoming the attendance challenges each school faces.
"It's an ongoing conversation with our athletic directors," said Bob Burda, the Big 12's associate commissioner of communications. "How can we continue to encourage people to come out? How can we give them an invaluable experience for a return on their investment of buying a ticket and coming to the venue?"
For example, member schools began showing in-game highlights conference-wide for the first time in 2013.
[+] Enlarge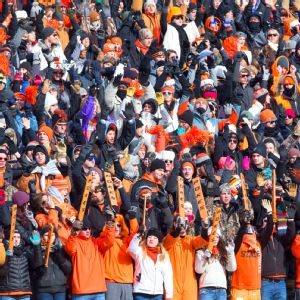 Richard Rowe/USA TODAY SportsFans at Oklahoma State and throughout the Big 12 are largely backing their teams. But there's an ongoing discussion about how to keep the fans coming, which includes creating better cell phone coverage in stadiums.
"It's becoming more challenging to compete with the living room experience and the wall-to-wall coverage of college football on any given Saturday," Burda said. "We're trying to develop more of a living-room type experience in our stadiums. The in-game highlights were one step in that direction."
Arguably the biggest issue could be Internet access in stadiums on game days. With social media developing into a staple of most fans' game experience, lack of connectivity has the potential to have an impact on fans' decisions to attend games or watch from the comfort of their own living rooms with no concerns about connectivity.
"Many of our institutions are now addressing the connectivity challenges that are faced when you have 50,000 to 100,000 people in one setting," Burda said. "More and more, fans' sporting game experience includes the use of a handheld device."
It can be particularly troublesome for college students, some of whom are unwilling to risk spending several hours without cell phone service.
"That's the next generation of season-ticket holders," Burda said. "So it's incumbent upon our facilities to provide a fan-friendly experience. And that's part of it."
Connectivity issues or not, the game-day experience is difficult to match. Memories are more likely to be made in stadiums than on couches. Being in the stadium as history unfolds is different than watching from afar.
"There's a excitement that comes with being a part of the crowd attending a game, not only inside the facility but outside the facility as well," Burda said. "Having attended the Sugar Bowl and the Oklahoma win over Alabama, it was truly magical in the stadium that night. For those in the stadium cheering Oklahoma, that was an experience they are going to have for the rest of their lives, an experience they would not have had if they were not inside the venue."
Overall, the Big 12's attendance has been solid for the past few seasons. Eight of 10 Big 12 schools played to 90 percent of capacity and all Big 12 schools played to at least 80 percent capacity in 2013, Burda said. Seven Big 12 schools averaged at least 50,000 fans for their home games.
"We play an exciting game of football in the Big 12, and I think it resonates with fans," Burda said. "All of our teams are competitive and everybody plays everybody. You don't win a championship in the Big 12 because of who is not on your schedule. You have to play everybody, and that resonates with fans as well -- to see your team play the best teams in the Big 12, year in and year out."
February, 17, 2014
Feb 17
9:00
AM ET
When it comes to dissecting attendance numbers across the ACC, context and perspective are required.
The league had three schools ranked in the Top 25 in the nation in attendance in 2013 -- the usual standouts Clemson, Florida State and Virginia Tech. Clemson, in fact, set a school record this season with an average of 82,048 fans per home game, thanks in large part to blockbuster home matchups against Georgia and Florida State.
Only four schools had attendance drop more than a negligible amount. Just two had them drop more than 5 percent. Only two schools were filled to less than 75 percent capacity. Pitt was one of five FBS schools to see an attendance increase of more than 8,000 per game. All seemingly good news for the league.
[+] Enlarge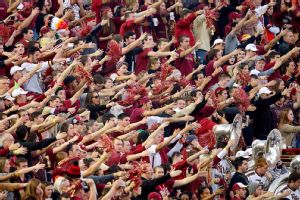 AP Photo/Gregory BullFlorida State averaged 75,421 fans at its seven home games, ranking second in the ACC behind Clemson (82,048).
Average attendance across the ACC was 49,982, slightly up from 2012, when it averaged 49,910 (keep in mind the ACC had 14 schools in 2013 and 12 in 2012). This ranks the league last among the SEC, Big Ten, Big 12 and Pac-12, but here is where the context comes in -- the ACC now has four of the 10 smallest stadiums among power-five conference teams, more than any of its big-league brethren. It has smaller alumni bases, too.
Meanwhile, the ACC only has two stadiums that seat 80,000. Functionally speaking, the ACC does not have stadiums big enough to compete with the average attendance in the SEC (75,674) or Big Ten (70,431).
But that is not to say everybody is satisfied with attendance levels across the league. The average attendance in 2012 was the lowest in the ACC in 12 years. The goal, of course, is to continue to grow attendance everywhere, at the smallest schools and the largest.
Now, obviously winning and home schedules are huge factors in how well school fare at attracting crowds. Pitt benefited greatly from a vastly improved home schedule that featured Florida State, Notre Dame and Miami. Georgia Tech saw a 10 percent increase in its attendance thanks to home games against Virginia Tech (on a Thursday night) and Georgia.
Virginia Tech, meanwhile, had its 93-game home sellout streak snapped against Western Carolina last September, ending the third-longest active sellout streak in the country. The Hokies did not have the best home slate, with no Thursday night games for the first time in 11 seasons, and the program has not won at the same clip as it did several years ago. Its average attendance dipped 2 percent.
Winning helped Florida State average nearly the same attendance in 2013 as it did the season before despite a lackluster home schedule. But the Seminoles also had several promotions scheduled going into the season to help make games more attractive to fans. They touted the return of Bobby Bowden against NC State, and honored the 1993 national champions against Syracuse.
[+] Enlarge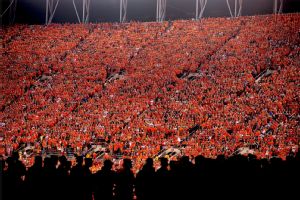 Lance King/Replay Photos via Getty ImagesVirginia Tech averaged 63,999 fans at its home games in 2013, down from 65,632 fans in 2012.
Indeed, athletic departments have been forced to get creative to try to sell tickets and attract more fans. FSU has started meetings twice a week featuring people in the marketing, digital media, ticketing and sports information departments, along with boosters. The goal is to figure out ways to reach fans who are not ticket holders just yet.
Also, the athletic department added retention team to the sales staff just this month as a way to create a better experience for season ticket holders. The goal is to be more personable, and more accessible for questions or concerns. In addition, the school hired former ACC official Karl Hicks as deputy athletics director for external operations, where he will oversee, in part, tickets, sports information, marketing and promotions, and communications.
Georgia Tech is considering an auction-style sales format to help increase revenue from the biggest home game on the 2014 schedule -- against Clemson on Nov. 15. Northwestern used a similar format last season against Ohio State and Michigan and ended up getting more per sideline ticket for both games than its highest ticket price in 2012.
League schools exchange ideas on how to increase attendance throughout the course of an academic year. Recently at the winter meetings, one of the topics discussed was how to improve connectivity at venues to keep fans happy. People so wired to cell phones and technology that frustration often sets in at packed stadiums when fans cannot get a signal or send a text or tweet.
Next season, the ACC trades out Maryland for Louisville. The Cardinals have a bigger stadium than the Terps and filled it to 95 percent capacity in 2013 -- compared to 80 percent for Maryland. And that was playing a weak American schedule.
Still, Louisville sold out its season ticket allotment and expects even better crowds in 2014, with home games against Miami, Florida State and Kentucky. Florida State expects a big home boost, too, with games against Clemson, Florida and Notre Dame in Tallahassee.
So there are reasons for optimism as the league looks toward the future.
February, 17, 2014
Feb 17
9:00
AM ET
While
attendance across the country
might be getting spottier at college football games, the SEC's numbers increased in 2013.
That's after the league experienced a slight dip each of the four seasons prior to 2013.
One of the things to remember about the SEC is that the stadiums are huge. A stadium on the "smaller" side in this league still holds more than 60,000 people, and eight of the 14 schools play in on-campus stadiums with a seating capacity of more than 80,000.
[+] Enlarge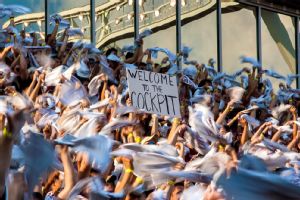 Jeff Blake/USA TODAY SportsSouth Carolina averaged 82,401 fans in its seven home games in 2013, which ranked 14th in the FBS.
Last season, the SEC averaged 75,674 fans, up from 74,636 in 2012. These figures, provided by the SEC office, include the Jacksonville, Fla., game between Florida and Georgia as well as the SEC championship game in Atlanta between Auburn and Missouri.
Even more telling, all but two of the schools in the league topped 90 percent attendance last season. The average percentage capacity in 2013 for SEC games was 99.02 percent, compared to 97.40 percent in 2012.
Alabama, coming off back-to-back national championships, led the SEC in home attendance last season, averaging 101,505 fans.
Kentucky (20 percent) and Tennessee (6 percent) had the largest increases in attendance last season. Arkansas (9 percent) had the largest decrease.
And while attendance was up this season in the SEC, it's not as if league officials and athletic directors at the different schools had their collective heads in the sand.
The 2012 attendance figures for the SEC were the conference's lowest since the 2007 season, which was disconcerting to everybody.
So at the SEC spring meetings last May in Destin, Fla., it was announced that the league had created a committee in charge of making the game-day experience more enticing for fans.
High-definition televisions are getting better all the time, and there's something to be said for sitting in the comfort of your home theater (or den) and watching all of the games there instead of going to the trouble or the expense of getting to the games in person.
SEC officials and administrators agree that with technology improving and ticket prices rising, in some cases exorbitantly, fans aren't going to blindly keep going to games unless there's something unique about the game-day experience.
[+] Enlarge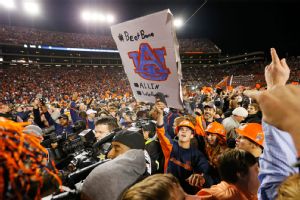 Kevin C. Cox/Getty ImagesWith an average of 85,657 fans at its eight home games in 2013, Auburn ranked No. 12 in the FBS.
Among the things the SEC committee addressed were finding a way to improve cell phone and wireless service at the stadiums, making more replays on the big screens available, dealing with the secondary ticket market, and improving the overall quality of games.
To the latter, SEC commissioner Mike Slive has said he wants to see every school in the league play at least 10 "good games" every season, whether that's nine conference games and a marquee nonconference game, or eight conference games and two marquee nonconference games.
Alabama coach Nick Saban, a proponent of playing nine conference games, also has been outspoken that fans aren't going to continue going to games to watch glorified scrimmages.
One of the biggest problems all schools in the SEC face is student attendance. Last season,
Saban famously chastised the students at Alabama
for leaving games early.
The Alabama student newspaper,
The Crimson White
, conducted a study and determined that only
69.4 percent of student tickets
were used during the 2012 season.
In the past couple of years, Georgia has reduced its student-ticket allotment from 18,000 to 16,000, making those extra tickets available to younger alumni who can buy them without making an annual donation.
At Tennessee, student attendance increased dramatically last season in Butch Jones' first year as coach. It was up almost 2,300 per game. As an enticement to continue getting students to go to the games, Tennessee plans to move more of them from the upper deck to the lower bowl.
February, 17, 2014
Feb 17
9:00
AM ET
When Larry Scott was named commissioner of what was then the Pac-10 in 2009, it was immediately clear he wasn't going to follow the status quo. He took some time to evaluate what was working, what wasn't and what needed to happen in order for the conference to become a leader in college athletics.
Early in that process, he identified a problem: There was no true marketing or ticketing presence at the conference level. It was up to each school to sink or swim on its own, a set of circumstances that produced varying degrees of success.
To change that, he hired Danette Leighton to become the conference's first chief marketing officer in 2010. Leighton, the only CMO among the power conferences, was tasked with building a team to help implement best practices in marketing, ticketing and operations among the member schools.
Just shy of four years later, things have changed.
[+] Enlarge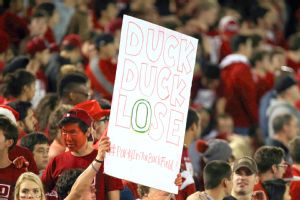 Kelley L Cox/USA TODAY SportsA high-quality product on the field and aggressive marketing have brought an increase in attendance at Stanford.
"We've been very proactive in marketing and ticketing, two areas that didn't exist here four years ago," Leighton said. "We realized it was important to facilitate sharing of best practices."
While the universities can be fiercely competitive on the field, Leighton said the relationships between other areas of the athletic departments should be, and are, significantly different.
"We have the opportunity to be stronger as 12 (schools) together," Leighton said. "If one school has a great idea that's working, we want to be able to share it elsewhere. That's really been a part of our brand vision.
"Competition on the field isn't a factor because everyone realizes you can learn from each other, and stealing from each other can be a good thing."
For example, after seeing Arizona State experience success with an outbound ticket sales program, Washington and Washington State are considering similar programs.
One of the main pushes the conference has prioritized is promoting fan engagement. Several schools made a strong push through social media with hashtag campaigns on Twitter. Others have utilized technology to improve the in-game experience.
Of course, it's not as simple as creating one master plan and expecting it to work seamlessly on every campus. The Pac-12's regional diversity creates different challenges.
Generating college football buzz in the Bay Area, home to two NFL teams, is a different challenge for Stanford and California than the challenges Washington State and Oregon State face in smaller, more remote locations.
The Pac-12 averaged 53,619 at home football games in 2013, which ranked No. 4 behind the SEC (75,674), Big Ten (70,431) and Big 12 (58,899).
Nothing the conference can do with its marketing and sales arms will ever play as big a role as that of on-field success. Winners will always draw; losers will lose at the gates. Only USC, Cal and Colorado had major decreases in attendance that can be attributed to on-field performance.
February, 17, 2014
Feb 17
9:00
AM ET
The Big Ten's combination of big stadiums, big fan bases and big tradition has historically made football attendance a rather small issue.
America's two largest football venues -- Michigan Stadium and Beaver Stadium -- sit on Big Ten campuses, and three of the seven football stadiums with six-figure capacities are in the league (Ohio Stadium is the other). Michigan has led the nation in college football attendance for the past 15 years, and the Big Ten occupied three of the top five spots and seven of the top 23 spots in
attendance average for the 2013 season
.
[+] Enlarge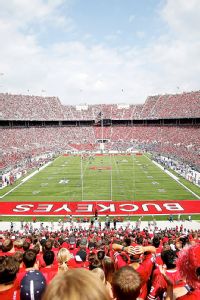 Kirk Irwin/Getty ImagesOhio State averaged 104,933 fans at its seven home games in 2013, which ranked No. 2 in that nation behind Michigan.
The Big Ten in 2013 set records for total attendance (6,127,526) and attendance for league games (3,414,448), and ranked second behind the SEC in average attendance per game (70,431), a slight increase from 2012.
So what's the B1G deal? Eight of the 12 league programs saw a decline in average attendance last season. Some have seen numbers drop for several years.
Student-section attendance
is a
growing concern
, and the Big Ten is tracking the
troubling national
attendance trends
.
"We've been blessed because we haven't been hit with the significant drop-off that many other conferences and schools have experienced," Ohio State athletic director Gene Smith told ESPN.com. "However, we've seen it in certain games, or in not necessarily ticket sales but people actually coming to games.
"So we're concerned."
The league is taking a proactive approach, starting last season with the formation of a football game-day experience subcommittee, which Smith chairs. The committee in August announced that Big Ten schools would be
allowed to show an unlimited number of replays
on video boards at any speed. Schools previously could show one replay at no less than 75 percent of real-time speed.
The move drew positive reviews from fans and no major complaints from game officials.
"If people can see the replay at home on TV, you can't give them a lesser experience in the stands," Purdue athletic director Morgan Burke said.
A "more robust" replay approach is on the way for 2014, and Big Ten leaders are looking at other ways to bolster the stadium experience, which, as Burke noted, seems to have reached a tipping point with the couch experience.
Here are some areas of focus:
Cellular and Wi-Fi Connections
In August, the subcommittee encouraged each Big Ten school to explore full Wi-Fi in stadiums as well as Distributed Antenna System (DAS) coverage to enhance cell-phone functionality. A fan base immersed in smartphones, social media and staying connected demands it.
"Everybody realizes improvements have to be made," said Kerry Kenny, the Big Ten's liaison to the game-day experience subcommittee. "People want to be updated on other games. They want to go in there and take photos or Instagram videos or tweet. They want to be able to stay in touch with family and friends that aren't there but are watching."
Penn State installed Wi-Fi throughout Beaver Stadium in 2012 but is the only Big Ten school to have complete access. Illinois athletic director Mike Thomas said he hopes to have total Wi-Fi in the school's football stadium by the fall, if not the 2015 season. Nebraska's regents last month
approved a $12.3 million Wi-Fi project
for its stadium, and Wisconsin hopes to have full stadium Wi-Fi this season.
Most schools are focused on boosting cell service, which is more feasible and widespread. Ohio State installed more than 200 antennas in Ohio Stadium to improve cell service. For complete Wi-Fi, it would need about 1,200 antennas.
"We don't know what the cost is, but we know it's somewhere north of seven figures," Smith said. "We're studying it, as are my colleagues in the Big Ten."
Student attendance
Student sections aren't nearly as full as they used to be on Saturdays, both in the Big Ten and in the nation. ADs are well aware of the downturn and have tried different approaches to boost attendance.
Michigan in 2013 implemented a
general admission policy
, hoping to get more students to show up early, but
reviews weren't favorable
. Minnesota provided a
new student tailgating area
and
better ticket packages
. Illinois held a clinic for international students, who have told Thomas they'd come to games if they knew more about football.
The technology component resonates for students. Michigan State athletic director Mark Hollis told CBSsports.com that many students didn't show up for a 2012 game against Iowa because
they couldn't send text messages in the rain
.
Even if Ohio State doesn't install complete Wi-Fi at The Shoe, it could do so for the student section.
"Our surveys show that less than 25 percent of the crowd actually uses their cellular device [during games]," Smith said, "but of that 25 percent, a supermajority are students. You want to be able to provide that access."
In-Game Entertainment
"

Everybody realizes improvements have to be made. People want to be updated on other games. They want to go in there and take photos or Instagram videos or tweet. They want to be able to stay in touch with family and friends that aren't there but are watching.

"

Kerry Kenny, the Big Ten's liaison to the game-day experience subcommittee, on Wi-Fi in stadiums.
The days of public-address announcers listing scores from other games during timeouts are over. Schools want to give fans a broader view on Saturdays, whether it's putting live feeds of other games on video boards or replaying highlights shortly after they happen.
"I was at a game at Purdue this year," Kenny said, "and they showed a highlight of a touchdown in the Wisconsin-Iowa game within a couple minutes of that touchdown being scored."
Added Thomas: "If you're watching ESPN or watching a game at home, those are the kinds of experiences you should give people in your venue."
Big Ten athletic directors and football coaches last week discussed having more locker-room video or behind-the-scenes content that can be shown only within the stadium.
"You're in an era where people want to know what's it like before the game, after the game," Burke said. "It humanizes us if people see that side, the highs and the lows."
Burke likens Purdue's sideline to a "Hollywood production," as the band director, a disc jockey and a show producer coordinate in-game music on headsets. Several schools post tweets from fans at games on video boards to create a more interactive experience.
Ticketing and timing
Last month, Penn State became the latest Big Ten school to
adopt variable ticket pricing for single games
, acknowledging, "We have been listening to our fans." Attendance has
dropped 11.2 percent from 2007 to 2012
, while
frustration has grown with the Seat Transfer and Equity Plan (STEP) program.
Big Ten schools are getting more creative with ticket plans in response to attendance concerns. Northwestern last season
implemented a modified "Dutch auction" system
where a portion of tickets were sold based on adjusted price demand rather than set prices.
Purdue last fall
introduced mobile ticket delivery
, which allows fans to download tickets directly to their devices.
Kickoff times are another attendance indicator, as Big Ten schools located in the central time zone often struggle to fill the stands for 11 a.m. games. The Big Ten gradually has increased its number of prime-time games, and while Burke considers mid-afternoon games ideal, more night kickoffs likely are on the way, including those in early November.
Ohio State is in the process of installing permanent lights at Ohio Stadium.
"I'm a big fan of evening games," Thomas said.
As attendance becomes a bigger issue, the Big Ten and its members have surveyed fans about what they want at games. Wisconsin last fall established a 25-member fan advisory council, with two students. The school has received feedback about concessions, parking and whether fans would prefer digital programs rather than the traditional magazine-style ones.
"So much of it is when somebody comes to your venue," said Justin Doherty, Wisconsin's associate athletic director for external relations, "they have an experience that makes them want to come back."