NCF Nation:

021714 student section
February, 17, 2014
Feb 17
11:00
AM ET
We're ranking the top five Pac-12 student sections. Before doing so, a couple of caveats.
I have never sat in a Pac-12 student section. Further, the quality of a student section varies, often due to a recent pattern of winning or losing set by its team.
And some of our first-hand knowledge is dated. For example, the last time I covered a game at Colorado, it was Gary Barnett vs. Rick Neuheisel.
If it were 2003, Washington State would have made this list. Same could be said for USC if it were 2008. Or California in 2006. If I were going to note a most underrated student section -- including perhaps here -- it would be Oregon State. Our most improved student section would be UCLA.
But really, our methodology here is unquestionably sound and scientific.
1. Arizona
: The ZonaZoo is 10,000 strong and committed. I actually give it an uptick for prematurely rushing the field during a 2009 game against Oregon -- I was trapped in the unfortunate onslaught, in fact -- one that the Wildcats eventually lost. Further, a number of players, including former USC quarterback Mark Sanchez, have said Arizona is the toughest place to play in the Pac-12 other than Oregon's Autzen Stadium.
[+] Enlarge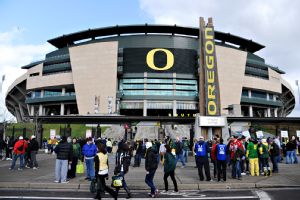 Steve Dykes/Getty ImagesIf you're looking for the noisiest homefield in the Pac-12, Autzen Stadium is tough to top.
2. Utah
: The MUSS -- "Mighty Utah Student Section" -- numbers just 6,000, but it's well-coordinated and really, really cares. It shows up and bellows even when things aren't going well. Just ask BYU fans how great the MUSS is.
3. Oregon
: Many folks outside the Pac-12 probably immediately thought the Ducks would rule here, and Autzen is the toughest venue in terms of crowd noise in the Pac-12 at present without question. But Oregon students know exactly the problem here: The student section is capped at less than 5,500 for home games. Why? Students don't pay as much for tickets, and Oregon tickets have become hot commodities as the program has surged in the national rankings. Yet while smaller in numbers, the Ducks do get after you.
4. Washington
: Husky Stadium used to be the toughest place to play in the Pac-12, and if the program continues its upward trajectory under Chris Petersen, I suspect it will again challenge for that designation. I know things were old-school loud at the two games I attended in 2013: Boise State and Oregon.
5. Arizona State
: The Sun Devils' student section numbers about 9,000, and it easily could be bigger. The recent uptick of the program under Todd Graham also has fueled this often colorful group. You might have heard that ASU is a pretty big party school. The student section at Sun Devil Stadium does nothing to dispel that notion.
February, 17, 2014
Feb 17
11:00
AM ET
We're taking a look at attendance issues, and one concern many schools have is how to make sure students show up on a consistent basis.
That got us thinking about which Big Ten schools have the best student sections for football. Here's our top five:
[+] Enlarge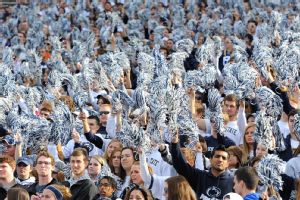 Rich Barnes/USA TODAY SportsFrom waiting in "Paternoville" to white outs to singing to, well, just shaking their pom-poms, it's always wild at Penn State.
Penn State:
There's simply no better student section in the country than the one at Beaver Stadium. Penn State students love their Nittany Lions, and they arrive on game days ready to cheer loud, sing songs and wear the right colors. The S-Zone forms a giant blue S on a white background that looks incredible on TV and in person. Students camp out for tickets in the old "Paternoville" (now "Nittanyville"), and the school sold more than 21,000 student season tickets last season.
Ohio State:
The Buckeyes have such a wide swath of supporters in Ohio that they can sometimes feel like a pro team, but the large and dedicated student section at the Horseshoe keeps that from being the case. Occupying much of the south end zone, the Block-O often leads the stadium in cheers. Urban Meyer started a new tradition where he and strength coach Mickey Marotti lead the students through a series of "quick cals" before the game. And win or lose, the team sings "Carmen Ohio" in front of the band and student section after games.
Wisconsin:
Let's start with the elephant in the room: Badgers students have become notorious for showing up late on game days, especially early afternoon kickoffs. So we have to dock them a few points for that. But once they finally do get there in full, there are few better parties to attend. From nontraditional waves to singing "Build Me Up Buttercup" to "Jump Around," the Wisconsin students know how to have a good time at home games, even if their cheers can sometimes turn a little too profane for those with more delicate sensibilities.
Nebraska:
The Huskers love to brag about their NCAA-record sellout streak of 333 games, and rightly so. The dirty little secret, though, is that there are often empty seats at the top of the student section, something that embarrasses proud Cornhuskers fans. Still, the Boneyard -- inspired by the Blackshirts nickname -- is pretty cool, and you might think you've wandered into an Oakland Raiders game based on some of the students' more creative attire. And Nebraska fans in general remain some of the classiest in sports, as evidenced again during last season's UCLA game, when students helped lead a tribute to a Bruins player who had recently passed away.
Iowa
: The Hawkeyes took away a section of student seats last year because of decreased demand. So there's that. But the Hawks Nest is usually a well-organized, loyal group that adds to the underrated game-day experience at Kinnick Stadium.
February, 17, 2014
Feb 17
11:00
AM ET
The SEC houses some of college football's rowdiest student sections. Rarely do you leave any one of the 14 SEC venues without some sort of ringing in your ears from all those raucous students.
SEC students don't hang out at games for study sessions. Their mission is to not only cheer on their teams below but make opponents as uncomfortable as possible, shredding their vocal cords in the process.
So who owns the SEC's top student sections? It certainly wasn't easy, but we've constructed our list of the top five student sections this league has to offer. We checked out size, in-game antics and crowd volume.
Here's what we came up with:
[+] Enlarge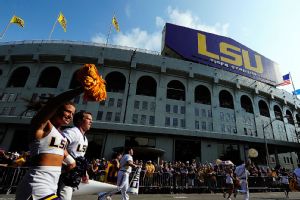 Stacy Revere/Getty Images Death Valley has proven to be one of the most intimidating homefield advantages in the nation.
1. LSU:
There's a reason LSU coach Les Miles is 57-7 inside Tiger Stadium. It's just tough to win in Death Valley when you have thousands of unruly purple-and-gold-clad students raining chants, profanities and boos down on you in a stadium that traps sound right over the top of teams. The roar from the students after those three most intimidating notes ("Hold That Tiger") in college sports play from the Golden Band from Tigerland will send shivers down your spine. LSU students, usually sporting those glorious purple-and-gold pom-poms, take up 25 sections inside Tiger Stadium and create the SEC's most electric environment when the lights come on and the sun goes down. Night games are a different animal in Baton Rouge. LSU's students have gotten so out of hand in the past that they've had chants taken away because of improvised, profane additions to songs (returned in 2013) and are no stranger to public reprimand.
2. Alabama:
Another section not ashamed to wave its pom-poms proudly. Even though coach Nick Saban challenged Alabama's students to stay at games longer and sections were actually suspended for their poor attendance in 2013, this student section is tough to touch when it's full. If you've ever wanted to hear "Roll Tide" loudly chanted ad nauseam in your face, just take a trip to Bryant-Denny Stadium. You might as well stick around for "Rammer Jammer" when the students let you know that their team "just beat the hell outta you." This section arrives early for big games and keeps the deafening noise going until the clock hits zero.
3. Florida:
With the way Ben Hill Griffin Stadium is set up, Florida's students are only feet away from the opposing bench. Steve Spurrier dubbed the Gators' home as the Swamp in the early '90s, and the students have done their best to make sure that "only Gators get out alive" ever since. Florida's students didn't have much to cheer about in 2013 and left some seats empty throughout the season, but there's no question that when they pack the Swamp and get a unified "Gator Chomp" going, it's one of the fiercest environments in the entire country. Since 1990, Florida is second nationally with a home record of 132-20. Students take up most of the north end zone and east side of the stadium, owning one of the largest student sections in the country by percentage of stadium capacity.
4. Texas A&M:
You might not find a more active student section in the SEC with all the chants and movements that erupt during games. Oh, and they choose to stand for the entire game! Even before the games begin on Saturday, A&M students deliver a stirring performance during Midnight Yell, which is arguably the nation's most exciting pep rally. You better believe that energy spills into game day. And once those students help create the 12th Man, get ready for hours of thunderous noise and a truly amazing atmosphere that literally shakes the press box when Kyle Field really gets rocking.
5. Auburn:
LSU might have the nation's best night atmosphere, but Auburn's student section is something special when it's time to play under the lights. From all those "War Eagle" chants to even more pom-poms than the kids know what to do with, Auburn's students know how to create an amazing atmosphere inside Jordan-Hare. All that blue-(navy)-and-orange movement from the students, who don't know how to stay quiet during games, will leave you dizzy if you're sporting the wrong colors. It's a section that arrives early and will drown you in its cheers for four quarters. One cool tradition this student section has after scores is chucking the football out of the stadium. Pretty cool.
February, 17, 2014
Feb 17
11:00
AM ET
On Monday, across the conference blogs, we're examining attendance in college football. In that light, we've come up with the five best student sections for each conference.
A couple of notes: These are the best student sections in the Big 12 right now, and only in the context of football (sorry, Kansas basketball fans). Factors included attendance, interest, noise and, well, who seems to have the most fun.
[+] Enlarge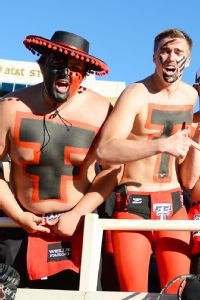 John Weast/Getty ImagesTexas Tech fans don't make it easy on opposing teams. The Red Raiders set a student season-attendance record in 2013.
1. Texas Tech
: Bucking a national trend of declining student attendance to college football games, Texas Tech actually set a student season-attendance record in 2013. The first home game had 14,915 students in attendance, breaking the game record of 12,910 set in the 2010 home opener. The student clamor for tickets kept growing, and eventually the school had to open another section of seats to meet the demand. Texas Tech students know how to have a good time, too. So does their football coach. Kliff Kingsbury gave out cash prizes to the best costumes during Tech's home game against Oklahoma State, which fell two days after Halloween. The students responded and arrived dressed up as everything from Bender from the TV show "Futurama" to William Wallace from "Braveheart." There was also a "future Mrs. Kingsbury" donning a bride's dress. Jones AT&T Stadium is one of the most difficult places to play in the Big 12, thanks in large part to Tech's rowdy student crowds.
2. Baylor
: In the final game played at Floyd Casey Stadium, Baylor students picked up 9,943 tickets. Baylor's undergraduate enrollment is only 13,292, meaning close to 75 percent of the entire student body watched the Bears defeat Texas to clinch the school's first Big 12 title. Even when the Bears weren't yet winning big under coach Art Briles, the students still showed up. The "Baylor Line," in which the school's freshmen wear yellow shirts (and various other crazy outfits) and dash across the field to form a human tunnel for the players to run through, is one of the more underrated traditions in the Big 12. Lately, Baylor students have had plenty to cheer about. In each of the past four seasons, they've stormed the field to celebrate program-building victories.
3. Oklahoma State
: The "Paddle People," a group of Oklahoma State students who bang their boards against the padded side walls of Boone Pickens Stadium, had become so menacing that other Big 12 athletic directors passed a rule in 2012 that they could no longer bang their boards while the ball was in play or the offense was at the line of scrimmage. Even with the rule change, the Oklahoma State students, who sit almost on top of the opposing team's sideline, have fueled one of the best home-field advantages in the Big 12, which includes a 34-7 record in Stillwater over the past six seasons.
4. Kansas State
: K-State's rendition of the "The Wabash Cannonball" is one of the best pregame traditions in the Big 12. The school's 9,000-plus student section goes wild (at a rhythm) through it every time, ensuring Bill Snyder Family Stadium will be raucous throughout. Stretching from one end zone to the 50-yard line, the K-State students are right behind the opposing sideline, which is often perilous for the opponent considering one of the best coaches to ever live is on the other sideline.
5. Iowa State
: This past season, Iowa State sold out its student season tickets in July -- the earliest the school had ever sold out of its student allotment. The students have been a big reason why Jack Trice Stadium has set single-season attendance records in each of the past three seasons (averaging 55,361 in 2013, 55,274 in 2012 and 53,647 in 2011). On homecoming weekend in November, Iowa State played TCU with nothing on the line but pride. Sill, the fans showed up, including the students, as 55,000 total fans watched the Horned Frogs win an ugly 21-17 game. The next home game, more than 54,000 showed up to watch Iowa State play last-place Kansas. Under coach Paul Rhoads, Iowa State has always been a tough out in Ames. Student fan support is one reason why.
February, 17, 2014
Feb 17
11:00
AM ET
As we focus on attendance today at ESPN.com, it's worth having a little fun and taking a look at the fans who are the most visible on Saturdays: the students. They're the ones expected to show up early and stay late, the ones who make everyone else stand for four quarters. They're the players' classmates, friends and their biggest fans. The student sections are the pulse of the stadiums, and while some of them are racing, others are, well, in need of a little shot.
Here's a completely unscientific ranking of the five best student sections in the ACC, based on a combination of attendance, fun and good old-fashioned decibel level:

1. Clemson:
They're on The Hill. They're in the stands. They're on the field after the game. They're one of the biggest reasons Death Valley is one of the top venues in the country, let alone the ACC. From the Tiger Walk to the Tiger Rag, Clemson students are loud and proud. They helped the program set a school record for attendance last year and finish No. 15 in the nation and best in the ACC in attendance figures.
2. Virginia Tech:
From the pregame "Enter Sandman" entrance to the end of the fourth quarter, the students stay loyal all the way. They're the ones who have made Thursday nights in Blacksburg special. They're the loudest for the "Let's go! Hokies!" cheer, and one of the biggest reasons Virginia Tech has had such an overwhelming home-field advantage.
3. Florida State:
From Tallahassee to Pasadena, these guys know how to represent. Love it or hate it, the "war chant" is one of the most recognizable college football traditions, and nobody can belt it out better than the FSU students. Their tomahawk chop is unmistakable, along with their pride and passion in FSU football.
4. Georgia Tech:
They're at their best on a Thursday night, and they're no doubt the heart and soul of Bobby Dodd Stadium. They're always there for the entrance of the Ramblin' Wreck, and decked out in their white and gold. Oh, and they're pretty smart, too, those engineers. They've got a catchy fight song, and they're always ready to answer, "What's the good word?"
5. NC State:
Carter-Finley can surprise you with its energy if you've never been there before, and the "sign of the wolf" is a must-learn if you're going to sit with the students. (Even President Barack Obama learned how to do this while on campus in 2008.) NC State students have a lot of Pack pride, and they show it on Saturdays.