NCF Nation:

071014 villains
July, 10, 2014
Jul 10
10:00
AM ET
It's over now, so you can admit it.
AJ McCarron and Johnny Manziel are gone, so it's time to come clean.
Chances are you hated one or both. How much they won, how they won -- you hated it all. There might have been some respect for their play, but above all, most of you couldn't stand them.
[+] Enlarge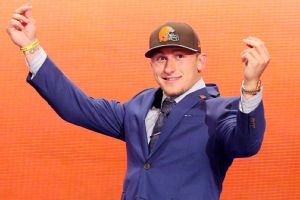 Brad Penner/USA TODAY SportsSEC fans don't have Johnny Manziel to kick around anymore.
It's OK. AJ and Johnny were the SEC's necessary villains last season. And for that they will be sorely missed.
This year won't be the same without them. Who will you boo? Who will you tune in to watch in hopes of seeing them fail?
It's totally unreasonable, but it's also unavoidable: SEC fans are haters.
Who will fill their unceremonious shoes in 2014? Who will be the ones SEC fans love to hate?
Note: Before we get to the candidates, let us apologize to them. We're sorry, fellas. It's not fun being disliked, but look at it this way: The more people boo you, the more you're probably doing something right. So take this as a badge of honor. After all, villains make the SEC a more entertaining place.
Subjects are listed is in alphabetical order, as there is no scientifically known way to measure levels of dislike.
Jacob Coker, Alabama:
He's no McCarron. Let's get that out of the way first. Unlike his predecessor, Coker is about as unassuming as a major talent can get. He started out as a humble three-star recruit, and his disposition has remained the same. But with the runaway hype machine that's surrounded his landing at Alabama -- not to mention that he transferred to Alabama in the first place -- you've got the perfect recipe for blind dislike.
Jeff Driskel, Florida:
Is anyone else tired of hearing about how Driskel is going to get better? Before you start, that was a rhetorical question. The answer, for everyone outside of Gainesville, is a resounding yes. You can hear the chants of "O-VER-RATED" now, can't you? Because he's Florida's starting quarterback, Driskel has to be discussed. Because he has a cannon for an arm and good mobility, his potential is a constant source of discussion. And because he's so discussed, he's so disliked. If Driskel does progress into an All-SEC quarterback, he'll have plenty of detractors. They'll boo him because he plays for Florida and they'll boo him because they'll all want to know what took so long to get there.
[+] Enlarge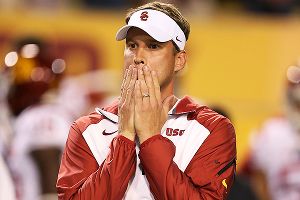 Christian Petersen/Getty ImagesNew Alabama offensive coordinator Lane Kiffin has said some things that caused a stir in SEC country.
Lane Kiffin, Alabama:
Coordinators are rarely the subject of such scorn, but the hate for Kiffin burns more intensely than for any head coach in the SEC. And the naysayers need only focus on his tumultuous time at Tennessee. There, he "turned in" Urban Meyer for a recruiting violation only to find that no violation was committed and that he, in fact, was the one violating an SEC rule by mentioning a recruit by name. He also made the Alshon Jeffery "pumping gas" comment, which didn't exactly ingratiate himself to the rest of the league. Then, after one season, he left the Vols to return to USC. And now, after flunking out of Southern Cal, he's back as offensive coordinator at Alabama.
Nick Marshall, Auburn:
He's as quiet as a church mouse, but Marshall has baggage. His unflattering dismissal from Georgia ruined whatever reputation he had long before he found his way to Auburn. Then he led the Tigers to the BCS title game and invoked the ghosts of Cam Newton. Marshall might not have invited the limelight a fraction of the way Newton did, but hate is unreasonable like that. They'll obsess over his supposed shortcomings as a passer and neglect his utter effectiveness as a runner and orchestrator of Gus Malzahn's offense. Marshall's quiet nature ultimately will be mistaken for cockiness and fans will hate him just the same.
Robert Nkemdiche, Ole Miss:
He's been a rock star since he was 16 years old, and that alone is enough to do him in. It's a matter of overexposure and jealousy. By simply choosing to commit to Ole Miss in the first place, he offended every other fan base that was actively pursuing him. In many ways, Nkemdiche is the face of Hugh Freeze's out-of-the-blue 2013 signing class. Fans cried foul when the Rebels finished in the top five of the recruiting rankings that year, and Nkemdiche was the primary target. The fact he plays with so much fire will be wrongly taken as showboating, and if he dominates on the defensive line the way he should, he'll accumulate haters quickly.
July, 10, 2014
Jul 10
10:00
AM ET
Maryland and Rutgers fans might have the wrong idea about their new Big Ten brethren.
For the most part, Midwesterners are excessively nice and hospitable. Coastal arrogance or aloofness has no place in the heartland, and the only frostiness in these parts is the weather. Big Ten fans might not have done backflips when they found out Rutgers and Maryland were joining the league, but now that the Scarlet Knights and Terrapins are part of the league, they will embrace their new, well-located friends.
But there are certain individuals that rankle even the most sensible Midwesterners. They are the folks you love to boo. Sadly, some of our favorite Big Ten villains -- Bret Bielema, Terrelle Pryor, Taylor Lewan -- are no longer here to kick around, but others remain.
Some of these folks have done absolutely nothing wrong. They have been too good on the field or on the sideline or as high school recruits. Others have said or done things to stir the pot.
[+] Enlarge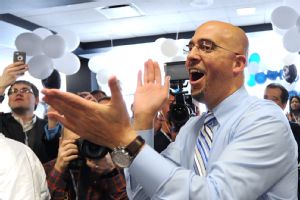 MCT via Getty ImagesPenn State coach James Franklin's exuberance has grown a little annoying for some around the Big Ten.
Today, we unmask these villains.
To those on this list, an important point: the only true villains in college football are good enough to be villains. No one cares what the last-place coach or quarterback thinks. So you have earned this distinction. Put it right next to your playing or coaching awards.
Another reminder: this is all in good fun.
Without further ado, the list in alphabetical (not villainous) order:
Jim Delany, commissioner, Big Ten:
He is one of the most powerful figures in college sports and has built the Big Ten into a revenue superpower through initiatives like the Big Ten Network. The Big Ten will never have a commissioner who makes a greater impact for such a long period of time. But Delany is still known more for his pro-BCS stance, Legends and Leaders, and the eyebrow-raising additions of Rutgers and Maryland. He lacks Larry Scott's polish or Mike Slive's willingness to stump for his constituents no matter what. Delany is a true independent voice and, at times, it has hurt his image among Big Ten fans. He might not be truly appreciated until he's gone.
James Franklin, head coach, Penn State:
Remember when Penn State's offseasons used to be quiet? Franklin has generated noise -- joyful noise for Nittany Nation, not so much for other fan bases -- since his opening news conference in January. He has made bold statements about
dominating regional recruiting
and backed it up so far,
compiling a top-5 class for 2015
. Franklin soaked up the spotlight during his May tour around the state and appears to be in front of every microphone and camera. Recruits and many fans love the guy, but some question his authenticity and get tired of the incessant hype.
Braxton Miller, QB, Ohio State:
He is about as subdued a superstar as we have seen in the Big Ten and a welcome departure from his predecessor, Pryor. But the introverted Miller has inflicted quite a bit of damage on Big Ten fan bases, leading Ohio State to a 16-0 mark in regular-season league games the past two seasons as the starter. Miller has been the king of comebacks during his Buckeyes career, leading six game-winning drives in the fourth quarter or overtime, the most among any FBS player. Knock him if you'd like for lack of a Big Ten title, but his best could be still to come.
Pat Narduzzi, defensive coordinator, Michigan State:
He is the overlord of the Big Ten's best defense and one of the nation's most dominant units. Michigan State and Alabama are the only FBS teams to rank among the top 11 nationally in the four major defensive categories in each of the past three seasons. Narduzzi's incessant blitzes punish quarterbacks and offensive linemen. Just ask Michigan. The Spartans have a good thing going and Narduzzi knows it,
telling ESPN.com
, "I don't think there's a team in the country that does what we do. ... We've been ahead of the curve for years."
Jabrill Peppers, DB, Michigan:
How can Peppers be a Big Ten villain when he hasn't even played a Big Ten game? I'll answer that question with a question: How many recent Big Ten players have generated more headlines before they step on the field than Michigan's prized incoming recruit? It's not Peppers' fault, but 13 of the 14 Big Ten fan bases likely are tired of hearing about the next Charles Woodson,
his connection to "Naughty by Nature"
and Peppers being the potential savior for an underachieving Wolverines program. Peppers might be the most anticipated Big Ten recruit since Pryor in 2008. He has a lot to prove this fall, and quite a few folks hope he busts.
Villains on deck:
Urban Meyer, Bo Pelini,
Connor Cook
, Julie Hermann, Christian Hackenberg