NCF Nation:

081613 coaching change
August, 16, 2013
8/16/13
10:26
AM ET
This time of year, the hot-seat discussion always -- pardon the pun -- heats up.
It is never easy to make a coaching change, but these decisions are made more difficult when successful, even legendary, coaches start slipping down a notch. See: Bowden, Bobby.
So let's take a look at recent examples of successful coaches being shown the door in the ACC and what followed.
ACC precedents: Bobby Bowden, Florida State; Larry Coker, Miami; Ralph Friedgen, Maryland; Paul Pasqualoni, Syracuse.
[+] Enlarge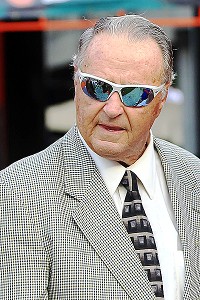 Kim Klement/USA TODAY SportsBobby Bowden won 10 or more games from 1987-2000 as coach at Florida State.
Bobby Bowden, 304-97-4 at FSU
Prior to his arrival:
The Seminoles did not have much coaching stability, nor much of a winning tradition for that matter. Consider that the seven coaches before Bowden combined for 162 wins over 29 seasons.
Why he was forced into retirement:
After an astonishing run between 1987 and 2000 that featured 10 or more wins in every season, the Seminoles started to slip. Bowden went 7-6 in three of his final four seasons, and the school decided it was time for a change. Though Bowden was supposed to coach through 2010, he was forced out following a 37-10 loss to Florida to end the 2009 regular season. Bowden ended his career with a win over West Virginia in the Gator Bowl.
The aftermath:
Jimbo Fisher, designated the coach-in-waiting under Bowden, has gone 31-10 in three seasons. Florida State finished 12-2 in 2012 with ACC championship game and Orange Bowl victories and a school-record 11 players taken in the NFL draft.
Larry Coker, 60-15 at Miami
Prior to his arrival:
Miami won four national championships between 1983 and 1991, but the program was hit by NCAA sanctions in the mid-'90s. Coach Butch Davis brought Miami back to prominence in 2000 before leaving for the NFL. Coker, the offensive coordinator, was elevated to head coach for the 2001 season.
Why he was forced out:
Coker became the second coach in college football history to win a national championship in his first season as a coach. He led Miami to another championship game appearance in 2002 as well. But the program began to slip under his watch. In 2006, Miami finished 7-6, with the low point being an embarrassing brawl against FIU that led to 13 game suspensions.
The aftermath:
Coker's successor, Randy Shannon, was fired after four seasons and a 28-22 record. Current coach Al Golden has gone 13-11 in two seasons. Miami has won more than seven games just once (2009) since Coker was fired.
Ralph Friedgen, 75-50 at Maryland
Prior to his arrival:
In his first year as head coach in 2001, Maryland had a winning record for the first time since 1995 and won 10 games for the first time since 1976. Between 1986 and 2000, the Terps had just one bowl appearance.
Why he was forced out:
New athletic director Kevin Anderson called the move to fire Friedgen "a strategic business decision." It clearly had nothing to do with Friedgen's performance in his final season of 2010. Maryland went 9-4, and Friedgen was ACC Coach of the Year. But once coach-in-waiting James Franklin left for Vanderbilt and took several assistants with him, Anderson decided he needed to make a change.
The aftermath:
Randy Edsall has posted back-to-back losing seasons and a 6-18 overall record in two seasons since taking over. He goes into 2013 on the hot seat.
Paul Pasqualoni, 107-59-1 at Syracuse
Prior to his arrival:
Dick MacPherson guided Syracuse for 10 seasons, producing seven winning seasons -- including the 1987 team that went 11-0-1 and finished fourth in the final Associated Press and coaches' polls.
Why he was forced out:
Pasqualoni is the second-winningest coach in school history, won four Big East titles and took Syracuse to two Fiesta Bowls and an Orange Bowl. But he only had one winning record in his final four seasons as head coach, and athletic director Daryl Gross decided to go in a different direction after the 2004 season.
The aftermath:
The Greg Robinson error ensued, as Syracuse proceeded to win 10 games over the next four seasons. Doug Marrone was hired in 2009 and got Syracuse back to two bowl games, along with a share of the Big East title in 2012, before leaving for the Buffalo Bills. Scott Shafer enters Year 1 after being promoted from defensive coordinator.
August, 16, 2013
8/16/13
8:00
AM ET
Our national topic Friday on ESPN.com is successful coaches who were pushed aside and what happened next.
Two come to mind for the Pac-12 -- or Pac-10, in which both coached: Arizona's Dick Tomey and Washington's Don James. Both resigned, though only one was forced to.
[+] Enlarge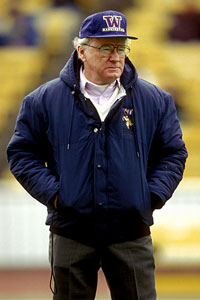 US PresswireDon James went 153-57-2 as coach of Washington, including a split of the 1991 national title.
Tomey opted to resign because it appeared he was about to get fired. James resigned because he was fed up with the administration at Washington -- insert Barbara Hedges imprecation here -- and how it handled an NCAA/Pac-12 investigation of the program that resulted in what would prove to be crippling sanctions.
Neither program has approached the heights those two coaches attained since their departures.
James, who was inducted into the College Football Hall of Fame in 1997, is simply one of the all-time great coaches. He went 153-57-2 leading the Huskies and split the 1991 national title with Miami. He won four of the six Rose Bowls he coached in and led the program to seven top-10 finishes.
After he left? Washington is 121-119, a .504 winning percentage just a bit south of James' .729 clip. The lone Rose Bowl was a victory over Purdue in 2001 under Rick Neuheisel.
As for Tomey, he resigned after a 30-17 loss to Arizona State and a 5-6 season "because of public debate" over his coaching tenure, he said at the time.
Tomey led the Wildcats to their only two seasons with at least 10 wins in program history, including a program-best 12-1 finish in 1998 when they ended up ranked fourth. In 1993, led by the "Desert Swarm" defense, Arizona went 10-2, beat Miami 29-0 in the Fiesta Bowl and finished 10th.
Tomey led the program to four of its seven all-time final Top 25 rankings. In 14 years, he only posted three losing seasons. His winning percentage was .598.
The one knock on Tomey: He never led the Wildcats to the Rose Bowl -- Arizona is the only Pac-10 member to have never played in the game.
Since Tomey was pushed aside? The Wildcats have suffered through seven losing seasons -- including five in a row after he left -- and have never won more than eight games. Their post-Tomey winning percentage is .435.
Sometimes a program has the right coach but things go askew. And sometimes folks don't realize how good things actually are.
August, 16, 2013
8/16/13
8:00
AM ET
There's hardly ever a perfect time to part ways with a coach, especially one who has had success. Some programs opt to nudge out long-tenured, mostly successful coaches only to pay the price later for their decisions. Others that part ways with a veteran coach end up seeing improvement. ESPN.com is taking a closer look at this topic today, and we're putting it under the Big Ten microscope.
Here are some notable Big Ten (and Nebraska) coaching forceouts:
LLOYD CARR, Michigan (1995-2007)
What happened:
A longtime Michigan assistant for Bo Schembechler and Gary Moeller, Carr moved into the top job in 1995 and two years later guided Michigan to a national title. He led the Wolverines to at least a share of five Big Ten championships and six bowl victories, including the 1998 Rose and 2000 Orange bowls. Carr had the Wolverines positioned for another national title run in 2006 as they faced archrival Ohio State in an epic matchup of undefeated teams ranked No. 1 and No. 2 nationally. But Carr's squad fell to Jim Tressel's Buckeyes, a theme during the later part of Carr's tenure. The 2007 season began with a humiliating loss to Football Championship Subdivision team Appalachian State. Although Carr officially retired in November 2007, there certainly was some pressure for the school to go in a new direction.
[+] Enlarge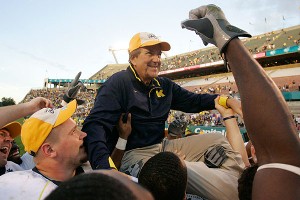 Chris Livingston/Icon SMILloyd Carr is carried off the field following Michigan's win over the Gators in the Capital One Bowl, which was Carr's final game.
What happened next:
Michigan went away from its coaching tree and plucked Rich Rodriguez from West Virginia to succeed Carr. It was a rocky situation from the start that never truly smoothed out. Rodriguez's first Michigan team in 2008 might have been the worst ever, tumbling to 3-9 and ending the school's streak of consecutive bowl appearances at 33. The following summer, Michigan admitted to committing major violations for the first time in its history -- relating to practice time -- and self-imposed probation. The Wolverines once again missed a bowl game in 2009 and struggled to make one in Rodriguez's third season. After a blowout loss in the 2011 Gator Bowl, Michigan fired Rodriguez, who went just 15-22 at Michigan (6-18 Big Ten, 0-3 against Ohio State). Michigan might have slipped a bit from the ranks of the elite under Carr, but the program plummeted to historic depths under Rodriguez. Michigan replaced Rodriguez with former Carr assistant Brady Hoke.
JOHN COOPER, Ohio State (1988-2000)
What happened:
After a rocky start (4-6-1 in 1988), Cooper went on a nice run at Ohio State in the mid- to late 1990s, averaging 10.3 victories between 1993 and 1998. He guided Ohio State to its first Rose Bowl appearance in 13 years during the 1996 season and emerged with a victory against Arizona State. He also won the Sugar Bowl after the 1998 season and coached Heisman Trophy winner Eddie George. But Cooper had two problems: an inability to beat archrival Michigan (2-10-1) and struggles in bowl games (3-8). Three times the Buckeyes entered The Game with a perfect record -- 1993, 1995 and 1996 -- and fell to the Wolverines. After a 6-6 clunker in 1999 and another loss to Michigan in 2000, Ohio State fired Cooper, who finished second on the school's all-time coaching wins list, behind Woody Hayes, with 111.
What happened next:
Ohio State made an unorthodox move in bringing in Youngstown State's Tressel to succeed Cooper. It paid off as Tressel guided the Buckeyes to a national title in his second season. Ohio State remains the only Big Ten team to win a crystal football during the BCS era. Tressel ended up dominating the Big Ten (six titles) and Michigan (8-1) during his tenure, leading Ohio State to five BCS bowl wins (one vacated) and three appearances in the national title game. Although Tressel's tenure ended in scandal, he certainly boosted Ohio State's program after the Cooper era.
BILL MALLORY, Indiana (1984-1996)
What happened:
After mostly successful runs at Miami (Ohio), Colorado and Northern Illinois, Mallory came to Indiana and put together an impressive run, reaching six bowl games between 1986 and 1993. He became the first man to win back-to-back Big Ten Coach of the Year honors in 1986 and 1987. Indiana had three top-four finishes in the Big Ten (1987, 1991, 1993), but after Mallory went just 5-17 (1-15 Big Ten) in 1995 and 1996, Indiana fired him. Mallory remains Indiana's all-time coaching wins leader (69) and is responsible for six of the Hoosiers' nine bowl teams.
What happened next:
Indiana has yet to come close to achieving the type of moderate success it enjoyed in the Mallory era. The program struggled under Cam Cameron and Gerry DiNardo before surging a bit for the late Terry Hoeppner. Still, it took 11 seasons after Mallory's dismissal for Indiana to return to the postseason under Bill Lynch in 2007. Although the Hoosiers are making strides under Kevin Wilson, the program has a ways to go to match where it was under Mallory.
GLEN MASON, Minnesota
(1997-2006)
What happened:
Mason never got Minnesota to the promised land -- its first Big Ten championship since 1967 -- but he made the Gophers a consistent bowl team. He won six to eight games in six of his final eight seasons, slumping to a 4-7 finish in 2001 but breaking through with 10 victories in 2003. Minnesota reached bowls seven times under Mason, but his middling Big Ten record (32-48) and inability to challenge for league titles eventually stirred the administration into action. The school
fired Mason two days after Minnesota squandered a 31-point third-quarter lead
against Texas Tech in the 2006 Insight Bowl.
What happened next:
The program backslid with the overmatched Tim Brewster at the helm, going 1-11 in 2007. Brewster made some splashes in recruiting but couldn't get enough talent to translate to the field. After a 7-1 start in 2008, the Gophers dropped their final five games, including a 55-0 decision to archrival Iowa at the Metrodome. A 6-7 season followed in 2009, and
Minnesota fired Brewster after a 1-6 start in 2010
. Brewster went 15-30 at the school and 6-21 in the Big Ten, which included an 0-10 mark in trophy games. His tumultuous tenure had many questioning why Minnesota ever got rid of Mason.
FRANK SOLICH, Nebraska (1998-2003)
What happened:
A former Huskers fullback, Solich had the nearly impossible task of following coaching legend Tom Osborne, who won national titles in three of his final four seasons at the school. Solich won 42 games in his first four seasons, a Big 12 championship in 1999 and Big 12 North titles in 1999, 2000 and 2001. He guided the Huskers to the 2000 Fiesta Bowl championship, and the 2001 team, led by Heisman Trophy winner Eric Crouch, played Miami for the national title at the Rose Bowl but fell 37-14. Nebraska then went 7-7 in 2002, its first nonwinning season since 1961. Solich rebounded with a 9-3 mark in 2003 but was
fired despite a 58-19 record in Lincoln
.
What happened next:
Much like Michigan, Nebraska went away from its coaching tree and hired Bill Callahan, who had led the Oakland Raiders for two seasons. And much like Michigan, Nebraska paid a price as the program went downhill. The Huskers went 5-6 in Callahan's first year, their first losing campaign since 1961. They won eight games the following year and the Big 12 North in 2006, but a highly anticipated 2007 season fell apart, particularly for the celebrated Blackshirts defense. Nebraska surrendered 40 points or more in six games and went 5-7, leading to Callahan's dismissal. Although Nebraska has rebounded under Bo Pelini, its last conference championship came under Solich's watch, 14 long years ago.
August, 16, 2013
8/16/13
8:00
AM ET
Head coaches are hired to be fired in the SEC. OK, not really, but it sure seems that way.
The league will have four new head coaches this season, and only six of the 14 coaches have been in their current jobs longer than two seasons.
The leash is shorter than ever. Consider this: Georgia's Mark Richt is the dean of SEC coaches at the same school. He's entering his 13th season in Athens. Dating back to when Richt was hired at Georgia in 2001, there have been 43 different head coaches at the other 13 SEC schools, which includes Missouri and Texas A&M.
The reality is that you're always on the hot seat if you're coaching college football in this day and age. But we've also seen that making a change, especially when it's a longer-tenured coach, doesn't always guarantee success.
Look at what happened at Texas A&M after R.C. Slocum was forced out, and look at what's happened at Tennessee following Phillip Fulmer's ouster. By the same token, when Auburn and Tommy Tuberville parted ways in 2008 after 10 years together, the Tigers won the national championship two years later under Gene Chizik. But then two years after that, Chizik was gone following a 3-9 season, Auburn's worst in 60 years.
Here's a closer look:
Coach on the bubble: Gary Pinkel, Missouri
SEC precedents:
Phillip Fulmer, Tennessee and R.C. Slocum, Texas A&M.
Phillip Fulmer, 152-52-1 at Tennessee
[+] Enlarge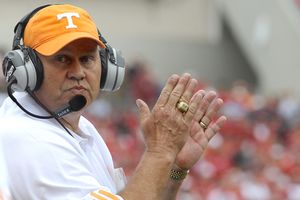 Al Messerschmidt/Getty ImagesAfter Philip Fulmer was fired Tennessee hasn't won more than seven games a season.
Prior to his arrival:
Fulmer was promoted from offensive coordinator after veteran head coach Johnny Majors was forced out toward the end of the 1992 season. Fulmer took over a program that had won SEC championships in 1989 and 1990 and played in the Fiesta Bowl in 1991. But after a promising start to the 1992 season that included wins over Georgia and Florida with Fulmer serving as interim head coach, the Vols lost three straight when Majors suddenly returned to work after missing the first part of the season while recuperating from heart surgery. To this day, Majors and Fulmer don't speak, and Majors holds Fulmer responsible for being part of the group that Majors says conspired to push him out after 16 seasons at his alma mater. It's a charge that Fulmer adamantly denies.
Why he was fired:
Fulmer led Tennessee to its first national championship in nearly 50 years in 1998, and from 1995-98, the Vols went 45-5 and won two SEC titles and a national title. He won 10 or more games in nine of his 16 seasons, and Tennessee made five SEC championship game appearances in his last 12 seasons. But the program dipped toward the end of Fulmer's tenure with a pair of losing seasons in 2005 and 2008. The Vols also lost badly to rivals Alabama and Florida in each of Fulmer's final two seasons and dropped 14 of their last 20 games to nationally ranked foes. With much of the Tennessee fan base growing increasingly restless, the final blow for Fulmer was a 29-9 loss to Alabama in 2008. Tide fans all but took over Neyland Stadium that night, and the only thing left at the end of the game was a sea of crimson.
The aftermath:
The Vols haven't won more than seven games in a season since Fulmer's ouster and have suffered through three straight losing seasons for the first time since 1909-11. They've lost 14 of their last 16 SEC games, and Butch Jones is Tennessee's fourth head coach in the last six years. Some fans have pinned the blame on Fulmer for leaving the cupboard bare and his last couple of recruiting classes not panning out. Others point to Lane Kiffin's tumultuous 14-month reign as what triggered the downfall of the program. Kiffin's highly ranked 2009 signing class turned out to be a dud, and he bolted for USC just weeks before signing day in 2010. The bottom line is that Tennessee has endured one of its worst stretches of football in school history after firing a coach who was inducted last year into the College Football Hall of Fame and won 98 SEC games. The only coaches who've won more are Bear Bryant, Steve Spurrier, John Vaught and Vince Dooley.
R.C. Slocum, 123-47-2 at Texas A&M
Prior to his arrival:
Texas A&M was rolling along as a Southwest Conference power under Jackie Sherrill, who guided the Aggies to three straight league titles from 1985-87. But NCAA problems caught up with the Aggies, and they were placed on probation for recruiting violations. Sherrill resigned under pressure following the 1988 season, and Slocum was promoted from defensive coordinator to be Texas A&M's new head coach.
Why he was fired:
Slocum was Texas A&M's head coach for 14 seasons from 1989-2002 and won three Southwest Conference championships and one Big 12 championship. He won nine or more games eight times and had four straight seasons of 10 or more wins from 1991-94. The Aggies finished in the Top 25 of the final polls 10 of his 14 seasons. But in Slocum's last four seasons, he never won more than eight games and dipped to 6-6 in his final season. Even then, he never had a losing record overall, and his only losing record in league play came that final season in 2002 when the Aggies finished 3-5 in the Big 12. Slocum was 7-7 against rival Texas, but lost his last three to the Longhorns. The final loss to Texas was a 50-20 blowout. As fate would have it, Slocum promoted Kevin Sumlin to offensive coordinator during the middle of his final season, and Texas A&M beat then-No. 1 Oklahoma with a true freshman quarterback. But after Slocum was fired, Oklahoma's Bob Stoops snatched up Sumlin, who was instrumental in recruiting Adrian Peterson to Oklahoma after Peterson had also shown heavy interest in Texas A&M.
The aftermath:
Until last season, when Sumlin returned to Texas A&M as head coach, the Aggies had struggled mightily to match the success they enjoyed under Slocum, who was inducted last year into the College Football Hall of Fame. Since Slocum's departure in 2002, Texas A&M has won more than seven games in a season only three times, and one of those came last season when Sumlin guided the Aggies to an 11-2 finish. They also haven't won a conference championship since Slocum was shown the door 11 years ago. Texas A&M was just 3-6 against Texas under the two coaches who followed Slocum -- Dennis Franchione and Mike Sherman. Last season marked only the second Top 25 finish by the Aggies in the final polls since Slocum was forced out. Also, until last year, the Aggies had lost 29 of their last 36 games against nationally ranked opponents post-Slocum, who remains Texas A&M's all-time winningest coach.
August, 16, 2013
8/16/13
7:00
AM ET
In the eyes of some critics, Mack Brown is sitting on a seat far warmer than he realizes.
ESPN Insider's Phil Steele says Brown is the No. 1 coach on the hot seat entering 2013, and there is a faction of the Texas fan base that agrees and believes Brown's best days are behind him. But if history tells us anything about canning coaches, the grass isn't always greener.
Brown's contract runs through 2020, and he isn't looking to retire any time soon. He's 27 victories away from becoming the winningest coach in school history. Will he reach that milestone?
A look at the recent history of successful Big 12 coaches being shown the door reminds us that a new hire brings no guarantees of success. And there might not be a better example of that than the man considered the league's best coach today.
[+] Enlarge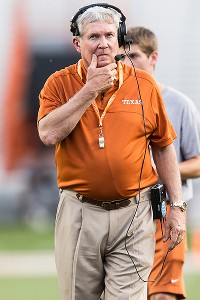 Cal Sport Media/AP ImagesWill Mack Brown get a chance to become the all-time winningest coach at Texas?
Coach on the bubble:
Mack Brown, Texas
Big 12 precedents:
Bill Snyder, Kansas State; Dan McCarney, Iowa State; Chuck Reedy, Baylor
Bill Snyder, 170-85-1 at Kansas State
Prior to his arrival:
The list of coaches who came before Snyder is a long one, but the last to win more games than he lost at Kansas State left in 1934 after one season. Snyder's predecessor, Stan Parrish, coached the Wildcats for 33 games and won two. The team was mockingly called "Futility U" before Snyder's debut, and had lost more games than any program in college football history.
Why he resigned:
The white-haired wizard was everything to Kansas State and achieved the most improbable rebuilding job college football has ever seen. But there reached a point in time, even after four Big 12 North titles, where KSU was ready to move on, in 2005. Leadership thought that after consecutive losing seasons, Snyder's heart just wasn't in it to go another season, even if he was hesitant to surrender the throne.
The aftermath:
In came Ron Prince, the 36-year-old Virginia offensive coordinator who had no ties to the KSU program. His best season was his first, and after consecutive 5-7 seasons, he was fired in November 2008 -- after agreeing four months earlier to a contract extension through 2012. Snyder heroically returned, and you know the rest.
Some believe Brown, 61, is getting old. Snyder was 66 when he was ousted. He was named 2012 Big 12 Coach of the Year at age 73 and got a new five-year deal this past offseason.
Dan McCarney, 56-85 at Iowa State
Prior to his arrival:
No, the track record of McCarney at Iowa State is not even close to what Brown has achieved at Texas. But no coach won more games at ISU than McCarney, who enjoyed five winning seasons in six years (2000-2005) and nearly won the Big 12 North outright twice. His predecessor, Jim Walden, retired after going 0-10-1 in 1994 and finished his ISU tenure with a record of 28-57-3. No Cyclones coach had won a conference title since 1912.
Why he resigned:
McCarney led the Cyclones to five bowl games, but the 2006 season went downhill and he stepped down. At the time he announced his decision, ISU was 0-6 in Big 12 play.
The aftermath:
Iowa State got as sexy a hire as it could have hoped in Texas defensive coordinator Gene Chizik. Then, after going 5-19 in two seasons, he bailed on the Cyclones for the Auburn job. Paul Rhoads has done a respectable job in Ames, with three bowl games in four seasons. McCarney is entering his third year as head coach at North Texas. His record there isn't great (9-15), but the Mean Green at least appreciate that they've got a good coach.
Chuck Reedy, 23-22 at Baylor
Prior to his arrival:
Yes, this is a bit of an obscure choice. Baylor had a solid, competitive program during the 21-year tenure of the great Grant Teaff and enjoyed winning records in eight seasons of his final decade in charge. When he retired, BU offensive coordinator Reedy was promoted to the head gig.
Why he was fired:
Replacing Teaff wasn't easy. The Baylor administration wasn't happy with some aspects of Reedy's coaching style, including recruiting high-risk players who were unlikely to qualify. But what sealed his fate was going 1-7 in conference play in the Big 12's inaugural year and losing four straight to end the 1996 season with a 4-7 record.
The aftermath:
Baylor didn't know it was signing up for a decade of futility when it canned Reedy. His replacement, Dave Roberts, went 4-18. The three coaches that came after Reedy went a combined 30-94 and finished last in the Big 12 South eight straight years. Art Briles has led an impressive rebuild, but he inherited enough of a mess that it took five years to get his career mark at Baylor above .500 (32-30).
I know what you're thinking. We've left out three coaching departures that are considered some of the biggest in recent Big 12 history: Barry Switzer, Mark Mangino and Mike Leach.
Considering Switzer resigned amid a flurry of scandal and NCAA probation, and Mangino and Leach departed after allegations of player abuse, they're not all that applicable to Brown or any current Big 12 coaches. But in the cases of Kansas and Texas Tech, who enjoyed unparalleled rises under Mangino and Leach, respectively, and haven't been the same since, it's another reminder that you never know what you'll get when you let a successful coach go.