NCF Nation:

09 ACC title game coverage
December, 4, 2009
12/04/09
10:28
AM ET
There is an added sense of excitement for both Clemson and Georgia Tech players heading into Saturday's ACC championship game, and that's because none of the players on either roster have had the opportunity to win the conference crown.
It's been over a decade since both programs have won the ACC title. Georgia Tech came close in 2006, but lost in the title game to Wake Forest. Georgia Tech was co-champion with Florida State in 1998 and Clemson has not won the title since 1991. Tech was last outright champion in 1990, the year the Jackets won the national championship.
"It would mean a great deal," said Georgia Tech defensive end Derrick Morgan. "First off, for our fans. They're kind of down right now as far as the loss to Georgia. But for us, in-house, we worked so hard this offseason and the previous two years to get to this point, and the opportunity is right in front of us. It would mean a great deal to everybody associated with this program, the whole Georgia Tech family. It would mean a great deal."
Clemson has never been to the ACC title game before, and offensive guard Thomas Austin said it's an opportunity the Tigers can't miss.
"Well, it's absolutely vital for us as a program," Austin said. "We have a winning tradition here at Clemson. That's something we take pride in, as does Georgia Tech. We have won a lot of championships here. But to not have won a conference championship in 18 years is something that we see as a unique opportunity for us to capitalize on that and to play well this weekend and to have a chance to play in those big BCS January bowl games is something that is a goal as a player, and that's what we were sold on coming out of high school, that we were going to have that opportunity if we came to Clemson. To see that come to fruition the last couple years, just a lot of hard work, it's very rewarding for us."
Both teams were picked by the media to finish second in their respective divisions this past summer. For Clemson running back
C.J. Spiller
, proving that pick wrong was one of the biggest reasons he came back for his senior year instead of entering the NFL draft.
"I mean, people remember champions, and that's one of the reasons I came back for my senior year is to try to win the championship game," Spiller said. "That's something that hasn't been done here in 18 years, and I want to try to help this team accomplish that.
"I think if we win or lose, I think people are going to always have that -- I guess that fear or something about playing Clemson because they know with Coach Swinney that his team is going to be ready to play for four quarters or however long it takes to get the job done. Only time will tell if we're the powerhouse, but I think the way we played this year, teams surely have tremendous respect for us."
Regardless of who wins the game, it will be a change in the ACC hierarchy, as Virginia Tech has won three of the past five ACC titles. The question is whether or not either Clemson or Georgia Tech can use this opportunity as a springboard for even better things or repeat championship appearances in the future.
For now, though, they're only focused on this year.
"I know it's going to be good for our program if we win the game," said Georgia Tech B-back
Jonathan Dwyer
, "and I hope we go out there and do what we're supposed to do, and hopefully luck gets on our side and we do win it."
December, 3, 2009
12/03/09
10:29
AM ET
When Clemson coach Dabo Swinney was an assistant at Alabama in 1999, the Crimson Tide went to Florida and beat the Gators, and then managed to do it again in the SEC championship game.
It was the only time Swinney had ever faced the same team twice in one season -- until now.
There will be a sense of familiarity when Clemson and Georgia Tech meet on Saturday in the ACC championship game, as Georgia Tech beat the Tigers,
30-27
, on Sept. 10 in Atlanta. Whether it will be an advantage for either team remains to be seen, but both teams are better now than they were in the second week of the season, and the coaches expect a few new wrinkles from each other.
[+] Enlarge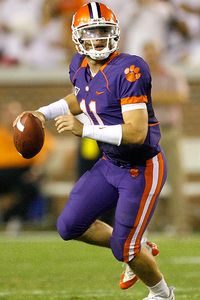 Kevin C. Cox/Getty ImagesKyle Parker threw for 261 yards, three touchdowns and two interceptions in the Sept. 10 meeting with Georgia Tech.
"This is a little different for them and for us in that I don't think either team really knew what we were getting into back [in the] second game of the season," Swinney said. "Neither one of us really had a lot to go on from a film standpoint, and there's a lot of new people playing on both sides. You know, our freshman quarterback and we've got some young linemen, and some freshmen playing in the secondary and things like that. So you know, now that you've got a lot of film to really study them throughout the season, and they'll have all of ours and we'll have all of theirs, from a scheme standpoint that's a good advantage this time around."
Georgia Tech coach Paul Johnson said he can't remember playing a team twice in the same season since he was at Georgia Southern (1997-2001). Johnson said Appalachian State and Furman would usually make the playoffs, and his team would see them again there.
"I don't think on the 1-A level we've ever played anybody twice in the same season," Johnson said. "That usually doesn't happen."
Georgia Tech outscored Clemson 24-0 in the first half earlier this year, but allowed the Tigers to battle back to a 27-24 lead in the fourth quarter. The Jackets' defense stifled rookie quarterback
Kyle Parker
to preserve the win, but it was kicker Scott Blair who stole the spotlight with his 34-yard touchdown pass and last-minute, game-winning field goal.
"You know, we know their personnel well," said Clemson guard Thomas Austin. "We've gone against those guys the last couple years and this season, but from a schematic standpoint, we know what they do, they know what we do, so I think for us it'll just be a matter of not trying to hide things but just doing what we do a little bit better."
Georgia Tech has won five of its past six games against Clemson, but this time, the Tigers will have had a full week to prepare for that triple-option offense -- again.
"It's six of one, half dozen of the other," Johnson said. "It probably helps them, but we also know how they lined up the last time. There's no guarantee everybody is going to line up the same way or do the same thing, but at least you have a little bit of familiarity. The first time we played them with a new coordinator, we had no idea what they were going to line up in. Like I said, I'm sure they'll have some tweaks and do a few things differently, but at least you've got some idea."
The other similarity between these two teams is that they're both coming off a loss to their respective SEC rivals that raised questions and revealed weaknesses. Clemson's offense all but disappeared against South Carolina, and Georgia Tech's defense was more than welcoming to Georgia's running game. Still, both coaches agree their teams have improved since they last met in September.
"You know, I think they've improved a whole lot offensively since they've played us," Johnson said. "I hope that we've gotten better, too. If we haven't, it's going to be ugly."
December, 3, 2009
12/03/09
9:04
AM ET
The ACC took one on the chin last week, and so did I. It was my worst week of picks. Ever. With a 2-6 record, now I know how Ralph Friedgen feels. Ugh. Florida State and Virginia Tech were the only teams I got right last week. That dropped my season percentage to 65.9 percent. I've got one conference pick left, and we all know it's a coin toss. Here goes:

Clemson 28, Georgia Tech 24: First, about the score. Eleven of the past 14 games in this series have been decided by five points or less, so expect that trend to continue. This game features the ACC's top two scoring offenses, two of the top three rushing offenses, three of the top five rushers in the ACC, and three of the top five touchdown scorers. That means this game will be about defense, and that's where Clemson wins. Georgia Tech's best counter is defensive end Derrick Morgan, but the Tigers go deeper on defense and have been more consistent. The last time these teams met, Clemson forced seven straight three-and-outs. That's an impressive feat against the country's leader in time of possession. The best matchup in this game will be on the sidelines between Paul Johnson and Clemson defensive coordinator Kevin Steele.
December, 3, 2009
12/03/09
8:00
AM ET
There's only one game, but it features two teams that haven't won the conference title in at least a decade. Clemson and Georgia Tech are the only two teams to finish with a 4-0 home conference record in the ACC this year. They have the top two scoring offenses in the ACC, and two of the top three rushing offenses in the ACC.
There is still plenty worth watching …
1. Georgia Tech wide receiver Demaryius Thomas.
ACC fans have seen this before. Remember when Virginia Tech running back
Ryan Williams
fumbled in the fourth quarter in the loss to UNC? Thomas had an equally costly drop last weekend against Georgia. How he responds and rebounds will be key. If he learned anything from Williams, Thomas should be OK, but the Jackets will need their top target focused.
2. Georgia Tech quarterback Josh Nesbitt's pass plays.
Paul Johnson has proven he's not afraid to throw it deep, but Nesbitt completed just 1 of 7 passes for 17 yards on attempts of throws greater than 10 yards last weekend against rival Georgia. For the season, Nesbitt has completed 33.3 percent of his passes (21-of-63) greater than 10 yards for four touchdowns and four interceptions. Two of those completions, though, came late in the regular-season game against Clemson, and for the Tigers, it was costly. Clemson was not efficient on third-and-long in the last meeting.
3. Fourth downs.
Johnson has developed a reputation for going for it on fourth down -- just ask Wake Forest. The Jackets have been successful on 13 fourth-down conversions this year, 56.52 percent of the time. Clemson is fifth in the country, though, on stopping fourth downs, holding opponents to just 4-of-15 (26.67 percent).
4. Pure talent.
This will be the highlight of the game, as it features three of the ACC's top five rushers in
Jonathan Dwyer
,
C.J. Spiller
and Nesbitt. Defensively, Georgia Tech safety Morgan Burnett has 14 career interceptions, and Clemson's DeAndre McDaniel has eight this year. Georgia Tech defensive end Derrick Morgan has 17 tackles for loss, and Clemson's Ricky Sapp has 13. Both Sapp and Morgan rank in the top five in the ACC.
5. Time of possession
. Georgia Tech leads the country in time of possession with 34:03 per game. Nobody holds onto the ball longer. And yet the first time these two teams met, Clemson's defense forced eight three-and-outs in 13 possessions. The Tigers have been one of the few teams able to get Paul Johnson's offense off the field. Clemson had seven straight three-and-outs in the last meeting. Whether the Tigers can have a repeat performance will go a long way in determining the winner.
December, 2, 2009
12/02/09
10:37
AM ET
The most Georgia Tech defensive end Derrick Morgan will admit right now is that playing for the NFL was always a dream of his. He isn't ready to let the world know whether or not he'll return for his senior season or leave early for the NFL draft, but considering his talent, there's a strong possibility Saturday's ACC championship game against Clemson will be Morgan's last appearance in a conference game.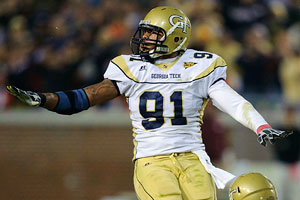 Paul Abell/US PresswireGeorgia Tech defensive end Derrick Morgan is a potential first-round NFL draft pick.
He is currently considered by ESPN's Scouts Inc. as the No. 1 defensive end in the upcoming NFL draft, and the No. 6 player overall. Mel Kiper has Morgan at No. 10 on his latest Big Board -- a jump of five spots from the previous week.
Georgia Tech coach Paul Johnson said recently that last week, he spoke to all of his juniors about their futures, and whether or not the NFL might be a part of it.
"Oh I think we'll know fairly early," Johnson said of his juniors' decisions. "If a guy is going to be a top 10 pick or a top 12 pick, they're probably going to go. It would be hard to advise them not to."
Based in the city of Atlanta, Morgan said he's easily accessible to people trying to influence his decision, but that the school does an excellent job of monitoring who gets in and keeps track of it all in the compliance office. Those within the program have left the decision entirely up to him.
"It gets kind of hectic, but that's only if you let it," Morgan said. "A lot of people are contacting you or trying to contact you, not even agents, it's all types of people. It gets hectic but you have to remain focused. There's a time and place for everything, and it's not the time for that yet.
"That's something that has to be paid attention to at the end of the season. If you get caught up in looking at that, you kind of get off your game a little bit. I'm going to focus on the goal at hand for our team."
That's bad news for Clemson.
Morgan ranks first in the ACC and sixth nationally in sacks (12.5), and he ranks second in the ACC and is tied for 17th nationally in tackles for loss (17.0). Morgan is three sacks shy of breaking the Georgia Tech single-season sacks record of 15.0, held by Pat Swilling in 1985. His 12.5 sacks are the most by a Yellow Jacket since Greg Gathers had 13.0 in 2000.
And he's done it while facing double coverage for most of the year. That's why Clemson coach Dabo Swinney voted for Morgan as an All-American.
"He's outstanding," Swinney said. "He can play the run. He's excellent versus the pass. I thought he was their best player last year. I mean, he's just a really, really good football player that you'd better know where he is and you'd better have a plan for him. You've got to slide the protection to him, you've got to chip him with a tight end, you've got to play-action him, you've got to cut him with the back. I mean, there's different things that you have to do to try to keep him from just getting in a rhythm. If you just go in and you've just got one thought, he's going to have a big night on you. So you have to change up what you do from a protection standpoint."
Morgan, though, is still looking for more from himself.
"I'm still not satisfied with my performance," he said. "It's a real humbling experience to be recognized and noticed, but I'm still not where I want to be. I still have a lot of goals I want to achieve. It varies by week. I turn on the game film and see I could've done this better or I could've done that better. I'm my biggest critic. I'm always trying to be a student of the game and learn and better myself every week."
Unfortunately for Georgia Tech, it could be one of his final weeks.
December, 1, 2009
12/01/09
9:28
AM ET
On Dabo Swinney's first day of spring practice as Clemson's head coach -- his first day as anyone's head coach for that matter -- he brought two signs with him. One said, "Believe," the other said, "It can be done."
"For us, we thought that was a little weird, maybe a little unconventional at first," said guard Thomas Austin. "But every day since then we've seen that sign. You start believing in yourself as a team. That's one thing I respect about coach Swinney -- when we were 2-3, people were calling for his job, our coordinator's, all that stuff, we didn't pay attention to that. We banded together as a team. We could've done two things -- we could've given up, or we could continue to work hard. We continued to work hard. The players took ownership of what was going on."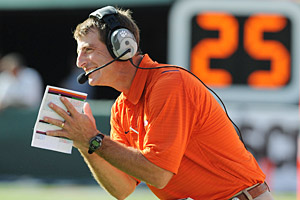 Al Messerschmidt/Getty ImagesDabo Swinney has made believers out of the Clemson Tigers.
And that's been the difference under Clemson's first-year staff. From veterans on the team like
C.J. Spiller
to rookies like quarterback
Kyle Parker
, the players agree that there is a different mentality at Clemson than in years' past under former coach Tommy Bowden, and it has been the driving factor behind the Atlantic Division championship this year. After a disappointing 2-3 start, which included an inexplicable loss to a now 2-10 Maryland team, the Tigers were able to regroup and avoided the letdowns of the past that had plagued the program for years.
Following the loss to Maryland, Clemson reeled off six straight wins to earn a trip to Tampa this weekend, where it will face Georgia Tech for a chance at the program's first ACC title since 1991.
After last weekend's loss to rival South Carolina, the Tigers will have to finish the season in similar fashion to how they started it, though -- rebounding from a loss.
"Win or lose, the following week he's going to continue to preach to them about believing and never giving up," Spiller said, "and that's the thing that I love about him."
Clemson has now lost two straight regular-season games to Georgia Tech under Swinney. Yet there doesn't seem to be a lack of confidence heading into Saturday's title game.
"He got us more focused," safety DeAndre McDaniel said of Swinney. "He got us bonding better as a team. I mean, we're practicing faster, a lot harder, and he's just a great coach. He speaks to us positively, and he's just keeping our head where we're supposed to be at. I don't think too many coaches is better than him at that."
It's a glowing endorsement for a man who had never been a coordinator before, let alone a head coach. The former receivers coach had just five days last year to regroup the team after Bowden's midseason departure and prepare for a 5-1 Georgia Tech team. Clemson lost 21-17 to the Jackets in that game, but Swinney finished with a 4-3 record as interim head coach.
"The biggest thing is a lot of people relate to him," said Parker. "He does a good job of making the players feel like he really cares about them, and in return we care about him. The biggest thing is he makes everyone feel included, and we'll go out and play for him, and that shows on the field."
Offensive coordinator Billy Napier said Swinney has had a trickle-down effect.
"The biggest thing that stands out to me, if you really look in his background, the guy has overcome a lot," Napier said. "His attitude and his approach day in and day out is a very positive guy who has had to be very resilient in the past. So his leadership qualities and his ability to never give up and constantly believe that good things are coming -- I think it's rubbed off on this team. Their play reflects his attitude."
And that has been Swinney's goal since the first day of spring practice.
"You know, I'm thankful for these players because somewhere along the line they've bought in, and they did believe," Swinney said. "And when we were a 2-3 football team looking at a six-game stretch where we had to win to have a chance to win our division, I'm thankful that they chose to keep believing and not listen to so many other things."
Swinney, though, got them to listen to him.
November, 30, 2009
11/30/09
11:46
AM ET
As a former wide receiver and receivers' coach, Clemson coach Dabo Swinney knows not every ball will be caught. He can empathize with Georgia Tech wide receiver
Demaryius Thomas
, whose fourth-down drop on what would become the Jackets' final offensive play against Georgia will be hard to forget.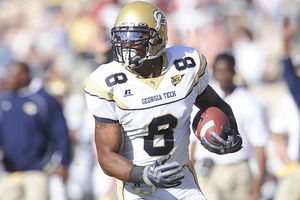 Sean Meyers/Icon SMIGeorgia Tech wide receiver Demaryius Thomas' coach Dabo Swinney doesn't blame him for a rare drop in Saturday's game.
In a rare, uncharacteristic moment, Thomas let the ball slip through his fingers. Had Thomas caught it, Georgia Tech would have had a first down at the Georgia 36 with 1:22 left to play. Thomas is so good I'd be willing to bet most of us watching assumed he would catch it. He usually does.
"I'd go over and say, 'Listen, big boy, we wouldn't be here if it weren't for you,'" Swinney said. "It's never one play, and that's unfortunately -- that's what people will remember because it was the last play, but … dadgum, he's not perfect. But I'd put my arm around him and tell him, 'Hey, it happens, let's move on.' Tiger Woods misses an easy putt every now and then, or Michael Jordan missed a free throw. You go on to the next catch and just realize that there's 65 other plays that count, as well."
And anyone who has been paying attention to Thomas this year knows he's made every one of those plays count, and he is still one of the best receivers in the country. Despite having only 44 receptions this year, Thomas still leads the ACC with 89.8 receiving yards per game and has an astounding 24.5 yards per catch. He is No. 16 in the country in receiving yards per game, and 12 of the players ranked ahead of him have at least 78 catches. Nobody has fewer than 51.
Had Georgia Tech's entire team executed better for the previous 58 minutes, it wouldn't have had to come down to one catch. Georgia Tech coach Paul Johnson said he talked to Thomas "for a good bit" on Saturday night.
"You know, there's not much to say," Johnson said. "He's one of the best players on our team, and if it wasn't for him, we certainly wouldn't be 10 and 2 and going to the championship game. Like I told him (Saturday) night, you don't worry about that, pal, you move on. If it hadn't been for him, we wouldn't have been in the game to begin with.
"You know, he's made a zillion plays for us, and things happen. Just like we're all disappointed we lost the game, you just have to move on. I think he'll do that. I mean, he's that kind of player, and he's been invaluable to our team."
He still is.