NCF Nation:

090413 picking up pieces
September, 4, 2013
9/04/13
9:00
AM ET
Kirk Ferentz looked like a politician Tuesday as he leaned forward, wearing a red tie, and fielded questions about his
Iowa Hawkeyes
. He alternated between taking sips of coffee and water, while topics ranged from
Jake Rudock
's interceptions to the lack of a pass rush.
[+] Enlarge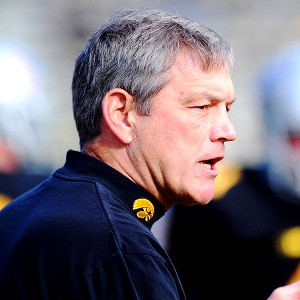 Byron Hetzler/USA TODAY SportsKirk Ferentz has found himself too often answering questions about disappointing losses.
Despite everything that was discussed, Tuesday's news conference basically revolved around one simple theme: Is losing a close 30-27 game to MAC school Northern Illinois part of the new normal for Iowa?
The Hawkeyes' longtime coach has more questions than answers right now. Surely he'd like to think this is just part of some unlucky trend -- one that's seen him lose five times by a field goal or less in the last 12 games -- but the point is it's a losing trend. And Ferentz hasn't yet found a way to reverse it.
Iowa fell to Central Michigan last season 32-31, and lost to the Huskies on Saturday. Ferentz last lost to a MAC team in 2007. Before that? In 2000, his second year as head coach.
Maybe Ferentz's best days are behind him; maybe not. That's not something that was answered by just the Northern Illinois game, a matchup that pitted the best player in the MAC -- dual-threat QB
Jordan Lynch
-- against a defense that averaged about a sack a game in 2012.
But Ferentz knows what his team has to do to find a favorable solution. The Hawkeyes must pick up the pieces and limit turnovers and big plays.
"The next step," he said, "is you need to learn how to win."
This is just the first bell in a 12-round bout, but the Hawkeyes are reeling right now. This loss isn't nearly on the same scale as other upsets over the weekend. It's still painful, but Iowa isn't South Florida. There are still reasons for fans clad in black and yellow to cheer.
For one, this offense might not be near the best in the Big Ten -- but it's no longer anemic. It rushed for 202 yards Saturday, a full 99 yards more than last season's average.
Mark Weisman
reached the century mark rushing and averaged 5 yards a carry.
Rudock tossed an interception that led to the Huskies' game-winning field goal, but he threw for 256 yards -- 69 yards more than the Iowa norm in 2012. So what, then, is holding this offense back? Why did it manage to score only two touchdowns?
No doubt Ferentz will be breaking down the film and looking for answers. But offensive coordinator Greg Davis needs to take some of the blame here. He curiously abstained from using his running backs on third-and-short during the second half and, on a key third-and-9 play late in the game, he called
Kevonte Martin-Manley
's number ... on a bubble screen. The play went for 1 yard.
The pass-rush seems nonexistent and the secondary is still adjusting without Micah Hyde. But after the first game, this doesn't appear to be a bad team -- at least not worse than last year. It's a losing team right now, but there is a difference.
Ferentz will continue to field these questions until winning once again becomes a trend. Iowa should get an easy victory in Week 2 from Missouri State. But the hopes for a successful season seem pinned on Week 3, at Iowa State.
Iowa didn't pass its first test, but it showed potential. If it fails another, if improvement doesn't translate into victories, the questions might stop -- but Ferentz won't like the answers.
September, 4, 2013
9/04/13
9:00
AM ET
Going into the season, Kansas State and Iowa State each held lofty goals.
The Wildcats wanted to challenge again for the Big 12 title, despite losing conference players of the year Collin Klein and Arthur Brown.
After two straight bowl appearances, the Cyclones hoped to finish in the top half of the conference for the first time under Paul Rhoads.
[+] Enlarge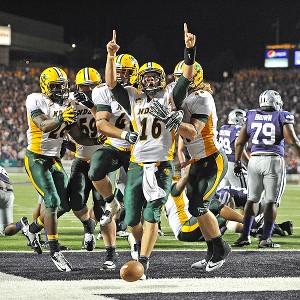 Peter G. Aiken/Getty ImagesLosing to reigning FCS champ North Dakota State won't derail all of Kansas State's 2013 goals.
While those goals remain intact for both, Week 1 was something of a nightmare for both teams.
Kansas State, the defending champion in the Big 12, fell Friday to two-time defending FCS champ North Dakota State. The following night, fellow FCS powerhouse Northern Iowa toppled the Cyclones in Ames. Before either Kansas State or Iowa State can attempt to get back on track, they must first pick up the pieces from a disastrous opening weekend.
"We know we can win games," Cyclones quarterback Sam Richardson said. "But we have to get our confidence back."
It's understandable why the confidence of either team would be shaken.
To win in Manhattan, North Dakota State went on an 18-play, 80-yard touchdown drive that ate up almost nine minutes and left just a few seconds remaining. Iowa State, meanwhile never led against Northern Iowa, which racked up 228 yards on the ground and averaged almost 7 yards a carry.
"Everybody is hurt to begin with, whether it is disappointment or embarrassment or just emotional pain from it," K-State coach Bill Snyder said Tuesday. "I think at some point in time that turns into anger, and they get angry about the situation and what took place. And then maybe the next emotion is probably determination to rectify whatever the mistakes happened to be and to rectify the situation. Everybody that cares goes through that, and I think most of our guys care."
Pinpointing what exactly went tangibly went wrong for either team isn't easy. Kansas State center B.J. Finney said the Wildcats tried too hard to make plays, and ended up making mistakes instead. Richardson said the Cyclones didn't work hard enough to make plays.
Whatever the case, both players agree that their teams strangely failed to play with much emotion in their openers.
"We kind of lacked spirit and enthusiasm out there," Finney said. "Guys weren't getting excited when we made big plays. When you don't play with enthusiasm -- football is an emotional game -- that tends to wear you down. Gets you tired."
The Wildcats looked like a tired team late in their game. So did Iowa State, which failed to scrape a drive together of more than 22 yards in the fourth quarter.
"It didn't feel like a Cyclone atmosphere that day in our locker room," Richardson said. "That's definitely something we have to get going."
The good news is that both teams are already showing signs this week of snapping out of their funks. Richardson said his teammates have already begun to get excited about their rivalry game with Iowa next weekend. Snyder said his squad had its best practice of the season Monday.
"Some of us were pretty angry with the outcome on Friday and we wanted to change that," Finney said of the workout. "It definitely showed that people wanted to change and truly want to have something special here."
No matter how mad they get, neither team will be going undefeated. The way they looked in their openers, they both have a way to go before doing anything special.
But the Cyclones and Wildcats still have many of their preseason goals in front of them. Which means the season is not a disaster yet. Even if the first week was.
"We'll remember that one for a while," Richardson said. "It's frustrating, for sure.
"But we can definitely rebound."
September, 4, 2013
9/04/13
9:00
AM ET
Take heart Mississippi State, your Bulldogs played well on defense this past weekend. Holding a historically prolific offense like Oklahoma State's to 21 points should be measured as an accomplishment, especially with a secondary that replaced three of four starters. The Cowboys usually hit that mark by halftime. Instead,
Jay Hughes
& Co. never let Mike Gundy's tempo get going and held Oklahoma State to less than 150 yards passing.
But Hughes, despite his best efforts, wouldn't survive the game as Mississippi State lost one of its most experienced defensive backs for the rest of the season with a torn Achilles.
And that was only the beginning of the bad news for a program that ended last season on a bitter note, losing five of its final six games after starting off 7-0.
[+] Enlarge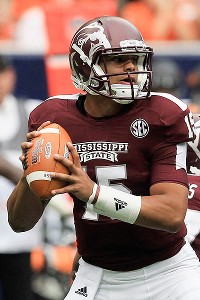 Bob Levey/Getty ImagesWith Tyler Russell out of commission, it will be up to Dak Prescott to provide a spark for Mississippi State's struggling offense.
Injuries might be the least of coach Dan Mullen's worries after a disappointing season-opening loss to Oklahoma State. His offense, the one promised to improve with each season since his arrival five years ago, was stagnant, ineffective and, to put it more plainly, bad. The Bulldogs mustered only three points and converted on just two of 16 third-down attempts.
Tyler Russell
's 10-of-16 passing performance wasn't horrendous, but 133 yards, no touchdowns and an interception were not what you would have expected from a fifth-year senior going up against a defense that finished 110th out of 120 in passing defense last season.
Mississippi State's offense couldn't do anything right in Arlington, Texas. The Bulldogs rushed for a paltry 111 yards and threw for only 6.7 yards per pass.
Jameon Lewis
returned a kickoff 66 yards to the OSU 34-yard line just before halftime, but a holding penalty and a sack stopped the drive in its tracks.
Even when the Bulldogs did put together a solid drive, they couldn't finish. Their only lead of the game came off a 40-yard field goal when a six-minute, 57-yard drive was cut off short of the red zone.
"I always take responsibility for all the play calling on offense," Mullen told reporters Monday. "'I'm an offensive-oriented coach. To me that all falls on my shoulders. I have a lot of input on the offense. As the head coach that kind of goes on me. I do think in looking back on it, I do think there were times we could've taken some more shots down the field and we had some good one-on-one matchups and didn't take as many shots."
Taking the blame was honorable, but it won't do anything to relieve the growing sense of heat under the head coach's seat at the helm of the football program. There's a buzz growing in Starkville, Miss., and it doesn't favor the current regime.
And to make matters worse, Russell was knocked out of Saturday's game in the third quarter. The concussion he sustained would lead Mullen to announce that Russell would not play in Mississippi State's upcoming game against Alcorn State.
Now, Mississippi State offensive coordinator Les Koenning must go back to the drawing board with a new quarterback,
Dak Prescott
, who doesn't have a single start under his belt. Sure, Prescott is a weapon with his ability to run and throw the football, but there's no substitute for experience.
In that respect, the Alcorn State game comes at the perfect time for Mississippi State to regroup. Prescott should be able to move the offense with his feet and get points on the board. A blowout win would give Mullen cover as his team prepares for Auburn the following week.
But therein lies the rub. Alcorn State will serve as a nice diversion, but if Mississippi State looks like it did against Oklahoma State against an SEC opponent such as Auburn, things could get really interesting in a hurry.
September, 4, 2013
9/04/13
9:00
AM ET
After he sliced and diced Oregon State's defense last Saturday, Eastern Washington quarterback
Vernon Adams
recalled his team's dispiriting conclusion to an otherwise good 2012 season. Just like the Beavers, the Eagles had seen their strong campaign a year ago end on a down note against a team from Texas.
The Eagles lost to Sam Houston State in the FCS semifinals, a massive comeback from a 35-0 halftime deficit falling just short, 45-42. The Beavers self-immolated in the fourth quarter and lost to Texas in the Alamo Bowl, 31-27.
Sort of a vast distance betwixt the two, eh?
[+] Enlarge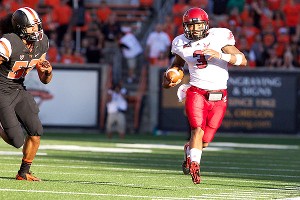 Jaime Valdez/USA TODAY SportsThe Oregon State defense yielded big numbers in the loss to Eastern Washington.
So Eastern Washington, after beating the then 25th-ranked Beavers 49-46, moves on to the Big Sky Conference -- Cal Poly, Weber State, UC Davis -- with big intentions in the FCS playoffs, while Oregon State … well, does what?
Serves as a national punch line? Suffers through another season like 2011, when a loss to another FCS team -- Sacramento State -- presaged a horrid 3-9 campaign that had folks calling for coach Mike Riley's head?
Or Oregon State rights itself and redeems its season, transforming the inglorious opener into a fluke, a tough lesson that can be later referenced after a bowl victory as the touchstone for ultimate and satisfying success.
"[Cornerback]
Rashaad Reynolds
said something great in the locker room," quarterback
Sean Mannion
told reporters after the defeat. "He said that there are two ways that we can go about this: We can either lay down or stand up and overcome this by working harder than we ever have. Obviously, that is the route that we are going to take."
Of course, that's also pretty obvious. The same thing was said after the Sacramento State loss, though it's worth noting the Beavers were riven after that game by the QB switch from the popular Ryan Katz to Mannion, then a redshirt freshman.
Still, the perception of Oregon State has taken a hit. Again. The preseason take on the Beavers was they were headed for a 7-0 start and potential top-10 ranking that would make the Oct. 26 visit from Stanford a red-letter date nationally. Now the visit from woeful Hawaii on Saturday doesn't feel like a sure thing.
Oregon State welcomed back seven starters from one of the nation's best defenses in 2012, yet it yielded ludicrous numbers against the Eagles -- 625 total yards, 8.8 yards per play, 31 first downs, 448 passing yards, etc. The big preseason question for the Beavers was the quarterback competition between Mannion and
Cody Vaz
, but Mannion was lights-out and the offense rolled up 46 points, which would have been enough to win every game the team played since 2006, other than matchups with Oregon in 2008, 2011 and 2012.
Think of all the great offenses Oregon State has faced over the past few years. Yet when the Beavers gave up 29 first-half points, it was the most they'd yielded since 2008 against Oregon. The Eagles' 23 second-quarter points were the most the Beavers have surrendered in any quarter since UCLA scored 28 in the fourth on Sept. 29, 2007.
No matter how dynamic Adams was, this probably ranks as one of Oregon State's worst defensive performances of the modern era, particularly when you factor in that the foe was from a lower division.
So what was the problem?
"We got totally disrupted," Riley said. "We were way out of sorts in pass rush, pass-rush lanes, we were misaligned defensively. We made some crucial technical errors, just playing Cover 3 and giving up a deep ball right down the middle of the field. Just kind of simple football mistakes, whether it's just lining up or maintaining a pass-rush lane or maintaining position on a receiver."
Throw in poor tackling and that just about covers it. The defensive failure was a total team effort. All-Pac-12 defensive end
Scott Crichton
was invisible, recording just two tackles.
"The quarterback gave us fits," Riley said. "Scott could never quite get there or finish a play."
The Beavers were the only ranked team to lose to an FCS foe on the opening weekend, but they certainly weren't the only AQ conference team to get toppled. Kansas State, the defending Big 12 champions, lost to North Dakota State. Folks aren't going to start questioning Bill Snyder's coaching acumen, at least not anyone with a brain.
Stuff happens.
The question now is whether this is just one of those games -- an anomaly -- where things go haywire. The answer to that only will be revealed in coming weeks. But know that the visit to Utah in Week 3 suddenly seems freighted with far more meaning than in the preseason.
Not that the Beavers should be overlooking anyone at this point.
"I think everybody takes it on themselves, coaches, players," Riley said. "Everybody has to take responsibility."