NCF Nation:

100 days top players
May, 22, 2012
5/22/12
10:32
AM ET
As part of the "College Football Live" 100 Days 'Til Kickoff countdown, here's a look at the top 10 players in the Big East. For those wondering, the Big East blog will still have its annual preseason Top 25 player countdown a little later in the summer.
Without further ado:
[+] Enlarge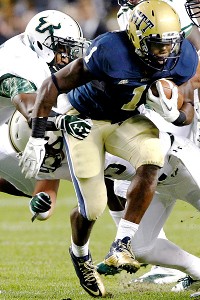 AP Photo/Keith SrakocicRay Graham could be the Big East's best player if healthy.
1. Ray Graham, RB, Pitt.
Taking a calculated risk here, considering we have no idea how Graham is going to look a year after tearing his ACL. Coach Paul Chryst says Graham will be ready for fall camp. If Graham is able to return to form, he should be the best player in the league.
2. Khaseem Greene, LB, Rutgers.
Greene goes into the season as the preseason favorite to win Big East Defensive Player of the Year honors for the second straight season after sharing honors with Derek Wolfe in 2011. Though he broke his ankle in the bowl game, he will be ready for fall camp. Side note: Isn't it a neat that he and Graham are brothers?
3. Aaron Donald, DT, Pitt.
Donald emerged last season, finishing second in the league with 11 sacks. He has shifted inside to tackle this year, but he is the most productive and experienced player returning to the Pitt defensive line and should continue his upward trajectory.
4. Teddy Bridgewater, QB, Louisville.
Bridgewater had a sensational freshman season, winning league newcomer of the year honors. Hopes are high for him to build off his impressive campaign in his second year as a starter. Louisville will do more to take advantage of his athleticism, with plans to install some hurry-up offense.
5. Logan Ryan, CB, Rutgers.
Ryan led the league with 16 passes defended -- 13 breakups and three interceptions last season. Defensive back is one of the strongest positions across the league, and Ryan leads the way as the Big East's best cornerback.
6. Hakeem Smith, S, Louisville.
Smith has gotten better in each of his seasons with the Cardinals, so this season should feature more of the same. In 2011, he had 84 tackles, tied for second in the league, with nine pass breakups. He also tied for second in the league with three forced fumbles and made the Big East first team.
7. Ryne Giddins, DE, USF.
Giddins emerged in the second half of last season (yes, I know many of you still remember him for his personal foul against West Virginia) and is in line to have a breakout year for the Bulls, who should have one of the stronger defensive lines in the Big East.
8. B.J. Daniels, QB, USF.
Daniels should be the best quarterback in the Big East, considering he is going into his fourth year as a starter. Is this the year he finally lives up to expectations and delivers a long-awaited -- and first -- league title?
9. Walter Stewart, DE, Cincinnati.
Coach Butch Jones says he has not been around a player as focused as Stewart in a long time. That is saying something, considering the defensive stars the Bearcats had last season. Stewart is poised to give Cincinnati a huge presence at rush end.
10. Lyle McCombs, RB, UConn.
McCombs ran for more than 1,000 yards as a freshman last season and returns for 2011 with much more confidence -- and the Huskies hope a better offensive line. He goes into the season as the unquestioned featured back.
May, 22, 2012
5/22/12
9:00
AM ET
As part of the "College Football Live" 100 Days 'Til Kickoff countdown, here's a look at Notre Dame's top 10 players.
[+] Enlarge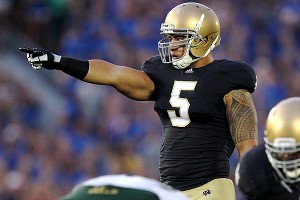 Jonathan Daniel/Getty ImagesManti Te'o could be the best inside linebacker in all of college football.
1. Manti Te'o:
The senior passed up NFL millions and returns as perhaps the top inside linebacker in the nation. He will look to build off consecutive 120-plus-tackle campaigns and anchor a front seven primed to take the next step under third-year coordinator Bob Diaco.
2. Tyler Eifert:
Like Te'o, Eifert deferred NFL dollars and dreams to return for one more year. And, like Te'o, Eifert may just be the nation's best player at his position. But the tight end will resemble more of a receiver this season, moving all over the field and serving as the No. 1 target for whoever ends up throwing the ball for Notre Dame.
3. Cierre Wood:
Coming off a 1,000-yard season in which he lost snaps to Jonas Gray late in the campaign, Wood returns as the Irish's No. 1 running back. Depth in the backfield may keep carries down again, but Wood figures to have another strong season with a proven line blocking for him.
4. Jamoris Slaughter:
He probably won't be a first-round draft pick the way
Harrison Smith
was, but the fifth-year senior is a versatile playmaker who can move up and play linebacker while serving as the voice for a young secondary.
5. Stephon Tuitt:
He didn't put up the big numbers of fellow class member Aaron Lynch, but he may be even better. Tuitt has shown the versatility to play end and nose guard, and he will only get better after bursting onto the scene as a freshman.
6. Zack Martin:
Want to know what helps with the quarterback transition the most? A proven offensive line. At left tackle, Martin keys that group as he enters his senior year with 26 straight starts under his belt (two at right tackle).
7. Theo Riddick:
You'd be hard-pressed to find someone who stood out more this spring. The running back/slot receiver is a playmaker when he gets the ball in his hands. If he can stay healthy and succeed as a punt returner, he will find his name much higher on this list a few months from now.
8. Braxston Cave:
Another veteran piece on this line, Cave stars in the middle and is an important locker room voice. Limited this spring after a foot injury sidelined him late last season, Cave is back for a fifth year, his third in a row as the starting center.
9. Louis Nix:
A subpar spring forced Nix behind
Kona Schwenke
on the depth chart, but the nose guard is an invaluable cog in the middle for the Irish's young line. A strong preseason camp -- and a capable replacement in Schwenke -- should only make Nix better in his second year of game action. (He redshirted his freshman year.)
10. George Atkinson III:
Atkinson returned a pair of kickoffs for touchdowns as a freshman. Now, he's hoping that playmaking ability translates on the offensive side of the ball. He netted 178 yards of offense in the spring game but coughed it up twice, and he'll have to ease the staff's concerns since Wood and Riddick are ahead of him.
May, 22, 2012
5/22/12
9:00
AM ET
As part of "College Football Live's" 100 Days Till Kickoff countdown, here's a look at the top 10 players in the Pac-12.
This list, by the way, may or may not match the Pac-12 blog's preseason top 25, which will be posted later in the summer.
1. Matt Barkley, QB, USC
: Best QB in the nation. Would have been a top-10 pick in this past NFL draft. Could go No. 1 overall in 2013. He completed 69 percent of his passes for 3,528 yards, with 39 touchdowns and seven interceptions in 2011.
2. De'Anthony Thomas, RB/WR, Oregon
: Thomas is one of the nation's most explosive players and a leading Heisman Trophy candidate. He rushed for 595 yards and seven TDs in 2011, averaging 10.8 yards per carry. He caught 46 passes for 605 yards and nine TDs. He averaged 27.3 yards per kick return with two TDs.
3. Star Lotulelei, DT, Utah
: Lotulelei may be the nation's best defensive tackle. He likely will be an early first-round pick in the 2013 NFL draft. The Morris Trophy winner as the Pac-12's best D-lineman, he had 44 total tackles, with nine coming for a loss. He had 1.5 sacks, a pass break-up, forced fumble and a fumble recovery.
4. Robert Woods, WR
,
USC
: Woods, first-team All-Pac-12 in 2011, earned first-team All-American honors from the AP, The Sporting News and was second-team with Walter Camp. He caught 111 passes for 1,292 yards with 15 TDs in 2011.
5. Marqise Lee, WR, USC
: Lee might share All-American honors with Woods this season. He stepped up late in 2011 when Woods was hurt, catching seven of his 11 TD passes over the final five games and hauling in 21 passes for 411 yards in the final two -- wins over Oregon and UCLA. For the season, he caught 73 passes for 1,143 yards with 11 touchdowns. He also averaged 28.5 yards on 10 kickoff returns, with an 88-yard TD.
6. Keith Price, QB, Washington
: As a first-year, sophomore starter, Price passed for 3,063 yards with 33 touchdown passes, with those numbers ranking second and first all-time for the Huskies. His 66.9 completion percentage and 161.09 passing efficiency rating were both school records.
7. Chase Thomas, OLB, Stanford
: Thomas was first-team All-Pac-12 and an All-American for The Sporting News in 2011. He had 52 total tackles and led the Pac-12 with 17.5 tackles for a loss, three more than anyone else. He was also second in the conference with 8.5 sacks and five forced fumbles.
8. Keenan Allen, WR, California
: Allen earned first-team All-Pac-12 honors after ranking second in the Pac-12 in receiving yards. His 103.3 receiving yards per game ranked 10th in the nation and third in the conference. He caught 98 passes for 1,343 yards with six touchdowns and averaged 13.7 yards per reception in 2011.
9. Marquess Wilson, WR, Washington State
: Wilson earned second-team All-Pac-12 honors in 2011 and is an All-American candidate in 2012. He ranked first in the Pac-12 and sixth in the nation with 115.7 yards receiving per game. His 12 touchdown receptions ranked second in the conference. His 16.9 yards per catch ranked third. He caught 82 passes for 1,388 yards with 12 touchdowns.
10. Kenjon Barner, RB, Oregon
: Barner was the nation's best backup running back in 2011 behind LaMichael James. He ranked eighth in the Pac-12 in rushing at 78.2 yards per game. He rushed for 939 yards and 11 TDs in 2011 and caught 17 passes with three other TDs. He has rushed for 1,856 yards and 20 TDs in his career.
May, 22, 2012
5/22/12
9:00
AM ET
As part of the "College Football Live" 100 Days 'Til Kickoff countdown, we're taking a look at the top 10 players in the Big Ten for 2012. Please note that this list could look different when we do out Big Ten Top 25 players list later this summer.
But here's how they're ranked for the "College Football Live" event:
[+] Enlarge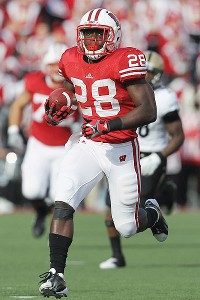 Jonathan Daniel/Getty ImagesWisconsin's Montee Ball earned a trip to New York last season, and has earned a lot of hype coming into the fall.
1. Montee Ball, RB, Wisconsin:
After scoring 39 touchdowns and earning an invitation to New York for the 2011 Heisman Trophy ceremony, Ball returned to school for his senior year and very much earned the No. 1 spot on this list. His numbers could go down a bit this year as they would be nearly impossible to top. Yet Ball, who has focused on pass-blocking and improving his strength this offseason, could be a better all-around back in 2012.
2. Rex Burkhead, RB, Nebraska:
Still a bit underrated nationally, Burkhead gets plenty of respect in the Big Ten. He ran for 1,357 yards and 15 touchdowns last season without much of a passing attack to keep defenses honest. The senior approaches every carry like his scholarship check depends on it, which is why Nebraska fans embrace him.
3. John Simon, DE, Ohio State:
New Buckeyes coach Urban Meyer gushed over Simon this spring for his all-out commitment on and off the field. Simon had seven sacks and 16 tackles for loss on a banged-up defensive front last year and should contend for Big Ten Defensive Player of the Year honors in 2012.
4. William Gholston, DE, Michigan State:
We mean this in the best possible way: Gholston is a freak. How else to describe a 6-foot-7, 275-pounder with the speed of an outside linebacker? Gholston can be downright unblockable when he's focused and using proper technique, something he showed in an impressive Outback Bowl performance against Georgia in January. If that's a sign of things to come, he could be an All-American.
5. Gerald Hodges, LB, Penn State:
Hodges has become the latest member of Linebacker U to seize stardom. He broke out last season with 106 tackles, including 4.5 sacks, as he anchored the middle of one of the best defenses in the country. Fast, strong and instinctive, he has everything you want from the linebacker position.
6. Denard Robinson, QB, Michigan:
There might not be a more exciting player in the country than "Shoelace," who has put together more heroics than a comic book character the past two seasons. But his passing remains suspect, as evidenced by his Big Ten-worst 15 interceptions last season. The word out of spring practice was that Robinson had improved his fundamentals and looked sharp as a passer. If he can add accuracy to his other many talents, the sky is the limit for him and the Wolverines this season.
7. Kawann Short, DT, Purdue:
Short thought about skipping his senior year and entering the NFL but decided to make a push for first-round status this season. He certainly has the ability to do so as a potentially dominant run-stuffer in the middle of Purdue's defensive line. Short had 17 tackles for loss and 6.5 sacks in 2011 and will be the focus of every opposing offensive game plan this season.
8. Chris Borland, LB, Wisconsin:
Bret Bielema says Borland might be the best middle linebacker he's ever coached. That is saying something since Borland didn't move to the middle linebacker spot until last season. Though a bit undersized, he makes up for it with natural instincts and underrated athleticism. Borland made 143 tackles last year and formed one of the best defensive duos in the country with fellow Badgers linebacker
Mike Taylor
.
9. Silas Redd, RB, Penn State:
Redd carried Penn State's offense during the middle of last season and was as productive as any back during October. He eventually wore down a bit under a heavy workload and because of some injuries, but he could be primed for an even bigger year in new coach Bill O'Brien's offense. Redd ran for 1,241 yards last season and figures to find the end zone more than the seven trips he made there a year ago.
10. Jonathan Brown, LB, Illinois:
Brown burst onto the scene as a sophomore, posting 108 tackles and 19.5 for loss as a quarterback-seeking missile. He was a bit inconsistent, however, and he lost his cool when he kneed a Northwestern player in the groin, earning a one-game suspension. Now a year older and wiser, Brown should be one of the top defensive playmakers in the conference, if not the country.
May, 22, 2012
5/22/12
9:00
AM ET
As part of the "College Football Live" 100 Days 'Til Kickoff countdown, we'll take a look at the top 10 players in the SEC heading into the 2012 season.
Keep in mind that these are the guys we project to be the 10 best college football players this coming season in the SEC and not necessarily the 10 best NFL draft prospects. There's a difference.
What's more, a lot can (and will) change between now and November.
So let the second-guessing begin.
[+] Enlarge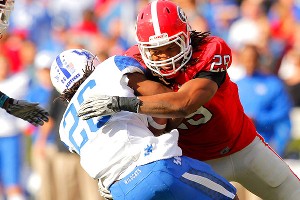 Todd Kirkland/Icon SMIJarvis Jones started all 14 games last season and led the conference in tackles for loss and sacks.
1. Jarvis Jones, OLB, Georgia:
In his first season of action in the SEC after transferring from Southern Cal, Jones didn't need much of a refresher course. He quickly emerged as the most dynamic big-play defender in the SEC and is one of those players who can take over a game. Just ask Florida. Much more than just a pass-rusher, Jones led the league with 19.5 tackles for loss and 13.5 sacks.
2. Tyler Wilson, QB, Arkansas:
Wilson had shown in flashes what he was capable of while filling in for Ryan Mallett in 2010 but put an All-SEC season together last year in his first season as a starter. He passed for 3,638 yards and only threw six interceptions in 438 passing attempts. He'll be even better his second time through the league.
3. Tyrann Mathieu, CB, LSU:
The "Honey Badger" nickname caught on nationally last season, and Mathieu latched on to seemingly every football that came his way. Even though he's not a great cover cornerback, he makes up for it with his penchant for coming up with turnovers. A Heisman Trophy finalist last season, Mathieu forced six fumbles and recovered five. He's also one of the most dangerous punt returners in the league.
4. Marcus Lattimore, RB, South Carolina:
If not for the knee injury that cut Lattimore's season short a year ago, he'd probably be at the top of this list. He's one of the most complete running backs in college football and can carry a team on his shoulders. He catches the ball well out of the backfield, can grind out the tough yards and has big-play ability. All indications are that Lattimore is on course to be all the way back, which is bad news for opposing defenses.
5. Sam Montgomery, DE, LSU:
It's almost unfair to be as talented as LSU will be across the defensive front this coming season. Montgomery will be the leader of that group. He can rush the passer and play the run and is versatile enough to beat offensive linemen with his power and his speed. Montgomery finished last season with nine sacks.
6. Barkevious Mingo, DE, LSU:
LSU defensive coordinator John Chavis raised a few eyebrows prior to last season when he vowed that Mingo would be the premier pass-rusher in the SEC before he was done. Mingo responded with 15 tackles for loss last season, including eight sacks. He's an absolute blur coming off the edge and has the kind of burst that gives offensive linemen nightmares.
7. Barrett Jones, C, Alabama:
Jones won the Outland Trophy last season as a left tackle on the Crimson Tide's national championship team. He started at guard the previous two seasons. A two-time All-American, Jones will move to center for his senior season. If he pulls this off, he'll go down as one of the most versatile offensive linemen in SEC history.
8. Jadeveon Clowney, DE, South Carolina:
Simply living up to the hype last season was a coup for Clowney, who was one of the most heralded freshmen to come into the league in a long time. He finished with eight sacks and forced five fumbles and wasn't even a full-time starter. Physically, he's as good as it gets and, with a year of experience under his belt, is destined for a huge sophomore season.
9. Aaron Murray, QB, Georgia:
There were some who zeroed in on his 14 interceptions last season, but Murray also tossed a school-record 35 touchdown passes. And in his first two seasons, Murray has thrown 59 touchdown passes. He's a great leader, tough as nails and capable of extending a play with his running ability. Look for Murray to cut down on his mistakes in 2012 and have his most consistent season yet.
10. Knile Davis, RB, Arkansas:
The only reason Davis slipped this far was because of his injury-riddled past. But to his credit, he just keeps coming back. He missed all of last season with a fractured ankle but insists he's running as fast as ever and could have played toward the end of last season. Davis led all SEC running backs with 1,322 rushing yards in 2010 and was the catalyst for that Arkansas offense. If he's all the way back, look out.
May, 22, 2012
5/22/12
9:00
AM ET
As part of "College Football Live's" 100 Days Till Kickoff countdown, here's a look at the top 10 players in the Big 12.
Note: This is a separate list from our preseason top 25 players. We'll tackle that later. It might be a lot different. It might be much of the same.
1. Geno Smith, QB, West Virginia:
Geno's a newcomer to the Big 12, but putting up big numbers is nothing new for the senior, who threw for 4,385 yards last season. Only one quarterback threw for more, but Smith had two more touchdown passes and eight fewer interceptions than the No. 2 quarterback on this list. Smith also completed nearly 3 percent more of his passes.
[+] Enlarge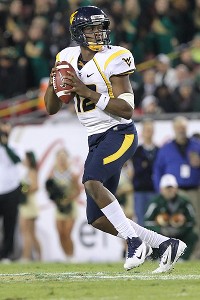 Kim Klement/US PresswireGeno Smith led the Big East last season in pass efficiency and average passing yards per game.
2. Landry Jones, QB, Oklahoma:
Jones checks in at No. 2 as the Big 12's leading returning passer, and will try to climb back in 2012 to give the Sooners another Big 12 title. Jones is the Big 12's most experienced quarterback, which should pay off the fall.
3. Collin Klein, QB, Kansas State:
Klein was the league's No. 4 rusher
and
threw for 1,900 yards? You can't argue with that production, and Klein accounted for 69.8 percent of the Wildcats' offense. That's insane. His importance to K-State can't be understated.
4. Tavon Austin, WR, West Virginia:
Austin's the most dangerous playmaker in the Big 12, a true triple threat as a receiver, runner and kick/punt returner. He's the Big 12's No. 2 returning receiver, but he also returned two kicks for touchdowns in 2011, joining two other Big 12 returners who duplicated that feat last season.
5. Jake Knott, LB, Iowa State:
Knott was outplayed by teammate
A.J. Klein
last season, but not by much. Knott was also playing through injuries. He's a superior talent, and like Klein, there's no arguing with his production. He's made 244 tackles in the past two seasons.
6. Joseph Randle, RB, Oklahoma State:
Randle is the Big 12's leading returning rusher and should see an increased workload from his 208 carries last season. He turned those into 24 touchdowns to come three short of the Big 12 record.
7. Arthur Brown, LB, Kansas State:
Brown's one of the league's most impressive freak athletes, a cruise missile of a linebacker who doesn't miss tackles in the open field and gets there faster than any true linebacker in the league. (You nickelbacks don't count.)
8. Kenny Vaccaro, S, Texas:
Vaccaro's the most versatile talent on a loaded Texas defense, and as a roaming nickelback, offenses must account for where he is on every snap. He's also got a case as the hardest hitter in the Big 12.
9. Jackson Jeffcoat, DE, Texas
: Who has two last names and is the Big 12's returning sack leader? This guy. His 8.5 sacks were 1.5 more than any other returner in the Big 12, and he made four more tackles for loss (17) than any other returner, too.
10. Stedman Bailey, WR, West Virginia:
Bailey's a more traditional receiver in WVU's offense and he's taken advantage. He's the league's leading returning receiver and offers the Mountaineers a steady, dangerous target with sure hands who will help make WVU arguably the league's most dangerous offense.
May, 22, 2012
5/22/12
9:00
AM ET
Out with the old, in with the new. The ACC has lost a lot of talent from 2011, including arguably the best player in the conference in former Boston College linebacker Luke Kuechly. There are still a lot of names for fans to be excited about, though, as we get closer to summer camp. Which players in the conference will emerge as the best? Well, based on past performances and their bubbling potential, here's the first guess. As part of the "College Football Live" 100 Days 'Til Kickoff countdown, here's a look at the top 10 players in the ACC.
[+] Enlarge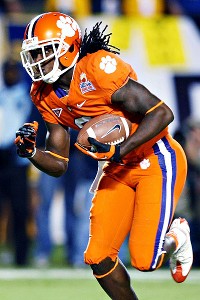 Douglas Jones/US PresswireSophomore Sammy Watkins already owns all of the conference's single-season receiving records.
1. Sammy Watkins, WR, Clemson:
He broke all the ACC's single-season pass receiving records, finishing the 2011 season with 82 catches for 1,219 yards and 12 touchdowns. He was one of the most exciting, explosive players in the country as a true freshman. Watkins averaged 25 yards on 33 kickoff returns, including an 89-yard touchdown against Maryland.
2. David Amerson, CB, NC State:
He led the FBS with 13 interceptions -- six more than any other player. It was the most in the FBS since 1968 and tied as the second-best total in FBS history. He broke the ACC's single-season interception record in the upset of No. 7-ranked Clemson. He also broke the school's 73-year-old single-season interception record of nine.
3. Giovani Bernard, RB, UNC:
He was the leading freshman rusher in the nation. His total of 1,253 rushing yards was third-best by a freshman in ACC history. He also had 13 touchdowns on 239 carries and was third in the ACC with 96.4 rushing yards per game. He had 45 catches for 362 yards and a touchdown.
4. Logan Thomas, QB, Virginia Tech:
Thomas set a school record for rushing touchdowns in a season by a quarterback with 11, and he broke the school's single-season total offense record set by Tyrod Taylor in 2010. His 234 completions, 391 attempts and 3,013 yards passing all rank second in school history for a single season.
5. Tajh Boyd, QB, Clemson:
He completed 298 of 499 pass attempts for 3,828 yards, 33 touchdowns and 12 interceptions over 14 starts. He completed 59.7 percent of his passes and had a 141.2 pass efficiency rating. He also had 218 rushing yards and five rushing touchdowns. He had 4,046 total yards and was responsible for a school-record 38 touchdowns.
6. Kyle Fuller, CB, Virginia Tech:
Fuller played at nickelback/whip linebacker and corner. He had an interception in the Sugar Bowl against Michigan and eight tackles against Clemson in the ACC title game. He finished 2011 with 14.5 tackles for loss and 4.5 sacks. He also had two interceptions, nine passes defended, five quarterback hurries, a fumble recovery and a forced fumble.
7. Joe Vellano, DT, Maryland:
Vellano led the FBS in tackles by a defensive lineman with 7.8 per game. He finished third on the team with 94 tackles, had 7.5 tackles for loss, 2.5 sacks, four pass breakups, two fumble recoveries and two forced fumbles. His jaw-dropping 20 tackles against Georgia Tech were unforgettable.
8. Brandon Jenkins, DE, Florida State:
He was second in the ACC with eight sacks for a loss of 62 yards and had 12 tackles for a loss of 79 yards. He finished with 41 tackles, a pass breakup and five quarterback hurries. He was the defensive MVP of the nation's No. 4-ranked defense, and he was still disruptive despite facing double-teams throughout the season.
9. Bruce Taylor, LB, Virginia Tech:
He only played in eight games in 2011 before a season-ending injury, but Taylor still had 53 tackles, seven TFLs and five sacks. He led Tech in tackles in 2010 with 91 and in TFLs (15.5) and was second in quarterback sacks (6.0). He also had four pass breakups and eight quarterback hurries.
10. Rashad Greene, WR, Florida State:
Despite missing four games with injuries, Greene led FSU in receiving with 38 catches, 596 receiving yards and seven touchdown catches as a true freshman. He averaged 15.7 yards a catch and 14.7 yards on three runs from scrimmage.