NCF Nation:

110113 November stretch
November, 1, 2013
11/01/13
9:00
AM ET
The biggest games on the ACC schedule have come and gone. Instead of November being the highlight of the season, which it typically is, it seems more like a formality in the ACC. October held the gems, the Florida State-Clemson and FSU-Miami games, both matchups between top-10 teams. The biggest game remaining on the schedule will be Virginia Tech's trip to Miami on Nov. 9 for a game that will likely determine the Coastal Division winner. Even that game has lost much of its luster since the Hokies were upset at home by Duke.
What we do have to look forward to is more rivalry games. Can Clemson finally get the better of Steve Spurrier and South Carolina, or will the Tigers lose for a fifth straight time to their in-state rivals and fall out of the BCS picture? Georgia Tech will face Georgia, and Florida State still has to travel to rival Florida. The ACC enters November with a 2-2 record against the SEC, and now looks like a good time to take advantage of unranked, injury-riddled rivals. Virginia will have home-field advantage against Virginia Tech, and Boston College and Syracuse finally will meet again.
The ACC has had a great season so far, with three teams in the top 10 of the BCS standings, and has a good shot at earning two BCS bowl bids. For the ACC, November is less about marquee matchups and more about sustaining its place in the BCS standings. Here's a look at what lies ahead for the ACC in November:
[+] Enlarge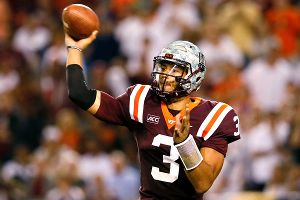 Kevin C. Cox/Getty ImagesLogan Thomas and the Hokies have a month to prove they're not the team that inexplicably lost at home to Duke.
Team with most to prove:
Virginia Tech -- The Hokies can still win the Coastal Division and play for the ACC title if they can beat Miami and avoid any further letdowns. Against three straight division opponents -- Georgia Tech, North Carolina and Pittsburgh -- the Hokies found a winning formula by pairing minimal mistakes on offense with an elite defense. Against Duke, they reverted to their old turnover-prone ways, and quarterback
Logan Thomas
struggled. The program came under scrutiny for similar performances after last year's pedestrian 7-6 finish. Just when it looked like the Hokies were back to their winning ways, they suffered the monumental upset against Duke. Which version of Virginia Tech will we see in November?
Team with the most to lose:
Florida State – There is simply no margin for error if the Seminoles are going to have a chance at playing in the national title game. FSU and Oregon will continue to jockey for the No. 2 spot, but the minute the Noles let up, their ranking will go down. Expectations are soaring for FSU right now, as the Noles will be favored to win all of their remaining games.
Three players to keep an eye on:
Virginia Tech quarterback Logan Thomas, Clemson quarterback
Tajh Boyd
and FSU quarterback
Jameis Winston
. For the Hokies, Thomas has been at the heart of the team's offensive woes for two years now. He took another step back in the loss to Duke and will have to make better decisions to keep the Hokies in the Coastal Division race. Clemson's Boyd entered this season intent on leaving his legacy, but his Heisman hopes slipped away with the loss to Florida State. The question now is whether he can finish his career with a win against rival South Carolina or if he'll go oh-fer. As for Winston? Well, he's so good you simply can't miss a play. At 19, he's already a leading candidate to win the Heisman.
Biggest trap game:
Miami at Duke, Nov. 16 -- The Blue Devils believe they can win every remaining game on their schedule. After their historic win in Blacksburg, don't doubt them -- especially considering the unconvincing way Miami has gone about winning its games.
Fearless November prediction:
The ACC finishes .500 or better against the SEC. That's including wins over South Carolina and Florida and a loss at Vanderbilt. The Georgia game is the toss-up, but it's in Atlanta. The ACC hasn't had a winning record against the SEC since 2003, but this is a good year to change that. At the very least, it should be .500 for the first time since 2008.
November, 1, 2013
11/01/13
9:00
AM ET
It's a coaching cliche: The games you remember are played in November. Or call November college football games the proverbial "crunch time." The schedule has turned toward the final quarter of the 2013 season, so the screws are tightening. Preseason dreams shortly will be realized. Or quashed.
It's a pretty good bet -- darn near a certainty, in fact -- that the Pac-12 will produce enough eligible teams to fill out the spots in its seven contracted bowls.
[+] Enlarge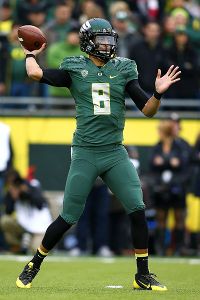 Jonathan Ferrey/Getty ImagesCan Marcus Mariota lead Oregon to the national title?
Three teams, Oregon, Stanford and Oregon State, already are bowl eligible. Four other teams need just one more win: Arizona, Arizona State, UCLA and Washington. Three others need two: USC (because of its 13-game schedule, USC needs seven wins), Utah and Washington State. And just one, 1-7 California, has been eliminated, though Colorado faces a steep climb toward three more wins.
Further, that bowl schedule could include an extra spot if Oregon plays for the national title, meaning the Rose Bowl could pick another conference team, provided it's ranked in the top 14 of the final BCS standings. The Rose Bowl is not obligated, by the way, to pick the loser of the Pac-12 title game. It could, for example, pick the runner-up of the North or South Division.
As far as the division races go, Oregon and Stanford play Nov. 7 for the top spot in the North. The Ducks are 5-0 in conference play and Stanford is 4-1, having lost at Utah. Though the Cardinal won at Oregon State last weekend, the Beavers, at 4-1, also could get into the mix.
In the South, Arizona State, at 3-1, has a one-game lead over Arizona, UCLA and USC. The only head-to-head matchups so far among those teams is Arizona State's win over USC and USC's win over Arizona. So lots of football left before the South sorts itself out. Things could get chaotic with a multi-team tie, or one team might surge and leave no doubt.
The good news, players and coaches will tell you with an extreme degree of earnestness over the next few weeks, is they are going to play 'em one game at at time.
Team(s) with most to prove
: You can't narrow the South Division down yet, with three second-year coaches trying to push past the other two in the conference pecking order -- and USC lingering as a potential spoiler with an interim head coach.
Arizona and Rich Rodriguez? Arizona State and Todd Graham? UCLA and Jim Mora? Each is looking to lead his previously meandering program to a higher level, toward Pac-12 and national legitimacy. The only way to do that is at the others' expense.
The Sun Devils and Bruins were the preseason favorites, so you can say they have the most pressure. But if Rodriguez loses a second consecutive time to Graham, you can bet he'll feel a bit of pressure from disgruntled Wildcats fans.
Team with the most to lose
: Oregon probably needs to be perfect to play for the national title. That means five more wins and a 13-0 finish in a Pac-12 that is as deep as it's been in years. Perhaps ever. The Ducks have done everything else over the past four years. They played for a national title (2010), won a Rose Bowl (2011) and won a Fiesta Bowl (2012), finishing with a final No. 2 ranking. The only thing left is to finish atop the final polls after hoisting the crystal football.
Four players to keep an eye on
:
Biggest trap game
: We have two. Stanford's visit to USC on Nov. 16, the weekend after the Oregon game, and Oregon's trip to Arizona on Nov. 23. Oregon and Stanford have dominated those series of late and both are good on the road. But if you were looking for a not-so-obvious place either might faceplant, those games are as good a bet as any.
Fearless November prediction
: Mariota, a few weeks after winning the Heisman Trophy, is going to lead his team to a victory over Alabama in the national title game.
November, 1, 2013
11/01/13
9:00
AM ET
October was a miserable month.
Byes were aplenty Oct. 12 and 26 when only four games were played. No currently ranked teams played one another. (Although, OK, the Northwestern-Ohio State game was good at the time.) And only three of the 18 Big Ten matchups were decided by single digits.
But divvy up those Halloween treats, toss that costume to the back of the closet and rejoice. Boring, old October is no more. And the month of November is sure to be a much, much more entertaining one for the Big Ten.
[+] Enlarge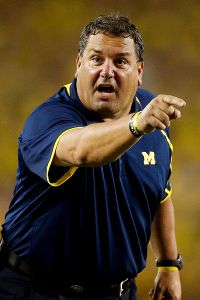 Gregory Shamus/Getty ImagesBrady Hoke and Michigan will face the heart of their schedule.
The Legends Division remains a three-team race for Michigan State, Michigan and Nebraska. And those three teams all play one other over the next three weeks, starting with the MSU-UM contest this weekend. Anything can still happen there.
Of course, there's also The Game to look forward to, while Buckeyes fans have plenty of other football to keep track of since they'll need outside help to rise to No. 2 in the BCS standings. There are plenty of other storylines, too. Nebraska and Northwestern are trying to reclaim their lost magic, Wisconsin is trying to prove it still deserves a major bowl bid, and other teams such as Iowa and Minnesota are trying to show they're capable of pulling the upsets.
October was a month to forget. File that away. Pretend it never happened. And enjoy November.
Team with the most to prove:
Michigan. Are the Wolverines the kind of team that wins championships or just talks about them? We're still not entirely sure what their identity is. Their signature win, against Notre Dame, happened in Week 2 when
Devin Gardner
was a 14-to-1 Heisman wager. Oh, how things have changed. They slipped past nonconference cupcakes Akron and UConn before dropping a quadruple-overtime game against PSU that they never should've lost. UM's identity will be formed this month; its season will be remembered based on what it does in November. Look at the slate: MSU, Nebraska, Northwestern, Iowa, Ohio State. This is the heart of the Wolverines' schedule, and we're still awaiting the verdict of just how good this team is. It still has the potential to finish near the top and spoil Ohio State's season -- or finish in the middle of the pack and be a nonfactor.
Team with the most to lose:
Ohio State. This answer is obvious for obvious reasons. The Buckeyes are riding a national-best 20-game winning streak right now. With some outside help -- we're looking at you, Alabama, Oregon and Florida State -- the Buckeyes could play in the national championship. When the title's on the line, that's a lot to gain -- and it's certainly a lot to lose. One loss is all it's going to take to crush the Buckeyes' hopes.
Three players to keep an eye on:
Ohio State QB
Braxton Miller
, Penn State WR
Allen Robinson
and Wisconsin RB
Melvin Gordon
. Let's touch on each one. Miller finally appears to be a quarterback doubling as an athlete instead of the other way around. Said Urban Meyer: "Braxton is officially a quarterback at Ohio State now. He wasn't last year." Penn State head coach Bill O'Brien called him one of the five best players in the nation and, now that he's healthy, he could be in for quite the month.
So could one of O'Brien's top players, Robinson. The junior wideout could leave early for the NFL, but not before breaking some more single-season records at Penn State. He's on pace to shatter Bobby Engram's record for receiving yards (1,084), as he needs just 207 yards over the next five games. And he needs just 23 receptions to break the single-season receptions record, which is held by a pretty good PSU wideout in, well, Robinson himself. (He set it last year with 77.)
And Gordon? Well, he has a shot to be the nation's leading rusher as he currently sits fifth (1,012 yards). And he already boasts the nation's best yards-per-carry average at 9.5, more than 2 yards better than Nebraska's
Ameer Abdullah
. Gordon is the best running back in the Big Ten and belongs in the conversation as the best overall player.
Biggest trap game:
Indiana vs. Ohio State on Nov. 23. It's the week before The Game, so it's a conference contest that could easily be overlooked. The Hoosiers are a 3-4 team right now and don't exactly strike fear into the Buckeyes. They're not balanced, not great and not defensively good. But, if the Buckeyes have an Achilles' heel, it's their pass defense. And Indiana has the most up-tempo passing offense in the conference. The Hoosiers might be able to match the Buckeyes' penchant for scoring. And, if the defense can string together a few big plays, maybe -- just maybe -- Indiana has a shot. At the very least, it's a trap game.
Fearless November prediction:
Michigan State and Ohio State will end up playing each other in the Big Ten title game. The Buckeyes are the easy pick, and the Spartans'
Connor Cook
and
Jeremy Langford
have taken big steps forward since the beginning of the season. Michigan State's defense is easily the best in the Big Ten, maybe in the country, and the offense is no longer anemic. The Buckeyes are the best team in the conference, no doubt. But the Spartans are No. 2. And they'll face OSU in the conference championship.
November, 1, 2013
11/01/13
9:00
AM ET
The Big 12's best will finally play each other in November, the defining stretch of the conference schedule. There will be no more doubts about who will be the conference favorite, no more questions about the legitimacy of some teams' résumés heading into December.
Among the conference's top five teams, only two games have been played, with Texas knocking off Oklahoma and the Sooners topping Texas Tech. Oklahoma State at Texas Tech on Saturday is a terrific primer for Oklahoma at Baylor on Nov. 7, as both games kick things off and a pseudo-Big 12 playoff begins.
Each week in November will feature at least one matchup of the top five teams in the conference. Will Baylor continue to dominate? Can Texas rebound to go undefeated through the Big 12? Will one of the one-loss squads ultimately rise to the top of the standings? It should be an exciting month.
[+] Enlarge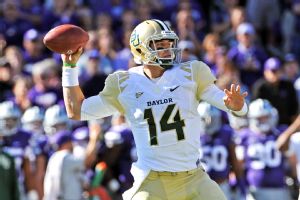 Peter G. Aiken/Getty ImagesBryce Petty and unbeaten Baylor will try to navigate a tough stretch in their schedule.
Team with most to prove:
All eyes are on Baylor, as the Bears are the conference's lone hope to make an appearance in the BCS title game. They've been one of the most impressive teams in the country, playing like a top-five team week after week, but their four conference victories are against opponents that have combined to win nine games this season. So doubts remain. The Bears can remove all doubts by cruising through a gauntlet of Oklahoma, Texas Tech and Oklahoma State in their next three games.
Team with the most to lose:
Texas Tech. After starting the season 7-0, the Red Raiders face a rough November schedule that will test their ability to play at a high level week in and week out. If they stumble in the season's final month, the shine on Kliff Kingsbury's first season will dim considerably.
Three players to keep an eye on:
Baylor's Bryce Petty.
The junior quarterback is putting himself into the Heisman Trophy conversation with exceptional play. His 95.3 adjusted QBR (out of 100, with 50 being average) is second nationally behind Oregon's
Marcus Mariota
. Yet, like his team, doubters still remain. How will he perform in a top-10 matchup? Is he a championship quarterback? We'll find out.
Every other quarterback
. Texas'
Case McCoy
, Oklahoma's
Blake Bell
, Texas Tech's
Davis Webb
and Oklahoma State's
Clint Chelf
are quarterbacks with the opportunity to prove themselves in November and lead their team to a Big 12 title.
Texas defensive end Jackson Jeffcoat.
The senior has the ability to dominate games with his pass-rushing skills and his play played a major role in the Longhorns' impressive victories over Oklahoma and TCU. Jeffcoat has seven sacks in his last four games, so his play, especially if he takes it to another level, could have a major impact on the conference title race.
Biggest trap game:
Texas at West Virginia, Nov. 9. Barring a major upset by Kansas on Saturday, the Longhorns will travel to Morgantown, W.Va., with a 5-0 conference record. Oklahoma State already lost at West Virginia and Texas Tech had to make big plays in the fourth quarter to survive against the Mountaineers. The Longhorns could overlook WVU with Oklahoma State, Texas Tech and Baylor looming as their final stretch.
Fearless November prediction:
One of the teams in the bottom half of the league entering November will have a major impact on the Big 12 title. One of the top five teams will drop a game to Kansas State, TCU, Iowa State, Kansas or West Virginia and reopen a door for a team that entered the day thinking its Big 12 title hopes were slim. If we've learned anything about college football, it's not to assume any game will end up in the win column for the favorite.
November, 1, 2013
11/01/13
9:00
AM ET
This has been an interesting season of SEC football so far, and we're set up for what should be a magnificent finish.
The SEC East got turned upside down, with an unexpected team (Missouri) rising to the top, while the SEC West has seen Alabama do what Alabama does. There have been some epic games (like Georgia-LSU in September and Missouri-South Carolina last week), some terrific individual performances (Texas A&M receiver
Mike Evans
going for 279 and 287 receiving yards against Alabama and Auburn, respectively), lots of injuries, and compelling storylines to follow (the rise of LSU's offense, the
Jadeveon Clowney
saga, and anything involving
Johnny Manziel
).
[+] Enlarge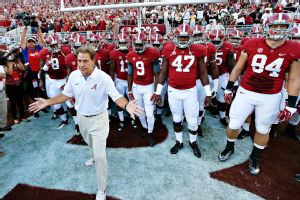 Kevin C. Cox/Getty ImagesWith games remaining against LSU and much-improved Auburn, Nick Saban and Alabama will have a tough time marching through the final month of the season.
Some new coaches (Gus Malzahn at Auburn, Butch Jones at Tennessee) have reason to smile so far, while others (Bret Bielema at Arkansas, Mark Stoops at Kentucky) have endured some mighty struggles. What's left in the coming weeks? Plenty. With six ranked teams in the conference, four of which are in the SEC West, there's still some great theater ahead in the final month of SEC football.
Teams with the most to prove:
Florida and Georgia. Those two teams meet this weekend and, at the start of the year, it appeared to be a game that would have major implications on the SEC East championship. Instead, it's a battle between two teams simply trying to stay alive in that chase. Both have been beat up by injuries quite a bit this season. Because of that and various other reasons, both teams have performed below preseason expectations. But depending on how Missouri and South Carolina finish, the Bulldogs or Gators could still find themselves in the division race if they can get on track in November.
Teams with the most to lose:
Alabama and Missouri. The Crimson Tide have kept a stranglehold on the No. 1 spot since the preseason. The final month of the season, however, won't be quite the cakewalk that October was as a battle against LSU looms, as does the Iron Bowl against a much-improved Auburn squad. With undefeated teams like Oregon and Florida State behind them in the BCS standings, there's a lot on the line for the Tide. Missouri still leads the SEC East, but last week's loss to South Carolina makes things interesting with the Tigers having four SEC games left and just a one-game lead in the loss column over South Carolina, Georgia and Florida.
Three players to keep an eye on:
Texas A&M quarterback Johnny Manziel is still in the thick of the Heisman Trophy race. Even though he's running third in some straw polls behind Oregon quarterback
Marcus Mariota
and Florida State quarterback
Jameis Winston
, a strong November will help his chances, and let's be honest, there might not be anyone as exciting or compelling to watch as Johnny Football. South Carolina running back
Mike Davis
leads the SEC in rushing yards (930) and has averaged a solid 6.2 yards per carry with 10 touchdowns; he has been a linchpin for the Gamecocks this season. But right behind him in the league rushing title chase is LSU's
Jeremy Hill
, who trails by only 8 yards (922) and has averaged a whopping 7.2 yard per carry to go with 12 touchdowns. It should be fun to see which of these two has the stronger finish.
Biggest trap game:
Missouri at Ole Miss. It's not as if the Tigers will be overlooking the Rebels when they meet in Oxford, Miss., but assuming Missouri takes care of business the next two weeks against Tennessee and Kentucky and maintains its lead in the SEC East, the final two games will be a doozy as the Tigers to try to close out the year and clinch a berth to Atlanta. Texas A&M will travel to Columbia, Mo., for the regular-season finale on Nov. 30, but traveling to Oxford and getting a win over Ole Miss isn't easy, as LSU learned last month. Missouri will be asked to do so with a lot on the line. A key question: Will
James Franklin
be healthy enough to take the snaps by then, or will it still be freshman
Maty Mauk
?
Fearless November prediction:
Auburn goes 4-0 in November, including an upset of No. 1 Alabama in the Iron Bowl, wins the SEC West title and heads to Atlanta for the SEC championship. Led by Gus Malzahn, the Tigers complete one of the best turnaround seasons in recent memory. How's that for fearless?