July, 18, 2011
7/18/11
11:00
AM ET
Scholarships that cover the full cost of attendance is the answer, not pay-for-play, according to a polling of a handful of Pac-12 athletic directors.
[+] Enlarge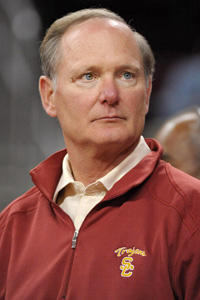 Kirby Lee/Image of Sport/US PresswireUSC athletic director Pat Haden on current scholarship rules: "It is not right to have a student-athlete tell me he or she is going hungry."
USC's Pat Haden felt so strongly about the issue that he has a
post on the matter on the school's official website
.
"The NCAA formulas used to determine student-athlete stipends are not appropriate," Haden said in the post. "Having interviewed 15 different athletes and broken down their stipend against their bills, they are left with about $5 per day for food. I just do not think that is right."
Haden is not alone. Across town at UCLA, Dan Guerrero feels the same way.
"I would much prefer to see the NCAA pursue the notion of allowing athletic scholarships to cover the full cost of attendance at an institution," he said.
In fact, six conference athletic directors said the same thing. None who were asked for their take -- a number of ADs were on vacation -- said they were against increasing the value of scholarships to cover cost of attendance.
But paying athletes for their services beyond a full-cost scholarship also was panned.
"I am not in favor of any 'stipend' that would exceed that amount," Stanford's Bob Bowlsby said.
Why not? Well, while a few ADs sounded at least lukewarm to a revolutionary idea in which athletes in revenue sports -- football and men's basketball -- could receive a stipend, none said they'd heard of a way to do that and not step afoul of Title IX laws on gender equity.
"I haven't heard of one yet," Arizona's Greg Byrne said. "It would have to be a group effort to see if that's even feasible."
And even if someone produced a revolutionary idea that circumvented Title IX, the notion didn't generate much support.
"I'm not for pay-for-play," Washington's Scott Woodward said. "I think it's a great structure the way it is."
So cost of attendance it is.
"Cost of attendance," in fact, is the new catch phrase. It means covering all reasonable expenses a college athlete might have. That would mean an extra $2,500 to $3,500 per athlete. That doesn't sound like much, but when you multiply it across an entire athletic department with, say, 400 or so scholarship athletes, it gets pretty pricey. Woodward estimated it would cost Washington an extra $1 million a year.
Still, that doesn't sound like too much when automatic qualifying conferences in the BCS are signing billion-dollar TV contracts.
Ah, but that's part of the problem. Non-AQ schools would struggle to pick up the extra tab. Many already are losing money on college sports. If AQ programs started to provide "better" scholarships and non-AQ programs didn't, then it would increase an already sizable competitive advantage.
Colorado's Mike Bohn has been an athletic director in non-AQ conferences -- San Diego State and Idaho -- so he understands why the idea isn't generating much traction outside of AQ conferences.
"I recognize the challenges it would put on those types of institutions," he said. "They would have to evaluate that and make decisions on what's best for themselves."
Bohn also feels like many people don't recognize just how valuable a full ride is -- cost of attendance or not. He points out it pays not only tuition plus room and board, but also health care, tutoring and other academic services and summer school. And the experience of a major college athlete is a fairly privileged one.
"It's important to accurately portray the investment each institution is putting into each student-athlete," he said. "The investment in these men and women goes far beyond the scholarship commitment."
Still, there's plenty of momentum behind the idea of improving scholarships and taking further financial burdens off athletes.
Writes Haden: "In a year from now, our new TV contract is going to kick in with $20 million per year in revenue and it is not right to have a student-athlete tell me he or she is going hungry. It is unconscionable."
July, 18, 2011
7/18/11
11:00
AM ET
The topic of paying athletes more than the scholarship money they currently receive was not discussed at this year's ACC spring meetings, according to Georgia Tech coach Paul Johnson.
Maybe it should have been.
[+] Enlarge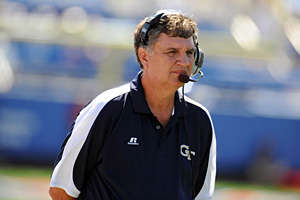 John Rieger/US PresswireGeorgia Tech's Paul Johnson is among the ACC coaches in favor of some form of pay-for-play.
There is no general consensus on the topic in the ACC, as some, like Clemson's Dabo Swinney, called the notion of paying players "ludicrous," and others, like Johnson, expressed interest in it if it could help their players. Regardless of the coaches' personal feelings on the matter, ACC commissioner John Swofford has said this offseason that it's a concept worth looking into.
"I think that is something that we need to talk about and give consideration to," Swofford
told Matt Murschel
of the Orlando Sentinel in early June. "I think a lot of times we forget the value of a full grant-in-aid in today's world. There are a lot of young people and families that would give their right arm to have their sons or daughters have the opportunity to play a sport that they love and receive a free college education. There's great value for the rest of their life and I think we lose track of that sometimes. But with that said, if there is a way to appropriately increase the value of that scholarship in a way that is educationally sound then we should consider it.
"Could it be limited to only revenue-producing sports?"
Swofford told ESPN's Joe Schad in May
. "I'm not sure we would want to do it. And from a legal standpoint, how does it mesh with Title IX? I think we're a ways away from getting there. But it's a student-athlete welfare issue. It's a way to enhance the student-athlete experience and put a dent in some of the financial strains that some athletes have."
In a survey of all 12 ACC coaches through their respective sports information directors, only half of the conference responded, and NC State coach Tom O'Brien declined to participate. Maryland's Randy Edsall, Virginia Tech's Frank Beamer, and Georgia Tech's Johnson were all for some form of pay-for-play. Miami coach Al Golden was specifically in favor of a monthly stipend only consistent with the cost of living standard for the student's city.
While Johnson said "whatever we can do for the players, I'd be for," he also brought up some counterpoints that would jeopardize the feasibility of increased scholarship amounts. He also questioned how it would affect some of the smaller conferences, and the decisions of recruits.
"When you talk about the cost of college, it's only going to take one or two times before a kid picks a school because their cost they get back is greater than the cost somewhere else until that other schools goes, whoa, whoa, this isn't working," Johnson said. "I'd be all for it if they could figure out a way to do it that made sense.
"How do the Olympic sports come in? How does Title XI come in?" Johnson said. "You're opening Pandora's box. I would think that most football coaches in general are all for getting anything they could for their players within reason if they can figure out a way to do it."
Virginia coach Mike London and Swinney were both against the idea.
In a June interview with Bart Wright
of the Greenville News, Swinney's reaction against the idea was strong.
"The idea of paying players to play football in college is ludicrous," Swinney said, "absolutely ludicrous. If this is going to be a situation of employees coming in to perform a service, that's not what I'm here for. The value of a college scholarship -- of a college diploma -- has been lost over the years and that's sad to me.
"It's impossible for anyone to tell me you can't make it through college without money," he said. "It's impossible for someone to come to college with less than I had because I didn't have anything, I mean not one thing; you can't have less than nothing and I had nothing at all. I made it through, I worked my (rear end) off to do it, but it can be done, it's possible."
July, 18, 2011
7/18/11
11:00
AM ET
The season of scandal, highlighted by controversies at Auburn, Oregon and Ohio State, all BCS participants, has given way to summer conversations about changing the way college sports operate.
Maybe that's changing the rules.
Maybe it's changing the circumstances.
Should players be paid? Or at least get more assistance from the schools that profit from their efforts?
The Big 12, which has remained relatively scandal-free throughout the past year, has at least one big advocate for giving players a boost.
[+] Enlarge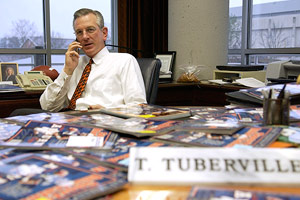 AP Photo/Todd J. Van EmstTexas Tech coach Tommy Tuberville realizes it would be difficult to subsidize scholarships but would support changes to the current system.
"It definitely needs to happen," Texas Tech coach Tommy Tuberville said. "Something needs to be done."
Tuberville doesn't support an outright "pay-for-play" scenario, but says changes in college athletics and the world within which it exists, necessitate something being done.
"The first priority should be the athletes, because they're the ones that do the competing and do the hard work," Tuberville said. "I think the money is out there. I just think it's gotta start from the top and work down."
Teams that go to the BCS cash an extra large paycheck, a portion of which goes back to the conferences.
"Each school gets a cut at the end of the year of TV money and bowl money. But then the conference gets a cut of that. Why isn't there a cut there for the players?" he said. "Say, 'OK go split this up in the conference, all your players.' I'm talking NCAA basketball tournament, everything. There should be some kind of cut for the players. It's just getting too expensive to live and it's getting to the point where we've got to show the athletes that we want to take care of them, and I'm all for that."
Extended summers -- for all sports -- means players can't take the time off and work part-time jobs like Tuberville did as a player at Southern Arkansas in the 1970s.
"They have two full-time jobs: going to school, and athletics now in any sport is full-time," Tuberville said. "They just don't have enough time."
Details are difficult, but if a plan could be hatched, Tuberville would have support from his coaching brethren, Big 12 and elsewhere.
"I'm for anything we can do within the rules to help our kids," Texas coach Mack Brown said. "I do realize coming up with a plan to subsidize a scholarship with some form of payment for student-athletes is a very challenging task for athletics directors and presidents around the country, but if there is a plan they can come up with, I'd certainly support it."
Said Tuberville: "You can talk to coaches all you want, and 99 percent of them are going to be 'Hey, I'd love to do more for the players.'"
The problem, though, is rather obvious.
"We have no say-so about it. And I think the administrators would like to do it, but there's just not been a plan presented that can be done," Tuberville said.
Big 12 commissioner Dan Beebe is open to discussions, and expressed plans to do so earlier this offseason.
"This is a topic that BCS commissioners discussed at recent meetings and one that we agreed to review with our respective member institutions at spring conference meetings, which I intend to do at the upcoming annual Big 12 meetings," Beebe said in May.
But little came of those conversations. It hasn't been enough to build any real momentum toward giving players more assistance.
"There needs to be a dialogue set up for this. There's more and more money being invested in college sports from a TV standpoint, from ESPN to ABC to NBC and I think it's really time that we all just sat down and looked at a plan. The NCAA needs to be involved," Tuberville said.
For him, it circles back to student-athletes, whose well-being should be driving college athletics, not money, which seems to be the case lately. Tuberville would like to see $500 to $1,000 per year added to students' scholarship kits, but with considerations taken into account for students who already receive $2,000 - $4,000 on top of their athletic scholarships from federal Pell grants given to students from lower socioeconomic backgrounds.
The goal, Tuberville says, wouldn't be reducing the scandals we've seen lately. But simply making life easier for the 500 to 600 people on campus that the NCAA exists to serve. "You're always still going to have those problems, I don't care how much money you give them," he said.
"We spend all our time on all these rules, trying to catch people that are cheating, and we need to spend more time on the welfare of the student-athlete and how can we be better at helping these kids make it to where they have an opportunity to live a little better life, not have to worry about scraping pennies during the summer, because they can't get a part-time job," he said.
Problems will arise. No one, Tuberville included, denies this. But the conversations about making it a reality haven't gone far enough, and Tuberville hopes to see that change.
"We need to start on it now," he said. "Everybody wants to say, 'There's no way to do it.' Well, there may not be, but at least we can talk about it. At least we can give it some thought."
July, 18, 2011
7/18/11
11:00
AM ET
When it comes to the topic of giving more scholarship dollars to student-athletes, Big East coaches, athletic directors and administrators do not have a consensus position.
Doug Marrone believes current scholarship dollars are
enough for student-athletes
. Rutgers coach Greg Schiano believes increasing scholarships to cover room and board would be a step in the right direction. Officials at USF and Pittsburgh believe the topic is worth further discussion.
As for the league itself, commissioner John Marinatto said at the Big East spring meetings in May it was hard to take a position on increasing scholarship dollars because no model had been presented. League athletic directors had a brainstorming session to discuss whether this is something the league could endorse, but they need to talk about the idea further.
"I haven't heard any models to be quite honest so I don't even know if there's a viable model or non-viable model yet because nobody's got into 'this is the model,'" Marinatto said. "It's just a concept. Is there an economics model that allows us to provide a student-athlete with additional resources beyond actual room and attendance and tuition, particularly in the revenue generating sports of football and basketball? I haven't seen a model if there is a model."
Therein lies part of the problem: How would this affect all student-athletes? Would this model be just for football and basketball or for every player on campus? Jurich is in support of pay for play, but only if this applies to everyone.
"I'm all for it if it's across the board for all sports, and that all conferences can institute it successfully," Jurich said. "I feel it maintains the integrity of college athletics -- that it's a level playing field across the board for all schools. I have zero interest in it if it's not for every sport. We have worked so hard through the years in gender equity that I feel it's important for all sports to be included in such a process."
Indeed, making sure this is something that can be successfully instituted is a big question for other league athletic directors.
"Evaluating scholarship levels for student-athletes is definitely a conversation worth having," USF athletic director Doug Woolard said. "At USF, we are constantly trying to find ways to better support our student-athletes as they work towards graduating and earning success on the playing fields. There are certainly a lot of different aspects that would need to be taken into consideration before acting on any proposal, but if having the conversation leads to positive change for the student-athletes, then we would be more than willing to be involved."
Added Pitt athletic director Steve Pederson: "When you get into the discussion as to whether to pay student-athletes, the subject is complicated. Providing additional income in order to make their collegiate experience a more comfortable one is something, I believe, everyone would be on board with. However, there has to be a great deal of discussion on the topic before moving forward. The question as to where the supplemental income would be provided from is first and foremost. Additionally, each athletic department is in a different financial situation and the fair distribution of those funds lead to quite a few points of contention."
Both Pederson and Jurich bring up excellent points. Is this something each conference across the board can enact? If we are talking about increasing scholarship amounts by, say, $3,000 for each student-athlete, the costs would rise well above $500,000 at most universities. With athletic departments already running deficits, who is going to pay those additional costs? Would the burden fall to conferences?
The Big Ten, SEC and Pac-12 just got gigantic boosts from new TV deals. Can a league like the Big East afford to dole out a total of $4 million to football member schools to help cover the costs? Once you add in the basketball members, that number grows even bigger. The Big East is set to get a new TV deal in the next 18 months, but even then would there be enough in a new deal to help defray the additional costs of a scholarship?
There are so many unanswered questions, and so many different voices in the Big East, you can see why there is no consensus.
July, 18, 2011
7/18/11
11:00
AM ET
In an empty hotel ballroom in late May, Big Ten commissioner Jim Delany told a gathering of reporters that conference officials had just discussed the idea of covering student-athletes' true cost of attendance. At the time, his remarks didn't gain a lot of attention, as issues like the Big Ten championship game site and future scheduling took precedence.
But when ESPN.com published Delany's comments, plus those from Ohio State athletic director Gene Smith, the following afternoon, what Delany calls a "tsunami of opinion" took off. The Big Ten tossed around an idea that had been pursued by late NCAA president Myles Brand and current NCAA chief Mark Emmert. Delany says his league is not pushing some radical change or suggesting the end of amateurism in college sports.
[+] Enlarge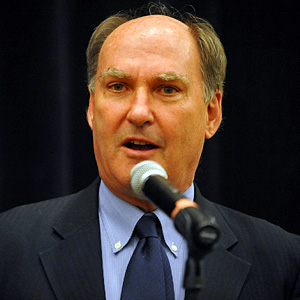 AP Photo/Dave WeaverJim Delany and the Big Ten are at the forefront of the cost-of-attendance conversation.
"It's just part of a very broad-ranging discussion about how we could re-establish a system that is a little more about student-athlete welfare rather than a level playing field," he told ESPN.com last month. "It's just whether or not the grant-in-aid could include all of the elements of the cost of education, all of the elements as defined by the government of going to school. No more."
Just about everyone has an opinion on the subject. The Big Ten hasn't formally endorsed the issue or proposed any rule changes yet. But many in the league see it as an idea whose time has come -- at least to be talked about.
"My personal belief is we should be doing a better job of providing student-athletes with the resources necessary associated with the cost of education," Michigan athletic director Dave Brandon said. "How do we make sure when we sign a kid to come to Michigan and compete and represent our university and provide them with a scholarship, that the nature of that scholarship is such that it doesn't create need for them to reach deep into their pockets and pay for things that should be paid for by the scholarship?"
Northwestern coach Pat Fitzgerald supports the idea in theory but questions its implementation. Like many others, he wonders how it would impact not just football and men's basketball, but the non-revenue sports as well. Federal statistics say the average gap between a so-called full scholarship and the true cost of attending a university is about $3,000 per student. That could cost schools millions per year if all scholarship athletes are covered.
"We have to figure out what our priorities are," Fitzgerald said. "If our priorities are to be paying bills for excess -- i.e. cell phones, video games, phones. If it's travel back and forth to home. I've always been a big believer that a scholarship should pay at least for a trip home whenever their scheduled vacation periods are. That's why the cost of attendance makes a little bit more sense."
Big Ten power Ohio State is reeling from an NCAA investigation that was sparked by a handful of players selling and trading memorabilia for a few hundred bucks. While no one can say whether those players would have done the same thing if they had an extra $3,000 per year, Brandon says the gap in cost of attendance "opens up the door for negative things."
"It's a vacuum that can be filled by people and agents and boosters who frankly can take advantage of the fact that these young people are in a situation where they require resources for their education that they can't fund on their own," he said. "We should be coming up with ways to mitigate that risk."
Penn State assistant coach Jay Paterno, however, seriously doubts whether a cost of attendance stipend would reduce NCAA violations.
"Right now it seems like a lot of schools are under investigation for recruiting violations or getting paid for autographs, whatever the case may be," Paterno said. "Every time we have one of these cycles, there seems to be a movement in everybody's minds that we ought to go pay student-athletes and that will take care of it. But human nature is such that if all of a sudden you're getting $3,000 stipends, somebody is going to want more than that. I'm not against it, but it's not a cure all."
The Big Ten rakes in millions of dollars in revenue from its football TV contract. The league distributed more than $20 million to each school last year, fueled in part by the success of the Big Ten Network. That leads many to ask if the players should share in some of that windfall.
But Paterno argues athletes are already getting more value from their scholarships than most people realize.
"If they can graduate college with zero student loans, they're far ahead of the curve," Paterno said. "There are [regular] students who are working at McDonald's and busing tables and all that. The average student at Penn State graduates with $27,000 in debt. So society in general is not going to look at a student-athlete's deal and say, 'They're getting a bum rap.'"
Fitzgerald adds that each case must be viewed separately. And despite the year-round demands placed on college football players, employment opportunities can be pursued, especially in the spring and summer.
"I've got some guys that will visit with me and our director of player development and say, 'Listen, times have gotten a little tougher at home. I need to get a job that's going to help pay some bills that my folks were able to help me with before,'" Fitzgerald said. "And we go get them a job that might pay a little more and they might have to be more involved and they might not be able to go to summer school."
The debate is far from settled. The Big Ten will likely continue to take a leading role in wherever this is heading.
"I don't see it as a stand-alone; I see it as part of a dozen to a half-dozen reform-related issues," Delany said. "The good news is we're having this discussion, both publicly and internally."
July, 18, 2011
7/18/11
11:00
AM ET
There's mounting support in college athletics to supplement the money scholarship athletes already receive.
SEC commissioner Mike Slive, already one of the most powerful figures in collegiate sports, endorses that idea.
[+] Enlarge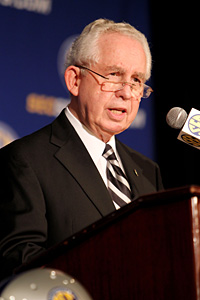 AP Photo/ Butch DillSEC commissioner Mike Slive is a proponent of paying for an athlete's full cost of attendance.
To be clear, Slive doesn't endorse the idea of paying players based on the amount of money their sport is bringing in to that university, and for that matter, he doesn't endorse the idea, period, of paying college athletes.
But he does like the idea of paying for an athlete's full cost of attendance, which over and above tuition, room and board, books and university fees would also pay for reasonable personal expenses as well as travel expenses when an athlete returns home to see family.
One of the obvious snags in this whole concept is that conferences such as the SEC and Big Ten with deep pockets could financially afford to fork out the extra money and do so for all athletes -- football players, tennis players, everybody.
But what about the smaller schools that don't rake in the mega-television dollars?
"Often times, when I think of the foundation and basis of a lot of NCAA legislation, a lot of it tries to ensure a level playing field," Slive told The Birmingham News just prior to the SEC spring meetings in June. "It's an unattainable concept, but that's often the foundation.
"If you say the foundation ought to be student-athlete welfare, it's a different place for which to start thinking about full cost of attendance. Using that as the starting point, I think it's time for the national conversation to begin in a very serious way about the full cost of attendance."
It's more than just a conversation in the SEC, especially with the millions of dollars that are being generated in football.
In fact, the coaches are speaking up more than ever before.
South Carolina's Steve Spurrier, who's entering his 18
th
season as a head coach in the SEC, threw out a proposal in June that would entail head coaches taking some of their salary and spreading it out among the players to help them with personal expenses.
Spurrier even passed around a sheet at the SEC spring meetings asking those coaches who supported the proposal to sign it, and he got six others to do so.
"Hopefully, there's a way to get our guys who play football a little piece of the pie," Spurrier said. "They're the performers. They bring in all the money."
Spurrier's idea, which even he admitted would probably never fly, was to give each scholarship player $300 for every game. That way, the player could take his girlfriend out for dinner on Sunday night or maybe help his parents with travel to and from games.
One thing to keep in mind is that college football players don't have time to work, certainly not during the season and really no time when you consider all the offseason training (voluntary and mandatory) that is required to perform at a high level.
Obviously, they're forbidden under NCAA rules to make any extra money by selling their game jerseys or any other team memorabilia, but we don't have to look far to find a player who's been forced to miss games for doing just that.
Former Georgia star receiver A.J. Green missed the first four games last season after selling one of his jerseys to make money for a spring break trip, and the Bulldogs wound up losing three of the four games he missed.
Coaches across the SEC feel like players wouldn't be as tempted to break rules if they were receiving some extra money each month to help with expenses.
The reality, though, is that sweetening the pot for college athletes and going to full cost of attendance is never going to put the clamps on all cheating.
Not in the SEC or anywhere else, for that matter.
Here's the other thing: Players are well aware of what big business SEC football has become and the astronomical figures CBS and ESPN are shelling out to televise their games. They see the replicas of their game jerseys being worn by fans all across campus every Saturday. They see what many of the schools are charging just for the right to buy season tickets.
As the dollar figures continue to soar, rest assured that you're going to hear more and more football players in the SEC openly voicing their beliefs that they deserve a lot more than just a grant-in-aid.
Spurrier agrees. He says the scholarship model has become obsolete.
"Fifty years ago, there wasn't any money, and the players got full scholarships," he said. "Today, they're still getting full scholarships, and the money's in the millions.
"We need to give more to our players."