NCF Nation:

110719 media preview
July, 19, 2011
7/19/11
1:24
PM ET
This week is when summer officially ends and the season begins -- at least for me, anyway.
[+] Enlarge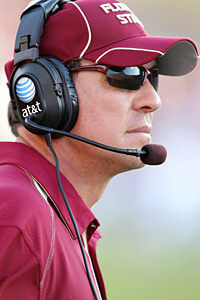 Matthew Emmons/US PresswireCoach Jimbo Fisher and FSU landed another gem for the 2012 class, No. 1 QB Jameis Winston.
I love the ACC's football kickoff. It's the first true sign that summer camp is about to begin and the season is right around the corner. I'll be leaving Saturday evening for Pinehurst, N.C., for the two-day event. On Sunday and Monday, I'll be running around like a crazy woman trying to get as many interviews and videos with players and coaches as I possibly can while blogging and giving you a constant feed of news and notes. This is where you'll get the preseason all-conference and player of the year nominations, and much more. Here are the highlights from the schedule:
SUNDAY
Commissioner's 2011 football forum, 12:30-1:30 p.m. (This is basically a state-of-the-state address by John Swofford that's usually followed by a Q&A session with the media.)

Player interviews, 2-5:45 p.m.: Two players will represent each school. You'll notice that these run pretty late into the evening, so the blog will be going later than usual.
MONDAY
ACC football rules/officiating media clinic, 10:30-11:30 a.m.: This is hosted by Doug Rhoads, the ACC's supervisor of officials. He's very knowledgeable and will school us on any new rules and clarify the rules that already exist. I went to this last year and will attend again if time permits.

BCS/ACC bowl partners forum with BCS executive director Bill Hancock and ACC bowl partners, 1:30-2 p.m.

Head coaches' interviews, 2-6 p.m.: This is the main event. The coaches are split up by divisions and rotated in. Each coach sits at a table, and reporters come and go as they please. It's a good time to talk about everything from the upcoming season to issues in the game like pay-for-play.
Here are three topics that should create some buzz this year:
Quarterbacks. I guarantee it won't be three seconds at Tom O'Brien's table before Russell Wilson's name comes up. Wilson could be starting for Wisconsin this year, while Mike Glennon is taking over as a first-year starter. It's one of the most interesting plotlines of the quarterbacks, but more than half the league will introduce rookies. There's also an interesting Commonwealth connection with many of these quarterbacks hailing from the state of Virginia. It's going to be fun to watch these guys compete this year.

Off-the-field issues. I might have to arm wrestle somebody for a seat at Butch Davis' table this year, as the NCAA investigation has been the main storyline in Chapel Hill since the week leading up to last year's opener against LSU. It's not over 'til it's over. And Georgia Tech? The Jackets were just hit with NCAA sanctions that included four years' probation, a $100,000 fine and vacation of the 2009 ACC title. Odds are there will be a question or two about how and why the decision was made to play an athlete whose eligibility was in question.

Florida State. I've said it, written about it and heard about it all offseason -- expectations are soaring for the Seminoles in only Year 2 under Jimbo Fisher. How good is this team? Are the Seminoles the national title contender the ACC has been waiting for?
There are also two new head coaches in the league in Maryland's Randy Edsall and Miami's Al Golden, and plenty of other storylines to follow. Follow me on
Twitter
@ESPN_ACC and on the blog for complete coverage.
July, 19, 2011
7/19/11
1:24
PM ET
Big Ten media days are just around the corner, as the league's head coaches and players descend on Chicago from July 28-29. Viewed as the unofficial start to the season, this year's session has generated unprecedented media interest as the league goes through some historic changes.
[+] Enlarge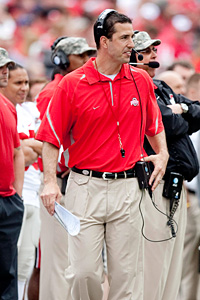 Greg Bartram/US PresswireAll eyes will be on coach Luke Fickell and Ohio State at Big Ten media days.
Here's a quick look at what to expect from the sessions:
What to watch
Ohio State: The Buckeyes have been the top story in college football for much of the offseason. New coach Luke Fickell and three players will face a full national media contingent for the first time since former coach Jim Tressel's resignation and former quarterback Terrelle Pryor's departure. More than 500 media members will be trying to take the pulse of a Buckeyes program entering a season like none other in program history.

Nebraska: Much of the media hype will center on the Big Ten's newest member. It doesn't hurt that Nebraska could be the preseason Big Ten favorite or at least a preseason contender to win the Legends division. Coach Bo Pelini and players Jared Crick, Lavonte David and Rex Burkhead will be asked about adjusting to a new conference, what they expect from a new-look schedule and how they plan to contend for a title in Year 1.

New coaches: The Big Ten had avoided much coaching turnover until this past offseason. Three programs made changes after the season, and Ohio State had to replace Tressel on Memorial Day. The spotlight will be on Michigan's Brady Hoke, Indiana's Kevin Wilson, Minnesota's Jerry Kill and Fickell as they make their first appearances at Big Ten media days.

A new-look league: Change is in the air throughout the Big Ten. We've got new divisions, a championship game, certain rivalries getting a boost and others perhaps losing some steam. It will be interesting to get coaches' and players' thoughts on the new alignment.
Burning questions
How does Penn State coach Joe Paterno look and sound after a shaky media day appearance last year?

How are top quarterbacks Denard Robinson from Michigan and Dan Persa from Northwestern handling the challenges of a new system and a long rehab from injury, respectively?

Who will emerge as the Big Ten's sleeper team this fall? Could it be Illinois in the Leaders division? What about Iowa, Northwestern or Michigan in the Legends?

Who gets the nod as Big Ten preseason favorite, as well as preseason offensive and defensive players of the year? Will the Nebraska contingent claim one or more of these accolades?

How is quarterback transfer Russell Wilson adjusting to life as a Wisconsin Badger?

How close are programs like Michigan State, Wisconsin and Iowa from becoming consistent Big Ten title contenders?

How are the quarterback competitions shaping up at Ohio State, Penn State, Wisconsin, Indiana, Purdue and possibly Nebraska?

Extra credit: Can any Big Ten players or coaches correctly name the teams in the Leaders division and Legends division?
Not surprisingly, there's a lot on tap next week. Stay tuned to the blog for complete coverage.
July, 19, 2011
7/19/11
11:03
AM ET
Some of the most compelling drama every year at the SEC media days is wondering whether the event is going to reach 1,000 credentialed media members attending.
It sounds like more than 900 will converge on the Wynfrey Hotel in Hoover, Ala., beginning Wednesday for the unofficial kickoff to the SEC football season.
What can we expect this year?
Well, now that Tim Tebow is gone, we know Steve Spurrier won't leave him off his preseason All-SEC ballot and then blame longtime football operations director Jamie Speronis for not selecting Tebow as the first-team quarterback.

By the way, since that whole fiasco two years ago, have you noticed that the SEC office no longer notes if a player was a unanimous selection by the coaches?
We also know that Phillip Fulmer won't be served a subpoena like he was in 2008 by attorneys for disassociated Alabama booster Wendell Smith. That turned out to be Fulmer's last SEC media days, as he was fired toward the end of the 2008 season.
Some of the things we can expect this year include:
Plenty of questions about whether LSU quarterback Jordan Jefferson has truly turned it around entering his senior season and is ready to lead the Tigers to a national championship.
Spurrier saying "anyway" somewhere in the vicinity of 20 times during his time at the podium.
Auburn coach Gene Chizik to be quizzed about his exchange with NCAA vice president for enforcement Julie Roe Lach during the SEC spring meetings. Chizik wanted to know why the NCAA had not announced that the Cam Newton investigation was over and asked Roe Lach about it several times. Finally, Roe Lach told Chizik in front of his SEC coaching colleagues, "You'll know when we're finished … and we're not finished."
LSU coach Les Miles to be quizzed about Willie Lyles and whether the Tigers were truly paying Lyles for information on recruits, which is perfectly legal, or paying him to steer recruits to LSU, which is not legal.
The players sporting some spiffy threads. It's always football's version of a fashion show as they stroll into the Wynfrey Hotel. You never know what you're going to get, maybe a white suit or even some shade of purple. Vanderbilt linebacker Chris Marve was rocking a red bow tie last year.
Lots of quarterback questions. The starting jobs are still wide open at Alabama, Auburn, Ole Miss and Vanderbilt. This is John Brantley's final shot to get it right at Florida. Morgan Newton takes over at Kentucky and Tyler Wilson at Arkansas, and how's it going to play out at South Carolina now that Stephen Garcia is off double-secret probation?
And speaking of quarterbacks, Georgia's Aaron Murray's sure to get a few questions on how much will be on his shoulders this season with the Bulldogs losing running backs by the day, no A.J. Green to throw to this season and an offensive line that has been thinned out considerably with players leaving the program and getting hurt.
More than a few debates on who's the best running back in the SEC. The folks in Arkansas are still miffed that Knile Davis wasn't a first-team preseason selection by the coaches. Of course, the two guys who did make first team -- Alabama's Trent Richardson and South Carolina's Marcus Lattimore -- are pretty special in their own right.
A sea of crimson to take over the lobby of the Wynfrey Hotel on Friday when Alabama coach Nick Saban and the Crimson Tide's players show up for the festivities. The secret is to get upstairs early that day, or you'll never make it through all the Alabama fans.
July, 19, 2011
7/19/11
11:00
AM ET
I love Big 12 Media Days for a handful of reasons, chief among them is it's finally some concrete evidence that the upcoming season will, in fact, happen.
It's usually a fun few days, although it will be shorter this year with a new set up of five teams per day in two days, rather than four teams over three days.
I'm looking forward to someone stealing the show -- on the podium for coaches or in the one-on-one room with players. There are a lot of personalities across the league that haven't been given much face time with the cameras, and we might get a look at some budding stars across the league raise their profiles during the week simply by being themselves.
Missouri receiver
T.J. Moe
(
always entertaining
, of course) and
Brandon Weeden
jump out as a couple guys who should do well in the media days setting, which always inevitably includes repetitive questions that players may start to have fun with as the day moves on.
Expect lots of talk about the new Big 12 and loads of questions from everyone about the new division-less world the players exist in, as well as thoughts on not seeing the Blackshirts or Colorado anymore.
But really, the personalities fuel the week.
Oklahoma linebacker Travis Lewis (a
man born to be on camera
) will be on site, as will fellow big personality
Robert Griffin III
, Baylor's quarterback.
But there are plenty of players who could join them as personalities. Iowa State linebacker Jake Knott and offensive tackle Kelechi Osemele are both worth getting to know, and Kansas linebacker Steven Johnson should get plenty of questions about his unique rise to become the Jayhawks leading tackler. Kansas State linebacker Arthur Brown should get plenty of attention as a wild card loaded with potential, and I'd expect those in attendance to find Texas Tech quarterback
Seth Doege
pretty endearing as well.
It'll be a fun few days, with video and coverage from yours truly throughout, so be sure to keep it here on Monday and Tuesday and later in the week for more from Dallas.
July, 19, 2011
7/19/11
11:00
AM ET
We are closing in on media day season. The Mountain West is holding its annual media event July 26-27 in Las Vegas, and I will be there to bring you the latest. Down below you will find the student-athletes each school is bringing for interviews. But first, my most pressing questions headed into 2011:
1. How will the reconfigured Mountain West fare and what will that mean for BCS inclusion?
This is the biggest question hanging over the league, one that is certain to be asked of commissioner Craig Thompson. Even though we all want an answer, we will not get one until the season ends. Still, there is no debating that teams such as New Mexico, Wyoming and Colorado State have to be improved for there to be any real shot at becoming an AQ.
2. Along those lines, how will Boise State fare in Year 1?
The Broncos are almost certain to be the preseason favorite to win the Mountain West in their first year in the league. This, of course, is not a new position for Boise State, the preseason favorite every year in the WAC. But how does the team feel about these expectations considering it will be facing a new slate of conference games in what is a more difficult conference than the WAC?
3. How does TCU feel about being in its final MWC season?
This is a similar storyline to last season with Utah and BYU. These three teams essentially put the Mountain West on the map and all are going to be gone in 2012. But TCU was given what it believes is a raw deal, when its game against Boise State was moved to Boise in November. That one could end up determining the league title. You can bet there is nothing the Horned Frogs would enjoy more than leaving the league as champion. There most definitely is a rivalry that has formed between TCU and Boise State. It's too bad we won't see that play out every year.
4. Is Air Force really a dark horse to win the league?
One of the bigger under-the-radar teams that has gotten national attention is Air Force. Some are calling the Falcons a dark horse to win the league. Coach Troy Calhoun is going to do everything he can to avoid talking about or answering that question. But with
Tim Jefferson
,
Asher Clark
and
Jonathan Warzeka
returning on offense, and Jordan Waiwaiole, Jon Davis and Brady Amack returning on defense, the Falcons should have another strong season.
5. Is San Diego State a threat to win the league?
The top four teams in the conference should be pretty strong. That includes San Diego State, which had a breakthrough season last year and returns several of its best players, including
Ryan Lindley
,
Ronnie Hillman
, Miles Burris and Leon McFadden. But there are some questions within this question -- how do the Aztecs do without Vincent Brown and DeMarco Sampson, and can Hillman avoid a sophomore slump?
List of student-athletes attending MWC media days:
Air Force
: WR/KR Jonathan Warzeka, DL Zach Payne
Boise State
: QB
Kellen Moore
, S George Iloka
Colorado State
: OL Paul Madsen, LB Mychal Sisson
New Mexico
: LB Carmen Messina, TE
Lucas Reed
San Diego State
: QB Ryan Lindley, DL Jerome Long
TCU
: WR
Josh Boyce
, LB Tank Carder
UNLV
: TE
Anthony Vidal
, DB Quinton Pointer
Wyoming
: LB Brian Hendricks, DE Josh Biezuns
July, 19, 2011
7/19/11
11:00
AM ET
Now that Big East media day is closing in and the
list of players
who will be there has been revealed, let us take a sneak peek what we can expect from the annual gathering.
As you all know, this will be my first media day, so I am looking forward to meeting everybody and getting started on the new season. Also, I heard something about a lobster eating contest at the clambake. Now that is going to be a sight to see. I think.

What else should we look forward to on Aug. 2 from Newport, R.I.?
1. All eyes on Dana Holgorsen.
Something tells me the new West Virginia coach is going to have the most media members at his table for the duration of his one-hour availability. I am expecting some more questions about the Bill Stewart mess that dominated the summer headlines; more questions about what has prepared him to be a head coach; more questions about whether he has changed the way he handles himself when he is not on a sideline or in the office; and more questions about what makes his offense tick. Holgorsen certainly is one of the most interesting storylines not just in the league, but nationally as well. How will he handle all the attention?
2. Expansion.
I am more interested in what Holgorsen has to say than the topic of expansion because I expect nothing of consequence to be said on the matter when John Marinatto addresses the media. But expansion certainly will be a question that will be asked of Marinatto, along with more inquiries into the future media rights deal. Lots of chatter has had Temple being in play, based on comments recruits have made to a few scouting services. Could Villanova still be in play? Or will the league stay with nine for now? All important questions that I think will remain unanswered for now.
3. National relevance.
Can the Big East become nationally relevant after a down season in 2010? What the league needs is to have big nonconference wins, as I have repeatedly said, but also more than one team ranked in the Top 25. The national perception of the league is that there are just a bunch of mediocre teams. Having a wide-open league makes for good competition and plenty of surprises, but it does not make for a national perception on par with the leagues at the top of college football.
4. QB play?
Six of the eight teams return their starters at quarterback, but only three are scheduled to be at media day --
Zach Collaros
of Cincinnati,
Geno Smith
of West Virginia and
Ryan Nassib
of Syracuse. Still, Collaros and Smith are the two headliners at the position in the league and are sure to draw plenty of interest. It is Smith who has gotten most of the national attention aimed at players this offseason thanks to the addition of Holgorsen. He is the only Big East player with any Heisman odds on him, and he has been named to two watch lists for national player of the year.
5. More offense.
Sticking with the quarterbacks theme, one of the big questions is whether the offenses in the league are going to take flight this season. With Holgorsen and Pitt coach Todd Graham coming into the league, the thought is yes. Add in Cincinnati and the potential at Rutgers and there could be some fireworks. The big question I have gotten from fans is whether this league needs some more offense in order to get more national attention. What it needs is more big nonconference wins first and foremost, but dynamic offensive players will help.
July, 19, 2011
7/19/11
11:00
AM ET
The first official football gathering of the new Pac-12 -- media day -- will be held on July 26 in Los Angeles. It will feature all 12 coaches, and each team brings along a star player.
Hmm. I wonder what
reporters will ask
Oregon coach Chip Kelly about?
I don't wonder what his answers will be: Some form of "no comment," though the exact phrasing might include some chippy Chipperism that we've all grown to love.
But even with those no comments, there will be plenty to talk about -- with Kelly and all the other coaches.
Do you have questions you want asked?
Feel free to send them along
. Or comment below.
Here a list of who will be there and what we're interested in asking.
Arizona

Quarterback
Nick Foles
and coach Mike Stoops
Top questions
: While the rebuilding of both lines is a prime issue, Wildcats fans will want an update on receiver
Juron Criner
's health from Mike Stoops. And they will want to know about 2010's late-season slide.
Arizona State

Quarterback
Brock Osweiler
and coach Dennis Erickson
Top questions
: Are the Sun Devils ready to play as the favorites in the Pac-12 South? And is there any chance cornerback Omar Bolden plays this fall?
California

Receiver
Marvin Jones
and coach Jeff Tedford
Top questions
: Is Zach Maynard the man to restore Tedford's reputation as a developer of QBs? How does Tedford feel about growing fan discontent?
Colorado

Quarterback
Tyler Hansen
and coach Jon Embree
Top questions
: Does it feel different heading into the season as a member of the Pac-12 instead of the Big 12? What went wrong under Dan Hawkins that's going to go right under Embree?
Oregon

Tight end
David Paulson
and coach Chip Kelly
Top questions
: Er, any comment on Willie Lyles? What about those rebuilt offensive and defensive lines? What's up with suspended cornerback Cliff Harris and linebacker Kiko Alonso?
Oregon State

Safety Lance Mitchell and coach Mike Riley
Top questions
: What went wrong last year? How's
James Rodgers
knee doing? And about those lines...
Stanford

Quarterback
Andrew Luck
and coach David Shaw
Top questions
: Does it feel different to be a frontrunner rather than a darkhorse? What's going to be different under Shaw compared to Jim Harbaugh? What about holes at receiver and on both lines?
UCLA
Running back
Johnathan Franklin
and coach Rick Neuheisel
Top questions
: Is this a win or else season for Neuheisel? What's going to happen at quarterback? What's the status of O-lineman Jeff Baca (broken ankle)?
USC
Quarterback
Matt Barkley
and coach Lane Kiffin
Top questions
: What's the approach with no postseason as a motivation? Injury update, please! What about the depth on the O-line and LB? And is Armond Armstead going to play in 2011?
Utah

Offensive tackle Tony Bergstrom and coach Kyle Whittingham
Top questions
: Do the Utes think they will become an immediate contender in the Pac-12 South race? Is quarterback
Jordan Wynn
100 percent and back to his old self after shoulder surgery?
Washington
Running back
Chris Polk
and coach Steve Sarkisian
Top questions
: What's the offense going to look like post-Jake Locker? What's the pecking order at linebacker? What does the bowl victory mean about the state of the program?
Washington State
Receiver
Jared Karstetter
and coach Paul Wulff
Top questions
: Is this a win or else season for Wulff? Will the defense improve enough to support what should be a good offense? How good can quarterback
Jeff Tuel
be?