NCF Nation:

110808 Commissioner
August, 8, 2011
8/08/11
11:42
AM ET
The Big East has had an eventful 12 months, but the league is not done making headlines. Potential expansion still looms, and so does a new media rights deal. I had a chance to catch up with commissioner John Marinatto for his thoughts on these topics, and where the league stands from a national perspective.
AA: You have often said it is a benefit to be the last conference to go when it comes to negotiating a new media rights deal. What will the next 12 months entail in terms of making sure you maximize this opportunity?
JM:
We are indeed very well positioned for our upcoming media rights negotiations, Andrea. In addition to being the last major conference to enter the market, we are also first in terms of TV households and media markets. Eight of our schools are located in the top 14 media markets of the country and 13 are in the top 35. In addition, college football is now firmly second only to the NFL in terms of popularity in America and Big East Conference basketball is unmatched in quality with a postseason tournament at historic Madison Square Garden that delivers drama and ratings year-in and year-out.
[+] Enlarge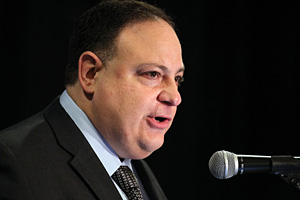 AP Photo/Stew MilneBig East commissioner John Marinatto says the conference is positioned well for its upcoming media rights negotiations.
As you know, we currently have two concurrent TV agreements which, although negotiated just four years ago, were negotiated in a different era, a different marketplace and after a very difficult time for this conference. As a result, we are extremely undervalued in a dramatically new TV world.
Having the last at-bat provides us the distinct benefit of being able to assess how those who have gone before us have had value measured by the networks and how they have consequently packaged their inventory. We've also learned that it's not enough to simply get your games on television anymore. Now, you have to be creative enough to satisfy the demand for what I call DVR-proof programming on your television set, on the Internet and on mobile devices. So as we taxi down the 13-month runway to our negotiations, we're making sure that we have a sensible and appropriate account of what we bring to the table and an assessment of what potential partners might be able to offer in terms of distribution.
AA: How does expansion fit into those plans?
JM:
The addition of TCU, which formally joins us next season, was a significant part of the plan. Aside from what the defending Rose Bowl Champions and number two ranked team in the country last year do on the football field, they're situated in one of the top five media markets in the country. When Dave Gavitt founded the Big East back in 1979, he focused on media markets. He was certainly ahead of his time. When you add the Dallas/Fort Worth market to what we already have, the Big East represents more than 30 percent of the TV households in America and that gives us a local penetration that no other single conference can match. There's a value to that reach which makes us very attractive to potential television partners.
AA: What is the No. 1 priority when looking at potentially adding more teams?
JM:
Value
-- which I realize is a term everyone measures with a different yardstick. We as a conference have actually expanded seven different times in our history, more than any other league in the country, and value was the standard always used. It's very simple in some ways and very complicated in others. Does a candidate for membership add value? Obviously, we look at the academic profile of the institution. We ask if the candidate fits in with our current members, understanding that we have institutions ranging from smaller private colleges to large public universities. Does it give us access to a market that we otherwise might not reach? Does it make us stronger from a competitive standpoint? What we're not going to do is expand just to reach a certain number. A school would have to add value.
AA: What is the ideal football model for this conference? Nine teams? Ten? Twelve? Are you in favor of a conference championship game? Why or why not?
JM:
There are intrinsic benefits to nine, 10 or 12 football teams, so we're not necessarily committed to a particular number.
With nine teams, as we'll have in 2012, we'll be able to balance our football schedule with four home and four road games for each team while still playing a full round-robin conference schedule that allows teams enough flexibility to build a solid nonconference schedule. With 10, you have the option of playing a round-robin schedule as the former Pac-10 did, or doing what the Big Ten used to do and have an eight-game league schedule. With 12, you introduce the concept of divisional play and add the excitement of a conference championship game.
As for a championship game, it's a moot point for us currently since NCAA policy requires 12 teams. But if we do get to that point, or if there's a legislative change with the NCAA, it's something we would have to take a look at it. Can you imagine if we could duplicate in football what we have in men's basketball at Madison Square Garden and in New York City during the holiday season?
AA: Does the league have to expand further to remain relevant on a national level? Why or why not?
JM:
As you know, we in fact expanded to 17 in November with the addition of TCU, which will join us as a full-time member in 2012. Given what we have been able to accomplish on the field as a whole since 2005, the addition of TCU and how well positioned I believe we are for our upcoming TV negotiations, I'm very confident that we are in better shape today and have more vitality as a league than at any other time in our 32-year history.
AA: Where does the conference fit in on the national level?
JM:
The Big East Conference is a proud charter member of the Bowl Championship Series and we continue to meet every standard for retaining our automatic BCS bid. Further, we have an enormous presence in men's and women's basketball and continue to dominate the winter season and routinely send more teams to the men's and women's basketball tournaments than any other conference in America.
I know we live in a microwave society and people sometimes have short memories, but the numbers don't lie. Do I wish we had done better on the field in football last season? Of course I do. But it doesn't change the fact that just one year earlier, we were probably one second away from putting a team in the national championship game; or two years before that, having a team one win away from getting to the championship game. In the last five years, there's only one conference -- the SEC -- that has a better winning percentage than we do. Then you look at the fact that every single one of our teams has been in a bowl game in the last two years and that each one has won a bowl game in the last four, and that's something that no other conference can say.
Add to all of this the fact that we sent 11 schools to the NCAA men's basketball tournament last year and UConn won the championship as our ninth-place team along with the fact that we advanced nine teams to the women's tournament, the Big East Conference is undeniably a national entity.
AA: How has the addition of TCU affected the Big East's quest to win a national title?
JM:
Given the fact that they're 25-1 in the last two years, we're obviously adding a team that's been in that conversation. But they're coming into a conference that has had Cincinnati in the mix in 2009, West Virginia right there in 2007 and Louisville there in 2006. Then you have Pittsburgh, Rutgers and USF, which have all been in the BCS top 10 since 2006. That's six of our eight teams that have been within an arm's reach of the national championship game in the last five years. I would imagine that the SEC can say the same, and their success in winning national championships lately speaks for itself, but I don't know if anyone else can. So even though there's no doubt that we're adding a bona fide national championship contender next season, I'm confident that any number of our teams could be in that mix as well.
August, 8, 2011
8/08/11
11:41
AM ET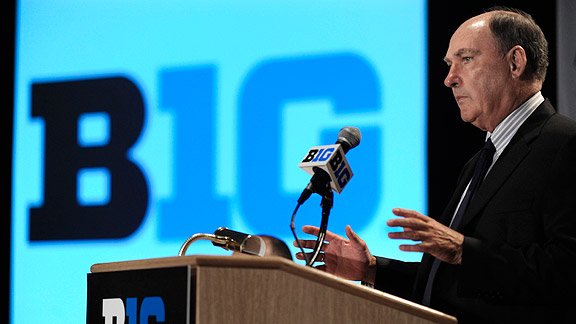 AP Photo/Paul BeatyJim Delany is entering his 23rd year as Big Ten commissioner.
The Big Ten's 116th football season will be like none other in its storied history.
Nebraska arrives as the conference's 12th member, and the Big Ten will introduce division play and a football championship game. There's good news off the field as the Big Ten Network continues to thrive and Indianapolis was selected as the home of the Big Ten title game through 2015, but the Ohio State infractions case dominated the headlines throughout the offseason and cast a negative light on the league. After a rough bowl season in 2010, the Big Ten starts fresh and hopes to win its first national title in nearly a decade -- and end the dominant run of the rival SEC.
Jim Delany joined his commissioner colleagues last week in calling for reform in college athletics. Last week at Big Ten media days, Delany met with the football coaches and discussed the surge of infractions cases at major programs, including Ohio State and Michigan. Considered one of the most powerful men in college sports, Delany's influence will be important in the coming months.
I recently checked in with Delany, who's entering his 23rd year as Big Ten commissioner.
As you know, the SEC has won the past five national championships with four different teams. How equipped is the Big Ten from a depth standpoint to compete for a national championship?
Jim Delany:
That's to be determined. The SEC's record on the field, anybody who watches college football has to respect that. What I say is tee it up, tip it off, our goal is to play the best internally. We want everybody in our group to do it the right way. I'm sure Mike [Slive] wants the same thing for his group. And we'll play it. The history is the history, and it's clear. The future is unclear. I'm not an offensive coordinator or a defensive coordinator or a talent evaluator [laughs]. I'm as clairvoyant as you are.
Then you're in trouble.
JD:
I don't have any way of knowing. We've got great athletes, great coaches, great teams, and sometimes you win and sometimes you don't. The SEC's success is unprecedented. I don't remember anybody winning four in a row unless it was us back in the '30s or '40s. Miami and Florida State had nice runs as independents. I don't worry about the past and only look forward, but I can't predict it.
If Nebraska were to win the Big Ten in Year 1, how do you think it would affect the way people look at the league?
JD:
If Nebraska wins the league, they'll be regarded as a very good team, as any team that wins the Big Ten would be. Penn State won it in their second year and they were 12-0 and ranked No. 2 in the country. A lot of people thought they should have been ranked 1. But I don't think it was disrespect toward the Big Ten. Penn State had five or six NFL first-round draft choices. Likewise, if Nebraska comes in and wins it, it's because they have the best players and the best coach in that year. I wouldn't be shocked, I wouldn't be surprised.
I think they're going to be a team ranked in the top 10 in the country. Any team that comes in ranked in that top tier with the kind of players they have is capable of winning. I don't think we brought in somebody that wouldn't have a chance to compete. That's why the fit is there. Penn State was expected to compete; Nebraska's expected to compete. It wouldn't be shocking to me to see them win in Year 1, Year 2, Year 3, Year 4.
Have you received any feedback from the coaches since you met with them in Chicago?
JD:
No, not really. We had a good, candid conversation, respectful, and it was from the heart. Everybody understood. We're not perfect, and we've made mistakes in the past. A lot of people think that leadership or being a leader is carrying around trophies or being mistake-free. I don't believe that. I believe leadership is about recovering from mistakes, going forward, correcting mistakes, having openness to reform and change where it's necessary. It doesn't mean you don't make mistakes. We've had bad cases, we've had cases that are not so bad. There have been a dozen cases in the last year or 14 months that have happened at major institutions, some of which were very, very bad, some of which are less bad. But at the end of the day, that's not my call, it's the NCAA's call.
All of those [coaches] work for someone else, they don't work for me. My job is to articulate, encourage, suggest, prod. And it's not a problem. Those 12 guys, I was trying to explain how much confidence I have in them, trying to explain where we want to go. There was an incredible amount of receptivity. The message was given in I thought a very respectful way, and I think it was received that way. Maybe it wasn't reported that way, but that's what happened.
August, 8, 2011
8/08/11
11:00
AM ET
Pac-12 commissioner Larry Scott has gone from outsider with no name recognition -- a former head of the Women's Tennis Association? -- to perhaps college football's most dynamic power broker in just two years on the job.
How has the conference changed under Scott?
A conference that was known for its stubborn adherence to tradition expanded by two teams, but only after an attempt to create a 16-team super conference -- a proposition that terrified all the other automatic qualifying conferences -- was left at the altar at the moment vows were supposed to be exchanged. A conference that lagged behind the Big Ten and SEC now owns the richest TV deal among all conferences -- $3 billion over 12 years from ESPN and Fox. A conference that lacked exposure will own a national network and six regional networks, which will ensure every football and men's basketball game is televised.
[+] Enlarge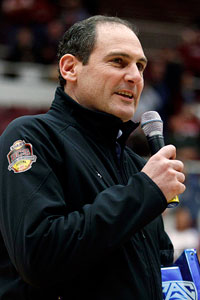 Jason O. Watson/US PresswireLarry Scott predicts there will be "further consolidation" within college football.
Utah and Colorado are now aboard; there are North and South divisions; the conference will play a championship game on Dec. 2 -- a Friday night, no less.
Much has changed.
With what's happened and will happen, it seemed like a good time to check in with Scott.
So you've expanded the conference, reorganized the officiating, signed a new TV contract and started a network: What's next?
Larry Scott
: Well, we've got an awful lot to do in the next year to make this all work and work well. Our championship game has all kinds of operational challenges, given that with home hosting we don't know in which venue it is going to be. A lot of work has to be done on that. We are currently looking at the future of our basketball tournament and evaluating its location. And with what we've just announced, we've got a monumental amount of work to do in terms of building a management team and launching a year from now seven different TV networks, as well as building a digital business, too. The next year is going to be a very busy and challenging one.
With the network: Can you explain the revenue model? How will the conference profit from the national and regional networks?
LS
: In its simplest form, there are basically two revenue streams for TV networks. One is subscriber fees, one paid by the satellite or cable or telecom companies [a monthly fee for each subscriber]. And the second is advertising. Those are the revenue streams. There are a lot of costs in terms of production and operations and marketing [which come from the Pac-12 coffers].
The biggest negative response has been from folks with satellite TV: How reassuring to them can you be that they are not going to miss Pac-12 football?
LS
: Our vision is that the other satellite companies and cable companies and telecom companies will also take the network. But all we have announced so far is our partnership with these cable companies [Comcast, Time Warner Cable, Cox Communications and Bright House Networks]. All I can say to fans is I hope the satellite companies will take it further into discussions, and as deals get done they will be announced.
You've talked before about your belief that there's another wave of expansion ahead. Any insights as to what that might look like?
LS
: No, I really don't have any insights or predictions about how and when. But I still believe, the way I have consistently said, that over time further consolidation will make sense. I couldn't begin to predict when that might happen.
Do you think it's likely the big conferences will eventually break away from the NCAA?
LS
: I certainly hope not. There's no talk about that going on now that I know of. But we've got a very interesting and creative time coming up, with [NCAA president] Mark Emmert, a new leader, and trying to set a new agenda, trying to engage presidential leadership. It will be interesting to see if the NCAA can be more nimble and responsive and bold in terms of creating a reform agenda than has been heretofore.
Speaking of the NCAA, there's been a lot of frustration at USC about first how harshly it was treated, then by how the NCAA has handled other major violations cases, most notably Ohio State. Has anyone explained to you this apparent double standard?
LS
: Well, I don't want to get ahead of ourselves. We don't know what the final outcomes of some of the other cases will be, the ones you're probably referring to. But I certainly think the USC decision was a harsh one, and my view is that it's important from a standards perspective that there not be a double standard and that people be treated fairly and evenhandedly. That's what we will be looking for.
The Pac-12 has a TV deal that is more than competitive and now it has new networks. Is the conference on equal footing with the SEC and Big Ten, or is there more catchup ahead?
LS
: I guess it depends on how you look at it, what metrics you're looking at. But I feel extremely good about where we are, from an exposure standpoint, from a revenue standpoint and from a competitive standpoint.
The SEC has won five national titles in a row. Is the consensus among commissioners from other conferences that the SEC plays better football, or is this just a historical cycle?
LS
: I'm probably not the best historian in terms of analyzing the cycles of college football, but definitely they've been a real powerhouse. You have to admire their recent run. But if you look at USC in our conference, it's probably been the strongest program over the past decade. It depends on how you look at it. Long term, I see it being very competitive. I think there will be trends and cycles.
You've been on the job a couple of years now. Can you tell me what the biggest surprise has been about your job?
LS
: It's probably been the amazing amount of potential. I took the role in the first place because I was inspired by the vision of Pac-12 presidents. I thought it was a great opportunity. Now that I've gotten to see under the hood, to see how much potential there is for change and uplift, it's been a very pleasant surprise.
August, 8, 2011
8/08/11
11:00
AM ET
SEC commissioner Mike Slive sent a ripple across campuses all over the country last month at the SEC media days when he unveiled several sweeping proposals aimed at cleaning up college sports and bringing the focus back to what happens on the field.
Amid some of the scandals that have rocked college football over the past year, Slive proposed everything from raising GPA requirements for incoming freshman athletes, to doing away with some of the petty recruiting rules, to making scholarships a multi-year deal.
[+] Enlarge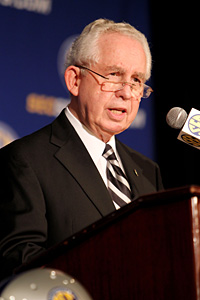 AP Photo/ Butch DillSEC commissioner Mike Slive is a proponent of paying for an athlete's full cost of attendance.
He also advocated full-cost-of-attendance scholarships, which would bump up the value of scholarships for all college athletes.
Obviously, he's been a busy man.
He's also like any other SEC fan. He can't wait for football to start and took some time recently to tackle some of the most pressing questions out there as we get ready for what will be the 20
th
season since the SEC expanded and split into two divisions in 1992:
What type of reaction have you received, both good and bad, from some of your proposals?
Mike Slive:
It's really covered the spectrum. There were a lot of people who thanked me for doing it and getting the ball rolling. Obviously, some people disagreed with various parts of it. For example, some of our coaches were concerned about the 2.5 GPA, but were very pleased that someone would bring up the text messaging and phone calls and bumps in recruiting and getting rid of legislation that really isn't at the heart of what we're concerned about. So there was something for everyone in there. But most of all, I had a sense that people were glad that someone stepped up and said, 'Let's start this dialogue. Let's get a national agenda for change and maybe give everyone something to chew on at the upcoming presidential retreat.' "
When might we see some of these proposals put into place, within the next year or much further down the road?
MS:
That's the 64-dollar question. It will be interesting after the retreat how NCAA president Mark Emmert decides what the process will be for moving ahead. I'm not sure. It's his prerogative as the president of the NCAA to make that determination.
Where's your pride level in seeing the SEC win five straight national championships in football?
MS:
We take great pride in the five in a row. At the same time, what makes it even more astounding is that we've won three national championships in baseball in a row at the same time. And in this past year, we won an additional five national championships. So the pride actually is not only in the football record, but in the quality of what all of our kids are doing in all of the sports.
With the success on the field, there have also been a number of NCAA investigations involving SEC football programs and multiple SEC schools now on NCAA probation. How disappointing is it to see that after making the proclamation earlier this decade that the SEC would be probation-free?
MS:
It absolutely has been a priority of mine (to avoid NCAA trouble), and we made significant progress up through 2008 when we had just one track program on probation, and we've had some setbacks since that time. Am I disappointed? Yes. Do I want to put an end to it? Yes. If there's a positive, it's how our institutions have handled it. I think LSU is an example here recently of how our institutions have reacted to these matters. I was very pleased to see that LSU was rewarded for that. What's of concern, as I said in my talk, is that we have issues from the Atlantic to the Pacific, from the Gulf to the Great Lakes. These cases have brought things to a bit of a head, and we have to rely on the NCAA enforcement process to deal with the issues going forward. But what's clear now is that this is not an SEC matter. This is now a matter for all conferences.
What do you make of the Auburn investigation remaining open, and do you feel Auburn's frustration that it has lingered for as long as it has?
MS:
As I said in my talk, part of the enforcement process that needs serious attention is the timeliness, and one of the suggestions I've made is that let's make sure we know what we really want to focus on so that the enforcement staff can be clear and utilize their resources in cases in which it goes to the heart and soul of integrity and not on some of these other issues we've been spending a lot of time on.
The Big Ten recently announced that it would go to a nine-game league schedule in 2017. Do you see any chance that the SEC would follow suit and go from eight games to nine games?
MS:
Since I've been here, there's been no sentiment to go to nine. It's come up a couple of times, but not in depth. So as we talk here today, there have been no serious discussions about going to nine.
Where do you think expansion is as it relates to the SEC, and do you expect to see the league add teams in the next two or three years?
MS:
Let me go back to where I was last year when I had my little quote on the card I kept reading, and basically that is that we'll be thoughtful and strategic about it. So I think it's the same, but I can tell you that we're going to do what is in our long-term best interest for our conference.
How many games will you get to this season?
MS:
Up until last year, I went to every campus. Last year, I went to a few games, but spent more time in our command center (in Birmingham, Ala.) because every game is on television. So when I go to our command center from 11 o'clock in the morning until 11 o'clock at night, I see every single play of every single game, and that's very helpful.
August, 8, 2011
8/08/11
11:00
AM ET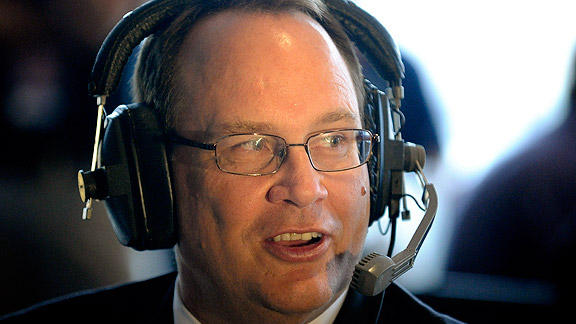 AP Photo/Matt StrasenCommissioner Dan Beebe has been dealing with concerns over expansion and the Longhorn Network.
The Longhorn Network doesn't launch until Aug. 26, but it's already been the subject of plenty of discussion and prompted the league's athletic directors to meet last week in Dallas in the midst of more realignment rumors and problems that had to be solved before the launch.
"Oh, you know, just another easy summer," Beebe said with a laugh to begin a recent interview with ESPN.com. "I need a summer where I can be bored for once."
He didn't get it in 2010, when the Big 12 lost a pair of teams.
This one wasn't easy either, but Beebe took some time to talk about the Longhorn Network, Texas, Texas A&M's future in the Big 12, and the league's possible new network.
We've seen commissioners take a much bigger role in this world of expansion and realignment, but how has that changed the jobs you, [Big Ten commissioner] Jim Delany and [SEC commissioner] Mike Slive and the rest of you do compared to your predecessors?
Dan Beebe:
I think the intensity is ratcheted up enormously. It's already more intense, and there's a greater amount of intensity that's been created between the high-resource conferences and the lower-resource conferences. For the commissioners' roles themselves, and within the BCS-level conferences, it's ratcheted up as well.
How much longer do you think we'll be talking about expansion and realignment in college sports in general?
DB:
It's happened for a while, for 20 to 22 years that I've been around. Certainly when it happens at this level, it makes a lot more news. I mean, I brought in five new members when I was in the Ohio Valley Conference, and then you'd have to look back at Penn State and Arkansas and South Carolina and some other movements that have gone on.
I think until we all kind of settle into our new television deals and we play, the Big Ten plays together with its 12 and the Pac-12 plays together and the Big East with its new configuration, until we go through a few years of that, this will always be something that people suspect will occur, and that's a change in alignment.
What was it like for you to see this stuff bubble up again in recent weeks, a year after it looked like the Big 12 had kind of moved on?
DB:
It's disconcerting. Like I said at media days, we're not going to get the benefit of the doubt by the media or the public until we go through a couple seasons probably playing each other and everybody gets to see what we're talking about in terms of our stability and commitment to the future and what's going on or what we're about.
We had that athletic directors meeting the other day, and every single athletic director reiterated their commitment to the conference and the fact that they believe the best place for their institution is in this configuration of institutions.
How would you describe the discussions at the meeting last Monday?
DB:
Frank. And respectful. But there certainly was -- and I encouraged it -- nobody I think held back from what their feelings were and what their position was.
Look, the one thing that hasn't gotten out is, especially with the Longhorn Network, how considerate DeLoss Dodds and Texas has been about this. They have said, and it's made several publications, that they did not want to do anything that was going to create a recruiting advantage or do anything that was going to harm the conference. And DeLoss came to the meetings with that kind of continued attitude about it.
So what was expressed that you would describe as frank?
DB:
Well, that kind of sentiment. I don't want to get into what goes back and forth while ideas are being formulated, because I think you need to have those things done in private, so it was just a matter of where everybody stood on certain issues and it was a good exchange.
Texas A&M has certainly been at the center of a lot of this, so what did they express to you and others in the meeting about their future in this league?
DB:
That they're very, strongly committed to the conference, just as Bill Byrne stated. They helped make sure it was going forward last summer and believe strongly that this is the place for the institution to be located.
How do you feel the Longhorn Network's general existence affects the long-term stability of the league?
DB:
Well, I think that all of our institutions in five years are going to have delivery systems, whether they be together or some together, some not. We've just seen the Pac-10 basically create that for their own members in what, six different networks and a seventh for the conference?
So, I think that's the wave of the future. There's going to be an appetite for fans in a local region to see the content in that region that may not be appealing for a wider region or even nationally, and all of our institutions are going to create some sort of delivery system.
The Longhorn Network is just the first one out of the gate. And whenever you have a first venture like that, there's all sorts of questions and things that need to be ironed out. But I think all of [the other schools] will be there in five years.
August, 8, 2011
8/08/11
11:00
AM ET
I got a chance recently to speak one-on-one with ACC commissioner John Swofford about NCAA reform, NCAA allegations against Georgia Tech and North Carolina, and several other issues. Here are the highlights of our conversation:
[+] Enlarge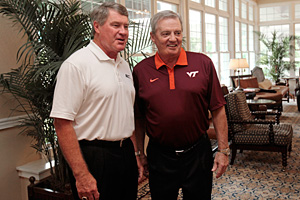 AP Photo/Gerry BroomeACC Commissioner John Swofford, left, shown with Virginia Tech coach Frank Beamer at the ACC football kickoff, touched on several issues facing the ACC and college football.
You have touched on the idea of two- and four-year, multiyear scholarships, but what are some other specific things you think the NCAA could do to help the state of the state in college football?
John Swofford:
The biggest focus on my mind is what I talked about [at the ACC football kickoff]. In terms of student-athlete welfare, I think we just need to take a step back, take a deep breath, evaluate what we're doing and if there's reason to change and enhance the student-athlete experience have the will to do that. In terms of specific aspects of that, the most fundamental is to start with the scholarship itself and consider the fact that it hasn't changed since the 70s while the world around us has changed significantly. It's probably time to take a fresh look at that. There have been adjuncts to the scholarship that have come about, the most prominent being the student-athlete assistance fund, which comes from the NCAA basketball tournament and is available for athletes that have need and the days of not being able to help an athlete go home for an emergency or a funeral, not to have a jacket to wear to an awards banquet, can now be addressed through that fund. That has been an improvement and the Pell Grant has been an improvement as well, although there are some concerns with future cutbacks from the federal government about the money available for Pell Grants for all students. The thing that's foremost in my mind is taking a look at the full cost of attendance and that being the basis of the full athletic grant-in-aid. It's academically sound, it already exists on a number of our campuses, it's not introducing something that fights with anything educationally. It would cost some money. In its purest form there would be some differentials from campus to campus because it costs more to go to School A than School B. That's where the practical devil in the detail aspects come into play that we would have to really address, but I think conceptually it's sound and could be beneficial to the athlete. In terms of the number of years, I don't feel nearly as strongly about going to multiple year grants, but I think we should at least look at it. I don't think there are a significant number of wrongs that come from the annual grant-in-aid. It requires accountability which is generally a good thing, but if we're going to look at the grant-in-aid in total, we should look at whether it should be multiple years. I've been around long enough I can remember when it was a four-year grant, not a one-year grant. I do see that as something we should look at as we look at the cost of attendance concept.
Knowing that you talk to a lot of the other BCS commissioners, do you sense just how realistic change is at this point?
JS:
I think we're in the early stages of that dialogue, but I would tell you that with that said, I sense from Mark Emmert, I sense from my colleagues that sit in commissioners chairs, and I sense from some of our athletic directors both within the ACC and outside of the ACC, more willingness to look at significant change than I have seen in a long, long time.
I want you to talk about North Carolina from a personal aspect because of your history there. Has it been hard for you to remove yourself from the personal aspect and watch what's going on there and keep the commissioner's hat on as opposed to former AD and alum?
JS:
The short answer to that is no, it has not been hard. Anytime one of our schools, regardless of which one it is, has a significant NCAA issue, it's of great concern to me. I'd much rather lose a whole lot of games league-wise than have substantial NCAA issues going on. That hits so much at the heart of what I think this league has been about for a long time and hopefully always will be in terms of the balance of competition, academics and compliance. That's a large part of our heritage and who we are. I've been in this job for 15 years now. I've got 12 schools I care deeply about and equally about and particularly when it's an issue such as this one. Anytime you have a program such as Carolina that has gone so long without having any significant NCAA implications you hate to see that even more.
Last question about the NCAA: Did you think taking away the championship from Georgia Tech was fair?
JS:
I think based on the NCAA's conclusion … the NCAA apparently based their decision on the fact it believes a couple of players played in that championship game who should have been ruled ineligible to play. The NCAA consistently vacates games in which from their perspective and their charge an ineligible player played. Their ruling is consistent with what they normally do in those kinds of cases.
Speaking of the ACC championship, when are you guys going to feel ready to say Charlotte is our home and end the speculation?
JS:
Sometime around that game. It could be during that game, it could be shortly thereafter, and would need to be no later than shortly thereafter because you need a significant lead time into wherever you're going to be, whether it's remaining in Charlotte or doing something different. After the first year we were really encouraged. It was very successful in every respect in Charlotte. Charlotte has a lot going for it to begin with. It's geographically centrally located to our footprint, eight schools are within 300 miles so your chances of having a team or two playing in that game where the fans can drive in relatively easily is heightened significantly. It's an ACC town if you will. A lot of our alums live in and around Charlotte. The stadium is a terrific facility that is downtown close to hotels and restaurants. You can walk to the stadium so it creates an excellent atmosphere in and around the game itself. There are tremendous pluses there. The real key is Charlotte being able to continue to sell the tickets locally. Last year they sold about 30,000 tickets which was an excellent first year. We'd like to see that grow in the second year and I think it's fair to say that if we had a second year that was similar to the first, we would be returning to Charlotte, and I think it's fair to say it's something we want to see happen in Charlotte. The city and the people there have been very supportive so far.
Every year it seems like we talk about somebody having national championship hopes for the ACC, and every year since I've been doing this it's wait-til-next year. Do you think we're finally getting to the point where the ACC will stop teasing its fans?
JS:
I hope so. I don't think we're that far away. I don't think we've been that far away. You take last year as an example and look at a couple of games early in the season, and you see just how much the entire season could have been different, not only for the ACC, but from the national perspective. The two games I'm talking about are Virginia Tech-Boise State, which Virginia Tech could have easily won, and had they won that game, I doubt they would have lost the next game. … And then you look at the Clemson/Auburn game in which I think most people would say Clemson outplayed Auburn, but in the end, with the field goal situation, Auburn came out on top in overtime. Had that game gone differently, it's highly unlikely Auburn would have gone on to be the national champion. Who knows where Clemson would have gone from there? Who knows where Virginia Tech could have gone from a Boise State win. I think there's a finer line between a national championship level and below it than the average fan realizes. I've said this a number of times -- We've got a lot of very good football teams in our league. What we have been lacking is our best team or teams getting over that threshold of winning those couple of high-profile games that take them to the national championship level, at least in recent years. You keep plugging away. You keep playing. You keep trying to get a little bit better to cross that threshold and get us back to where some of our teams have been before. Virginia Tech, Florida State and Miami have all played in BCS national championship games before.