NCF Nation:

110809 Veteran QBs
August, 9, 2011
8/09/11
11:00
AM ET
Life should be good for the Big 12's veteran quarterbacks with little changing around them. But the league's top two passers are facing a lot of change. Here's a look:
Brandon Weeden, Oklahoma State.

Weeden is facing the biggest change. The offense will be the same, but the voice on the headset will be different. Inexperienced playcaller Todd Monken replaces Dana Holgorsen for the Cowboys. Monken previously coached wide receivers with Mike Gundy under Les Miles at Oklahoma State and came to the Cowboys after four seasons at LSU and two as the wide receivers coach for the Jacksonville Jaguars in the NFL. He was promoted to quarterbacks coach before taking the OSU job, where he'll get the keys to what he's described as a "Ferrari." That's Weeden, Biletnikoff-winning receiver
Justin Blackmon
and the Big 12's best offensive line.
For Weeden, though, he'll have to deal with the loss of two-time 1,500-yard back Kendall Hunter.
Joseph Randle
and
Jeremy Smith
will try to fill the void, but Hunter was a steadying force last season for the Cowboys' offense, which loses just two receivers:
Bo Bowling
, who caught 42 passes, and
Colton Chelf
, who caught 11 passes.
Landry Jones, Oklahoma

Jones, like Weeden, lost his offensive coordinator to a head-coaching job in the offseason. Kevin Wilson left OU to take the job at Indiana, but Jones' new coach is a man he knows well, and a man Oklahoma knows well. Josh Heupel has coached quarterbacks for the past five seasons at Oklahoma (which featured three Big 12 titles under three different quarterbacks), and now takes over as the offensive coordinator under Bob Stoops. Heupel also quarterbacked the Sooners under Stoops to the program's last national title, in 2000.
Heupel shares coordinator duties with receivers coach Jay Norvell, but Heupel will call the plays, and did well in his first try, a 48-20 stomping of Connecticut in the Fiesta Bowl. Norvell, 48, is a more experienced coach, but Heupel, 33, is on the fast track for a head-coaching job.
Jones also must deal with life without DeMarco Murray, who carried the ball 282 times last season and caught 71 passes. That's a lot of touches to replace, but for the Sooners to reach their stated goal of a title, Jones will have to find a way to distribute those receptions elsewhere and support his new stable of running backs.
August, 9, 2011
8/09/11
11:00
AM ET
You would be hard pressed to find a more consistent passer than
Kellen Moore
over the past three seasons.
His numbers are downright eye popping when you stop and look. Moore has thrown for more than 3,000 yards in each of his three seasons as a starter for Boise State. He threw 10 interceptions as a freshman, and a combined nine since. He ranks second on the NCAA active career list in completion percentage (68.17), and he is coming off a season in which he made it to New York as a finalist for the Heisman.
But there are many changes headed into his senior season. Moore lost his two star receivers, Titus Young and Austin Pettis. He has a new offensive coordinator in Brent Pease. And he goes into the season as a married man, having wed his high school sweetheart earlier this summer.
Plenty of upheaval to be sure. Yet coach Chris Petersen is highly confident in Moore, a student of the game who has the leadership ability, calm demeanor and perfect attitude to lead the Broncos on another run to a BCS game.
"He's played at such a good level from his freshman year," Petersen said. "We've seen growth and changes, they're just so subtle. He's just been consistent. … We need him to do what he's been doing. If everyone around him plays good, his numbers will be good."
True, but much responsibility falls onto the shoulders of Moore as the quarterback. The last year has been a whirlwind for him. He has been in constant motion since last December, when he became the first Boise State player to become a Heisman finalist.
Moore had some down time in June, and that was about it. In between then, he got timing down with his receivers during offseason workouts; attended the Manning Passing Academy; and served as a counselor at an Elite 11 camp for the best prep quarterbacks in the country.
Somehow he squeezed in his wedding in Park City, Utah -- just a few months after he got down on one knee and proposed on his front porch in his hometown of Prosser, Wash., where he and his wife shared their first kiss 6 ½ years ago.
[+] Enlarge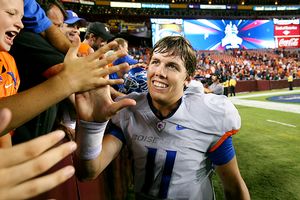 AP Photo/Joe Jaszewski/Idaho StatesmanBoise State's Kellen Moore needs eight wins to become the all-time winningest quarterback in FBS history.
But now it's back to the business of football. Moore shrugged away all queries about his untested group of receivers during Mountain West media day, saying he had talented players around him who just need their shot.
"We're going to look at six, seven guys, rotating them in and getting them involved, as opposed to two or four guys involved in the game plan," Moore said. "We'll try to get a couple running backs going. (Tight ends)
Kyle Efaw
,
Gabe Linehan
… at the wide receiver position,
Tyler Shoemaker
's played enough -- he's ready to rock and roll. Geraldo Boldewijn, he'll step up. Guys like Kirby (Moore) and
Chris Potter
,
Mitch Burroughs
, guys who've had experience, we can lean on them."
Shoemaker is the leading returning receiver to the team, having caught 32 passes last season for 582 yards and five touchdowns. Running back
Doug Martin
could play more of a role as well, after catching 28 passes for 338 yards and two touchdowns last season as well.
There should also be familiarity with Pease, who was on the Boise State staff as receivers coach before replacing Bryan Harsin -- who left for Texas -- as coordinator. The offensive philosophy will stay the same, and Moore is confident the changes will mean minimal disruption.
That would help in getting Moore another shot at the Heisman. In the past 10 years, five Heisman finalists have returned to New York as finalists the following season. That includes two winners, Tim Tebow and Jason White.
But more than that, Moore is on pace to become the winningest quarterback in FBS history. Moore has 38 career victories and needs eight to break the mark of 45, set by Colt McCoy of Texas in 2009.
"The victories record is a special one just because that comes with more than just me," Moore said. "I'm smart enough to recognize if I can do that, then George Iloka would probably be the winningest safety. Thomas Byrd would love to be the winningest center. There's been a lot of guys involved in that run. I think that would be pretty neat."
Neater still if he did it given all the changes ahead.
August, 9, 2011
8/09/11
11:00
AM ET
As we mentioned earlier, the Big East is a veteran-quarterback league. But there are a few veterans facing uncertain circumstances headed into the season.
Chas Dodd, Rutgers.
What is most uncertain is how Dodd will adjust to new offensive coordinator Frank Cignetti. The move should be a good one for Dodd and the offense, which had no clear identity in 2010. Still, anytime a new coordinator comes aboard, there are often bumps. Dodd has a good group of receivers, but the offensive line has to improve and a running back has got to step up as well. Coach Greg Schiano says, "Chas is comfortable with what we're doing, although it's different than what he's done in the past," Schiano said. "He looked very proficient in what he was doing in the spring."
Geno Smith, West Virginia.
The reason Smith is on the list is because of the biggest change to West Virginia -- new coach and offensive coordinator Dana Holgorsen. Given what Holgorsen has done in the past, perhaps there is certainty in the situation -- that Smith will become one of the most prolific passers in the country. But this is a new offense, one that features a more high-tempo system than what Smith has run with the Mountaineers. There is uncertainty at running back as well. And how will Holgorsen juggle calling plays and being the head coach?
Tino Sunseri, Pitt.
Sunseri has a new coach in Todd Graham, new offensive coordinator in Calvin McGee, a quarterbacks coach in Todd Dodge and new offensive scheme. Leading receiver Jon Baldwin is gone, too. That all adds up to some uncertainty headed into the system. The Panthers are going to be running more of a hurry-up, spread system, a radically different approach than the Panthers traditionally feature. But Sunseri says the change has been good for him, and he is feeling more and more comfortable.
"The offense is going to bring out a lot of my strengths, show off my arm strength and show I can make every throw on the field and show off my athleticism," Sunseri said. "We're definitely excited about the possibilities."
August, 9, 2011
8/09/11
11:00
AM ET
Most would agree that Michigan's
Denard Robinson
and Northwestern's
Dan Persa
were the Big Ten's top two quarterbacks in 2010.
Both set Big Ten and team records (and, in Robinson's case, NCAA records). Both carried their squads at times. Both displayed leadership and made those around them better. And both are back for 2011, which is good news for Michigan and Northwestern.
Here's the twist: both also face significant challenges entering the season.
Robinson and Persa find themselves in the odd position of being proven players who have to prove themselves all over again.
The reasons are different.
Robinson will run a new offense this fall after thriving in Rich Rodriguez's spread, becoming the first player in NCAA history to record at least 2,500 pass yards and at least 1,500 rush yards in the same season. Al Borges, Michigan's new offensive coordinator, employs a West Coast style offense that will require some adjustments from the 2010 Big Ten Offensive Player of the Year. Robinson will be taking more snaps from center, using more play-action and throwing passes on different routes than he did in the spread.
[+] Enlarge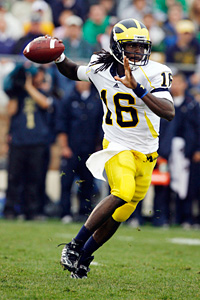 Brian Spurlock/US PresswireMichigan's Denard Robinson is coming off a stellar season, but will be playing in a new scheme.
It's worth noting that Robinson took snaps from under center throughout high school. Coach Brady Hoke said last month that the staff is "smart enough to have elements he does well from what he did ... in the spread in our offense."
But Robinson will be moving from a system where he fit seamlessly to one that will take some adjustments. He didn't look too comfortable in the spring game, but has had more time to learn the scheme. Will Robinson remain the game-changer we saw in 2010? We should find out in September.
Persa, meanwhile, doesn't have to worry about a new offense. His primary concern is a surgically repaired right Achilles' tendon.
The senior hasn't played since rupturing his Achilles' on Nov. 13 against Iowa. He didn't begin running until late spring, although he's medically cleared for preseason camp, which began Monday.
It remains to be seen whether Persa is the same player after surgery and a long rehab from an injury you don't often see in college football. Although he set a Big Ten record for completion percentage (73.5) in 2010, he was exceptional with his legs, extending plays and scrambling for first downs and touchdowns. Persa wants to release the ball faster and run less this season, but he'll need his mobility to pick up where he left off.
Northwestern fell apart after Persa's injury, dropping its final three games. While Wildcats coach Pat Fitzgerald said last month that he'd take Persa "at 40 percent over any other quarterback in the country," Persa's health and ability to produce could make or break the season.
Robinson and Persa aren't the only Big Ten returning starters at quarterback facing some uncertainty entering the fall.
Here are a few others:
Nebraska sophomore Taylor Martinez:
T-Magic is adjusting to a new offense and must show he can stay healthy after fading in the second half of 2010. Martinez also loses leading receiver Niles Paul to the NFL draft.
Illinois sophomore Nathan Scheelhaase:
Scheelhaase no longer shares a backfield with first-team All-Big Ten running back Mikel Leshoure. He also needs several receivers to emerge alongside
A.J. Jenkins
.
Michigan State senior Kirk Cousins:
Cousins once again has plenty of weapons around him, but he'll play behind an offensive line replacing three starters from last season. The senior dealt with shoulder and ankle injuries during the second half of the 2010 season, and unlike the other quarterbacks on this list, he lacks top-end mobility.
August, 9, 2011
8/09/11
11:00
AM ET
The SEC's senior class at the quarterback position includes five returning starters -- Florida's
John Brantley
, South Carolina's
Stephen Garcia
, LSU's
Jordan Jefferson
, Mississippi State's
Chris Relf
and Vanderbilt's
Larry Smith
-- who've started a combined 104 games.
Sounds like a lot, and it is.
Garcia, Jefferson and Smith are all entering their third seasons as the full-time starter. Brantley and Relf started in every game a year ago.
Yet, the only one of the five who's the closest thing to being a lock to go the whole way this season as the starter is Relf, who was easily the SEC's most improved quarterback last season.
"He was always a big, strong guy who did athletic things at the quarterback position," Mississippi State coach Dan Mullen said. "But he's now become a quarterback and getting better every day."
Relf would seem to be entrenched in Starkville, and that's not to say the other four seniors aren't. It's just that each of their situations is a little bit different than what you might expect from a group of veteran quarterbacks with more than 100 combined starts.
Right there at the top is Garcia, whose career has been about as maddening as it gets.
He's 17-13 as a starter and is only the third quarterback in South Carolina's history to throw for more than 6,000 yards -- Todd Ellis (1986-89) and Steve Taneyhill (1992-95) are the others.
He's also one of the few players in college football history (maybe the only one) to survive five suspensions and still be playing.
A fifth-year senior, Garcia is back in Steve Spurrier's good graces, at least for now, and the Head Ball Coach is even openly bragging about how much more focused Garcia is and how he's poised for a big season.
Of course, back in the spring when Garcia was serving one of his two suspensions that forced him to miss most of spring practice, all Spurrier wanted to talk about was sophomore quarterback
Connor Shaw
and how much progress he'd made.
The reality is that Garcia is the Gamecocks' quarterback and will be their quarterback until he screws up off the field again or doesn't throw to the right receiver one too many times on the field.
As we've seen over the years, Spurrier can have a pretty quick hook with his quarterbacks.
To his credit, Garcia has been one tough customer, and his teammates have rallied around him.
[+] Enlarge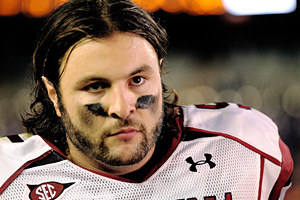 Mike Ehrmann/Getty ImagesSouth Carolina senior quarterback Stephen Garcia has been suspended five times.
This is his final chance to put it all together -- on the field and off -- and to cement his legacy as one of South Carolina's greatest quarterbacks.
But can he do it for an entire season and play and lead with the kind of consistency that it takes to win a championship?
That's a question that will hover all season.
"I'm not really worried about my legacy, per se," Garcia said. "I'm more worried about the team in general. The ultimate goal, of course, is to win the SEC championship. And if you do that, you have a pretty good shot at winning the national championship, as the last five years have indicated."
Garcia is asking the South Carolina fans to trust him … again.
"Hopefully, they take me back one more time," he said.
At LSU, Jefferson's problems haven't been off the field. They've been on the field, and in particular, in games.
The Tigers' passing game was woeful last season, even though they managed to start 7-0 and ended up winning 11 games.
All of the reports on Jefferson since spring have indicated that he's made significant strides under new quarterbacks coach Steve Kragthorpe and is throwing the ball with as much confidence as he ever has.
He needs to, for LSU's sake and his sake.
The Tigers have a team capable of winning a national championship in 2011. But to do so, their passing game has to take several steps forward from where it was a year ago.
And if it doesn't take those steps, it's probably not going to take long for talented junior college newcomer
Zach Mettenberger
to supplant Jefferson as the starter.
Count Florida's Brantley as another senior quarterback in the SEC with everything to prove this season.
[+] Enlarge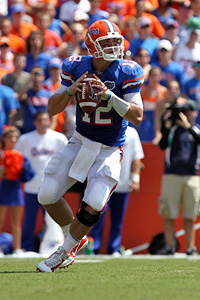 Kim Klement/US PresswireFlorida quarterback John Brantley will be switching to a pro-style offense this fall under new coordinator Charlie Weis.
His first year as a starter in Urban Meyer's old spread offense was a huge disappointment last season. He never looked comfortable, and his confidence plummeted.
But with Charlie Weis taking over the offense for first-year head coach Will Muschamp, the Gators are switching to a pro-style attack, and Brantley's teammates say he looked like his old self in the spring.
Muschamp has been clear that Brantley's his starter, but it's also no secret that the Gators brought in the top quarterback prospect in the country,
Jeff Driskel
, who enrolled early and went through spring practice.
As disappointing as last season was for Brantley, it wasn't a total loss.
"I learned that when things go wrong to forget about it, move on and keep my head up," said Brantley, who finished with nine touchdown passes and 10 interceptions. "If you keep your head down, other people's heads are going to go down."
Smith's ride at Vanderbilt has been a rough one ever since making his first career start as a redshirt freshman in the Music City Bowl in 2008, which just happened to be the Commodores' first bowl win in 53 years.
But the Commodores have struggled mightily in the passing game each of the past two seasons, and while Smith's numbers haven't been pretty, he hasn't had much help at the receiver position.
The Commodores hope sophomore
Jordan Matthews
can be that big-play threat this season, and Smith feels like he's more equipped fundamentally to make things happen after working with first-year quarterbacks coach Ricky Rahne.
He's going to have people pushing, too.
The Vanderbilt staff is getting its first comprehensive look this preseason at junior
Jordan Rodgers
, who did very little in the spring while recovering from shoulder surgery. Rodgers, the brother of Green Bay Packers quarterback Aaron Rodgers, redshirted last season after coming over from junior college.
Vanderbilt coach James Franklin is also eager to see what the three freshman quarterbacks he signed in this class have to offer --
Lafonte Thourogood
,
Josh Grady
and
Kris Kentera
.
"I'm excited to have a competition," Franklin said. "I thought Larry had a great spring. I thought he had a great summer, but he really didn't compete against anybody. I want to see him have an opportunity to compete against somebody and how he reacts to that. I want to create the most competitive environment we can here."
August, 9, 2011
8/09/11
11:00
AM ET
When it comes to veteran quarterbacks in the ACC, there is only one -- unless you're counting true sophomores or second-year starters as old guys.
If Miami's
Jacory Harris
wins the starting job this summer, he will be the only senior quarterback in the ACC this year. Despite his past experience, though, Harris is facing a lot of uncertainty in his future. Here are the three main questions facing Harris as he prepares for his final season as a Hurricane:
[+] Enlarge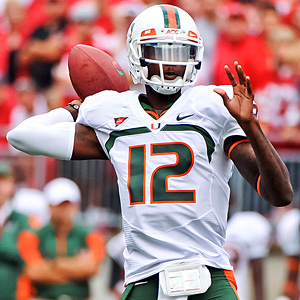 Jamie Sabau/Getty ImagesJacory Harris threw for 1,793 yards and 14 touchdowns last season.
1. Will he win the starting job, and will he keep it?
Even if Harris wins the starting job this summer, there's no guarantee he'll finish the season at the top of the depth chart, especially if he continues to turn the ball over and make poor decisions. Harris will constantly be looking over his shoulder, as
Stephen Morris
will be pushing him at practice every day. The competition between the two will either make Harris better -- like it did when
Robert Marve
was still on the team -- or it could rattle his confidence.
2. How will he adapt to the new offense?
First-year offensive coordinator Jedd Fisch will run a pro-style offense, and Harris has had to spend the offseason learning new terminology and concepts. Fisch has already said they're likely to hand the ball off a good amount, so the offensive line and running backs should help take some pressure off of Harris. As far as the balance between the run and pass, though, your guess is as good as mine. Fisch has said that he plans to do whatever it takes to win, whether that's throw it 40 times or run it 40 times. Fisch has only called plays once before -- in 2009, as Minnesota's offensive coordinator.
3. Will he stay healthy?
In 2009, Harris had a thumb injury, though just how bad it was we'll never know. Last year at Pittsburgh, Harris suffered a shoulder injury. There were conflicting reports about the exact injury, but The Miami Herald reported it was a bruised AC joint. And then, arguably the worst of his injuries was the concussion he suffered at Virginia, which sidelined him for three games. Like most quarterbacks, Harris isn't the same when he's injured, but the true extent of his injuries has been a mystery. How much more can he take?
August, 9, 2011
8/09/11
11:00
AM ET
It's great having a veteran quarterback, particularly a veteran quarterback who is proven.
But a veteran quarterback can have his own concerns. Here's what the returning starters at the position in the Pac-12 will be fretting about -- though they'd never own up to fretting -- during preseason camp.
Nick Foles, Arizona
: Foles has a talented and deep crew of receivers but he also has five new starting offensive linemen in front of him, which not only will be an issue in pass protection but also for creating a running game that will slow down a pass rush.
Tyler Hansen, Colorado
: The good news for Hansen is the job is his and he no longer has to worry about the coach's son, as he did under Dan Hawkins with
Cody Hawkins
. The bad news also is it's all on him, though Hansen seems like the sort who would see that as good news. A more tangible worry for Hansen is a lack of depth at receiver.
Paul Richardson
can ball and
Toney Clemons
is solid. After that, things are thin.
Darron Thomas, Oregon
: Talk about a debut. Most folks thought
Nate Costa
was going to win the starting job over Thomas last preseason, but Thomas not only prevailed, he thrived, earning second-team All-Pac-10 honors and, oh by the way, playing in the national championship game. But now Thomas is playing behind a less-experienced offensive line and without his top-two receivers from 2010,
Jeff Maehl
and
D.J. Davis
. Further, he's the man now, the first guy his teammates will look at in the huddle, though running back
LaMichael James
also figures to play a significant leadership role. Thomas seems up to increasing his responsibilities, but he can't do it alone. He will need some young receivers to step up, just as he did last year.
Ryan Katz, Oregon State
: Katz might have the biggest arm in the conference and he certainly had some impressive moments, most notably a tour-de-force performance at Arizona. But he sure could use the return of a healthy
James Rodgers
, who was a big help against the Wildcats before he suffered a terrible knee injury. But receivers are not among Katz's chief worries. His offensive line welcomes back four starters, but it underperformed in 2010, both as run- and pass-blockers. And Katz no longer has certainty at tailback, with Jacquizz Rodgers off to the NFL.
Andrew Luck, Stanford
: Luck is the best quarterback in the country, but that means many will expect him to be perfect, which he can't be. For one, his dominant 2010 offensive line is replacing three starters. We don't know if the Cardinal running game will match what it did the previous two seasons. That line also protected Luck as well as any line protected its quarterback in the nation. But more pressing for Luck is a questionable crew of receivers. If speedy
Chris Owusu
is healthy all season, things should work out. But without him, Luck doesn't have any options who can scare a defense. No one stepped up during the spring, which makes receiver perhaps the Cardinal's most worrisome position.
Matt Barkley, USC
: Barkley looks poised for a breakthrough in his third year as a starter. While Luck is super special, watching Barkley throw the ball at practice is pretty darn special, too. He's certainly an NFL talent, and he's got plenty of young talent around him at the skill positions to help him put up big numbers this season. But his offensive line was awful during spring practices. Injuries were the chief explanation, but he needs his starting five to stay healthy because there is a decided lack of depth. Offensive line is probably, in fact, USC's biggest question mark.
Jordan Wynn, Utah
: First, Wynn needs to worry about himself. He's coming back from shoulder surgery, so he needs to pace himself this preseason, both in terms of not overthrowing and in terms of not seeking out any unnecessary contact. After taking care of himself, Wynn will need to develop chemistry with a receiving corps that is replacing two of its three top guys. Beyond that, Wynn will be paying attention to running back, where the Utes' top two rushers from last season need to be replaced. Utah wants to be a downhill running team, and a hard-nosed running game certainly makes things easier for a quarterback when he steps back into the pocket.
Jeff Tuel, Washington State
: Tuel and his receivers are going to be fine -- more than fine if they get some help from an offensive line that struggled horribly in 2010, failing to protect Tuel or to create running lanes for an anemic running game. Tuel did an admirable job handling 51 sacks last fall. But if he gets sacked that many times again in 2011, it's hard to imagine him starting all 12 games.