NCF Nation:

110811 New Coaches
August, 11, 2011
8/11/11
11:00
AM ET
A full one-third of the Big Ten's head coaches will be in their first years in 2011. That includes new leaders of the league's two most storied teams. Here's a quick look at the new coaches and what kind of impact we can expect from each this season:
[+] Enlarge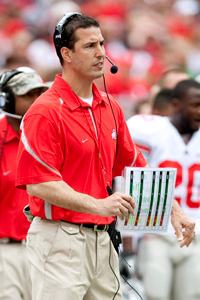 Greg Bartram/US PresswireLuke Fickell was thrust into the head coach's role after Jim Tressel resigned.
Luke Fickell, Ohio State:
Fickell is the only one on this list who wasn't expecting to go into this season as a head coach. Elevated from co-defensive coordinator shortly after Jim Tressel's forced resignation on Memorial Day, Fickell is a former Ohio State player whose passion for all things Buckeyes comes through every time he talks. Fickell turns 38 on Aug. 18 and is only guaranteed to coach this year; given his team's talent and question marks, he's the biggest wild-card head coach in the league.
Brady Hoke, Michigan:
He hasn't coached a game yet, but Hoke has already been embraced by Wolverines fans in a way Rich Rodriguez never was. That's because Hoke is viewed as a "Michigan Man," even though he was born in Ohio and went to college in Indiana. Hoke was a longtime Wolverines assistant coach before successfully leading Ball State and San Diego State to some of their best seasons ever. Hoke has recruited well and fired up the fan base with his "We're Michigan, we don't rebuild" bluster. He still needs to get Michigan back to being Michigan on the field.
Jerry Kill, Minnesota:
Kill has been a head coach in high school, Division II, FCS and the MAC, and he has won everywhere he's gone. In other words, he's the exact opposite of Tim Brewster, who had no head-coaching experience before the Gophers lost their bet on him. Kill came to Minnesota after a solid tenure at Northern Illinois. He has said that building the Gophers into a winner will take time and there will be no shortcuts, but his history suggests he will get it done.
Kevin Wilson, Indiana:
The former offensive coordinator at Oklahoma has already accomplished something that seemed improbable: He's created a buzz about Indiana football. Wilson caused shock waves when he landed a verbal commitment from one of the nation's top quarterback recruits,
Gunner Kiel
, last month. The Hoosiers will play a fast tempo, quarterback friendly offense that will likely score points in bunches early on in Wilson's tenure. Whether he can get IU back to annual bowl contention or more depends on whether he can get the defense to come along for the ride.
August, 11, 2011
8/11/11
11:00
AM ET
So who are the new head coaches in the Big East? You have heard plenty about them already.

Dana Holgorsen, West Virginia.
His resume speaks for itself. As offensive coordinator at Oklahoma State last season, the Cowboys finished No. 2 in passing offense (345.6 ypg) and No. 3 in total (520 ypg) and scoring offense (44.2 ppg). During his two-year tenure as Houston offensive coordinator in 2008-09, his offenses averaged 563 yards of total offense, 433.7 yards passing and 42.2 points a game. His offense ranked No. 3 in total offense in 2008 and No. 1 in 2009. Where did he learn? From former Texas Tech coach Mike Leach. So what can he do at West Virginia? Getting the Mountaineers to score more would help. West Virginia ranked No. 78 in the nation last season, averaging 25 points a game. The talent is there. Now the system is there. It almost feels like a given that this offense is going to be better, and could get people around the country to take notice.

Todd Graham, Pitt.
Like Holgorsen, Graham's offense at Tulsa put up big-time numbers last season. Tulsa ranked No. 5 in the nation in total offense (505.6 ypg) and No. 6 in the nation in scoring offense (41.4 ppg). In 2007 and 2008, Tulsa led the nation in total offense as well. Tulsa's 661 points in 2008 set a school record and marked the second highest single-season total in the modern era of the NCAA (second only to Oklahoma's 2008 total of 716 points). What to expect? Certainly a departure from the smash-mouth style Pitt has been accustomed to playing. Pitt will instead roll out a hurry-up approach to its "high-octane" offense.

Paul Pasqualoni, UConn.
Pasqualoni returns to the sideline as a head coach for the first time since 2004, when he was coaching at Syracuse. No question he had a good run there from 1991-2004, leading the Orange to nine bowl games. He ended his 14-year tenure as Syracuse's second-winningest coach with 107 victories. He does have a familiarity with the Big East and is quite familiar with Connecticut, so the hope is he will continue to maintain the high level UConn played at under Randy Edsall.
August, 11, 2011
8/11/11
11:00
AM ET
Another season in the ACC once again means more introductions are necessary. Including UNC interim coach Everett Withers, there will be three new head coaches in the ACC this year. There has been a significant amount of turnover at the head-coaching position, as every school but Virginia Tech has hired a new head coach within the past five years. Frank Beamer, who is entering his 25th season, is the undisputed veteran of the league, as NC State's Tom O'Brien is the next-longest tenured coach, and he is entering his fifth season. Five coaches will be entering their first or second seasons this fall. Here's a look at your new coaches for 2011 and how they might impact the conference in their first season:
Maryland coach Randy Edsall

Edsall
Background:
He spent the past 12 seasons leading Connecticut from FCS status to a perennial postseason participant. Edsall led Connecticut to eight or more wins and bowl games in each of the past four seasons, including last year's 2010 Big East title and a berth in the Fiesta Bowl. He compiled a 74-70 record at UCONN and left as the school's all-time leader in wins and games coached. He also spent one season as defensive coordinator at Georgia Tech (1998), four years as defensive backs coach for the Jacksonville Jaguars (1994-97), and three years as defensive backs coach at Boston College (1991-93).
Potential:
Edsall has already made an impact with his no-nonsense, business-like approach, and there were some academic issues he had to clean up. He has installed a more up-tempo offense that will use some no-huddle, and he has one of the ACC's best quarterbacks to work with in Danny O'Brien. He also has one of the ACC's top defenders in linebacker Kenny Tate. Beyond those two stars, though, the identity of his team has yet to be determined. Edsall was hired to make Maryland a consistent top 25 team, fill seats, sell suites and appeal to an apathetic fan base. Not an easy task in College Park. He can do it if he improves the program's recruiting. Edsall has had a reputation for recognizing and developing talent, not luring in elite prospects.
Miami coach Al Golden

Golden
Background:
Temple had won a total of three games in the three seasons prior to Golden's arrival and had only one winning season in over three decades. Golden was 27-34 at Temple, including a 17-8 record in his final two seasons, the best the program had seen since 1978-79. He also took the program to its first bowl game in 30 years. Prior to his tenure at Temple, Golden spent five seasons as the defensive coordinator under Al Groh at Virginia. Golden was also a two-year starter at tight end for Penn State and spent one season in the NFL with the Patriots.
Potential:
It's logical to think that if Golden could win at Temple, he can win just about anywhere, especially at a place like Miami, where the facilities and recruiting don't even compare to what Golden had to work with in inner-city Philadelphia. Golden is a charismatic, energetic young coach, but he also still has something to prove among his ACC peers. He has to name a starting quarterback this summer, and a staff overhaul means a change in terminology and philosophy. That being said, there is enough talent on the current roster for Miami to win the Coastal Division. Golden could have an immediate impact in Year 1, or Miami fans will have to do what they've grown accustomed to -- waiting.
North Carolina coach Everett Withers

Withers
Background:
He was named UNC's interim head coach on July 28. Feels like five minutes ago. He brings 24 seasons of experience at both the collegiate and NFL levels. He has been the Tar Heels' defensive coordinator and secondary coach for the past three seasons. He came to UNC after one season as Minnesota's defensive coordinator (2007). He spent the previous six seasons with the Tennessee Titans.
Potential:
Withers has two tasks this fall: 1) Keep the team together, and 2) Win games. If he can't get the first job done, the second will be impossible, but based on his track record, Withers has what it takes to keep North Carolina in the mix for the Coastal Division this year. There is enough talent on the roster that had the situation remained status quo, the Tar Heels without a doubt could have won their division. They still can, but Withers is dealing with a group of players who have had their seasons turned upside-down two summers in a row. It's a delicate situation as to whether they rally around him or throw their hands up and quit, but Withers helped UNC cobble together a respectable eight-win season last year despite a defense that was ravaged by injuries and suspensions. If he can do it again, UNC could be one of the ACC's biggest surprises.
August, 11, 2011
8/11/11
11:00
AM ET
A quick look at the two new coaches in the Pac-12: Colorado's Jon Embree and Stanford's David Shaw.
Embree and Shaw share some similarities. Both are first-time head coaches. Both played for the program they now coach. Both coached in the NFL. Both say they want to retire in their present job instead of climbing the coaching ladder. And, yes, both are black, the fourth and fifth black head football coaches in conference -- Pac-8 to Pac-10 to Pac-12 -- history.
Here's a quick look at the new guys.

Jon Embree, Colorado
Replaces?
Dan Hawkins, who never posted a winning season in five years in Boulder.
Where was Embree last year
? He was the tight ends coach for the Washington Redskins.
What's he bring to the table that's different
? Embree is a hardnosed old school coach -- Hawkins was decidedly new school -- who is from the area and played for Colorado under the revered Bill McCartney. He's spent 10 of his 18 seasons in coaching at Colorado, working from 1993-2002 as a Buffs assistant under three different head coaches: Bill McCartney (1993-94), Rick Neuheisel (1995-98) and Gary Barnett (1999-2002). He has repeatedly said that Colorado is his dream job, not a stepping stone. His singular focus is restoring a program that was once a national power.
What else
? Embree, 45, is the first black head football coach at Colorado and the fourth black head coach in Pac-12 history (Stanford's Dennis Green (1989-91), Stanford's Tyrone Willingham (1995-2001), UCLA's Karl Dorrell (2003-07) and Willingham at Washington (2004-08). Shaw became the fifth in January)... Embree earned a communications degree from Colorado in 1988... He was a member of McCartney's first recruiting class... In 1984, he earned first-team All-Big 8 honors and set school single-season records for receptions (51) and receiving yards (680)... He was a sixth-round selection by the Los Angeles Rams in 1987. He played two seasons with the Rams before suffering a career-ending elbow injury in 1989 while a member of the Seattle Seahawks... His original plan after the NFL was to get into TV news, but he took a job as a volunteer assistant with McCartney and was immediately bitten by the coaching bug... He is married to the former Natalyn Grubb and they have three children, a daughter and two sons. Eldest son Taylor, is a receiver at UCLA, while Connor is a receiver at UNLV.

David Shaw, Stanford
Replaces
: Jim Harbaugh, who rebuilt the program into a national power before being hired away by the San Francisco 49ers.
Where was Shaw last year
: He was Stanford's offensive coordinator.
What's he bring to the table that's different
: Where Harbaugh was boisterous, often eccentric and sometimes prickly, Shaw is mellow, polished and accommodating. That said, he's repeatedly insisted that doesn't mean the competitive fire doesn't burn just as hot. He certainly knows Stanford. His father coached there and he's a 1984 graduate. He returned to Stanford in 2007 when Harbaugh arrived -- they were together at San Diego -- so he's seen the Cardinal renaissance firsthand. And, just like Embree, he says that Stanford is his destination job and that he's not looking to move on or up in the coaching profession.
What else
? Shaw is the fifth Stanford alum to become head football coach, joining Charles Fickert (1901), Carl Clemans (1902), Chuck Taylor (1951-57) and Paul Wiggin (1980-83)... He was a member of Stanford's 1991 Aloha Bowl team coached by Dennis Green that finished 8-4. He was also on the Cardinal's 1992 Blockbuster Bowl-winning squad coached by Bill Walsh that went 10-3. He finished his Stanford career with 57 receptions for 664 yards and five touchdowns... He started his coaching career in 1995 at Western Washington. He's also coached for the Philadelphia Eagles, Oakland Raiders and Baltimore Ravens... He's coached quarterbacks, receivers and running backs in his career... Shaw's offense ranked ninth in the nation in scoring last fall (40.3 ppg) and it amassed a school-record 6,142 yards, averaging a notably balanced 213.8 on the ground and 258.7 yards through the air... His father, Willie, had two separate coaching stints at Stanford (1974-76; 1989-91) during his 33-year coaching career, which was mostly spent in the NFL... His bachelor's degree from Stanford is in sociology... He was born in San Diego. He and his wife Kori have three children, Keegan, Carter and Gavin.
August, 11, 2011
8/11/11
9:00
AM ET
It's time to look at the new men on the block -- the guys heading into their first years as head coaches in the country's most cutthroat league.
The SEC welcomes Will Muschamp at Florida and James Franklin at Vanderbilt. Expectations are certainly high in Gainesville, where Muschamp replaces Urban Meyer, who developed into an icon in his six seasons by winning two national championships and appearing in three SEC championships. Franklin steps into a program with a history of consistently finishing near the bottom of the SEC barrel and is riding back-to-back 2-10 seasons.
Here is a look at both coaches and what impact each could have on the SEC this fall:

Will Muschamp, Florida:
Muschamp enters his first season at Florida with 16 years of coaching experience, with eight coming in the SEC. The former Georgia safety served as defensive coordinator at LSU (2002-04; he was LSU's linebackers coach in 2001) and Auburn (2006-07), where he was a finalist for the 2007 Broyles Award as the nation's top assistant. He was also the assistant head coach for defense for the Miami Dolphins in 2005.
Muschamp replaces Meyer, who left the cupboard far from bare and the expectations high. Muschamp, who left Texas as the coach-in-waiting, is a hard-nosed, all-business coach who has tempered those crippling Gator egos from last season. He also assembled a NFL-heavy staff, headlined by offensive coordinator Charlie Weis, who scrapped the spread favored by Meyer for a pro-style offense.
The talent is there for Muschamp to lead Florida back to the SEC championship, but with a new system and staff, expect growing pains. Muschamp will be very hands-on with the defense, which should be a major strength for the Gators, but offensively, Weis will do most of the directing, with the goal of resurrecting an offense that ranked 82nd nationally in total offense (350.85 yards per game).
Highlights:
In four of his eight seasons as a defensive coordinator, Muschamp's teams allowed less than 100 rushing yards per game and twice led the nation in rushing defense while allowing less than 75 yards per game.
LSU's 2003 defense led the country in rushing defense (67 ) the best of any SEC team in the 2000s.
In 2009, Texas led the nation allowing 73.1 yards rushing
Over the past three seasons, Texas' defense ranked first nationally with 119 sacks for 949 yards lost.

James Franklin, Vanderbilt:
Franklin is the 27th head coach at Vanderbilt and also brings 16 years of coaching experience. Most notably, he was the wide receivers/recruiting coordinator at Maryland from 200-04, the wide receivers coach for the Green Bay Packers in 2005 and spent two years as the offensive coordinator/quarterbacks coach at Kansas State before taking the same job at Maryland from 2008-10.
Though he was named Ralph Friedgen's successor at Maryland in 2009, he decided to take one of the toughest jobs in college football, where he'll be asked to win at a school known more for academics than football in the nation's best conference . Franklin inherits 21 returning starters and has brought a new and exciting energy to Vanderbilt. You can see it in the confidence his players are showing and in the
solid recruiting class
he's putting together. There seems to be a new culture at Vandy and Franklin is out to make sure this team becomes competitive in the SEC.
It's hard to say what the Commodores will do in Franklin's first season, but expect him to be immersed in Vanderbilt's offense, which ranked 110th in total offense (298.3). If this team can improve its play like it has its confidence, the Commodores could pull a surprise or two this fall. Starting the season off right will go a long way. Beginning the year with numbers in the loss column could hurt that swagger Vandy is strutting.
Highlights:
Last season, Maryland quarterback Danny O'Brien earned ACC Rookie of the Year and first-team Freshman All-America honors, ranking third nationally among freshmen with a pass efficiency rating of 135.2 and throwing 22 touchdowns and eight interceptions.
Marylands' 2010 offense ranked third nationally committing only 12 turnovers.
In 2007, Franklin mentored Kansas State quarterback Josh Freeman, who set numerous school records and threw for 3,353 yards. Freeman was selected in the first round of the 2009 NFL Draft (17th overall) by the Tampa Bay Buccaneers.