NCF Nation:

110811 Year 2
August, 11, 2011
8/11/11
9:00
AM ET
Here's a look at how the Big 12's second-year coaches stand heading into 2011.

Turner Gill, Kansas
How Year 1 went:
Uh, not well. The Jayhawks got off to the worst possible start, stumbling to an embarrassing, unwatchable 6-3 home loss to North Dakota State. Hope sprang up after a shocking win over the defending ACC champion -- No. 15 Georgia Tech -- the next week, but the Yellow Jackets finished 6-7, and the Jayhawks lost five of their seven games by more than 20 points. Kansas notched a conference victory but did it by erasing a 45-17 fourth-quarter lead in just more than 11 minutes, beating 5-7 Colorado and ending Dan Hawkins' career as the head Buffalo. Kansas finished the year 3-9 and just 1-7 in conference play.
What we can expect in Year 2:
Improvement is the name of the game for Kansas, and it starts with being competitive. Simply put, losses like of the 55-7 variety to Baylor or 59-7 to in-state rival Kansas State aren't acceptable. The Jayhawks got better later in the year, staying competitive early with division champions Oklahoma State and Kansas, but they'll have to be much, much better for Gill not to feel a ton of heat in Season 3. The Jayhawks hauled in a nice recruiting class with a lot more speed in 2011, and Gill redshirted much of the freshman class in 2010 for the long-term benefit of the program. They'll have to start paying off now and give some hope for the future for the Jayhawks program. Bottom line, though? Kansas will exceed expectations this year if it finishes better than last in the Big 12.

Tommy Tuberville, Texas Tech
How Year 1 went:
Not great, but not bad, either. The Red Raiders suffered a frustrating road loss to Iowa State and lost an early-season game to a Texas team that was undefeated and ranked in the top 10 before it nosedived to a 5-7 year. Other than that, it was a great year for Tuberville to build on. The big problem for Texas Tech was simple: It ranked 118th in the nation in pass defense. No team that wants success in the pass-happy Big 12 can do that. Injuries forced inexperience on the field and were a legitimate excuse for the problem, but even with all the defensive issues, Texas Tech won eight games and a bowl game. It's hard to be too disappointed with that.
What we can expect in Year 2:
Tuberville has done everything he can to get rid of that pass-defense problem. First, he recruited the best class in school history, stocked with big pass-rushers. Next, he went out and hired secondary guru Chad Glasgow from TCU to be his defensive coordinator and bring in his 4-2-5 scheme. This year, that rough experience may pay off for younger players, as the injuries healed up during the offseason, so more experience returns to the field. This season won't be the Red Raiders' year with a new quarterback, a new running back and a loss of its top two receivers. Expect a bowl appearance before Tech loads up for what could be a big 2012 season after Tuberville signs a recruiting class in February that should be even better than the program's best ever in 2011.
August, 11, 2011
8/11/11
9:00
AM ET
There are two second-year coaches in the ACC this season who, despite their similar tenures, are at totally different points in their careers. Expectations are soaring for Florida State coach Jimbo Fisher and tempered for Virginia coach Mike London. Here's a closer look at how far the ACC's Year 2 coaches have come and what to expect in their second seasons:
FLORIDA STATE
[+] Enlarge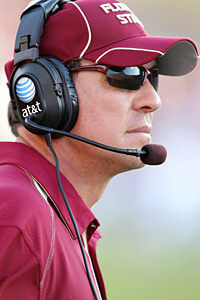 Matthew Emmons/US PresswireExpectations are high for Florida State's Jimbo Fisher after a successful rookie campaign.
Rewind:
There's not much that the Seminoles didn't do in Fisher's first season. They ended a six-game losing streak to rival Florida, and Fisher became the first FSU coach to beat the Gators in his first season. Fisher finished with a 10-4 record, the Atlantic Division title and a Chick-fil-A Bowl win over SEC East champ South Carolina. FSU finished the season ranked No. 16 by the Associated Press. The 10 wins were the most the program had seen since 2003, and Fisher's record was the third-best in ACC history for a first-year head coach. He built upon that success with the nation's No. 1 recruiting class, which bodes well for the future. Speaking of which ...
Fast-forward:
Considering Florida State's head-coach-in-waiting plan and the success he had last season, it seems that Fisher is in his fourth season instead of his second. As a member of Bobby Bowden's staff, Fisher had the luxury of recruiting players he knew were going to be his, and this is the first season fans will see his first hand-picked quarterback,
EJ Manuel
. If Manuel flourishes in his first season as full-time starter, the sky is the limit for these Noles. FSU returns 17 starters, including what could be the top punter/kicker duo in the country in Dustin Hopkins and Shawn Powell. FSU is loaded at the skill positions, and there is plenty of talent in the freshman class that could contribute immediately if needed. Manuel has already started in the ACC championship game. He and his teammates know what it takes to get there. Last month, the media picked the Noles to win this year's ACC title. The question this season is whether they're capable of even more.
Quotable:
"I think we're very capable," Fisher said of winning the ACC title. "I think it's our goal. We want to have a winning season, we want to be a state champion, we want to be the division champion, we want to be the ACC champion and a BCS bowl and hopefully a national championship. I think we're very capable, and I'm anxious to see how our team takes that challenge."
VIRGINIA
[+] Enlarge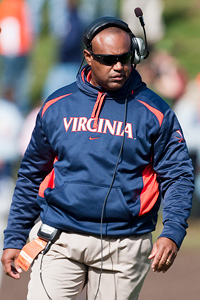 Lee Coleman/Icon SMIAfter a tough rebuilding season, Mike London returns the most starters of any ACC team.
Rewind:
It was a rebuilding year for Virginia, where London finished 4-8 overall and 1-7 in the ACC. The lone conference win, though, was a big one. Virginia knocked off No. 22-ranked Miami, 24-19, in a game that changed the course of Miami's season. Three of Virginia's losses last season were by seven points or fewer, including a three-point loss at No. 16 USC. Off the field, what separated London from his predecessor was his gregarious personality and how approachable he was not only within the football building, but also within the community. He made a concentrated effort to rebuild bridges with in-state high school coaches, made dozens of public appearances, spoke at clinics and was readily available to the media. He also placed an emphasis on academics, and in his first spring, the team posted its best cumulative GPA in a decade. He also lured in the No. 20 recruiting class in the nation, according to ESPN Recruiting.
Fast-forward:
Nobody in the ACC returns more starters than Virginia (19), but that experience has been overshadowed by the lack of a proven quarterback. The biggest storyline moving forward for Virginia is who will replace
Marc Verica
, and four candidates entered summer camp with an equal opportunity:
Ross Metheny
,
Michael Rocco
,
Michael Strauss
and David Watford. How that position unfolds will determine how much closer the Cavaliers can get to the postseason. They also need to find a playmaker to compensate for the loss of production from
Keith Payne
, who led the ACC in touchdowns last season with 16 and was the league leader in scoring. Defensively, the front seven should be strong and show significant improvement from a season ago. The Hoos also have one of the top players in the country in cornerback Chase Minnifield, who tied for fifth nationally last year in interceptions. Virginia's schedule is conducive to improvement, as a road trip to Indiana is the toughest nonconference game, but until consistent playmakers emerge and a dependable quarterback is named, a bowl season will be out of reach.
Quotable:
"Every year you're a different team, you're a new team. And after having gone through a season of changes, personnel-wise and schemes and things like that, we have the same staff back basically intact, the same terminology, the same things are being talked about over and over again, concepts, techniques and things we want to see in terms of improving play and also self-evaluating ourselves as coaches, the schemes we use, the plays we call. Are we utilizing our best players? We spent an extensive amount of time addressing that, so as we go into this season, a new season, hopefully we'll put those things together. With the familiarity of the coaches and everything we've done, improvement will be made in all areas just because of that fact. We all know there's a tremendous amount of things that can be accomplished with continuity, and going into the second year we've experienced that, and now we'll have an opportunity to capitalize on it." -- Mike London
August, 11, 2011
8/11/11
9:00
AM ET
There are two types of "new" coaches. First, there are new-new coaches, those who are entering their first season with no track record at their present destination, which allows fans to invest in them their wildest hopes and dreams.
Then their are second-year coaches, who have a single season under their belts, a small and typically unrevealing sample size that allows everyone to make premature judgments about said coach's ultimate prospects.
[+] Enlarge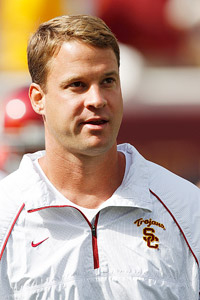 AP Photo/Andy KingAs a head coach Lane Kiffin has gone 5-15 with the Oakland Raiders, 7-6 with the University of Tennessee and 8-5 at USC last fall.
Not many coaches go to a Rose Bowl their first year as head coach, as Oregon's Chip Kelly did. And sometimes fast starts are deceiving about what's ahead, see Arizona State going 10-3 in Dennis Erickson's first season. And did many folks think Iowa's Kirk Ferentz would be around for 13 seasons after he went 1-10 in 1999?
So we have the only second-year coach in the Pac-12: USC's Lane Kiffin.
While Kiffin's name might inspire more than a few folks to immediately spit, particularly those in a certain part of the country where spitting is less frowned upon, that's more about his abrupt departure from Tennessee and his sometimes cocky statements and behavior while he was there -- a side of himself, by the way, he hasn't shown much of of inside Heritage Hall.
As a coach, we only know he went 5-15 with the Oakland Raiders, 7-6 in one season at Tennessee and 8-5 at USC last fall.
What did we learn about Kiffin last season? Well, he's clearly a good recruiter, see another touted class that should help the Trojans better weather harsh NCAA sanctions.
Also, at 4-0 and then 7-3, it seemed as though he'd done a good job of keeping his team focused, even though it didn't have the postseason as a possible reward.
Then the Trojans got blistered at Oregon State and lost at home to a middling Notre Dame team. Sure, quarterback Matt Barkley got hurt in Corvallis, and even then the Trojans would have beaten the Irish if Ronald Johnson hadn't dropped a sure touchdown pass late in the fourth quarter. Still, "scoreboard," you know?
A loss to UCLA to end the season would have cast a dark shadow over Kiffin's first season, but the Trojans prevailed and then they rolled in recruiting. The momentum at present seems relatively positive.
So what can we say about Kiffin after a year?
It appears he's matured since his brief, bombastic tenure in Knoxville. It seemed like he did a good job working with Barkley, helping him mature as a QB, though the true test of the relationships will be this season, likely Barkley's last before heading to the NFL.
In fact, you could say that his dad, legendary defensive coordinator Monte Kiffin, should be more on the hot seat in 2011. The Trojans defense let leads slip away in the fourth quarter and gave up way too many big plays in 2010.
Further complicating an evaluation of Kiffin are the NCAA sanctions, particularly 30-scholarship reduction over the next three years that could be crippling, even for a program of USC's stature.
It would be fair to say that USC, which has the talent to win nine or 10 games this season, needs to live up to reasonable expectations this fall before the real pain sets in for Kiffin to place himself in good standing with athletic director Pat Haden and the Trojans fan base.
If he wins 10 games and the first South Division title, it would be enough of a vindication of his coaching ability that he could survive an inevitable step back over the next three to five years.
But if the Trojans take another step toward mediocrity, it's likely that the honeymoon would abruptly end and he'd find his coaching stool fairly toasty heading into 2012.
August, 11, 2011
8/11/11
9:00
AM ET
Tennessee's Derek Dooley and Kentucky's Joker Phillips are the SEC's two head coaches entering their second seasons.
Both cut their teeth in the SEC before getting their own gigs last year.
Dooley worked under Nick Saban for five seasons at LSU and had a bird's-eye view of the Georgia program as a youngster when his legendary father, Vince Dooley, was coaching the Bulldogs
Phillips played at Kentucky and was Rich Brooks' right-hand man before being named the Wildcats' coach-in-waiting and then taking over the program in 2010 when Brooks retired.
Here's a closer look at each coach, how they fared in their first year on the job and what's expected in Year 2:

Dooley:
There was nothing easy about the situation Dooley stepped into after Lane Kiffin bolted for Southern California mere weeks before signing day in 2010. There had already been massive attrition under Kiffin, and Phillip Fulmer's last couple of classes ended up having more misses than hits. Dooley was able to scramble and put together an impressive class, and he followed that up with another top 15 class this past February. On the field, the Vols suffered through their third losing season in the past six years. They started three true freshmen in the offensive line. True freshman quarterback
Tyler Bray
started the final five games of the season, and they had to dig their way out of a 2-6 hole. To their credit, they played their way into a bowl game, where they lost a controversial 30-27 decision in two overtimes to North Carolina. The good news for Dooley is that his team didn't lie down and quit when it was 2-6. The bad news is that Tennessee didn't beat anybody that counts last season. That's the next step for this program in the second season under Dooley, to win a game or two that nobody expects and play with more consistency the entire season. The Vols will still be extremely young with 70 percent of their team being comprised of first- and second-year players. They're probably still a ways off from contending in the East, but look out in 2012. There's good young talent in this program, and the offensive line has a chance to be special down the road if the Vols can keep everybody together. Here's the other thing: The East might never be this weak again. It's imperative that Dooley and the Vols make their move while the opportunity is there.

Phillips:
One of the major upgrades Brooks made to the Kentucky program was improving the talent level and building more depth, particularly on defense. Phillips, who's an excellent recruiter, was a big part of that push. The Wildcats are never going to reel in a truck-load of five-star prospects, but they've been successful at pinpointing players that fit into what they want to do and then developing those players. Obviously, that will remain one of Phillips' greatest challenges. The Wildcats finished 6-7 last season, losing 27-10 to Pittsburgh in the BBVA Compass Bowl. It wasn't a good way to end a season that never completely took off despite veteran playmakers on offense. Quarterback
Mike Hartline
had the best season of his career. Randall Cobb earned first-team All-America honors, and running back
Derrick Locke
and receiver
Chris Matthews
were both big parts of the offense. All four players are gone, and junior
Morgan Newton
takes over at quarterback. Phillips also brought in Rick Minter to run his defense, a system designed to create more turnovers. Phillips has been outspoken about competing for championships. But after losing the firepower Kentucky did on offense, just making it back to a bowl game for a sixth straight season would be an accomplishment for the Wildcats in 2011. They will lean on a veteran offensive line and have some promising talent at the running back position in sophomore
Raymond Sanders
and true freshmen Marcus Caffey and Josh Clemons. One of the next big steps for Phillips and the program is finishing the season stronger. Kentucky lost four of its last six games after knocking off South Carolina last season. It was a similar story in 2009 when the Wildcats lost their last two after winning at Georgia. And in 2008, they lost their last three regular-season games.
August, 11, 2011
8/11/11
9:00
AM ET
Let's take a look at coaches going into Year 2 and expectations for the season.
Skip Holtz, USF

How USF fared in Year 1:
The Bulls finished the season 8-5 with a big win against Clemson in the Meineke Car Care Bowl, marking the fifth straight season USF finished with at least eight wins. It was an inconsistent season, though. USF lost its first two Big East games before winning three straight to become bowl eligible. But the Bulls dropped their final two league games -- 17-10 to Pitt and 19-16 to UConn to close the season. Perhaps the biggest highlight was a 23-20 overtime win against Miami, giving USF wins against the Hurricanes and Seminoles in consecutive seasons. The offense sputtered at times, ranking No. 7 in the Big East in total offense.
Expectations for Year 2:
Expectations are high at USF now that Holtz is going into his second year. For starters, his players feel more comfortable in the offensive and defensive systems. That goes for quarterback
B.J. Daniels
, who will have the same offensive coordinator in consecutive seasons for the first time in his career. The defense returns six starters and should be one of the best in the league. USF was picked to finish third in the Big East, but the Bulls do get West Virginia at home to close out the season.
Butch Jones, Cincinnati

How Cincinnati fared in Year 1:
Not much went according to plan for the Bearcats last season. A year after an undefeated regular season, Cincinnati struggled to a 4-8 record. Cincinnati had one of the youngest defenses in the country, and were plagued by turnovers on offense. Cincinnati lost the ball 29 times, ranking No. 106 in the nation. The defense did not do much to force the takeaways, either, and Cincinnati ranked next to last in the country in turnover margin. The defense ranked No. 7 in the Big East in total defense and last in scoring defense and gave up way too many big plays.
Expectations for Year 2:
The Bearcats should return to a bowl game this season. The defense is a year more experienced and has to be better.
Zach Collaros
returns to an offense that led the league last season and has vowed to cut down on the interceptions -- he threw 14 last season.
Isaiah Pead
is one of the best running backs in the Big East, so that should help as well. Cincinnati was picked to finish fifth in the Big East, but the Bearcats could be one of the biggest surprises in the league if they can put everything together.
Charlie Strong, Louisville

How Louisville fared in Year 1:
The Cardinals exceeded expectations in Strong's first season, going 7-6 and winning a bowl game for the first time since the 2006 Orange Bowl. Strong had the help of 25 seniors to make such a quick turnaround off a team that went 4-8 in 2009. Bilal Powell made a huge impact at running back, finishing second in the league with 1,405 yards rushing and 11 touchdowns. The Cardinals did nothing fancy but pound the ball, leading the league in rushing offense. The defense had 39 sacks, and overall the team finished in the positive column in turnover margin.
Expectations for Year 2:
Louisville was picked to finish seventh in the league, largely because the Cardinals face a rebuilding year. Only three starters return on offense, and there are question marks at quarterback and the offensive line. Powell is gone, too. Defensively, the cornerback situation is pretty grim. But the front seven should be good, so if the defense can anchor this team, with
Victor Anderson
and
Jeremy Wright
carrying the load in the backfield, Louisville has a chance to go bowling again.
August, 11, 2011
8/11/11
9:00
AM ET
SOUTH BEND, Ind. -- Is there really something magical about second-year head coaches in college football?
Since 2000, four head coaches have won national titles in their second year at a school: Oklahoma's Bob Stoops, Florida's Urban Meyer, Ohio State's Jim Tressel and Auburn's Gene Chizik. And Oregon's Chip Kelly made the BCS title game last season, losing to Chizik.
Notre Dame coach Brian Kelly hasn't studied the history of second-year coaches. But he understands why they have had so much recent success.
[+] Enlarge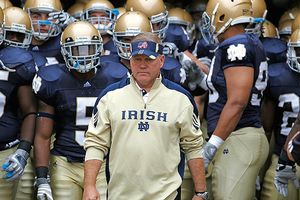 Jonathan Daniel/Getty ImagesIn his second year with the program, Brian Kelly can focus more on improving his players.
Kelly has noticed a major difference already with his second Irish team. Last year at this time, he was learning players' names and trying to teach them how to practice. That stuff is like second nature in the second season.
"First and foremost, we can get to work immediately on strengthening their skills, their football skills," Kelly said. "We had to work on so many things relative to message and expectations and day-to-day routine [last year].
"Now we can get to work on their football skills. We can get to work on our scheme. We can get to work on third down, getting off the field, or short yardage. That to me is the big difference as you become more familiar with your football team."
As the Irish returned to the practice field last week, the veteran defensive backs huddled and talked how much difference a year has made.
"Last year, all of us we're kind of like deer in headlights," safety Harrison Smith said. "Now, we're all pretty confident players, and that's kind of how it is at every position. Guys that have been here know what is expected of us. We know how good we can actually play, and we can actually take the teaching in the classroom and go do it. Last year, we were kind of hesitant. This year, we're full go."
In the summer of 2010, all of the Notre Dame players were like freshmen. They were learning new schemes and new coaches. Now it's almost the opposite. Since the returning players know the system and the message, they can make sure no one is lost.
"Without the coaches even being there, we can show the young guys what to anticipate and expect," linebacker Manti Te'o said.
Kelly's previous teams have experienced second-year success. Central Michigan went 6-5 for its first winning season in seven years. Cincinnati won its first Big East title and made a BCS bowl in Kelly's second season with the Bearcats.
Many are expecting the Irish to take a similar leap forward this season. If so, chalk it up to another case of second-year magic. And if not, Notre Dame fans shouldn't fret too much; after all, Frank Leahy, Ara Parseghian, Dan Devine and Lou Holtz all won national titles in their third years.