NCF Nation:

111219-bowl-blog-debate
December, 19, 2011
12/19/11
10:07
AM ET
Anytime the SEC and the Big Ten square off, conference pride is at stake. Most of those matchups usually occur in bowl season, and this year is no different. The two leagues will face each other in three Jan. 2 bowls, with South Carolina playing Nebraska in the Capital One Bowl, Michigan State taking on Georgia in the Outback Bowl and Florida and Ohio State staging a 2007 national title game rematch in the TaxSlayer.com Gator Bowl.
So which league will come out on top this year? SEC blogger Chris Low and Big Ten blogger Brian Bennett debate that topic:
Brian Bennett:
Well, Chris, it's bowl season again, which means some more SEC vs. Big Ten showdowns. I think I read somewhere that the SEC has had a little bit of success in the postseason, especially against the Big Ten. So I suppose you want to brag a little bit about your league. Let's go ahead and get that out of the way first, shall we?
Chris Low:
Brag? Coming from SEC Country? We don't need to brag. We just flash our jewelry in these parts, and that usually suffices. Sure, it's been another banner year in the SEC with Alabama and LSU set to play for the BCS national championship and three other SEC teams ranked among the top 16 in the final BCS standings. But you've got to prove it every year, and South Carolina, Georgia and Florida all have tough matchups with Big Ten teams in the bowls. Speaking of the three bowl showdowns matching the SEC and Big Ten, which one do you think is the worst matchup for the Big Ten?
[+] Enlarge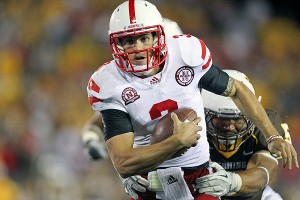 Zuma Press/Icon SMIWill Nebraska QB Taylor Martinez be able to run the ball effectively against South Carolina's speedy defense in the Capital One Bowl?
BB:
Very restrained of you not to bring up last New Year's Day, Chris. I actually think all three Big Ten/SEC showdowns this year are good matchups that could go either way. If I had to pick the toughest one for the Big Ten, I'd probably go with the Capital One Bowl. While Nebraska had a nice season at 9-3, it has a challenging assignment in trying to solve South Carolina's defense. Especially up front, the Gamecocks can cause serious problems for the Huskers' run game, and I don't think the option is going to work well against all that speed.
Taylor Martinez
will have to have one of his best games, and when Nebraska has to rely on the pass, it doesn't always look pretty. Then again, South Carolina isn't exactly a juggernaut of an offensive club, either.
What's your take on that one?
CL:
Couldn't agree more about South Carolina's defensive line. Those guys have played lights-out all season, and you're going to see three or four of them playing in the NFL at some point. They've made life miserable for opposing quarterbacks this season, and other than the Arkansas game, didn't give up much of anything the last nine games of the season. They're not the kind of dynamic pocket passing team you're used to seeing under Steve Spurrier, but sophomore quarterback
Connor Shaw
is tough as nails and isn't afraid to take off and run. They'll also run the zone read play with him. Honestly, the big concern with the Gamecocks is that they've been so wretched in bowl games. They've lost their past three and haven't played well in any of them. I want to see them break that drought before I get too high about their chances in the postseason.
Speaking of poor bowl performances, can Michigan State rebound from last year's debacle?
BB:
I think so. The Spartans ran into an Alabama buzz saw last year, and I don't see Georgia being nearly as talented or as angry as the Crimson Tide were a year ago. This Michigan State team was playing extremely well down the stretch and came within a play or two of going to the Rose Bowl. The Spartans can dominate defensively, especially up front with All-America tackle Jerel Worthy, and they can knock a quarterback off his rhythm with their blitz schemes. But I think the biggest difference between this year's Michigan State and the one that got manhandled last year is a more productive, diverse offense.
Kirk Cousins
was very sharp in the second half of the season, and the offensive line continued to improve. Both teams have top-five defenses, but Georgia may have a harder time scoring.
Motivation will be a key for both teams, though, as they each lost in their conference title game. How good are these Dawgs, really?
[+] Enlarge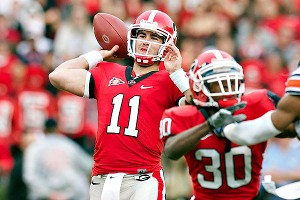 Dale Zanine/US PresswireGeorgia's Aaron Murray should get a stiff test from Michigan State's defense in the Outback Bowl.
CL:
Motivation shouldn't be a problem for Georgia. At least, it better not be. The Bulldogs have a chance to win 11 games and really set themselves up nicely going into next season. Georgia has a chance to be a top-10 team in 2012 and build the kind of momentum this program hasn't had in the offseason since its Sugar Bowl victory over Hawaii to cap the 2007 season. How good are these Dawgs? They're a good team, not a great team. Defensively, they should be the best test the Spartans have faced all season. Jarvis Jones and Alec Ogletree are an exceptional linebacker tandem. Jones was the SEC's best big-play defender this season, and the Bulldogs didn't give up much in the secondary, either. I wouldn't underestimate Georgia quarterback
Aaron Murray
. He spreads the ball around and threw 33 touchdown passes this season.
What's your take on the Urban Meyer Bowl?
BB:
The Meyer angle adds intrigue, but I'd be more interested to see these teams play next season. As is, we have a pair of 6-6 teams who had all kinds of offensive issues this year. Ohio State lost its final three games after looking like it might have turned things around. But at least the Buckeyes will be motivated to audition for Meyer, and they're a young team that should benefit from the extra bowl practices. Plus, the Buckeyes have a blossoming star at quarterback in freshman
Braxton Miller
. Maybe a new offensive coordinator can jump-start the Gators' attack, but we could be looking at a low-scoring game in Jacksonville. A 6-6 tie in regulation seems appropriate.
Can Florida finally put it all together?
CL:
Florida could use anything remotely resembling a quality win this season. Of course, I don't know that you could call Ohio State a quality win. One of these days, the Buckeyes are going to beat an SEC team in a bowl game and have that win stick. The win over Arkansas last season was vacated thanks to tattoo-gate, so technically Ohio State is still 0-9 against the SEC. The Gators were hard to watch on offense this season, and there's no reason to think they will be significantly better in the bowl game. I agree that a 6-6 tie sounds about right with somebody winning in overtime on a field goal. The Gators are good enough on defense to get it done, so I'm predicting an SEC sweep.
That's right, South Carolina, Georgia and Florida will all come out victorious. And not only that, but something tells me the SEC stands a pretty good chance of winning the Allstate BCS National Championship Game, too. Call it a hunch.
BB:
OK, so Ohio State's win over Arkansas may not count, but I was there and I know it did happen. So the Big Ten can actually beat the big boys from the SEC. I may be naive, but I think the Big Ten gets a little revenge this bowl season. All three games are winnable, and I predict the league I cover takes two out of three from your southern friends. And maybe someday soon the Big Ten will be back in the national championship debate.
December, 19, 2011
12/19/11
9:00
AM ET
ACC blogger Heather Dinich has the height and weight advantage, but Big East blogger Andrea Adelson is a shifty little back with elusive speed. Today they go head-to-head to determine who will have the better conference this bowl season. The ACC has been dogged time and again for its losing record in bowl games, which extends back to 2006, but the Big East has been the joke of the BCS conferences this year. The two conferences will square off this bowl season in two bowls, as NC State (7-5) will face Louisville (7-5) in the Belk Bowl on Dec. 27 (8 p.m. ET, ESPN), and Clemson (10-3) will face West Virginia (9-3) on Jan. 4 in the Discover Orange Bowl (8 p.m. ET, ESPN). If you thought the NC State-Cincinnati game was ugly this season, brace yourself for this catfight …
Heather Dinich:
I would love to entertain you all day, AA, but the truth is there really is no argument here for the Big East. In fact, I almost feel bad for you. Almost. I've got two teams in BCS bowls and you've got, well, West Virginia -- a program that loves its conference so much it's already got one foot in the Big 12. The Big East was so good this year that its best nonconference win came against Notre Dame by a South Florida team that finished 1-6 in the league. Now, I will give you this: The ACC and Big East enter bowl season tied at 3-3 this year, thanks to wins by Syracuse (ahem, in overtime with Wake's quarterback injured), West Virginia (you and I could beat Maryland) and Cincinnati (I've got nothin'). There's no reason, though, that the ACC shouldn't come out 2-0 against the punching bag of the BCS. First down, me. Your turn.
[+] Enlarge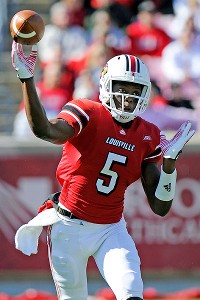 Jamie Rhodes/US PresswireQuarterback Teddy Bridgewater led the Cardinals to a 5-1 record over the second half of the season.
Andrea Adelson:
Yes, there is plenty to brag about when your second BCS team is a laughingstock that does not deserve its spot in the big game. I think even you said that yourself, Heather. The Big East has its problems, and it's easy to take tired jabs. But it does appear as if my preseason prediction is on the verge of coming true. You might recall that I said this summer that the Big East would have a winning record over the ACC this year. Let's take a closer look at the X's and O's to really get this debate started. I would love to hear how NC State is going to beat Louisville, the hottest team in the Big East right now after ending the season 5-1. Quarterback
Teddy Bridgewater
was just named by "College Football Live" as rookie of the year, and the Cardinals' defense has been playing lights-out during this winning streak. The Cardinals have their run game going, they've shored up their offensive line and their defense is one of the most aggressive in the Big East -- ranking No. 2 in scoring defense and total defense. Adrian Bushell has developed into a shutdown corner,
Dominique Brown
has made a huge difference in his move from quarterback to running back, and Bridgewater rarely makes mistakes. Cincinnati hammered NC State, a team I think you called the most inconsistent in the ACC. So how exactly are the Wolfpack going to win this game? And I love how Clemson lost three of four going into the ACC title game, but a win over big-game choker Virginia Tech makes the Tigers a favorite all of a sudden. But we can get to that game in a second.
HD:
Wait, wait, wait. Are we talking about the same Louisville team? The one that ranks No. 100 in scoring offense? No. 104 in total offense? No. 111 in sacks allowed? And No. 94 in rushing offense? Yep, that's the one. How is NC State going to beat that team? Probably by pressuring Bridgewater into an interception right into the hands of cornerback David Amerson, who leads the nation with 11 picks. By winning the turnover battle, thanks in part to quarterback
Mike Glennon
, who has eight touchdown passes to one interception in the past two wins. By making great use of their tight end,
George Bryan
. And by winning the field position battle, thanks to the No. 12 punt returner in the country,
T.J. Graham
. Yeah, Louisville won five of its last six games, OK, but three of those wins came against teams with losing records in conference play. NC State, meanwhile, beat Clemson, the No. 7 team in the country. Speaking of the Tigers, I know you're going to bring up West Virginia quarterback
Geno Smith
as your main argument, but I'll see you Smith and raise you
Sammy Watkins
. Oh, and P.S. West Virginia is 4-9 against the ACC in postseason play.
AA:
You can bring up Geno, who has been quite solid this season. But I will bring up the West Virginia defense, which you could argue is the biggest reason why the Mountaineers are playing in this BCS game. West Virginia looked really shaky early in the year. I will bring up the Syracuse game for you. But then Dana Holgorsen urged his players to quit acting like they could just step onto the field and win without even trying. There was one more hiccup against Louisville, but the defense has been outstanding in wins over Cincinnati, Pitt and USF. Two of those teams are going to bowl games. West Virginia had defensive scores against the Bearcats and Bulls. It was Najee Goode's huge strip of
B.J. Daniels
late in the season finale against USF that allowed the Mountaineers to come back and win. How about 10 sacks against Pitt? Clemson is going to have to account for Julian Miller and Bruce Irvin up front -- both players have come on strong at the end of the season. And the biggest reason West Virginia has improved on pass defense has been cornerback Brodrick Jenkins, who's a major upgrade over Pat Miller. He and first-team Big East cornerback Keith Tandy have been a nice duo. Plus, West Virginia just finds a way to win close games -- 4-1 in games decided by six points or less.
[+] Enlarge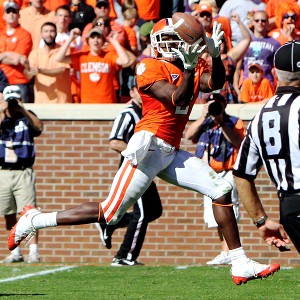 Joshua S. Kelly/US PRESSWIREAP All-American Sammy Watkins led all freshmen this season with 77 receptions for 1,153 yards and 11 touchdowns.
HD:
Two words for the West Virginia defense against Chad Morris' offense: good luck. If it were JUST Sammy Watkins, that would be one thing, but as Virginia Tech figured out in loss No. 1 to Clemson, the Tigers' offense runs deeper than the country's best freshman. Tight end
Dwayne Allen
has been an X factor all season, and the Tigers have plenty of other options surrounding quarterback
Tajh Boyd
. Clemson has already set school season records for passing yards, total offense and points scored. Boyd has been inconsistent this season, but he's had far more good moments than disappointing ones. The biggest factor for Clemson has been the turnover margin. The Tigers are 8-0 when they win the turnover battle and 2-3 when they don't. These two teams are similar in that area. Clemson has lost 20 turnovers this year, WVU 21. I'm guessing that slim margin could be the difference in the game. Quite frankly, Clemson is the more talented team and should win. The ACC will prove this season that it's the better conference. If it weren't, why would Pitt and Syracuse be so quick to jump ship? You can't possibly think that adding Boise State, San Diego State, Houston, UCF and SMU will beef up the Big East. To me, it just got watered down. Even you called the realignment scenario "preposterous." Great word, by the way.
AA:
Are you talking about the same juggernaut Clemson offense that averaged 14 points in its losses to NC State, Georgia Tech and South Carolina? The same Boyd who threw two touchdown passes and five interceptions in those games? Yeah, I think West Virginia can handle that. Don't forget, the Mountaineers see a pretty prolific offense in practice, and Dana Holgorsen has been doing this a little longer than Chad Morris. As for realignment, what the Big East had to do to get itself back in order is preposterous, no question. Having to reach all the way to California to find a new member is ridiculous. But the Big East would not be in this predicament if the ACC kept its hands to itself. If the ACC was such a great, solid conference filled with the finest football programs, why exactly does it keep raiding the Big East? The ACC can now count five former Big East members. Hey, I have an idea. Maybe we should just start calling the ACC the Big East because it will have more of the Big East's original members than the newly reformed Big East-West-Country-USA. The ACC really has the worst of both worlds, taking jabs not only for its own league members but for the Big East, too!
HD:
Hey, if I recall correctly, the ACC "received applications" from Pitt and Syracuse, not the other way around. There was probably a line at ACC commissioner John Swofford's door, with Rutgers, UConn and West Virginia all elbowing each other to try to get in, too. The ACC will be bigger and better, thanks to expansion. The Big Conference will be just that -- bigger. Look, I'd love to sit here and watch you swing at air some more, but the ACC has eight teams in bowl games, unlike the Big East. I've got some work to do. So why don't you just settle in, get yourself some Beef O'Brady's, and watch the ACC go 2-0 against your Big conference. I know, I know, you've got something to say. Go ahead and have the last word. You'll need it.
AA:
Well, considering you cover a conference with 12 teams and I cover one with eight, the Big East has just about the same percentage of teams in bowls. And I don't really need to remind you that the Big East has a better winning percentage in bowl games, or that the ACC has not posted a winning record in bowl games since 2006. Or that the ACC hasn't posted a winning record against the Big East in bowl games since 2007. Nah, you don't need to be reminded at all.
December, 19, 2011
12/19/11
9:00
AM ET
The Pac-10 and Big 12 nearly got married last year, but only Colorado ended up eloping with the now-Pac-12.
You know: The conference that can count!
But the Pac-12, which has, yes, 12 teams, and the Big 12, which has 10 teams (though it's often hard to keep up with which ones), play each other in three bowl games this holiday season.
Joy to the world.


So it seemed like a good time for the Pac-12 and Big 12 bloggers -- Ted Miller and David Ubben -- to say howdy and discuss all the coming fun.
Ted Miller
: Ah, David, the bowl season. Pure bliss. Unless you're the Pac-12, which is expected to get a whipping from your conference over the holidays. We have three Pac-12-Big 12 bowl games with the Tostitos Fiesta Bowl between Stanford and Oklahoma State, the Valero Alamo with Baylor and Washington and the Bridgepoint Education Holiday Bowl matching California and Texas. And the Big 12 is favored in all three!
Poor ole West Coast teams. What are we to do? It's almost like the Big 12 is the SEC or something. Speaking of which, how are things with your Cowboys? Are they over not getting a shot at LSU for the national title? Are they excited about getting a shot at
Andrew Luck
and Stanford? We might as well start with that outstanding matchup in Glendale, Ariz.
David Ubben
: You know, I was actually a little surprised. I stuck around Stillwater for the BCS bowl selection show announcement, and the players took the news pretty well. They found out an hour before, but there wasn't a ton of down-in-the-dumpiness from the Pokes. When you've never been to this point before, it's a bit difficult to develop a sense of entitlement. If Oklahoma had OSU's record and was passed over by Alabama and sent to the Fiesta Bowl for the 17th time in the past six years, you might have had a different reaction.
But Oklahoma State's first trip to the BCS and first Big 12 title aren't being overlooked. These players are looking forward to this game. There's no doubt about that.
I know the Big 12 seems like the SEC, but I have a confession, Ted. I wasn't supposed to tell anybody, but I can't hold it in anymore. When the Big 12 began back in 1996 ... wow, I'm really going to do this ... then-SEC commissioner Roy Kramer graciously allowed the league to keep two of his teams. The league made a similar arrangement with the Big Eight a century ago, and the Southwest Conference around the same time. Missouri and Texas A&M are really wolves in sheep's clothing: SEC teams just pretending to be in other leagues. So that might explain the Big 12's recent dominance.
These should all be fun games, though. I ranked two of the matchups among the top three in my bowl rankings.
As for the big one, they say you learn more by losing than by winning. Stanford got its first BCS win after last season. How do you think that experience plays into this postseason's game? I hate to ruin the surprise, but Oklahoma State's a bit better than the Virginia Tech team Stanford beat last postseason. OSU's loss to Iowa State this season is bad, but it's nothing like the Hokies' loss to James Madison last season.
[+] Enlarge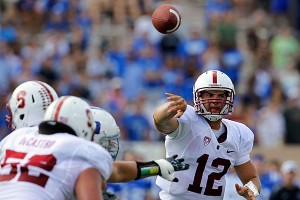 AP Photo/Gerry BroomeQuarterback Andrew Luck leads Stanford into its second consecutive BCS bowl, this season against Oklahoma State in the Fiesta Bowl.
Ted Miller
: Not only is Oklahoma State better than Virginia Tech, it's still questionable whether this Stanford team is better than last season's. Since we're going all crazy and whispering about the SEC, there was a feeling out West that by the end of the 2010 season the Cardinal might not only be the best team in the Pac-12 but also in the nation. They were big and physical, and quarterback Luck actually had a solid receiving corps with which to work. After a loss to Oregon in the fifth game of the season, they didn't lose again until playing, er, Oregon in this season's 10th game. If we could go back in time and have the Cardinal play Auburn, I think Stanford would have won the national title.
But that's 2010. The differences this season are the season-ending knee injury to middle linebacker Shayne Skov, who was an All-American candidate, and a slight step back on the offensive line and a lack of top-flight receivers. But if Oklahoma State fans are looking for something to worry about it is this: Stanford's running game.
The Pokes are bad against the run, and they haven't faced a team that is as physical and creative in the running game as Stanford. As much as folks talk about Luck's passing, it's his run checks that often ruin a defense's evening.
The Fiesta Bowl matchup looks like a great one, perhaps the best of the bowl season. But I'm excited to see Mr. Excitement,
Robert Griffin III
, in the Alamo Bowl against Washington. Of course, I'm not sure that the Huskies, their fans and embattled Huskies defensive coordinator
Nick Holt
are as thrilled. First, tell us about what Washington should be most worried about with Griffin. Then tell us about Baylor in general. Such as: Can the Bears stop anyone?
David Ubben
: Nope. Not really.
Oklahoma State's defense unfairly gets a bad rap. Baylor's bad rap is earned. This is the same team that won five consecutive games late in the season -- but became the first team ever to win four consecutive in a single season while giving up 30 points in each.
[+] Enlarge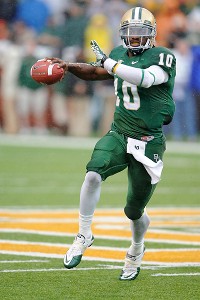 Jerome Miron/US PresswireBaylor's Robert Griffin III will try to make it three straight bowl victories by Heisman Trophy winners.
That, if you ask me, says plenty about both the defense and the power of RG3. The Bears have a lot of athletes on the defense, but when four of your top five tacklers are defensive backs, well, you need a guy like RG3 to go 9-3.
The man is a nightmare. Top to bottom, he's the most accurate passer in a quarterback-driven league. Then you add in his athleticism, which he doesn't even really need to be extremely productive. It sets him apart, though, and forces defenses to account for it, and it buys him time in the pocket. How many guys break a 20-plus-yard run then hit a receiver for a game-winning 39-yard score to beat a team like Oklahoma for the first time?
How do you think Washington will try to slow him down? What has to happen for it to have some success?
Ted Miller
: This game matches the 99th (Washington) and 109th (Baylor) scoring defenses. It has a 78-point over-under, the biggest of any bowl game. The offenses are going to score plenty, at least that's the conventional wisdom.
How does Washington stop RG3? His name is
Chris Polk
. He's a running back. Baylor gives up 199 yards rushing per game. Polk right, left and up the middle is a good way to contain Griffin. The Huskies' best hope is to reduce Griffin's touches with ball control. They also need to convert touchdowns, not field goals, in the red zone. The Huskies are pretty good at that, scoring 36 TDs in 45 visits to the red zone.
The Huskies also have a pretty good quarterback in
Keith Price
, who set a school record with 29 touchdown passes this season. He and a solid crew of receivers have prevented teams from ganging up against Polk. But Polk is the guy who burns the clock.
Should be a fun game. As should, by the way, the Holiday Bowl. David, Cal fans are
still
mad at Texas coach Mack Brown and his politicking the Longhorns into the Rose Bowl in 2004. Every team wants to win its bowl game, but the Old Blues really want to beat Brown.
Of course, neither team is what it was in 2004. Cal has an excuse. It's not a college football superpower. Sure you've been asked this before, but give me the CliffsNotes version of why the Longhorns have fallen so hard since playing for the national title in 2009.
David Ubben
: Cal fans are still mad? Really? I'd suggest they get over themselves. What's anybody on that Cal team ever done, anyway? It's not like the best player in the NFL missed out on a chance to play in the Rose Bowl. Now if that were the case, we might have a problem. But honestly, I don't think Tim Tebow cares all that much about the Rose Bowl.
As for Texas' struggles …
The easy answer is quarterback play. Texas relied on Colt McCoy and Jordan Shipley more than anyone realized. When they were gone, Texas couldn't run the ball, and quarterback Garrett Gilbert never made it happen. Two seasons later, the Longhorns still don't have a quarterback.
The other big answer last season was turnover margin. Gilbert threw 17 interceptions, and the Longhorns were minus-12 in turnovers, which ranked 115th nationally.
They were still only 90th this season, and without solid quarterback play in a Big 12 dominated by passers, they scored five, 13 and 17 points in three of their five losses. Texas keeps people from moving the ball and runs the ball better this season, but without a solid passing game and a defense that changes games, it's tough to rack up wins in the Big 12.
It's been awhile since Cal was in the mix for the BCS, even as USC has fallen. Oregon answered the call and rose, but what has prevented Cal from winning the Pac-10 and Super Pac-10 since the Trojans' swoon?
Ted Miller
: You mention quarterback play. Cal fans ... any thoughts? You mention Aaron Rodgers. Cal fans? Oh well, that's not very nice during this festive time of the year.
Cal has become a solid defensive team, but it has lost its offensive mojo, and that can be traced to a drop in quarterback play since Rodgers departed. The latest Bears quarterback,
Zach Maynard
, started fairly well then stumbled, but then seemed to catch on late in the season. It's reasonable to believe the team that gets better quarterback play -- mistake-free quarterback play -- is going to win this game.
Nice to cover a conference in which quarterback play matters, eh David?
Speaking of quarterback play and winning, let's wind it up. Our specific predictions aren't coming on these games until after Christmas. But we can handicap the Big 12-Pac-12 side of things. We have a three-game series this bowl season.
I say the Pac-12, underdogs in all three games, goes 1-2. What say you?
David Ubben
: And to think, before the season all I heard was the Pac-12 had surpassed the Big 12 in quarterback play. Did somebody petition the NCAA for another year of eligibility for Jake Locker and/or clone
Matt Barkley
? You West Coast folk are geniuses; I figured you'd find a way. We can't all be Stanford alum ...
Clearing out all the tumbleweeds here in middle America, I'll go out on a limb for the Big 12 in this one. Every matchup is a good one, and I don't think Cal has seen a defense like Texas', and Washington hasn't seen an offense like Baylor's. People forget that, yeah, RG3 is outstanding, but the Bears also have the league's leading receiver and leading rusher.
Stanford-OSU is a toss-up, but I'll go with a perfect sweep for the Big 12. The Cowboys haven't played poorly on the big stage yet, so I'll give them the benefit of the doubt in this one, and they clean up for the Big 12 against what was almost their new conference this fall.
Oh, what could have been. Ubben and Miller on the same blog? Divided ultimately by a little thing we call the Rockies.