NCF Nation:

120208-aggies-moving
February, 9, 2012
2/09/12
8:14
AM ET
Kevin Sumlin isn't a stranger to winning. The two-time national coach of the year finalist recorded a 35-17 record during his four years at Houston, before taking over as Texas A&M's new coach in December.
But as Sumlin makes his return to College Station, Texas, he'll do so as a SEC coach. While he hasn't coached in this league before, he understands that size, strength and speed are on a new level down here.
That's why he pushed spring practice back two weeks after spring break in order to give strength and conditioning coach Larry Jackson eight full weeks to punish his new players and get them into the proper shape for a full SEC season.
Sumlin took some time out of his busy schedule to talk to ESPN.com about life as the Aggies' coach before the move to the SEC:
[+] Enlarge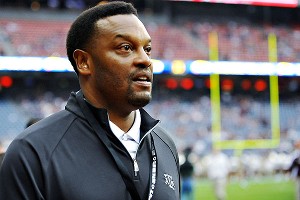 AP PhotoKevin Sumlin's focus was on quality, not quantity, for his first Texas A&M recruiting class.
What has the whirlwind of coming back to Texas A&M after your successful years at Houston been like for you?
Kevin Sumlin:
Having been here before, I've got a better feel for the university, for the traditions, for how things work. There's a certain comfort level in that, instead of walking into a completely new situation. Also, many of the recruits that were committed or that were prospects from Dec. 10 to Feb. 1, most of those guys we had a relationship with [at Houston], so it wasn't a cold call, so to speak. A lot of the stress level of moving into a completely new situation and not knowing what's going on, that wasn't necessarily the case.
It isn't easy for a new head coach, especially when you're behind like you were, when it comes to recruiting. How much did being able to tell recruits that they'd be playing in the SEC help?
KS:
It's a factor. It's not everything, but it certainly is a factor, particularly here in-state. It's different than it has been in the past. Kids (in the state of Texas) have a choice now with the Big 12, the Big East and the SEC in where they want to play. It gives the guy an opportunity in our primary recruiting states of Texas and Louisiana to play in the SEC. I don't think it's hurt us at all, I think it's helped us. The ability for a young man to play in arguably the best league in the country that's what real competitors want to do and guys who want to play at the highest level. The quality of football and then the types of players in that league are exciting to a lot of young men.
Obviously, in recruiting, you want to hit Texas hard, but how important is it to get into the southeast and tap into states like Florida, Georgia and Alabama?
KS:
We're in a unique situation here because of the large amount of talent in the state of Texas and the importance that's placed on development and coaching in high school. We've got a great, great talent pool here. I also think we can do a better job in state and expand into Louisiana. Really, those are our primary recruiting areas because we've got a proximity here in College Station to Louisiana (that is) probably closer than some schools on the east side of the SEC. After that, we'll look at the top five or six players by position nationally that have an interest in us.
Focusing on the team you have now, what was the message you tried to convey to your team when you first met with them?
KS:
It was a really unique situation. Both teams were in a bowl game -- Houston was in a bowl game and A&M was in a bowl game. It gave me an opportunity to really be here and watch practice and I purposely haven't watched any video, but to be on the ground and watch practice and see our guys … it gave me about a week to do my own evaluations. When we got back the day before school started, we had a team meeting and basically we asked them to trust us and by saying that, meaning that there were going to be some changes, primarily their strength and conditioning program. We weren't going to do anything that was just to play with people's minds. Everything that we were going to do when they came into this building was to make them better, whether it was academically, whether it was athletically, or strength and conditioning, we aren't here to play games with them. We're here to get better.
These guys have been great and working at it like crazy and the attitude has been really, really phenomenal in a transition period.
Looking at the depth chart, you guys lose a few pieces to that defensive line. The SEC is known as a line-of-scrimmage league; so how important is it to develop that defensive line and also the offensive line.
KS:
It's extremely important. Right now, the strength of our team is the offensive line and we signed basically a third of our class this year as defensive linemen. We've got to continue to develop that moving from a 3-4 to a 4-3. It may be kind of a misnomer that we're short defensive linemen because we've got a couple of guys who are playing outside linebacker who are 240-50 pounds and can put their hands down in the ground and go. We've got to continue to get better and our No. 1 goal moving here is we had to increase our talent level and we've taken one of the first steps to that with the first recruiting class. Then, I wanted to hire a staff of coaches that have coached at the highest level, been in those types of games, but are also developmental coaches.
We are all very familiar with what you did with Case Keenum and that Houston offense, but now that you're making the move to the SEC do you anticipate any kinds of changes to combat this defensive speed?
KS:
Yeah. You know, I don't think speed is an issue for us. I think size is. This team has gone on the field and played pretty well against some people from a speed standpoint. I think size and strength may be where it is and we have to continue to recruit to that. That being said, I don't think we're in any position right now to win a 6-3 ball game. I don't think we can do that. We're going to have to score points. People look at us and think we throw it all over the place, but we've also been able to get the ball to our playmakers and that's the basis of our offense. Whatever it's going to take to get some points on the board, we're going to have to be able to do that. Right now, we're not anywhere near built to win a 6-3 game, but we've got enough talent here to be successful and as long as we continue to recruit these types of players, increase our size on our defensive front and continue to get the type of skill players that we've got in this class we'll be alright.
Once spring practice comes and you're able to put your hands on these guys when they're in pads, what do you want to immediately get out of them and what do you want to see?
KS:
Our primary focus is changing our physical makeup, our conditioning and also our mental makeup. The bigger and stronger and more in shape you are, the more confident you are. That's a fact. We have to start with that. Then, as we get into spring football, we want to really institute getting through those 15 practices with the basis of three new schemes -- offensively, defensively and special teams -- and make sure that we have a foundation with all of those new schemes.
We have to come through spring football and establish really where we are on the depth chart. I don't know if we'll have a quarterback named at the end of spring football. I've never really done that unless we've had a guy coming back who's a starter. I look for that to continue even in two-a-days, unless somebody surfaces as a clear No. 1. The surface of our depth chart needs to be set at just about every position.
February, 8, 2012
2/08/12
2:00
PM ET
As we welcome Texas A&M to the league, the offseason spotlight shines on the
Aggies
:

Spotlight:
Running back
Christine Michael
, 5-foot-11, 213 pounds, rising senior
2011 summary:
Michael teamed with
Cyrus Gray
to give the Aggies one of the best one-two punches in the country at running back. Michael rushed for 899 yards on 149 carries. He scored nine touchdowns and averaged 6 yards per carry. He had his season cut short when he tore his ACL against Oklahoma on Nov. 5 in the Aggies' ninth game.
The skinny:
In each of the past two seasons, Michael was well on his way to reaching the 1,000-yard plateau. An ACL tear derailed him last season; in 2010 it was a broken leg. With Gray departing, the Aggies will need Michael more than ever for an entire season in 2012. He'll no doubt be very limited this spring, but it's still an important offseason for him in terms of building back the strength in that knee, not to mention getting over the mental anguish of being injured two seasons in a row. Physically, Michael is exactly what you're looking for in any offense. He's a punishing runner who can move the chains and pick up yards in chunks. First-year coach Kevin Sumlin is obviously going to put his stamp on the offense, but he's going to need a healthy Michael -- and a willing Michael from a leadership standpoint -- during this transition. There's always a bit of a learning curve when you change coaches. Throw in the fact that Texas A&M is jumping to the SEC, and it's going to be more paramount than ever that the Aggies' best players play their best in 2012. Michael will be at the top of that list.
February, 8, 2012
2/08/12
1:00
PM ET
We're waving goodbye to the Aggies of Texas A&M.
They'll be heading to the SEC blog, but before they go I'll finish with our tradition of naming what I'll miss about the Aggies.
Here are our other posts:
1. The fans.
No question, these guys are at the top of the list. When Nebraska left, Texas A&M inherited the title of "Big 12's best fans." They're loud. They're everywhere. They're opinionated. Most of all, they're fun. Aggies are a special group, and we'll certainly miss them in the Big 12.
2. The Aggie War Hymn.
Probably my favorite part of the game-day atmosphere in Aggieland. From the iconic horn blasts at the beginning to the pounding of the drums, it always gets me pretty psyched. It's unmistakable, and the press box does indeed sway before the game and before the fourth quarter when Aggies lock arms and "Saw Varsity's Horns off." Love. It. College football personified. No fight song in the Big 12 comes close to the War Hymn.
3. The yells, however obnoxious they may be.
Aggies like to make fun of me when I say this, but you guys really don't understand how complicated your yells are. Try looking around. No team has more complex cheers, but thanks to being either a) taught by the family or b) going through freshman orientation, they all seem to know them by heart. My hat's off.
4. The Fightin' Texas Aggie band.
I may not love this group
as much as my friend and former colleague Berry Tramel
, but I love the halftime show from this group any time I'm in College Station. The interweaving marches are hypnotizing, and you won't see a tighter performance.
5. The pregame entrance, led by Reveille.
The cadets' towels are waving. The line reaches almost midfield. Finally, the team blows through the tunnel, led by their energetic collie mascot. Great entrance, and the cap to what's always a great pregame atmosphere at Kyle Field.
6. Midnight Yell Practice.
You won't see anything like this anywhere else. I try to go once or twice a year, and I love it every time. Where else will you find 30,000 fans the night before a game to do nothing but yell and hear a few fables from some crew-cut Yell Leaders? This is always a fun experience, unless kickoff is at 11 a.m. the next day.
7. The Lone Star Showdown.
We're losing the Border War, and we're losing this game, too. I hate that it won't be played anymore. The Aggies hate Texas more than any fan base hates any other group (sorry, Mizzou-KU), and even though it's not quite fully reciprocated, it makes for a great game every year. The last game didn't end like the Aggies wanted and won't force Texas to change its mind any time soon, but here's hoping it's not too long before the game's played again.
February, 8, 2012
2/08/12
10:30
AM ET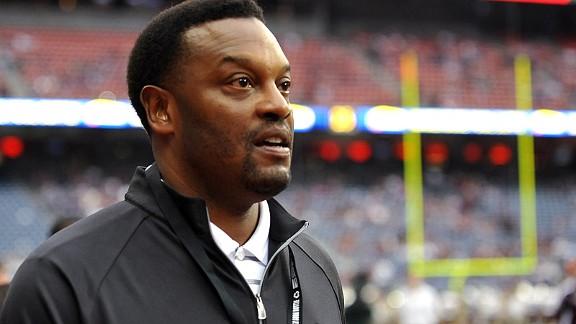 Cal Sport Media/AP ImagesBetween a young team and a tough new conference, coach Kevin Sumlin has his work cut out for him.
It's Moving Day No. 2 on the blog network today, and the Aggies are following Missouri out the door into the SEC blog today. We introduced the Aggies to the SEC earlier, but now it's time to debate.
The Aggies' move to the SEC was more about having the program grow in brand-new soil, whereas Missouri's move was more about conference stability.
Will the Aggies thrive? SEC blogger Chris Low and Big 12 blogger David Ubben go head to head to find out.
Chris Low:
OK, David, let's not tiptoe around. This is a big-boy conference in the SEC with big-boy stakes. I know everything is supposedly bigger in the state of Texas, but do the Aggies really know what they're getting themselves into? For one, they tend to play all four quarters in the SEC. Judging by what I saw from the Aggies last season, somebody might want to remind them that there is a second half. Come to think of it, that's not very hospitable of me. I take that back. But, honestly, how do you think the Aggies will handle the grind of this league?
David Ubben:
Now, now, Chris, that's not very nice. The Aggies are ...
As one final tribute to Texas A&M, I elected to forfeit the second half of that sentence.
In the early running, Texas A&M's going to have a lot of issues. Losing the volume and quality of talent they did in 2011 will hurt, especially on offense, as the program moves into a league -- and, particularly, a division -- known for defense.
Ryan Tannehill
wasn't great last year, but his experience helped, and
Jeff Fuller
and
Cyrus Gray
are a pair of NFL players that don't roll around every year.
I like the talent on campus at A&M a lot, though. They're just going to be young for now. With what they have now, they'll get better and better, as long as Kevin Sumlin does well. Based on what we've seen from his career, I think he will.
[+] Enlarge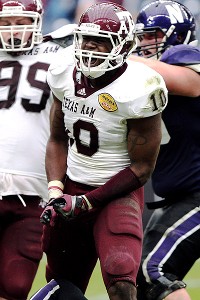 Troy Taormina/US PresswireLinebacker Sean Porter tallied 9 sacks for A&M last season, but the Aggies will need more from their defensive line.
Beyond these first three to four years, how well they progress will depend on recruiting. The Aggies think the SEC will be a big draw for Texas recruits who want to play in the best conference in college football. Being able to offer that could help them surpass Texas on the recruiting trail and on the field.
Are you buying that? I strongly lean toward no, but I could see it happening. What do you think? Is playing in the SEC going to be a draw for Texas kids? Why or why not?
CL:
I absolutely think the SEC will be a draw for some Texas recruits who see it as a chance to stay in the state and still play their college football and also be able to do it against SEC competition. That's a pretty sweet proposition: Stay close to home in the football-crazed state of Texas and compete in the football-crazed SEC, which has a standing order with the sculptor who designs that crystal trophy every year for the BCS national champion.
There's also another side to this story. The boys in the SEC think their chances of going deep into the heart of Texas and landing elite prospects are better than ever with Texas A&M joining the league. Rival coaches can tell mamas and daddies (that's the way the Bear used to say it) that they'll be able to keep up with their sons just like they were in the Big 12 with the Aggies now part of the SEC family, although the recruiting atmosphere in this league isn't very family-oriented. Just ask Urban Meyer. He got so tired of the recruiting shenanigans in the SEC that he's now pulling his own in the Big Ten, according to some of his new brethren there.
That leads me to my next question: Has anybody informed the Aggies that the rules are a little different in the SEC? Unlike the Big 12, it's not the first team to 40 points that wins.
DU:
For the record, the league changed those rules for Baylor-Washington in the Alamo Bowl. First to 60 wins now, but that's irrelevant news for the Aggies.
A&M's front seven's actually been really good these past two years, but this year, it was the secondary that let the team down. The Aggies led the nation with 51 sacks, but the team wasn't happy that it took a lot of risky blitzes to get those sacks. The defensive line wasn't the unit applying the pressure most often — it was linebackers and defensive backs. That meant a lot of big plays in the passing game; the Aggies ranked 109th nationally in pass defense, giving up more than 275 yards a game. Now, they won't see the same caliber of quarterbacks in the SEC, but we will see if the front seven can handle the power of teams in the SEC West, which, to their credit, do have a handful of quarterbacks with a lot of potential.
Tyler Wilson
's great now.
AJ McCarron
and
Kiehl Frazier
could be elite soon.
We'll see what new defensive coordinator Mark Snyder can fix.
On the flip side of the recruiting debate, how much do you think SEC teams will try and slide into Texas? Could we see some collateral damage in the Big 12? Will the SEC one day take over the world? I heard Nicolas Sarkozy already has a special security detail in place in case Mike Slive comes after him.
CL:
I'm not sure about taking over the world. It's just college football that the SEC one day would like to own. Some might suggest it already does.
Arkansas and LSU will probably be helped the most in terms of going into Texas and getting players. Other schools in the SEC might be more apt to target players in the state of Texas and make a push for those select players, but I don't think you're going to suddenly see a mass of teams in the SEC setting up camp in Texas on the recruiting trail. There's no need to when you look at how bountiful the states of Florida, Georgia, Alabama, Louisiana and South Carolina are in most years.
You mention some of the quarterbacks in the Western Division. It's fair to say that this wasn't a quarterback's league this season, and I also realize that the Big 12 has produced some quarterbacks over the last few years who've put up Xbox-type numbers.
[+] Enlarge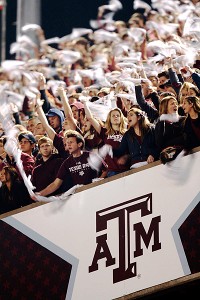 Thomas Campbell/US PresswireThere's little doubt that the state of Texas and the SEC share a deep passion for football.
But my question for you: Is Texas A&M capable of playing the kind of defense it takes to win big in the SEC?
DU:
I think so, eventually. They know they have to, which is huge. They've seen how teams succeed in the SEC, and it's with defense.
If you invest in something, especially with the resources A&M has, good things will happen. Don't forget, the Aggies defense was really, really good last year. The athletes are there. For A&M, it's about putting it together.
CL:
With all due respect, "really, really good" on defense in the Big 12 is entirely different than being "really, really good" in the SEC on defense. The more I watch this conference, the more it's ingrained in me that you're never going to win at a high level unless you can run the ball, stop the run and consistently win the turnover battle. Everything else is window dressing. I understand that's not exactly rocket science, but being able to run the ball creates a mindset that positively impacts your entire team. The same goes for playing good run defense.
So if I were offering any advice to the Aggies as they make the big jump, it would be to fortify their offensive backfield and recruit like crazy in the offensive and defensive lines. There's no such thing as too much depth in the SEC.
Having a little Texas flavor in the SEC is exciting. I know you're on record as saying the Aggies might struggle next season. But over time, I think they have what it takes to be an upper-echelon team in the SEC. Of course, that's the beauty of the SEC. So does everybody else in the league.
DU:
Oh, there's no respect due when we're talking Big 12 defenses. The best in the SEC are on another stratosphere from the best in the Big 12.
Your game plan sounds like what I'd recommend, but it's easier said than done. Like Mizzou, A&M will have to start mining some of those junior colleges down south like the rest of the SEC West.
Generally, I'd agree with you on A&M's long-term prospects. The Aggies will win less than they did in the Big 12 ... which is to say not much. But they could put it together and have a huge year every now and then. I don't see them surpassing Texas as a program, but they're on their own now.
For some Aggies, that's enough. Next year, the Aggies will struggle, but watching them grow and try to build a new program will be fascinating.
February, 8, 2012
2/08/12
9:00
AM ET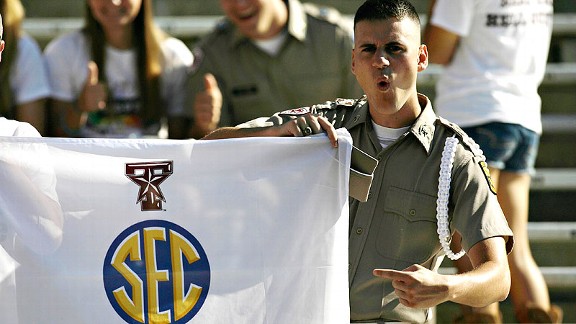 Brett Davis/US PresswireIn the SEC, Texas A&M won't be fuming under the long shadow of former Big 12-mate Texas any longer.
Missouri had
its day on Tuesday
. Today, it's Texas A&M's turn.
The SEC welcomes both schools into the league this coming football season, and consider this our introduction to the Aggies on the SEC blog. We get an assist from Big 12 blogger David Ubben.
Let's get right to it.
Chris Low:
It wasn't a big secret that the SEC wanted to get into the state of Texas, and there were rumblings that the SEC had an offer on the table for both Texas A&M and Oklahoma two summers ago. Did you think it was a foregone conclusion that Texas A&M was going to join the SEC at some point?
David Ubben:
I don't know if I'd call it a foregone conclusion, but nobody in the league was more tired of the often Texas-driven nature of the Big 12 than the Aggies. The SEC, from its perspective, was a way to surpass the Longhorns, too. Although I think Missouri's move was more about leaving the Big 12, I think the Aggies really wanted to be in the SEC as much as they wanted to leave the Big 12. If Mizzou had its way, it would probably be in the Big Ten right now. For A&M, there's been an SEC lust for decades. Now, it's happening. The Aggies couldn't be happier. We'll see whether that happiness sticks around on game Saturdays in the fall.
CL:
David, my take on this round of expansion for the SEC is that Texas A&M fits culturally a lot better than Missouri. Maybe that's just me, but Texas A&M has the feel of an SEC school with its passion for football. That said, I'm probably one of those rare people who's been to a Texas A&M basketball game in College Station but never to a football game at Kyle Field. It was back when Bernard King (the other one) was playing for the Aggies, and it was the night before Dennis Franchione left Alabama to take the Texas A&M head football job. I'm sure this will shock you, but nobody was out on press row during the basketball game. Instead, all the Texas A&M-based media members were on their phones back in the media work room trying to track down the Franchione story. I can assure you that something like that would never happen in the SEC during a hoops game. Well, at least not at Kentucky.
[+] Enlarge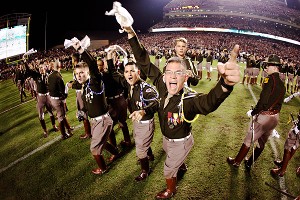 AP Photo/David J. PhillipThe Corps of Cadets made Texas A&M's Kyle Field one of the Big 12's most impressive venues.
DU:
That sounds about right. And you're definitely in the minority on that one. Kyle Field was the best game atmosphere in the Big 12 by far, and it'll be missed. In that sense, it definitely fits in the SEC. I'd agree with you on the cultural aspect. We'll see how the SEC takes to the Aggies' Yell Leaders aka lack of cheerleaders. It's an old joke in the Big 12, but I guarantee a few SEC fans will be in for a rude awakening next season after failing to do their homework before game day. Unlike Mizzou, the Aggies don't have to deal with a big shift in recruiting strategy. They'll have more access to Louisiana, I think. They also play a physical brand of football, unlike Mizzou. What's the biggest challenge facing the Aggies as they leave for a new league?
CL:
Just managing the grind of the SEC and going through those three- and four-game stretches when you're playing Alabama one week, Florida the next, then Auburn and then Arkansas. The Western Division is stronger than it's ever been. You're talking about three teams from one division that finished in the top five nationally this past season in the final polls. You can be a pretty decent football team in that division and struggle to win six games. Just ask Mississippi State. Especially with a new head coach and putting in new systems on both sides of the ball, I wonder whether this first season for the Aggies will be rough. Simply making a bowl game may be an accomplishment. What would be your prediction, David, for the Aggies in Year 1 in the SEC?
DU:
Agreed on that front. I felt bad for Arkansas this year. The Razorbacks were a heck of a lot more than a decent football team but finished third in the division, getting boxed out of the BCS thanks to arbitrary rules. I predict a rough start for the Aggies. I'll give them a break and say 6-6 with a spot safely in the bottom half of the SEC West.