NCF Nation:

120215-mountaineers-moving
February, 15, 2012
2/15/12
11:00
AM ET
There is no other way to say it -- West Virginia receiver
Tavon Austin
was terrific in 2011.
His speed allowed him to make huge plays not only at receiver but also at running back and on special teams. There is a reason he led the nation in all-purpose yards (198 per game) and did most of his damage after contact.
Nobody could bring him down. Clemson is still trying to figure out
where he went
.
So how can Austin get better for the Mountaineers in 2012, especially now that they are joining a new conference? His cousin has a unique perspective on that question. Shawn Waller, a high school football coach in the Baltimore area, began coaching Austin when he was 9 years old. Believe it or not, Austin has been doing offseason workouts since that young age in a quest to make himself better than everyone else.
[+] Enlarge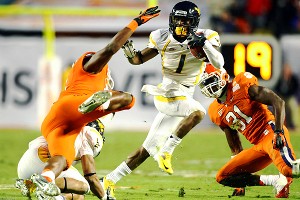 Douglas Jones-US PRESSWIREWest Virginia receiver Tavon Austin set a new Orange Bowl record with 280 all-purpose yards against Clemson.
Part of it was his small size (listed at 5-foot-9). Austin needed to do something to make up for being the little guy who was consistently overlooked. But much of it was his competitive drive, the yearning to be better than everybody else.
"A lot of people say he has the God-given ability, not knowing the hours he put in as a boy, every winter, every summer trying to get better," Waller said in a phone interview. "He worked all year on football. That he is reaping the benefits now is a testament to him, his hard work and his dedication."
Waller helped Austin go through agility drills, conditioning and strength exercises. He did pushups and situps, ran up a lot of hills, up a lot of steps. By the time Austin got to high school, he was showing his teammates the proper way to use agility ladders because he was a pro at it.
Nine years old might sound a bit young for somebody to be working year-round. Waller insists it was Austin who wanted to do it all. He just wanted to help his younger cousin get there the right way.
"He always wanted to be the best, and he always worked it," said Waller. "If he wanted it, I was meeting him halfway there. That's what drew me to coming back year after year because he was willing to do it. He wanted to do the work, so I was going to be the person there to help him."
Austin credits his cousin not only for helping him develop as a player but also for giving him tough skin. Waller, like West Virginia coach Dana Holgorsen, does not sugarcoat. Waller always has been honest with Austin, and that came through during his toughest time in Morgantown.
Austin was
recruited to play running back
, and was told he would have an opportunity to follow in the footsteps of Noel Devine. But the coaches decided he would be better served to play receiver. Austin was understandably bummed, but a phone conversation with Waller helped him realize this move would be for the best.
So he took to his new position the way he took to everything else -- he worked harder than everybody; he studied other receivers; he absorbed as much information as he could from those around him. Playing receiver means less wear and tear on his body, and more opportunities for huge game-breaking plays.
"I really have to thank my cousin," Austin said. "He always told me to keep my mindset right. I never saw myself as a receiver because of how I played, but I came out and did well at it, and I'm thankful it worked out my way."
So back to the original question -- where can Austin get better? When you consider he has been playing receiver for only a few years, there is plenty of room for growth when it comes to film study and his understanding of the game.
"I told him, his talent is there; now I would like to see the overall understanding of the game, studying the game and his craft, understanding what the defense is trying to do to him so he's always a step ahead," Waller said. "That will take him to another level. Once you get to a certain level, everybody is good.
"Once he understands the game, how to beat the coverages, what coverages look like, understanding what the quarterback is seeing so they're on the same page, just learning the game."
Austin had several games in which he had some big drops, something he knows he has to work on for 2012.
"I had eight dropped balls," Austin said. "That is definitely motivating me moving forward."
So is retaining his spot as the top all-purpose man in the country.
February, 15, 2012
2/15/12
10:00
AM ET
We're back, and the kindly introduction is over. It's time to get to know the real West Virginia.
How will the Mountaineers handle the transition? Big 12 blogger David Ubben and Big East blogger Andrea Adelson debated the issue.
David Ubben:
TCU's jump would seem to be a lot bigger, but the Big East has had its well-chronicled struggles the past few years. The Mountaineers left the league with a convincing Orange Bowl win against Clemson, scoring 70 points in the process. Talk about endearing yourself to your new offensive-minded friends, huh? You've seen this team up close lately, though. What, if anything, do you think WVU will have to change to get back to the BCS as a Big-12 member?
[+] Enlarge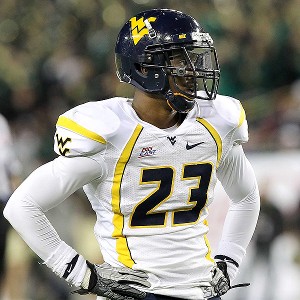 Kim Klement/US PresswireBrodrick Jenkins, an up-and-coming cornerback, will lead the Mountaineers into Big 12 play next season.
Andrea Adelson:
Well, one thing that definitely is going to change is the way West Virginia plays defense. Long-time defensive coordinator Jeff Casteel is out, and so is the odd 3-3-5 stack defense. The Mountaineers are going to go with a 3-4 base set under former Oklahoma State assistant Joe DeForest. This should help ease the transition from the stack, as West Virginia does not have the type of players on the roster to go with four down linemen.
In addition to the new scheme, West Virginia is losing its two best pass-rushers in
Bruce Irvin
and
Julian Miller
, perhaps its best defensive player in linebacker
Najee Goode
, and its best cover corner in
Keith Tandy
. There were times last season when the Mountaineers got beat deep in pass coverage, which will not bode well in Big 12 play.
However, cornerback
Brodrick Jenkins
has the potential to be truly terrific in 2012. He showed flashes late last season. As for the offense, coach Dana Holgorsen is looking for perfection. That means more consistent play out of an offensive line that was mediocre at times last season, and more explosion out of the run game. Starting running back
Dustin Garrison
is coming off ACL surgery, so it will be interesting to see whether he will be the same back come August.
Say what you will about the Holgorsen passing offense, but he definitely wants a running back to complement
Geno Smith
the way Kendall Hunter did with
Brandon Weeden
at Oklahoma State in 2010. How do you think West Virginia will fit in to its new conference home?
DU:
WVU is a good fit on the field. Geographically, not so much, but the Big 12 teams have to like that. There's a lot of uneasiness with TCU entering the league. That could shake up recruiting a lot and cut into the share of teams like Oklahoma State and Texas Tech.
But West Virginia's clearly a strong brand. This is a team that could just as easily have been in the SEC. Instead, it's in the Big 12. The three BCS wins are a big deal, as was the Orange Bowl win. That's endeared the Mountaineers to their new opponents in the Big 12. To win like that on that kind of stage says a lot about where the program is and where it's headed. Having a coach like Holgorsen, who has lots of ties to Texas, will help them grab a few players in Texas, too. The difference between WVU and Mizzou isn't much when you think about recruiting in Texas. I could see WVU being the biggest threat to Missouri recruiting in Texas.
But like TCU, winning games gets people excited. Big 12 fans are psyched about the Mountaineers, who seem like a fun group.
How do you think WVU's transition will compare to TCU's?
AA:
Watching a team put up 70 points is always fun! Hearing a guy like Holgorsen talk is always fun because you never know what he is going to say.
But on to your question: I think West Virginia will have a much smoother transition than TCU because it has played in an AQ conference already. Yeah, OK enter your Big Least jokes in here. But West Virginia has been a solid program throughout the course of its history. Note that the Mountaineers are one of just 14 schools to have 700 program victories -- joining Texas and Oklahoma from the Big 12.
West Virginia is one of just three schools to have at least nine wins in seven straight seasons. That doesn't happen by accident. And it's also important to note West Virginia is not exactly in a recruiting hotbed. Talent does not come pouring out of the state the way it does in Texas. The Mountaineers have built pipelines into Florida -- Geno Smith and
Stedman Bailey
being two notable examples on the squad -- and try to mine talent in Baltimore, Virginia and Washington, D.C. So I do think there will be inroads made into Texas with the Big 12 affiliation.
Already on the roster from the state are starting running back Dustin Garrison and quarterback Ford Childress, an ESPNU 150 player in the class of 2012. I respect the job Gary Patterson has done in building TCU, but I simply think there is going to be much more of a growing curve for a team transitioning to an automatic qualifying conference. What do you think?
DU:
I'd agree. The Big East has been weak, but there aren't any teams like New Mexico and UNLV in that league, who are little more than a week off for teams as talented as TCU has been the past few years. Show up and you win.
Last year, even Kansas beat the MAC champions, Northern Illinois, before losing its final 10 games of 2011. Big 12 champion Oklahoma State lost to 6-7 Iowa State, too. This league is so, so deep. You have to show up and play well every week, and even then, you might not win. In 2010, 11 of the league's 12 teams had five wins and at least played a game with a chance to win six and qualify for a bowl game.
This year, nine of the 10 teams did that. It's got elite teams, too. Texas and OU played for titles in 2008 and 2009 and OSU was barely shut out of the title game this year.
The depth of the Big 12 is what TCU will have to get used to. In that sense, WVU will have to adjust much less. Of course, you never know for sure. We'll find out next year. WVU had some head-scratching losses, too. Losing to Syracuse by 26 points? Really? Sheesh.
Both of these teams are built to win in 2012, and I think they'll do it. But winning a Big 12 title requires you to show up every week and play well. In the Big East, which sent an eight-win team to the BCS in 2010, that hasn't necessarily been true.
In the Big 12, Texas or OU has basically run through the year with 0-2 losses every single season. If WVU wants to win this league, they'll have to do that.
When do you think WVU will win its first title? Will it win one?
[+] Enlarge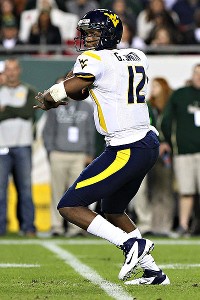 Kim Klement/US PresswireGeno Smith will enter the Big 12 in his third season as West Virginia's starting quarterback.
AA:
It is tough to put a time frame on when West Virginia will win a league title. As crazy as it might sound, I think this team is built to contend in 2012. The Mountaineers dropped FSU from the nonconference schedule, so you could consider Kansas as filling that void. I am sure West Virginia takes that.
Oklahoma is going to be a preseason national favorite, but after that, every single team returning has major question marks. Is Texas going to be Texas? What does Baylor do without RG3? What does Oklahoma State do without Weeden and
Justin Blackmon
?
You bring up a good point about the head-scratching losses. There have been a bunch of those over the last several seasons -- including TWO in a row to Syracuse. This is a team that has simply been inconsistent. It didn't put together a full game against Clemson. But I think Geno Smith,
Tavon Austin
and Stedman Bailey are going to be a handful for teams to stop, so I wouldn't be surprised if the Mountaineers were a surprise contender in 2012. Are you buying or selling?
DU:
I'd generally agree. Year 1 seems to be their best chance. It's a wide-open year in the Big 12, and I think Oklahoma's a bit overrated heading into next year, though the potential for a national title run is there. Texas looks like it's on its way back up, but next year won't be the year.
If it doesn't happen next year, though, I don't think WVU will win a Big 12 title in the next decade. It's a solid program that I think could get into the BCS, but win the Big 12?
With the stability, metroplex location and winning tradition, I like TCU's upside a whole lot more, and its ability to win a Big 12 title in the future. I'm buying a Horned Frogs Big 12 title in the next decade. Not so much on WVU.
Time to put you on the spot: What's WVU's record next year and Big 12 finish?
AA:
I can see the hate mail trickling into the Big 12 mailbag over that one, Mr. Ubben!
I am going to say West Virginia goes 10-2 and finishes second in the Big 12. What say you?
DU:
Maybe so. But hey, that's how we do things on the Big 12 Blog. I call it like I see it. And I see more potential for the Froggies, though I think the Mountaineers will be a solid, solid program. I wouldn't be that surprised if they won the league, but I'm not betting on it.
This is a league built around the state of Texas, and the location's going to make it tough for them to consistently field teams that can win 11-12 games consistently.
Next year, I'll take 9-3 for the Mountaineers, but a tie for third place.
February, 15, 2012
2/15/12
9:00
AM ET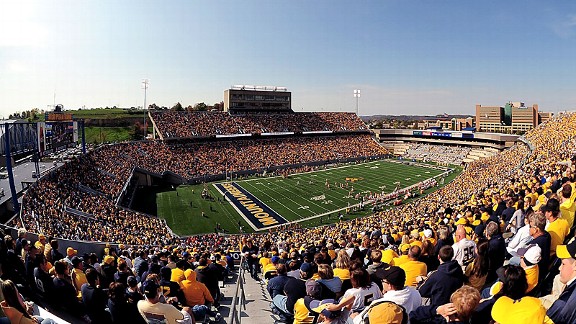 Andrew Weber/US PresswireWest Virginia's Milan Puskar Stadium offers new experiences for Big 12 fans.
After a bit of a delay, thanks to some legal wrangling,
West Virginia is finally free
.
The Big East and the Mountaineers have settled their lawsuit, and West Virginia is officially on its way to the Big 12 for 2012.
That means it's off the Big East blog and onto the Big 12 blog, too.
To help the Big 12 get to know its newest member, Big 12 blogger David Ubben asked Big East blogger Andrea Adelson for her thoughts.
David Ubben:
AA, Les Miles had my favorite quote of the 2011 season in relation to West Virginia. "They were having a football party and invited us. I knew our guys would show up."
You were there, Andrea. What can Big 12 fans expect when they go to Morgantown? Is it a football party every weekend?
Andrea Adelson:
Define "every weekend." West Virginia fans show up for the super gigantic games against teams like LSU and Pitt, but there has been concern that the fan base is "fair weather." Note -- 46,000 fans came out to watch Bowling Green. Now, the truth is, no fan in America gets up for the cupcake patsy schedule. But this rubbed Dana Holgorsen the wrong way,
and he ripped on the fans after that game:
"All I heard about was how much this meant to everybody across the state of West Virginia. This was the NFL team in town and we're going to be here to support you. Well, having 40,000 people at a game isn't doing that. ... We do our best every week to fix what the problems are offensively, defensively and special teams wise. Well, what's everybody across the state of West Virginia, including the student body, doing to fix the fact that our players had to play in front of 40,000 people?"
Now, you remember Holgy from his days at Oklahoma State. OK maybe not, since there were not many of them. But he likes stirring the pot, and I firmly believe he did that to motivate a fan base that had become dispassionate with good ol' Bill Stewart "I never met a punt I didn't like" in charge. The fact is that West Virginia has the most spirited fan base in the Big East and averaged 8,000 more fans than Louisville, which ranked No. 2 in the league in attendance in 2011. The atmosphere is fun, and was absolutely electric against LSU.
I anticipate many more crowds like that with teams like Texas and Oklahoma appearing on the schedule. West Virginia fans have gotten a bad rap nationally because of the couch burning and rowdiness. But in the two games I attended last season, I thought everybody behaved themselves accordingly.
And hey, they now serve alcohol in the stadium. I'm sure Big 12 fans can drink to that.
DU:
No doubt about the couch burning. Apparently West Virginia passed some legislation to make it stop, but I always found it sort of endearing and mostly harmless, albeit destructive. Maybe that's just me.
Holgorsen definitely speaks his mind, and I know fans will be fired up about alcohol sales in the stadium. What about once fans get to the stadium? Any in-game traditions they should be prepared for? Remember, this is the same league that had Texas A&M for its entirety. Visiting fans are prepared for a little weirdness.
AA:
You mean weirder than couch burning?
Well, the Mountaineers mascot runs onto the field with the team toting a real rifle. Each year his costume is tailored to fit just him. But my favorite tradition has to be the playing of "Country Roads" at the end of each home victory. Fans stay in the stands and join the team in signing the song, which became a tradition in 1980 after John Denver dedicated Mountaineer Field with the song.