NCF Nation:

120504 revived rivalries
May, 4, 2012
5/04/12
10:30
AM ET
Our topic is new looks to old rivalries. Other ESPN.com writers are looking at Ohio State-Michigan (Urban Meyer vs. Brady Hoke), Oklahoma State flipping the script on Oklahoma and the new feel of Clemson-South Carolina.
So why am I tossing Oregon-Washington into that pool?


Well, there's this conversation that has taken place between trash-talking Ducks and Huskies fans for years.
Ducks in 2004: We beat you 31-6.
Huskies in 2004: But when did you last win a Rose Bowl!
Ducks in 2005: We beat you 45-21.
Huskies in 2005: But when did you last win a Rose Bowl!
Fast-forward.
Ducks in 2012: We've beaten you eight consecutive years by an average margin of 25 points and never by fewer than 17 points.
Huskies in 2012: But when did you last win a Rose Bowl!
Ducks in 2012: Ha!
Huskies in 2012: Drat.

When Oregon outlasted Wisconsin 45-38 in January, it won its first Rose Bowl in 95 years. We know this because immediately after the game, coach Chip Kelly -- who often tells reporters he doesn't care about such things -- hollered to the crowd, "It's been 95 years since you could say: Oregon Ducks, Rose Bowl champions!"

I have long been an accidental tourist with this rivalry. I covered Washington's seventh -- and last -- Rose Bowl victory after the 2000 season. I've also covered a bunch of Ducks-Huskies games. I've been accused by each set of fans of being a homer for the other at least once a week since the Pac-12 blog crawled out of the Mother Ship in 2008 and went, "Ooooooo, a mailbag! This is where I'll get compliments from everyone!"

When I first arrived in Seattle in 1999, having no idea these programs hated each other, the Huskies were still the Big Brother in the Northwest. They mostly owned Oregon, Oregon State and Washington State. Now the Ducks are the top, er, Ducks. Not only have they beaten Washington eight consecutive times, they also haven't lost to Washington State since 2006 or Oregon State since 2007.

The Ducks' dominance of Washington -- winning and winning big -- has been mostly stunning. Still, the Huskies had some grounds for rebuttal. The program had been a national power and certainly would be again. And its trophy case contained seven Rose Bowl trophies. Oregon fans could -- fairly -- accuse the Huskies of living in the past, but the Rose Bowl tweak scored a point. And any honest Oregon fan will tell you it smarted.

Or it did smart. It's no longer valid. That page has turned, thereby redefining the rivalry in a measurable way.

Of course, Huskies fans can still hoist a national title into the air. Oregon still doesn't have one of those.

Yet.

May, 4, 2012
5/04/12
9:00
AM ET
STILLWATER, Okla. -- Mike Gundy remembers what happened the last time Oklahoma State shook up the Bedlam rivalry.
Gundy was an assistant on Les Miles' staff back in 2001 when the Cowboys knocked off the defending national champion Sooners on their home field as four-touchdown underdogs. In 2002, Miles did it again, beating the No. 4 Sooners in Stillwater, 38-28. The Sooners' noisy neighbors to the north woke them up to a rivalry that would turn one-sided again very soon.
"The first two years I was here with Les and we beat them, they didn't really consider us a factor. I obviously don't have any proof of that, but I'm sure when they looked at their schedule, they were looking more at Texas and Nebraska and people like that. ... I don't think their players every really paid much attention to us," Gundy said. "It's been so one-sided here for the last 100 years, or however long; it's been a bigger factor for the fans than it was the players.
"That changed in 2003 up through now. They, in my opinion, were very aware of that game. Last year is only going to add to that."
[+] Enlarge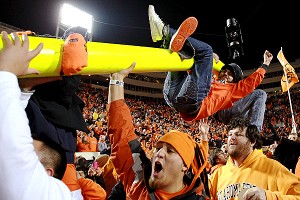 Ronald Martinez/Getty ImagesOklahoma State beat rival Oklahoma for the first time in eight years on its way to winning the Big 12 title in 2011, and fans celebrated the moment.
Oklahoma coach Bob Stoops? Well, he strongly disagrees with that assessment.
"Everyone calls it a rivalry for all these years, now you're saying it's now become one? I don't understand that. When wasn't it a rivalry?" he said. "Like I didn't need to last year? What year didn't I need to win it?"
Valid points from Stoops, but the facts support Gundy's assumption. After the 2002 loss, the Sooners won next eight Bedlams battles. Only three of the eight wins were by single digits, even though a rising Oklahoma State program was ranked in five of the eight meetings.
Just like 2001 and 2002, Gundy says the Cowboys' emphatic 2011 win "throws fuel on the fire" of Bedlam, a Big 12 rivalry gaining fast on Red River as the Big 12's most nationally relevant game.
Last season, the balance of power in the state shifted. When receiver
Isaiah Anderson
goes home to Wichita Falls, Texas, he sees more orange than ever before. It's on car bumpers, the fronts of shirts and emblazoned across hats.
With a 44-10 Cowboys romp in Boone Pickens Stadium capped by a field storming, Oklahoma State announced its arrival.
"Oklahoma's not the only team in Oklahoma anymore. They can't call it the Sooner State," Anderson said.
This was no fluke win. It was no blip of an upset that put a late-season blemish on Oklahoma's record. This was two in-state rivals playing for everything, and Oklahoma State walked away as 34-point victors.
"I said it then: If not now, then when? When is that gonna happen?" offensive coordinator Todd Monken said. "We got them here, everything's on the line, we've had a bye week, we're playing good football. We're healthy. They weren't."
The Sooners had taken home seven Big 12 titles since 2000, and even with injuries to leading receiver Ryan Broyles and running back
Dominique Whaley
, they had positioned themselves for an eighth. Oklahoma State said, "No. This one's ours."
Oklahoma State had won games, sure. It had won bunches of them -- 29 in the past three seasons, including a school-record 11 in 2010. What it hadn't won? The big one.
"The bully is the bully until you beat up the bully," Monken said. "You can't say you've arrived until you actually win it."
Fans mobbed players to celebrate as they ripped down the goalposts.
Middle-aged alums hopped the field's 8-foot wall and hugged players such as
Justin Gilbert
, who said he couldn't take a step without someone thanking him and his teammates.
In one night, Oklahoma State ended eight years of frustration.
"Hopefully, now in our players' minds and our fans' minds, we're not the whipping boy anymore," offensive lineman
Jonathan Rush
said. "We can play. It's not like we have a curse that we'll never win that game. Now we can believe. It's doable."
It also booked its first trip to the BCS and, most importantly, won its first outright conference title.
"If we beat Iowa State and lost to OU, it's not the same," Monken said, referencing a double-overtime loss to the Cyclones that cost OSU a shot at the national title but didn't deter its Big 12 title hopes. "Yeah, we might have gone on and played in the Sugar Bowl, but it wouldn't have been the same because you didn't win the league. You didn't win the title. You can't say, 'Hey, we're conference champs.' And you did it against OU, who, let's face it, has had the upper hand for years."
The Sooners had the upper hand on more than just Oklahoma State. OU and Texas combined to win 10 of the 15 Big 12 titles before last season. No one except the Sooners and Longhorns had won the former Big 12 South since Texas A&M in 1998.
Then, all of a sudden, the Big 12's Red River dominance came to an end.
"I think what that's done is kind of broke the ice a little bit," Gundy said. "The people that follow football in this part of the country, I think they enjoyed watching Oklahoma State win this league, because of the dominance the other two schools have had."
It's no longer impossible to surpass Oklahoma and Texas. The road to the Big 12 title was easier in the former Big 12 North, but when the Big 12 eliminated divisions in 2011 after being trimmed to just 10 teams, concern arose that no one would be able to outperform OU or Texas over the course of a 12-game season.
A Big 12 North team could upset a team from the South in the Big 12 title game. Kansas State proved that with a mammoth upset in 2003. Colorado upset Texas in 2001. But outplay the Red River rivals for an entire season? Good luck with that.
A year later, Oklahoma State proved it can be done, and can be done emphatically. The Cowboys finished two games ahead of the Sooners after the Bedlam beatdown for state supremacy.
"Winning a BCS game in some way has changed all of their lives," Gundy said. "They just don't know it. It certainly changed mine and the people that coach here and work in their organization. It did theirs, too. They just don't know it yet."
May, 4, 2012
5/04/12
9:00
AM ET
The best Big East rivalry may never be played again, now that expansion has changed the face of college football.
Pitt and West Virginia had made a living hating each other, a bitter rivalry that really transcended the Big East and became one of the most heated in the entire country. Think of rivalry games, and think of the Backyard Brawl.
No future meetings between the two schools have been scheduled, with West Virginia beginning play in the Big 12 in 2012 and Pitt on its way out to the ACC. So what does that leave the Big East in terms of true league rivalries?
[+] Enlarge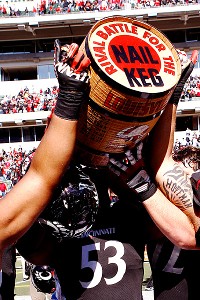 Frank Victores/US PRESSWIREIs the battle for the Keg of Nails the Big East's best rivalry now?
The longest running one remaining is Pitt-Syracuse. The two schools first met in 1916 and have played 67 times, including every year since 1955. But alas, those two schools are on their way out of the Big East.
So turn your attention to Cincinnati-Louisville. These two schools first played in 1922 and have met 52 times, with the rivalry starting back up in 1996 after a three-year hiatus. Cincinnati leads the series 30-21-1 and has won the last four.
But that could very well change in 2012.
While there may not be much national cache to the rivalry game between the two programs, all the ingredients are there for the intensity to ratchet up another notch between the two.
The game already has a nifty trophy. The "Keg of Nails" has been handed out to the winner of this game since 1929, when fraternity chapters on both campuses decided the victorious players were tough as nails. The trophy is a replica of a keg that was used to ship nails and features the logos of both schools and the scores of every game. This rivalry is not merely contained to the Big East, either. The two were also Missouri Valley and Conference USA rivals.

They are virtually neighbors. In the newly far-flung Big East, that counts for something. The two schools are a mere 106 miles away from each other.

The two programs are on the rise, with coaches on the rise. Both Louisville coach Charlie Strong and Cincinnati coach Butch Jones head into their third seasons as Big East champions, and it seems pretty clear that neither one is going to stop at one, either. Louisville is expected to contend for the Big East championship this season; Cincinnati may have lost a bunch of starters but there is plenty of talent on the roster. Both coaches have become "hot" names in coaching circles because of their successes, and both have pledged their commitment to their respective programs. You can definitely see this game having pivotal implications in the race for the conference championship in the years to come.
While it is true that both schools have other rivals (Louisville has Kentucky; Cincinnati has Miami (Ohio) and Pitt), nobody says rivalries have to be exclusive. Michigan has Michigan State and Ohio State; Florida has Tennessee, Florida State and Georgia; Florida State has Florida and Miami; Oklahoma has Texas and Oklahoma State; Texas has Oklahoma and Texas A&M.
In the cases of all those rivalries, the greater the stakes, the greater the intensity, the greater the scrutiny. Florida State-Miami has lost a bit of its luster, compared to the 1980s and 1990s. If Cincinnati and Louisville are competing for Big East and national championships every year, the game will grow in national stature.
Here are a few other potential rivalry games in the new Big East:
USF vs. UCF:
The War on I-4 has been played four times, with USF winning all meetings. Bulls fans will say this is not a rivalry because they have dominated the series, last played in 2008. There is no question the hatred is there, one of the key components to any good rivalry. USF fans look down at UCF as being a whiny little brother; UCF fans think USF fans are entitled for no apparent reason. Let the rivalry resume!
Temple vs. Rutgers:
Having the schools in close proximity to one another certainly helps, along with the natural rivalry between New Jersey and Philadelphia. Rutgers fans will tell you a rivalry can't exist until Temple is on the same playing level. But Temple fans will tell you the Owls are already there, with three straight winning seasons. Watch out for some major recruiting clashes between the two as well.
Navy vs. SMU:
There already is a trophy for the winner in this game. It is named after Frank Gansz, who played at Navy and later served on the coaching staffs at SMU and Navy. The trophy was established in 2009, and Navy has won it three times. The two are set to become conference rivals in 2015.