NCF Nation:

120604 individual seasons
June, 8, 2012
6/08/12
9:00
AM ET
Today, there are more than 100 FBS teams with rosters that often broach around 100 players. In simplified math, the game has seen more than 500,000 players take the field over the past 50 years.
[+] Enlarge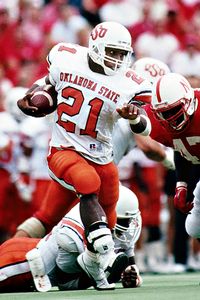 Malcolm Emmons/US PresswireOklahoma State's Barry Sanders set 25 NCAA records and rushed for over 300 yards four times during the 1988 season.
Barry Sanders' 1988 season was better than every single one of them. Nobody's really even that close.
Future NFL Hall of Famer Thurman Thomas left the program to a little-known junior who had rushed for just over 600 yards as a sophomore in 1987.
Over the next year, Sanders wrote his legacy every single week with the single greatest season of college football ever played. His 2,850 yards are more than even some of the best running backs log in a career. That NCAA record still stands, and it's one of 34 he set that season. Winning the Heisman Trophy that season is laughably far down the list of remarkable accomplishments for Sanders in a season to remember in Stillwater.
He scored 39 touchdowns, 44 if you count his five in the Holiday Bowl. The NCAA didn't begin counting bowl stats in the official record books until 2002. He rushed for 300 yards in four games during the season, and his lowest total of the entire season came against Missouri, with a paltry 154 yards and two touchdowns on 25 carries.
He scored at least two touchdowns in every game, and set the tone for the entire season by returning the opening kick against Miami (OH) 100 yards for a touchdown.
He scored at least four touchdowns in seven games that season, helping Oklahoma State go 10-2, which tied what was then the best record in school history.
Sanders' hips swiveled like no one else's, and he embarrassed defenders on what seemed like every run. He was quicker than everyone, shiftier than everyone, and when he reached the open field, proved he was faster than everyone.
Sanders saved his best for last. He was awarded the Heisman before the final game against Texas Tech in Tokyo and proceeded to carry his team to a 45-42 win over the Red Raiders with a career-high 332 yards on a career-high 44 carries. His coach, Pat Jones, loved to call the Kansas native "The Wichita Comet."
When the dust settled on a blowout win over Wyoming in the Holiday Bowl, Sanders had averaged 7.6 yards per carry on 373 carries and stood alone atop the list of the greatest seasons in college football history. He averaged just under 240 yards per game. In 2011, nine teams in college football averaged more rushing yards per game than Sanders did in 1988.
Sanders' season forecasted one of the greatest NFL careers ever, though Sanders abruptly ended it in 1999, within striking distance of Walter Payton, who held the NFL career rushing record.
Sanders was a quiet personality who kept to himself and never liked to talk about his exploits, even declining to dispute his father's contention that he wasn't the greatest running back in the history of the game. That didn't stop others from acknowledging the greatness he showcased every week of the 1988 season at Oklahoma State.
After his record-breaking season, he left Stillwater for the NFL, where he spent 10 more record-breaking seasons with the Detroit Lions.
June, 6, 2012
6/06/12
12:36
PM ET
For all the bad blood spilled upon Nebraska's exit from the Big 12 and farewell tour throughout the 2010 season, Texas coach Mack Brown couldn't stop citing his most memorable interaction with the Huskers.
Ricky Williams walked into Memorial Stadium and into the Sea of Red, and walked out with an upset win and 150 yards rushing. The Huskers' invincibility -- also known as a 47-game home winning streak -- was gone. Nebraska fans knew what they had just seen, but had to show their respect. They chanted more than just Williams' first name, which became the name by which most remember him.
[+] Enlarge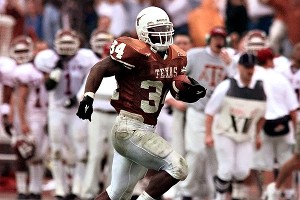 AP Photo/Eric GayDuring Ricky Williams' record-breaking 1998 season, among his most memorable runs was this 60-yarder for a touchdown against rival Texas A&M.
They resorted to another name.
"Heis-man! Heis-man! Heis-man!" they chanted.
They were right. Ricky took home sports' most prestigious award that season, and takes the No. 3 spot on our list of the greatest individual seasons of the past 50 years of college football. Ricky rumbled his way to 2,124 yards that season, averaging just under 200 yards a game, and became the first player in NCAA history to top 300 yards twice in a single season. He scored 29 rushing touchdowns, setting a Big 12 record that still stands.
Williams was an eccentric personality off the field, but commanded respect on it. Never was that command more evident than during the 1998 season when he helped the burnt orange start Brown's tenure off in memorable fashion. Perhaps no run was more memorable than Williams' 60-yard touchdown run in the rivalry win against Texas A&M.
He needed just 11 yards to set the NCAA career rushing record, but Williams broke three tackles and did it in style, providing the nation with his "Heisman moment" and joining Earl Campbell as the second Heisman winner in Texas history.
Late in the first quarter, Williams spun through a pair of blocks by tackle Leonard Davis and guard Roger Roesler, using a couple more blocks before sprinting down the left sideline and running through safety Rich Coady at the Aggies' 12-yard line. He broke one more tackle as he reached the end zone, and the game was briefly stopped to recognize Williams' new spot in the record books.
"I had a smile on my face after I broke that one tackle. I knew I had broken the record," Williams told reporters after the game.
He also collected the Maxwell Award, Walter Camp Award, and became the first two-time winner of the Doak Walker Award.
Williams left Texas with one of the most memorable careers in the history of the game, rushing for 1,000 yards in all four seasons in Austin. None was greater than his last, though, and only two seasons in the past 50 years were better than Williams' 1998 campaign.
"It's been a special year because of Ricky Williams. He is the best player I have ever seen. I think he is one of the best, if not the best college football player ever," Brown said of Williams.
June, 4, 2012
6/04/12
11:27
AM ET
When I start searching my memory bank for the best individual seasons of the past 50 years in the SEC, I don't have to go back very far to come up with at least two that rank up there with any in college football history.
But like any other ranking in the SEC, coming up with the top five individual seasons is one tough chore.
Here goes:
1. Cam Newton, QB, Auburn, 2010:
Granted, it was only one season. But what a season it was on the Plains for Newton and the Tigers. Newton, who came over from junior college after starting his career at Florida, guided Auburn to a 14-0 record and the school's first national championship in 53 years. He was unstoppable as a runner and equally dynamic as a passer, accounting for 51 touchdowns. The runaway winner of the 2010 Heisman Trophy, Newton was second nationally in passing efficiency (182.05) and led all SEC players in rushing with 1,473 yards. In short, it was about as close as it gets to being a perfect season.
2. Tim Tebow, QB, Florida, 2007:
Tebow's sophomore season was his best statistically, even though the Gators didn't win a national title that year. He became the first quarterback in FBS history to pass for 20 touchdowns and rush for 20 touchdowns in the same season. Tebow finished with 32 passing touchdowns and 23 rushing touchdowns in becoming the first sophomore in history to win the Heisman Trophy. Not known for his passing prowess, Tebow threw for 3,286 yards and only six interceptions that season. He also rushed for 895 yards and was the Gators' go-to guy any time they got near the goal line.
[+] Enlarge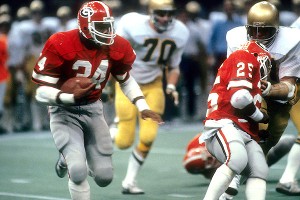 Getty ImagesHerschel Walker rushed for 1,616 yards during the 1980 season, leading the Bulldogs to a 12-0 record and national championship.
3. Herschel Walker, RB, Georgia, 1980:
Even though Walker won his Heisman Trophy in 1982, it was his freshman season in 1980 that everyone remembers. It remains almost mythical with the way he burst onto the scene in the second half of the opener that year against Tennessee and ran over Bill Bates at the goal line. He rushed for 1,616 yards that season in leading the Bulldogs to a 12-0 record and national championship. In a lot of ways, Walker was the first of his kind, a 225-pound bruiser who had track speed. To this day, many consider him to be the SEC's greatest player.
4. Derrick Thomas, OLB, Alabama, 1988:
When you start talking about pure stats and gaudy numbers, it's hard to top what Thomas accomplished during the 1988 season. He set an SEC record with 39 tackles for loss, including an NCAA record 27 sacks. Thomas, who died in 2000, also had an incredible 45 quarterback hurries that season. He completely took over the Penn State game with three sacks and a safety, and to this day he remains the standard for rushing the passer in this league. Former Alabama coach Bill Curry called him the "best football player I ever coached."
5. Danny Wuerffel, QB, Florida, 1996:
Never fully satisfied with the way his quarterbacks perform, Steve Spurrier came close in 1996. Wuerffel was brilliant that season in leading the Gators to a national championship. He finished with 3,625 passing yards and 39 touchdown passes on his way to winning the Heisman Trophy. His accuracy and ability to put the ball in places his receivers could turn short gains into touchdowns made him one of the Head Ball Coach's favorites. "Danny Wonderful" didn't have an exceptionally strong arm but always knew where to go with the football.
June, 4, 2012
6/04/12
11:15
AM ET
This week, "College Football Live" is looking at the top individual seasons over the past 50 years. There have been a lot of them in the Pac-8/10/12 so there is plenty of room for debate. Here's a look at five of the top individual seasons that should get the discussion going ...
Marcus Allen, USC, 1981: When "College Football Live" puts out its top five list this week, Allen will be on it. (You'll have to wait to find out where. Sorry.) In 1981 he became college football's first 2,000-yard rusher. He set 14 NCAA records that included five consecutive 200-yard games. More on Allen later this week.
Steve Emtman, Washington, 1991: His professional career never really panned out, but he was a monster in '91, compiling 6.5 sacks and 19.5 tackles for a loss while helping the Huskies to the 1991 national championship. The defense yielded just 9.2 points per game that year and many felt he should have won the Heisman Trophy.
O.J. Simpson, USC, 1968: Remember, this isn't a character debate. In 1968, Simpson rushed for 1,880 yards en route to the Heisman Trophy. Among his highlights, an 80-yard rushing touchdown and 171 yards on the ground in a loss to Ohio State in the 1969 Rose Bowl.
Reggie Bush, USC, 2005: Though his Heisman Trophy was later vacated, his '05 season was spectacular, rushing for 1,740 yards and 16 touchdowns while catching 37 balls for 478 yards. He set the USC mark for most rushing yards in consecutive games with 294 against Fresno State followed by 260 the next game against UCLA. He looked like he was shot out of a cannon every time he took the ball.
Terrell Suggs, ASU, 2002: The consensus All-American smashed the Pac-10 and NCAA single-season record with 22 sacks and tallied 29.5 tackles for a loss. He went on to win the Morris Trophy, the Rotary Lombardi Award and the Bronko Nagurski Trophy. He finished his career with 44 total sacks.
June, 4, 2012
6/04/12
11:11
AM ET
This week, "College Football Live" is taking a look at the most impressive individual college football seasons over the past 50 years. We're talking about players -- not teams -- who had unforgettable seasons. Today, we'll take a look at the top five individual seasons in the ACC during that span. While you might quickly recall players such as Doug Flutie and Michael Vick (I did), keep in mind they weren't in the ACC at that time. This list only includes former athletes whose teams were members of the conference. This, of course, is an impossible task. I expect you to challenge and add to this list, but I'm pleased to kick off the conversation.
Let the arguments begin …
1. Charlie Ward, QB, Florida State, 1993:
It doesn't get much better than a national title and the Heisman Trophy, and Ward won both. He also won the Davey O'Brien Award and the Johnny Unitas Golden Arm Award and was named the Walter Camp Player of the Year and the ACC's Player of the Year. The football and basketball star set 19 school and seven league records in his two seasons as starter. He set the school record for touchdown passes in a season with 27 in 1993.
[+] Enlarge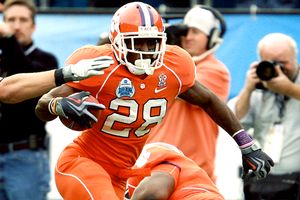 Marvin Gentry/US PresswireIn 2009, CJ Spiller was the only player in the nation to score a touchdown in every game.
2. C.J. Spiller, RB/KR, Clemson, 2009:
He finished third in the nation in kickoff return average, fourth in all-purpose running with 191 yards per game and sixth in the Heisman Trophy voting. The Tigers' schedule included four top 15 opponents, and Spiller had 234 total yards against Georgia Tech in the regular season, 301 against the Jackets in the ACC championship game, 227 against TCU and 310 against Miami. He broke his own record with 312 yards against Florida State in a 40-37 victory. He had a play of at least 54 yards in 10 of 12 games against FBS opponents and six games of at least 200 all-purpose running yards, a Clemson single-season record. Spiller scored a school-record 21 touchdowns in 2009 and was the only player nationally to score a touchdown in every game.
3. Philip Rivers, QB, NC State, 2003:
He accounted for 34 touchdowns, 4,491 yards and 4,600 yards of total offense. He set the ACC records for total offense, total offense per game, touchdown responsibility (37), passing yards (Matt Ryan broke that in 2007), touchdown passes and completion percentage (Riley Skinner broke that in 2007).
4. Calvin Johnson, WR, Georgia Tech, 2006
: He won the Biletnikoff Award as the nation's top receiver and finished 10th in the balloting for the Heisman Trophy. Johnson was a unanimous All-American (AP, AFCA, FWAA, Walter Camp, The Sporting News) and the ACC's Player of the Year. He tied for second in the nation with 15 touchdown catches, a Tech record. He had a school-record 1,202 yards receiving on 78 catches, the second-best season total in Tech history. He caught 15 of Tech's 25 touchdown passes and led the ACC in receptions per game (5.4) and receiving yards per game (85.9). In the Gator Bowl against West Virginia, Johnson had nine catches for a career-best 186 yards.
5. Randy White, DL, Maryland, 1974:
White was a consensus All-American and won the Outland and Lombardi trophies. He was also the ACC Player of the Year and had 147 tackles, including 24 tackles for loss and 12 sacks. The Terps were ACC champions that season, and White was named the MVP of the Liberty Bowl despite a 7-3 loss. He was the first overall pick in the 1975 draft.
Also considered, in no particular order:
Matt Ryan, Boston College, 2007

Brian Piccolo, Wake Forest, 1964

Don McCauley, North Carolina, 1970

Chris Weinke, Florida State, 2000

Joe Hamilton, Georgia Tech, 1999

Dre' Bly, North Carolina, 1996

E.J. Henderson, Maryland, 2002

Keith Adams, Clemson, 1999

Terry Kinard, Clemson, 1992

Clarkston Hines, Duke, 1989

Thomas Jones, Virginia, 1999

Torry Holt, NC State, 1998

Peter Boulware, Florida State, 1996

Herman Moore, Virginia, 1990

Lawrence Taylor, North Carolina, 1980
June, 4, 2012
6/04/12
10:26
AM ET
This week, ESPN's "College Football Live" is breaking down the top 50 individual seasons of the past 50 years of college football. We couldn't leave that alone here on the conference blogs, so we're naming the league's top five individual seasons.
The Big 12 is the youngest major league, so I'll keep this list to seasons that occurred in the actual Big 12. That means the season had to come during 1996 or later. Missouri, Texas A&M, Nebraska and Colorado are all in the mix on this list. TCU and West Virginia are not.
This was really, really difficult. I'll be polling the rest of you to pitch your best seasons ever later on this week, but here's my top five for now.
1. Vince Young, QB, Texas, 2005
Young takes home this award, breaking a tough set of ties, for carrying his team to a national title. No player outside the SEC has earned a ring since Young knocked off USC (aka The Greatest Team Ever) on the Trojans' home turf in Pasadena at the Rose Bowl. He completed 65 percent of his passes and threw for 3,036 yards with 26 touchdowns. He also added 1,050 yards rushing and 12 touchdowns, none bigger than his 8-yard touchdown on fourth-and-5 to beat the Trojans and send
Matt Leinart
and
Reggie Bush
home without any championship hardware. Young finished that game with an absurd 267 yards passing and 200 yards rushing, his second game of the season with at least 200 yards of each.
2. Ndamukong Suh, DT, Nebraska, 2009
No defensive player was more destructive during his time on the field. Just ask
Colt McCoy
. Suh is the most dominant defensive player in the history of the Big 12, and let's just get this out of the way: He should have won the Heisman Trophy in 2009. Instead,
Mark Ingram
earned Alabama's first Heisman Trophy. Suh, whose name means "House of Spears," became the first defensive player to ever earn the AP Player of the Year honors and became the first defensive tackle invited to the Heisman ceremony since
Warren Sapp
in 1994. He finished fourth in the voting, but he didn't end the season empty-handed. Anything but. He had 85 tackles, 24 tackles for loss, 12 sacks, 10 pass breakups and an interception that changed a season-defining, comeback win at Missouri. For his efforts, he took home the Lombardi Award, the Nagurski Trophy and the Bednarik Award and was a finalist for the Walter Camp Award and Lott Trophy.
3. Ricky Williams, RB, Texas, 1998
Ricky ran and ran and ran. He finished his senior season with 2,124 yards, an average of just under 200 yards a game, becoming the eighth player in NCAA history to top 2,000 yards in a single season. He had two 300-yard rushing games (an NCAA record) and memorably set the NCAA career record for rushing that season with a long touchdown run against Texas A&M. That season, he earned the Heisman Trophy, the Maxwell Award and the Walter Camp Award and became the first two-time winner of the Doak Walker Award. Over a decade later, Texas coach Mack Brown still talks about the time Ricky ran for 150 yards to upset No. 7 Nebraska 20-16 and break the Huskers' 47-game home winning streak. Nebraska fans responded by chanting "Heisman" as Williams walked off the field.
4. Sam Bradford, QB, Oklahoma, 2008
Bradford broke out as a sophomore in 2008 and took home just about every piece of hardware imaginable. He threw for 4,720 yards and an absurd 50 touchdowns to just eight interceptions, while completing 328 of 483 passes (67.9 percent). For his work, he earned the Heisman Trophy (Oklahoma's fifth winner), the Davey O'Brien Award and the Sammy Baugh Trophy. Oklahoma won the Big 12 and staked its claim as the highest-scoring offense in the history of college football. The Sooners reached the national title that season but lost to
Tim Tebow
's Florida Gators.
5. Adrian Peterson, RB, Oklahoma, 2004
Can you imagine a true freshman leading the nation in rushing and carries, breaking NCAA freshman rushing records along the way, and being named a unanimous All-American. Well, it happened not too long ago. The latter seasons of Peterson's career were marred by injury, but Peterson broke the mold of college football in his first year on the field, steamrolling opponents and finishing second in the Heisman voting
as a true freshman
back in 2004, which was unthinkable. Back then a sophomore had never even won the greatest individual award in sports. He rushed for 1,860 yards and 15 touchdowns, carrying the Sooners to the national title game. He ran for 100 yards in nine consecutive games and 11 times as a true freshman, both NCAA records. He was also the first freshman finalist for the Doak Walker Award.
June, 4, 2012
6/04/12
10:15
AM ET
"College Football Live" is taking a look this week at the top individual seasons of the past 50 years. Notre Dame has seen its share of great ones in the past half-century. Here's a look at some of the best.
[+] Enlarge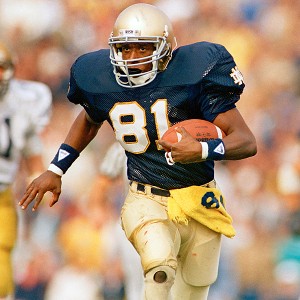 AP PhotoNotre Dame receiver Tim Brown won the Heisman Trophy in 1987.
1. Tim Brown, 1987:
Notre Dame's most recent Heisman Trophy winner notched 846 receiving yards and three touchdowns; rushed for 144 yards and a score; averaged nearly 20 yards per kick return; and brought back three punts for touchdowns. His 167.9 all-purpose yards per game were sixth-most in the nation.
2. John Huarte, 1964:
Huarte set 12 school records en route to winning the Heisman Trophy, completing better than 55 percent of his passes for 2,062 yards, 16 touchdowns and 11 interceptions. He added three more scores on the ground, and his 2,069 yards of total offense were third in the nation in 1964.
3. Raghib Ismail, 1990:
The Walter Camp Player of the Year rushed for 537 yards and three touchdowns; caught 32 passes for 699 yards and two touchdowns; averaged 24 yards per kick return -- one of which was returned for a touchdown -- and brought back 13 punts for 151 yards. The Rocket finished second in Heisman Trophy voting behind BYU's Ty Detmer.
June, 4, 2012
6/04/12
9:30
AM ET
"College Football Live" is looking at the top individual seasons of the past 50 years this week. So we thought it would be fun to take a look at the top individual seasons in each conference.
The Big East gets its share of grief these days, but boy, have there been some outstanding players who have come through this league since its inception in 1991. Given the current configuration of the league, it is easy to forget guys such as Warren Sapp, Michael Vick and Ray Lewis all played under the Big East umbrella.
This assignment was a difficult one. You can probably make a case for about 20 players to be included in the top five. I looked at stats, team impact and national impact when evaluating how I would rank my five best players. But like anything, lists are made to be debated. I encourage you to let your voices be heard and discuss these choices. From where I sit, there isn't a wrong way to answer this question.
[+] Enlarge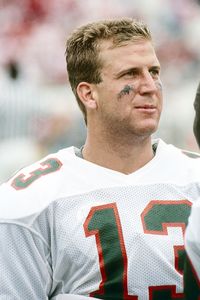 James D. Smith/Getty ImagesMiami's Gino Torretta is the latest Big East player to win the Heisman Trophy.
1. Gino Torretta, QB, Miami, 1992.
Torretta threw for 3,060 yards in his senior season and won the Heisman, Maxwell, Davey O'Brien and Walter Camp awards. He's the latest Big East player to win the Heisman.
2. Larry Fitzgerald, WR, Pitt, 2003.
Fitzgerald holds the Big East single-season records for receiving yards (1,672), 100-yard games (10) and receiving touchdowns (22), all set in that terrific 2003 season. He finished second in the Heisman Trophy voting behind Jason White of Oklahoma.
3. Donovan McNabb, QB, Syracuse, 1998.
In his senior season, McNabb set a school record with 22 touchdown passes and ran for eight more while leading the Orange to a berth in the Orange Bowl. He finished fifth in the Heisman voting and ended up being named Big East Offensive Player of the Year in 1996, 1997 and 1998.
4. Elvis Dumervil, DE, Louisville, 2005.
I went back and forth between him and USF's George Selvie, who had a monster year in 2007. But Dumervil still holds league single-season records for sacks (20) and forced fumbles (10), an NCAA record. He also set an NCAA single-game record with six sacks against Kentucky.
5. Pat White, QB, West Virginia, 2007.
It was tough singling out one year, and keeping in mind that White did have a terrific backfield partner in Steve Slaton. But it goes without saying that teams had a difficult time stopping White throughout his career. He still holds the single-season rushing record for a quarterback with 1,335 yards -- he surpassed 150 rushing yards in three games in 2007. He also threw for 1,724 yards and was sixth in the Heisman voting.
Other top individual seasons:
Brian Brohm, QB, Louisville, 2007

Donald Brown, RB, UConn, 2008

Ken Dorsey, QB, Miami, 2001

Dwight Freeney, DE, Syracuse, 2001

Dan Morgan, LB, Miami 2000

Ed Reed, S, Miami, 2001

Ray Rice, RB, Rutgers, 2007

Mohamed Sanu, WR, Rutgers, 2011

Geno Smith, QB, West Virginia, 2011

Warren Sapp, DT, Miami, 1994

George Selvie, DE, USF, 2007

Steve Slaton, RB, West Virginia, 2006

Michael Vick, QB, Virginia Tech, 1999
June, 4, 2012
6/04/12
9:00
AM ET
Our daunting assignment for Monday was to identify the top five individual seasons by a Big Ten player in the past 50 years. It was not in any way easy.
There have been so many great players and great performances in this league that it seemed almost unfair to limit this list to just five. It's impossible not to omit some very, very worthy individual efforts.
But that was our task, and we did the best we could while trying to pick out the most memorable seasons and weighing team success into the formula as well. Please remember a couple key notes about this list. This is limited to
the past 50 years,
so legends such as Red Grange and Nile Kinnick were not eligible. We are including Nebraska, even though the Cornhuskers have only spent one year as a Big Ten members. Blame conference realignment and feel free to complain, but the Huskers are part of the family now and are going to be included in these kinds of historic lists. Deal with it.
OK, here we go, and we'll do this chronological order:
[+] Enlarge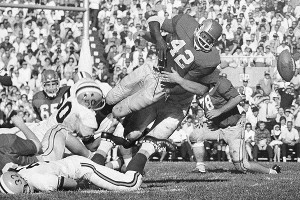 AP PhotoDick Butkus (50) made 145 tackles and caused 10 fumbles in 1963, leading the Illini to a Big Ten title.
Dick Butkus, LB, Illinois, 1963:
In many ways, Butkus is synonymous with the hard-nosed defensive style that has become the Big Ten's calling card. If you want a symbol for toughness, you couldn't do much better than him. He was named the player of the year in 1964 and finished third in the Heisman voting that year. But we're going with his 1963 season, in which he recorded a whopping 145 tackles, won Big Ten MVP honors and led the Illini to a Rose Bowl win over Washington. Little wonder that the award for the nation's best linebacker is named after him.
Archie Griffin, RB, Ohio State, 1974:
Griffin remains the only two-time Heisman Trophy winner, and his first statue-worthy season was his best as a collegian. He ran for 1,620 yards and 12 touchdowns while averaging an eye-popping 6.9 yards per carry in an era of less offense. As he broke tackles left and right that season, Griffin earned the high praise of legend Woody Hayes, who called him the best football player he'd ever coached.
Mike Rozier, RB, Nebraska, 1983:
The Cornhuskers' ground game was an unstoppable machine in '83, and Rozier was its engine. He averaged an amazing 7.8 yards per carry, a NCAA record for players with at least 214 attempts, and finished with 2,148 rushing yards and 29 touchdowns. He ran for more than 200 yards in each of his last four regular-season games. Would Nebraska have beaten Miami in the Orange Bowl had Rozier not injured his ankle in the second half? We'll never know, but we do know this was one of the top seasons of all time.
Charles Woodson, CB/WR/PR, Michigan, 1997:
Woodson became the first primarily defensive player ever to win the Heisman Trophy with his extraordinary performance for the Wolverines, who won a share of the national title that season. He had eight interceptions even though teams steadfastly avoided throwing the ball to his side of the field. He also compiled 500 yards and three touchdowns as a receiver and punt returner, including his memorable score against Ohio State. Woodson had to be special to beat out Peyton Manning for the Heisman that year, and he sure was.
Montee Ball, RB, Wisconsin, 2011:
This may be controversial, since it happened so recently. But we firmly believe that when historians and fans look back on Ball's 2011 season, they will be astounded that he didn't win the Heisman or get more attention for what he accomplished. Ball led the nation in rushing yards and averaged 6.3 yards per carry, matching the best mark that Heisman winner Ron Dayne ever put up during his Badgers career. He also scored 39 touchdowns, tying Barry Sanders FBS record. While a lot of people like to point out that Sanders played in fewer games, they conveniently neglect to mention that Ball had 37 fewer carries in 2011 than Sanders did in 1988. It was truly a historic season for Ball, and one of the best in Big Ten history.
Who's on your list for the top five seasons of the past 50 years in the Big Ten?