NCF Nation:

120615 Rising Programs
June, 15, 2012
6/15/12
11:04
AM ET
All that chirping you hear coming from South Carolina coach Steve Spurrier can only mean one thing: He's convinced his team is pretty good.
The Head Ball Coach has never really lacked confidence, but the more digs he takes, the more he likes what he has on the field. And that means good things for the Gamecocks.
[+] Enlarge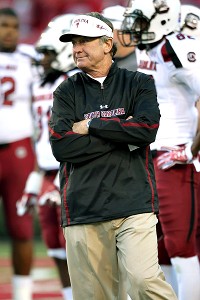 Nelson Chenault/US PresswireSteve Spurrier led the Gamecocks to their first-ever 11-win season in 2011 and his team looks poised to make an SEC title run in 2012.
Two years removed from taking South Carolina to its first-ever SEC championship game, Spurrier will enter the 2012 season with a team poised to make yet another SEC title run, as the Gamecocks continue to trend upward in the conference.
Not to be outdone, Arkansas, which joined the league with South Carolina in 1992, has also made tremendous strides and once again has the talent to compete for an SEC West championship.
Two programs that have dealt with inconsistency in the past have now become legitimate contenders in the nation's toughest league. Not just for now but the future.
It was clear Arkansas made the right choice in 2007 when it hired Bobby Petrino away from the NFL's Atlanta Falcons. Sure, his awkward departure from Atlanta will forever be scrutinized -- and rightly so -- but in only a short amount of time he turned Arkansas into a real winner.
After winning just five games in 2008, Arkansas won eight, then 10 and 11 games in 2011. Arkansas reached its first-ever BCS bowl game in 2010 and then won 11 games for the first time since 1977.
Petrino's on-field success also led to some nice facility upgrades for the program. The school has touched up Razorback Stadium and recently broke ground on a new, $35 million football operations center that the Hogs will move into before the 2013 season.
There was a wave of momentum churning in Fayetteville after last season and Petrino made it clear that he thought his 2012 squad might be even better than last season's 11-win team. But that wave was momentarily silenced in April when Petrino was fired after he withheld information about an affair that he carried on with a football employee he hired, Jessica Dorrell.
After reaching the threshold under Petrino, the Hogs are now putting things back together under interim coach John L. Smith. Smith is surrounded by elite talent, especially on offense and a strong showing in 2012 should keep things rolling in Fayetteville for Arkansas' next coach.
Before Spurrier arrived in Columbia, S.C., the Gamecocks were hardly intimidating. There were some ups under former coach Lou Holtz, but Spurrier has truly made this program respectable. While he hasn't seen the immediate success he did when he took over Florida's program in the early 1990s, South Carolina has made a tremendous turnaround under his watch.
The program that lost 18 straight SEC games from 1997-99 has won no fewer than three conference games in Spurrier's seven years at South Carolina, has had an SEC title trip and its first 11-win season in program history.
A lot of that success has come from keeping most of the top in-state talent home, which historically wasn't the case. It started with Alshon Jeffery and Stephon Gilmore in 2009 and continued with
Marcus Lattimore
,
Jadeveon Clowney
, and now Shaq Roland.
The past wasn't great for either of these programs, but in recent years, both Arkansas and South Carolina have thrown themselves right in the middle of the SEC conversation and both are looking to stay there for the foreseeable future.
June, 15, 2012
6/15/12
11:00
AM ET
For the past two seasons, the Pac-10 and then Pac-12 have seen Oregon and Stanford ensconced at the top. Also, USC announced it was back last year, and the Trojans now appear all but certain to go all High Noon with the Ducks -- perhaps twice -- to see who will own the conference in 2012.
Those teams are at the top. There really isn't much argument.
But which programs are rising in the Pac-12?
[+] Enlarge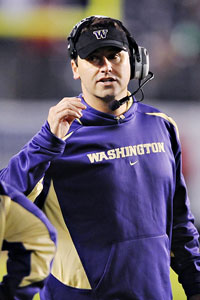 Christopher Hanewinckel/US PresswireWashington is thinking about being an annual Pac-12 title contender again with Steve Sarkisian in charge.
You could make an argument for a number of teams, including all four with new coaches, as well as Utah, which has made a strong, impressive move up in the world from the Mountain West.
But I'll give you two, both from the state of Washington.
Think back to the not so distant past. In 2008, the Huskies and Cougs met in a game I covered because it was so pathetic --
we termed it the Crapple Cup
.
After Washington choked away a win in Martin Stadium, it went on to finish 0-12 and dumped Tyrone Willingham. Washington State finished 2-11, its only other victory coming over Portland State, an FCS team.
It's fair to say those were the two worst AQ conference teams in the nation just four seasons ago.
The Huskies immediately began a climb back with the hiring of Steve Sarkisian. The Huskies beat USC in 2009 and finished 5-7. They won a bowl game after the 2010 season. They are back in the top 25 in recruiting.
Things have gone slower in Pullman, which is why Paul Wulff got fired and Mike Leach hired.
The Ducks own both at present. They last lost to Washington State in 2006 and have beaten the hated Huskies eight consecutive years by an average margin of 25 points. While neither looks like a threat to Oregon in the Pac-12 North Division this fall, fans should expect that to change over the next few years.
Sarkisian has enlisted an outstanding staff, hiring defensive coordinator
Justin Wilcox
away from Tennessee and ace recruiter Tosh Lupoi away from some Bay Area school, I can't recall which. In 2013, the Huskies will play in a renovated Husky Stadium, which might end up as the best venue in the conference. Major across-the-board facilities upgrades -- and a few more wins -- should significantly bolster recruiting.
Will the Huskies ever match the dominant days of the Don James years again? Maybe not. But they certainly can compete for conference titles and again be a factor nationally. In fact, things set up pretty nicely for 2013, when QB
Keith Price
will be a senior and players such as defensive ends
Hau'oli Jamora
and
Josh Shirley
, tight end
Austin Seferian-Jenkins
, defensive tackle
Danny Shelton
, safeties
Sean Parker
and
Shaq Thompson
and receiver
Kasen Williams
should be coming into their own.
As for the Cougs, the reason to project a rise is the seeming perfect fit with Leach in Pullman. As Texas Tech was to the Big 12, so is Washington State in the Pac-12. Only the Cougars have a better track record of winning -- see 30 wins and three consecutive top-10 rankings from 2001-2003. And the talent Wulff left behind is better than many think.
Further, Leach knows how to evaluate talent and recruit for a school like Washington State. Facilities upgrades orchestrated by AD Bill Moos also will help that cause.
Oregon, as long as Chip Kelly is around, is not going to go away. And Stanford also seems established under David Shaw. But the Huskies and Cougars won't make things easy in coming years.
They certainly aren't headed back to the Crapple Cup.
June, 15, 2012
6/15/12
9:00
AM ET
In 2010, the first season under coach Jimbo Fisher, Florida State won the Atlantic Division title and played for the ACC championship.
In 2011, the second season under coach Mike London, Virginia went to its first bowl game and had its best record since 2007.
[+] Enlarge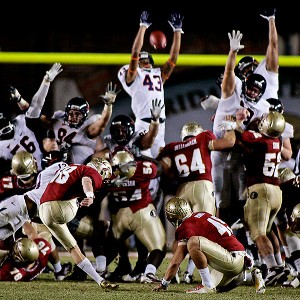 Phil Sears/US PRESSWIREFlorida State and Virginia are on the rise in the ACC.
After only two seasons under their respective head coaches, both Florida State and Virginia have shown signs that they are improving and heading in the right direction. They're the two programs on the rise in the ACC, and their continued progress will make the conference better from the ground up. Florida State, which hasn't won the ACC title since 2005, is poised to make a statement on both the conference and national levels. Virginia is putting the pieces in place to finally challenge rival Virginia Tech in the Coastal Division. As both Fisher and London prepare for Year 3, both do so facing much higher expectations.
At Florida State, the Noles are expected to be a preseason top 10 team (again), and they should be. Fisher will have one of the program's deepest and most talented teams in recent years – the key word being depth. There certainly hasn't been a shortage of talent in Tallahassee, but last year, when so many starters were injured, the Noles didn't have the depth at certain positions to overcome it. After back-to-back top-10 recruiting classes, Florida State's roster is championship-caliber. Fisher has reclaimed the unofficial "state championship," as he has surpassed in-state rivals Florida and Miami in the rebuilding process. The next step is to finish the season where it starts -- at or near the top of the polls.
At Virginia, London has changed just about everything, from the culture to the expectations in the classroom and the community, and the results on the field. He was named the ACC's 2011 Coach of the Year and has recruited well throughout the state. One of the biggest differences he said he saw this spring was continuity -- same staff, same philosophies and schemes, same expectations.
"It was probably one of the most productive springs as far as guys knowing what to do," London said. "… I just thought we moved ahead and advanced as far as our knowledge and capabilities."
Virginia has to replace seven starters on defense, so building upon last year's success could be difficult -- especially with Penn State, Georgia Tech and TCU on the September schedule. The Cavaliers are much more confident, though, after last year's eight-win season. And Florida State already knows what it takes to get to the ACC championship game.
London and Fisher didn't need much time to gain positive momentum. Their programs are on the rise, and consequently, so are the expectations for Year 3.
June, 15, 2012
6/15/12
9:00
AM ET
If we're going to be technical about this, Oklahoma State broke through last season, winning its first Big 12 title and a bushel of respect in the process.
Just a few months later, the questions are out. The doubts are fresh.
"Losing Brandon Weeden and Justin Blackmon was too much."
"Welcome back to Earth, Cowboys."
"Their new quarterback is
how
old?"
[+] Enlarge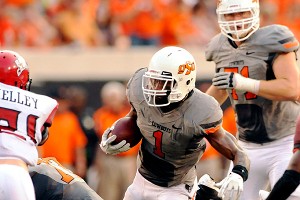 AP Photo/Brody SchmidtStar RB Joseph Randle has helped Oklahoma State earn national respect in recent seasons.
We've heard all three of those before and will again in 2012. The age jokes are back, but replace jokes about Weeden's AARP status with ones about 18-year-old Wes Lunt's acne and prom date. Then replace "Brandon Weeden and Justin Blackmon" with "Zac Robinson and Dez Bryant."
The 2011 team was better. It won more and went further, twice setting the school record for wins, racking up 23 in two seasons and
bringing some new hardware to Stillwater
that had never found a home at Boone Pickens Stadium.
That's just one breakthrough season. Oklahoma State, though? It's about to prove it's a breakthrough program ready to take its place among college football's elite.
The Cowboys have sustained success, winning at least nine games in four consecutive seasons. They'll do it again in 2012, because that's what elite teams do after they win a title. They keep winning, and Oklahoma State has stockpiled plenty of talent outside of Weeden and Blackmon, talent that's ready to shoulder the load and carry the Pokes to a solid season.
They're not built for a title in 2012, but they're built for a solid season. Expect 8-9 wins. Don't be surprised if a bowl win gives the Pokes their third consecutive 10-win season.
That's not a breakout season in the traditional sense, but its further validation that the Cowboys' arrival on the big stage last season didn't precede a humbling rebuilding season in 2012.
Jeremy Smith
and
Joseph Randle
will make life easier for Lunt. A solid, underrated receiving corps is ready to make a name for itself, highlighted by
Tracy Moore
,
Josh Stewart
and newcomer Blake Jackson filling in for Blackmon, Josh Cooper and
Michael Harrison
.
The defense led the nation in turnovers last season -- a third consecutive season in the national top 11 -- and will be more experienced and talented in 2012. Linebackers
Alex Elkins
and
Shaun Lewis
hold down the middle, while cornerbacks
Justin Gilbert
and
Brodrick Brown
stake a claim as one of the Big 12's best duos on the outside.
Oklahoma State made a name for itself in the 2011 season, but the national audience is fickle. It may have forgotten.
The Cowboys will remind them this year.
And just wait until next year.
June, 15, 2012
6/15/12
9:00
AM ET
It's hard to say that any Big Ten team is truly a rising program.
Ohio State, Michigan, Nebraska and Penn State are all established brands, though each is looking to make a comeback on the national scene in their own ways. Wisconsin, after a run of success that includes two straight Rose Bowls, can't be considered a climber. Other programs, like Northwestern and Illinois, have humps to get over, while others like Minnesota and Indiana have a long way to go.
But if there's one team that appears on the verge of a breakthrough, at least nationally, it's Michigan State.
[+] Enlarge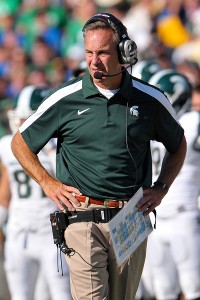 Matt Cashore/US PresswireLast season, Mark Dantonio led the Spartans to their first top-10 finish since 1999.
This is not exactly a new development. The Spartans have won 11 games in each of the past two years, achieving that feat in back-to-back seasons for the first time in school history. After beating Georgia in the Outback Bowl, they finished No. 11 in the Associated Press Top 25 and No. 10 in the USA Today coaches' poll. It was the program's first top 10 finish since 1999 and only the third top 10 coaches' poll finish since 1991.
Big Ten observers know just how good Mark Dantonio's team has been as it has gone 22-5 the past two years, including a 14-2 mark in regular-season conference play. But the Spartans do remain a little bit under the radar from a national perspective.
That could change this year. Both Adam and I have Michigan State ranked in the top 10 to begin the season and as our preseason favorite to win the Big Ten.
"I do feel like we're coming," Dantonio told ESPN.com in April. "But this conference is so competitive, how do you rise up? Every time you're picked high, something happens."
You can understand Dantonio's concern. The Spartans finished in a three-way tie for the Big Ten title in 2010 but watched as Wisconsin and Ohio State claimed the league's two BCS bids. Last year, Michigan State was potentially a running-into-the-kicker penalty away from beating the Badgers in the Big Ten championship game; instead, they went to the Outback Bowl while Michigan -- a team they beat handily that finished second in the Legends Division -- made the Sugar Bowl.
The Rose Bowl remains an elusive goal in East Lansing. Michigan State hasn't been there since 1988 but is constantly reminded of it with Rose Bowl logos all over its football complex.
"We really want to win a Big Ten championship, and take a step past the Legends Division," center
Travis Jackson
said.
This year's team might be the one to do it. Despite losing three-year starting quarterback Kirk Cousins, the Spartans are deep on both sides of the ball and could field a dominating defense that returns eight starters. That defense is not just Big Ten good but possibly good enough for the team to make a run at bigger things. Defensive end
William Gholston
isn't afraid to aim for a national title.
"It's like when you're a kid, and you earn a little allowance and you want this toy," Gholston told ESPN.com this spring. "You're working so hard to get the toy but you're like two dollars short. And you know your parents aren't going to give you the extra two dollars, because they want you to work for it. So you go out and you work hard, and you get more than two dollars so you can buy two of those toys.
"The only result we want this season is that crystal ball at the end. It has to be one of the best feelings in the world to hold that up."
Michigan State would have to make a big leap to experience that feeling. But the Spartans have the potential to make a major breakthrough in 2012.
June, 15, 2012
6/15/12
9:00
AM ET
It is quite amazing what the right head coach can do for a program.
Take a look at Louisville.
In three years, Charlie Strong has got the Cardinals ready to soar into the national spotlight again. With a share of a Big East championship already under its belt, Louisville is expected to be the preseason choice to win the league -- with the potential to be ranked in the Top 25 when the season begins.
The turnaround is rather remarkable, when you consider the Steve Kragthorpe era took a BCS-winning program down to the basement of the Big East.
Wrong head coach.
[+] Enlarge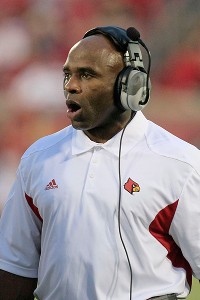 AP Photo/Ed ReinkeCharlie Strong has been instrumental in the resurgence of the Louisville football program.
Strong succeeded him in December 2009, and it became almost instantly clear that he was the right head coach -- in fact, the only man athletic director Tom Jurich interviewed for the job.
"I did an immense amount of homework on this," Jurich recounted in a recent phone interview. "I talked to so many people about Charlie. I really wanted this one to work perfectly. I knew what I was getting before I sat down with him, and everything I heard about him is true. He's a man of high character, and it shows through in everything."
Want more on why Strong was the right coach for the job?
"He's a tremendous recruiter, he's a wonderful motivator, he's an exceptional leader," Jurich said. "A lot of guys can talk it, but Charlie can walk it. That's the biggest difference I see between him and other coaches. He's assembled a fabulous staff. They're all people he's known and had great ties with. They have great loyalty to each other. It's been great to watch."
It is an understatement to say that Strong surprised people in Year 1, when he took a team that went 4-8 the season before and got it to a bowl-winning 7-6 season. He followed that up with another surprise year in 2011, when most thought the Cardinals would be down because they lost so many starters.
But Strong coaxed the most out of his team. Louisville won a share of the Big East championship and returns 17 starters this year, including quarterback
Teddy Bridgewater
, making the Cardinals the hot team for 2012.
That also makes Strong among the hottest coaching names in the country. Jurich rewarded Strong for his efforts this past offseason with a seven-year contract extension that pays a base salary of $2.3 million. Though Strong has professed his loyalty to the Cardinals, there are those skeptics who wonder whether he will be in it for the long haul.
"You can't worry about that. What you have to do is be prepared," Jurich said. "I have a lot of high-profile coaches here. To me that's a compliment to the coaches we have, a compliment to Charlie and what he's able to do. I will do everything in my power to keep him here, and he knows that. We have a great friendship, and we have a great deal of respect for each other. Money's not going to be an issue, but the great thing about him is he's not chasing money. He likes what he's building here. He loves these coaches, he loves these kids. And we live in an outstanding community."
The return of the football program coincides with an incredible renaissance for the Louisville athletic department as a whole. Football was one of a school-record 10 teams that won at least a share of a Big East championship in 2011-12. Since the Cardinals joined the Big East in 2005, they have won 50 Big East titles -- second only to Notre Dame.
With the newly reconfigured Big East taking shape, it is easy to see why many believe Louisville is a rising power. ESPN Insider Travis Haney even writes that Louisville is one of a handful of schools with
untapped potential

. There is young talent on this team, and pipelines are being built into rich recruiting bases in Florida. Add in an $8 million facility expansion and upgrade, and everything is in place for Louisville to make some noise nationally.
In fact, Louisville may be better off today than it was when it had all its success in its first years in the Big East.
"We'll have a much more solid foundation because Charlie is really focused on foundation," Jurich said. "Foundation that doesn't show up in the newspaper. People that have been around it every day, we see what foundation means. What are they doing academically, in the community? He's made this whole thing do a 180 and that's been so impressive. From a talent standpoint, we'll be there or exceed it. I'm not worried about that.
"The sky's the limit for this program. When we do arrive, it's going to be fun. But it's been a fun ride the last two years, too, because nobody expected a thing."