NCF Nation:

120627 BCS reaction
June, 27, 2012
6/27/12
2:55
PM ET
Folks in the Big East have high hopes for the future four-team playoff, and the place the league will have in it should a member team go undefeated.
Interim commissioner Joe Bailey said in a phone interview Wednesday, "This gives every team in every conference an equal opportunity to compete for the national championship. And in terms of the other bowl games, while there's plenty of things to be decided upon, we're pretty confident based on the recent performance of our programs we'll be participants in a number of high-level bowl games. The bottom line is the Big East will be well represented in a lot of the bowl games, and certainly in the top four."
Bailey went on to list the performance of current and future Big East members, noting teams like Boise State, Louisville and Cincinnati have finished in the Top 10 going back to 2006. But the last Big East team to play for a national title was Miami in the 2001 season.
Still, there is hope the Big East can get there again. USF coach Skip Holtz said in a phone interview Wednesday that the four-team playoff is a "true play-in" system, with the elimination of automatic qualifying status.
"This is a landmark," Holtz said. "The thing that excites me so much about what they decided to do is it is the first time we've had an actual playoff system where it's going to four teams, but even moreso what excites me is there are no tie-in connections so to speak. It is a true play-in system, not to be influenced but public opinion or public bias but to be decided on a committee by the body of work a team puts together that season. It will continue to put a premium on the season and a premium on nonconference scheduling."
Syracuse athletic director Daryl Gross echoed the hopeful sentiments in a statement, saying, "We are extremely pleased with the new structure, especially as we transition into the ACC. This gives Syracuse football a clear vision as we continue to enhance our program and strive to compete amongst the best in the country."
The hope is that a cross-section of people will be on the selection committee, and seriously consider the merits of winning a conference championship, along with strong nonconference play and quality wins. That may go a long way toward removing ingrained biases, and misperceptions about the Big East.
At one point, the Big East was not in favor of a selection committee. But now Bailey sees some merits to the system.
"At the end of the day, while they'll take into consideration strength of schedule, they'll look at performance on the field, and take all the noise out of the evaluation of a team's performance. That, I suspect, will ultimately be the way they operate. The other good thing about a committee -- they're concentrating on the teams and they're doing it over a long period of time over the course of a season. It's not as if there's some sort of randomness about it. They will see all the teams. So we think for a variety of reasons such as those, it will be a much more focused, concerted effort on the evaluation of teams and team performance. That's very good."
While that may give some fans hope, there are others who wonder whether a selection committee can truly remove the bias and choose the four most qualified teams to make the playoff. Many, myself included, have
wondered whether a committee
would pick an undefeated Big East team over a one-loss team from a conference that has a better national reputation.
Holtz has no fear of that, at least not at this point.
"I'm not going into this with a negative concern," he said. "I'm going in with a trusting opinion that the committee they put together is going to make the right choice and take the body of work and evaluate it over the course of the season and who they played. There's not a conference that says they're a shoo-in. I think the whole thing we're trying to do is take the bias out and let that decisions be made on the field."
June, 27, 2012
6/27/12
2:30
PM ET
Under the new four-team playoff format, there will be a total of six major bowls, two of which we already know about: the Champions Bowl (Big 12-SEC) and the Rose Bowl (Pac-12, Big Ten). The ACC is expected to announce its future bowl partner "in the very near future," according to commissioner John Swofford, but it's likely to remain with the Orange Bowl.
"We've got a great relationship with the Orange Bowl, and there's a lot of prestige in that game," Swofford said. "We'll probably have something on that in the very near future."
The bigger question is who the opponent will be.
Notre Dame gets my vote. It's time to scrap the Big East and partner up with the Irish. Matchups between FSU and Notre Dame, Miami and Notre Dame -- heck, even Boston College and Notre Dame -- have great history and tradition. So does the Orange Bowl. If Notre Dame doesn't qualify, the ACC should have the SEC and/or the Big Ten as backups. That would guarantee ACC fans an entertaining matchup every season.
As it turns out (I'm not one to say
I told you
so), the formation of the Champions Bowl was hardly the "death" of the ACC. This is an exciting time for the conference to re-evaluate its postseason partners, but the Orange Bowl makes the most sense for the league because of both its history and location.
Swofford told me on Tuesday in Washington, D.C., that the new playoff format will open up a few more options for the ACC in looking at its bowl partners for the future.
"We feel very good about the partners we now have, but that landscape will change some now, particularly with six bowls being in the system going forward," he said. "Where those bowls come from, they'll be assigned teams that are generally ranked in the top 12 or so. That will change the landscape, particularly for the bowls that were just below the current BCS level. Some of the bowls will need to make some decisions from their perspective as to whether they want to bid to become an access bowl, or continue to have tie-ins with particular conferences. That remains to be seen."
June, 27, 2012
6/27/12
12:30
PM ET
The presidential oversight committee did more than approve a four-team playoff at its meeting Tuesday.

It also squashed any slim hopes the Mountain West had of becoming an automatic-qualifier conference for the final two years of the BCS. The committee denied the league's request for an exemption, which would have given it an automatic spot in the BCS this season and next.

"We made a very compelling case on behalf of the Mountain West," commissioner Craig Thompson said in a statement. "It was based on clear performance metrics and the prior precedent established by the BCS in awarding automatic qualification. Unfortunately, the presidential oversight committee decided against granting us the AQ exemption."

The news is not much of a shock, though there were those who did not expect a ruling to be made at the meeting Tuesday. But given the rapid nature of the decision, one has to believe there was not much in the way of real discussion about the possibility of letting the MWC in with the big boys.

After all, the league has already lost Utah, BYU and TCU, which gave the Mountain West nearly all of its Top-25 finishes and BCS appearances between 2008-11. Boise State joined last season, so its BCS performance also was used to argue for inclusion as an AQ. But the Broncos have agreed to join the Big East in 2013, so they are goners after this year, too.

While the Mountain West fell short in meeting the criteria to be awarded AQ status, its next option was to try to get a waiver from the presidential oversight committee, citing its performance over 2008-11 and the way the Big East was granted AQ status as well.

There is no question the Mountain West has been home to some groundbreaking football, one of only two non-AQ conferences to get a team into a BCS game. We can sit here and think about what could have been, considering the league has lost three teams to bigger conferences -- two of them to power conferences.

But it really would have been hard to justify automatic entry for a league that is losing all of its best teams.
June, 27, 2012
6/27/12
11:00
AM ET
The Big Ten was the last conference to say yes to the BCS. It eventually became the most public -- and often outspoken -- defender of the controversial system.
Similarly, the Big Ten didn't lead the charge for a four-team playoff. As recently as three weeks ago, the league's presidents stated they preferred the status quo or a plus-one system ahead of the increasingly popular four-team model. The Big Ten eventually fell in line with the other conferences. Two big reasons -- having semifinal games within the existing bowls and using a selection committee to pick the playoff participants -- brought the Big Ten to the table. If the Rose Bowl hadn't been accounted for and the polls and computers were still selecting the teams, the Big Ten wouldn't have agreed, plain and simple.

Now that
the playoff is coming
, the Big Ten will not only embrace it with open arms, but defend it as vigorously as it defended the BCS.
"We got our third priority," Nebraska chancellor Harvey Perlman, the Big Ten's representative on the BCS presidential oversight committee, said after Tuesday's announcement. "But there were a lot of smart people in the room, and this is the package that's put together, and we will strongly support it."
Big Ten commissioner Jim Delany echoed Perlman's comments in a statement released Wednesday:
"The Big Ten Conference is pleased with the decision made by the presidential oversight committee to implement a four-team playoff for college football. We feel that this system will protect the regular season, preserve the tradition of bowl games and further enhance the Big Ten's partnership with the Pac-12 and Rose Bowl while simultaneously allowing for great innovation. It was a great day for college football student-athletes, coaches, administrators and fans."
According to a league source, the Big Ten athletic directors are excited about the playoff and will support it even more than they did the BCS system.
As Brian Bennett wrote earlier today,
the playoff increases access for Big Ten teams
. And while a Big Ten team is sure to be left out of the top four from time to time, I wouldn't expect to hear too much complaining from Delany.
The calls for a larger playoff already have started, and they'll likely intensify after the four-team model begins, even though Tuesday's agreement takes place from 2014-2025. The Big Ten doesn't want the playoff to increase, mainly because of the potential consequences for the Rose Bowl (and most bowls, for that matter). Just a hunch here, but if the bowls go down, it won't take place on Delany's watch.
As Delany stated last week,
the BCS lacked the support
, both internally and publicly, to survive long term.
"My hope would be wherever we end up, the outcomes have more public acceptance," he said. "Part of that is our responsibility to come up with a system that's a little more transparent, a little more rational, a little more clear."
The commissioners and presidents feel they have done so. A playoff is coming, and while the Big Ten had reservations about it, expect the league to be carrying the flag for years to come.
June, 27, 2012
6/27/12
9:00
AM ET
The prevailing theme around Notre Dame after all of these talks, all of this speculation, is relief.
The independence to which Notre Dame football clings so tightly remains secure. The tidal wave has passed and a four-team playoff is coming, and the Irish have yet to find themselves in a conference.
The national appeal remains. Recruits from coast to coast still show interest -- and hey, Notre Dame
got a pretty big one from Washington

on Tuesday, for those who were busy -- and the Olympic sports, at least for now, are safe and sound in the Big East, an area vital to the athletic department's recruiting as a whole.
[+] Enlarge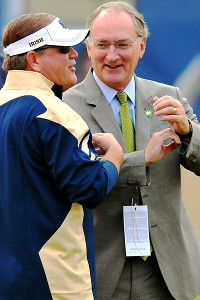 Matt Cashore/US PresswireJack Swarbrick, right, with football coach Brian Kelly, has stuck to his guns and kept Notre Dame independent.
What's more, tough out-of-conference scheduling -- or, in this case, simply "scheduling" -- will be rewarded. USC and Stanford; Michigan and Michigan State; Boston College and a military academy or two -- they all will get to host and visit Notre Dame on an annual basis, with a few more big names (see: Miami, Oklahoma) making the slate as well.
This was objective No. 1 for Jack Swarbrick upon his hiring four summers ago. As the landscape of college athletics continued to shift ever so surely (and ever so slowly), Notre Dame's athletic director was charged with guiding the football program through the unsteady waters, to avoid panic and to not jump to safer shores at the first sign of trouble.
"I believe that I accept this job on the threshold of extraordinary change in intercollegiate athletics in America," Swarbrick
said on July 16, 2008
. "I have my theories on what that change may entail and where the industry is headed, but I think they'll be enormous. There's much about this industry that you won't recognize in 10 years. We must be at the forefront in that. We must participate in dictating that change. Notre Dame cannot have that dictated to it. And I love the challenge of accepting that responsibility."
Questions remain -- and they will, so long as this sport continues to change. Just when it looks like the pause button has been pushed on conference re-shuffling, Pitt and Syracuse jump to the ACC, threatening the Irish athletic department's safe haven in the Big East. And just last week, reports surfaced about Notre Dame's
Olympic sports possibly moving to the Big 12
, prompting a rebuttal from Swarbrick the same day.
What happens from here is, frankly, unpredictable. But with college football now moving to a playoff, the biggest change in the sport's 143-year history has come and gone. And Notre Dame, independence in hand, is better off for it.
June, 27, 2012
6/27/12
9:00
AM ET
A four-team college football playoff is now a reality. So what does it mean for the Big Ten?
There are two things you can likely count on: better access to playing for a national championship and diminished importance for the Rose Bowl. Is that a tradeoff you can live with?
Let's explain how we came to those conclusions. The Big Ten hasn't had a team play for the national title since Ohio State in 2007, but odds are the league will be involved far more often in the football Final Four. Jim Delany's insistence that conference champions be rewarded with at least stronger consideration for inclusion by a selection committee than non-champions was a win for the Big Ten. Right now, the SEC has a monopoly on at least one spot in the BCS title game; by opening things up to a four-team playoff, the Big Ten champion ought to have a more consistent presence in the national championship mix.
[+] Enlarge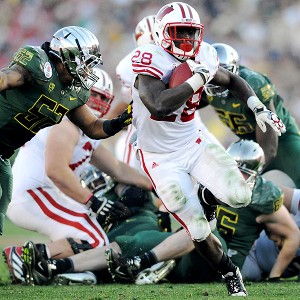 Kelvin Kuo/US PRESSWIRERemember the big-game feel of this past Rose Bowl between Wisconsin and Oregon? That anticipation could diminish with a new playoff system set.
Of course, the key phrase here is "ought to." The playoff will still be a meritocracy and not a Big Ten bailout. The onus remains on the league to play better. In the four seasons since Ohio State played for the BCS title, not a single Big Ten team finished in the top four of the final BCS standings. The closest the conference came was in 2010, when Wisconsin finished No. 5 and Ohio State was No. 6. Had there been a Big Ten championship game, the winner would have stood a great chance of making the four-team playoff since it would have gotten credit for a league title over No. 4 Stanford.
Barely getting one team in the four-team playoff during a four-year period is by no means good enough. Yet it is literally better than nothing, a 25 percent improvement in the league's potential participation in the event. The better news is that Ohio State and Michigan appear primed to return to national prominence with the coaches they've hired and the way they're recruiting, while teams like Wisconsin, Michigan State, Nebraska and Penn State have built annual contenders. Whoever wins the Big Ten will have gone through an impressive gauntlet and make a strong case for inclusion in the four-team playoff. It will be imperative that league teams schedule, and beat, tough nonconference opponents to accumulate strength-of-schedule bonus points.
But no matter how you slice it, having four paths to the crystal ball instead of two helps the Big Ten. Though it likely will come at the expense of the league's most cherished tradition: the Rose Bowl.
The Big Ten and Pac-12 fought to keep the Rose Bowl relevant. As
Adam Rittenberg wrote Monday
, that insistence is a major reason why the national semifinals will be played inside the bowl system instead of being bid out to neutral sites, which could have potentially proved more lucrative.
In many years, the Rose Bowl will still feature its historical Big Ten/Pac-12 matchup. But there's no guarantee that either league will play in the game in the years when the Rose hosts a semifinal game. And if a Big Ten team is playing in Pasadena in the years when the Rose Bowl is not a semifinal site, that means one of two things: either the Big Ten failed to place its champion in the four-team playoff, or the league's runner-up (or even, possibly, its third-place team) is in the Granddaddy.
Both scenarios have their problems. While the Rose Bowl always provides a special experience, any league champion that is not in the final four will have to battle disappointment. And the game loses significance whenever there's not a Big Ten champion involved. Sure, teams like Michigan State, Purdue, Indiana and Minnesota would be thrilled to make the Rose Bowl in any scenario right now. But a Rose matchup featuring a second-place Big Ten team, possibly one that's coming off a loss in the conference title game, can't feel like anything other than an undercard.
In fact, over time, once fans get used to anxiously awaiting the four-team playoff, every other bowl game will diminish in importance. The Rose Bowl will never be like the NIT in basketball because it has too much tradition and pageantry. But its days as the end-all, be-all goal for Big Ten teams are numbered.
In exchange, the Big Ten will receive a greater opportunity to play for a national title. The tradeoff will be worth the price only if the league takes full advantage of that opportunity.
June, 27, 2012
6/27/12
9:00
AM ET
Strike up the band. Ring the bells from here to the Swamp to the Coliseum.
College football's playoff has arrived
after more than a century of playing the game, which essentially means more than a century of clamoring for a playoff like every other major sport in America.
"This playoff is long overdue. It took some time to get to the right model, but I think we have found something that will only make college football better," Texas Tech coach Tommy Tuberville said in a statement while on a Red Raiders alumni cruise in Rome. "This is a great day for our sport, and most importantly it will give us a national champion that is settled on the field."
Fans surely welcome the development, but for each conference's supporters and teams, a batch of new questions arises: How will this affect us, and how can we best take advantage of this new world in college football?
[+] Enlarge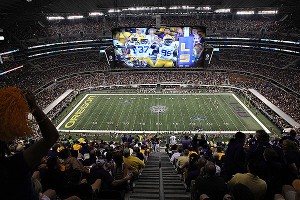 Ronald Martinez/Getty ImagesThe chance that Cowboys Stadium will host games with national-title implications should have Big 12 teams -- and fans -- excited.
As we've mentioned before, the Big 12 likely had the least to gain and the least to lose of any conference in these discussions the past few months.
The league has had big success in the BCS era, reaching the title game seven times, more than any league but the SEC, though the Big 12 has gone just 2-5 in those appearances. The league's chances to place more than one team in a four-team playoff seem minimal at best.
Where does the Big 12 have the most to gain?
The Dallas-Fort Worth metroplex-based Cotton Bowl was squeezed out of the major-bowl rotation with the advent of the Bowl Alliance in 1995. It'll almost certainly be folded back into the rotation as one of the six bowl sites for the semifinal games when the new plan takes effect in 2014, with the championship game likely to be bid out to neutral sites.
When the Cotton Bowl got pushed out, so did the Big 12's chances of playing in a national title game within its footprint. Oklahoma had to play Florida and Florida State in national championship games in Miami. Texas had to try to take down USC at the Rose Bowl (it succeeded). Oklahoma had to walk inside a powder keg called the New Orleans Superdome to try to knock off LSU (it failed).
The Cotton Bowl released a statement in the wake of Tuesday evening's playoff news that surely brought smiles to plenty of Big 12 faces.
"It's a great day for college football. We congratulate the conference commissioners and presidents for their diligent work to enhance the post season. We look forward to learning more about the opportunities that will be created by today's announcement. With partners like AT&T and Cowboys Stadium, we believe we have a great story to tell."
Nobody wants to hear that story more than Texas, Oklahoma and the rest of the Big 12. The Cotton Bowl stepped under the big top three seasons ago when it moved from the State Fair of Texas fairgrounds in Dallas to Cowboys Stadium in Arlington, Texas, ready to play its game at America's finest football cathedral.
The Big 12 will no longer have to worry about situations such as in 2011, when No. 3 Oklahoma State was pushed out of the national championship game in favor of eventual champion Alabama, which knocked off fellow SEC team LSU in a rematch of a 6-3 November rugby match.
That'll be nice, but nothing will be nicer for the Big 12 than getting a chance to suit up with everything on the line only a few hours from its campus, in a city full of its alumni.
June, 27, 2012
6/27/12
9:00
AM ET
A college football playoff is at hand! Yippee!
Well, it will be at hand in 2014. And, well, it's a final four, not
really
a full-on playoff. Think of it as a BCS times two, only with a selection committee that will choose the ... wait for it ... wait for it ... "FOUR BEST TEAMS."
You know: Just like the SEC wanted.
Er, yippee?
So what does it mean for the Pac-12? The correct answer is we have no idea. Little is certain in college football these days -- at least, other than the SEC winning BCS "national titles." We don't yet know all of the details of our shiny new playoff, and we also have two more seasons to play before it takes effect, during which new variables are certain to be introduced.
[+] Enlarge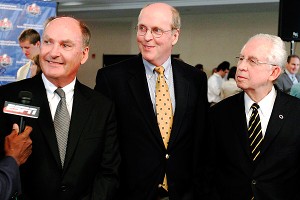 AP Photo/Alex BrandonBig Ten commissioner Jim Delany, left, SEC counterpart Mike Slive, right, and BCS exec Bill Hancock discuss Tuesday's developments.
The suggested takeaway we have for you is cautious optimism. More teams will be invited to the big postseason party -- that's a good thing. There will be more opportunities for Pac-12 teams to win national titles. There also will be more -- and more transparent -- interpretation of who gets there and why. With this new system, Washington and Oregon wouldn't have been left out as they were in 2000 and 2001, respectively. USC wouldn't have been passed over by an indefensible process as it was in 2003. And it's likely that if we had a selection committee in 2008, someone would have piped in: "Hey, does it matter that we all know USC is the best team? I mean, we can't really leave USC out of a final four, can we?"
The Pac-12 and Big Ten still will maintain their relationship with the Rose Bowl. That's a good thing. The selection committee will consider win-loss record, strength of schedule, head-to-head results and whether a team is a conference champion. Strength of schedule and winning a conference championship are two criteria the Pac-12 valued.
So while everyone is acting as if the SEC got everything it wanted, the Pac-12 got everything it needed. Our feeling is that much of what you heard out of Pac-12 commissioner Larry Scott the past few weeks -- the plus-one! the demand for only conference champions! -- was gamesmanship. I'm not sure he's unhappy with any of the compromises he had to make.
So, again, cautious optimism.
But questions lie ahead, without a doubt.
A first issue: The nine-game vs. eight-game conference schedule. The major conferences need to adopt a standard here. If the Pac-12 and Big 12 are playing nine conference games and the SEC and Big Ten are playing eight, then those conferences aren't playing the same game. It's not just about playing another tough opponent, either. It's about the mathematical fact that playing an extra conference game creates more losses in your conference and chips away at strength of schedule as much -- or more -- as it might add to it.
Further, strength of schedule in general needs to be explained. If the selection committee is going to truly emphasize it, then that means you might see a 10-2 team that played a brutal schedule get an advantage over an unbeaten team that didn't. For example, let's say there's an 11-2 team that wins its conference, beats five top-25 teams and loses close games early in the season to a pair of teams that finished unbeaten and are already in the Final Four. Would it get enough of a bounce with the committee to slip past a 12-0 team that had just one or two top-25 victories? And, oh, by the way, would that be fair?
If that is the case -- that strength of schedule receives major consideration -- that would encourage better scheduling and fewer patsy, buy-a-victory games. That would be a huge win for fans. Who can get enough of Oregon-LSU or USC-Ohio State?
How revenue distribution works out also will be interesting to see. How much will a conference get for putting two teams in a final four? And what does a conference get when it places no teams in the final four? A few consecutive seasons with one conference reaping monetary rewards from the former and another suffering through the latter could end up creating a sizable revenue disparity.
And, perhaps, a new breed of haves and have-nots.
Speaking of that: Are we certain that conference alignments will be as they are today in 2014? Probably not, right? Every time we feel like stability has arrived after an expansion frenzy, we only find out about more reckless eyeballing.
At the very least, we are living through interesting times in college football. Just five or so years ago, these sort of cataclysmic changes didn't seem possible.
So, for a third time: Cautious optimism.
What's the cheer for that?
June, 27, 2012
6/27/12
9:00
AM ET
Now that the framework for a college football playoff has been rubber-stamped, we are again left to wonder how these historic changes affect the Big East.
I would love to give you the league perspective, but Big East interim commissioner Joe Bailey has not issued any comments just yet. As I explained last week, the Big East essentially got only one thing it wanted out of this -- a four-team playoff. That is a pretty huge and historic deal, no question.
More access is good for the Big East. The commonly held belief is that an undefeated Big East team would find itself in a four-team playoff. Let us remember that the Big East has had a top-four finish in the final BCS standings more recently than the ACC and Big Ten. So I see the bright side there.
But here is where things might get just a tad complicated.
The Big East wanted conference champions only. No dice. The Big East did not want a selection committee. No dice.
So what the league is left with is the real possibility it could be on the outside looking in, even with an undefeated team in the final top four. Again.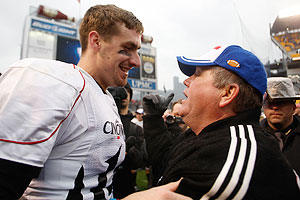 Jared Wickerham/Getty ImagesCoach Brian Kelly, right, and QB Tony Pike helped Cincinnati to an unbeaten 2009 regular season.
I present to you an interesting piece ESPN Insider Travis Haney recently wrote. He
takes a look at the 2009 season

and how a selection committee may have chosen a four-team playoff. You all remember Cincinnati went undefeated and finished No. 3 in the final BCS standings. Most all of us have assumed Cincinnati would have been a no-brainer to get in.
But take a look at the teams in the final top six. Five teams went undefeated, including Boise State. Then you have a Florida team that went 12-1, with its only loss in the SEC title game to Alabama. Haney argues that Cincinnati would have been left out of the mix. There are some great quotes Haney uses to back up his conclusion.
I think Florida, even after getting stomped in the SEC title game, would have easily gotten in. The Gators were No. 1 for the entire season, until their loss to Alabama. And they also had Tim Tebow. Same argument that held for Alabama and LSU this year would have held for Alabama and Florida that season. I can just hear the chatter now -- should Florida really be penalized for being second-best in the best, best, best, most amazing conference in America?
So the fourth and final spot would have come down to Cincinnati and TCU. And I don't think that would have been a slam-dunk decision. First of all, TCU was ranked ahead of Cincinnati in the AP and coaches' polls. Those polls will still be around for a selection committee to consult; the BCS standings are gone. Look at strength of schedule and quality wins -- TCU beat Clemson, Virginia, Utah and BYU. Cincinnati beat Oregon State, USF, Pitt and West Virginia.
It is not impossible to believe the Bearcats would have been left out, despite an undefeated season. Future Big East member Boise State would have been as well.
So you see, there are no guarantees for the Big East moving forward, particularly if there are years when there are many undefeated teams, or years when there are no undefeated teams. What does not change is the Big East MUST go undefeated to have any shot. Then the league has to hope it has played a strong enough nonconference schedule, and has quality wins over Top 25 teams. Then it has to hope its potential representative has a modicum of national respect and is ranked in the top two of the final polls.
Why top two? Because it is a lot easier to justify leaving out teams ranked Nos. 3 or 4.
I hear the argument that the pressure and scrutiny on the selection committee will be too great for it to overlook an undefeated team from a conference like the Big East. The skeptic in me says otherwise. I can hear the justification of bringing in a one-loss SEC team over an undefeated Big East team because of superior strength of schedule. Most any decision can be justified. Just ask the NCAA hoops selection committee.
There is never going to be a perfect system. The powerful forces in college football have seen to it that their interests are somewhat protected with a selection committee. The Big East did not want this type of format to select the final four teams, but there is no choice.
Now we wait and see whether access really has changed.
June, 27, 2012
6/27/12
9:00
AM ET
As the details spilled out Tuesday evening concerning the newly created four-team playoff that will determine college football's national champion beginning in 2014, my thoughts drifted back to one of Winston Churchill's most famous quotes.
No one pretends that democracy is perfect or all-wise. Indeed, it has been said that democracy is the worst form of government, except for all those other forms that have been tried from time to time.
The same can be said about this new era in college football we're about to enter. A seeded, four-team playoff won't solve all of the problems. There still will be teams squawking about being left out or not getting a fair shake, and even though the contract is for 12 years and runs through 2025, it's only a matter of time before we see a serious push to expand the field to eight teams.
But given the way college football has settled on its national champion up until this point, a four-team playoff makes all the sense in the world.
It's sure to make a lot of cents, too.
From the SEC's perspective, a seeded, four-team playoff gives the league a better chance to get two teams to the dance every year. There are two more spots available than under the old system, when only the top two played for the title.
But the fact that a selection committee will be doing the picking, thus replacing the BCS standings, is anything but ideal for the SEC.
[+] Enlarge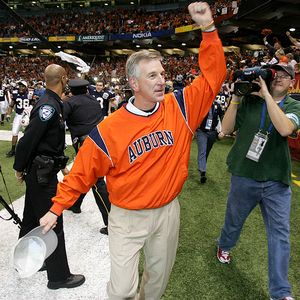 Doug Keese/US PresswireTommy Tuberville's unbeaten 2004 Auburn squad was left out of the BCS title game but would almost certainly have been in a four-team playoff.
Polls and computer rankings were typically going to favor the SEC when everything else was close. The coaches and players on that 2004 Auburn team might not agree. But, again, we're talking about four spots now and not just two.
Those unbeaten Tigers were left out of the BCS National Championship Game, but they would have made it in had a four-team playoff been in effect during that season. We still don't know who's going to be on the committee, how many people are going to be on the committee and how much weight the committee will give to certain factors.
For instance, will winning your conference championship trump making it through a killer schedule and posting key victories away from home along the way?
Go back to the 2009 season. Would Florida, which was No. 5 in the final BCS standings following its loss to Alabama in the SEC championship game, have been included in a four-team playoff that was selected by a committee?
My guess is that the Gators would have benefited from a selection committee and received the fourth spot over unbeaten Cincinnati, which had finished No. 3 in the final BCS standings.
As fate would have it, Florida destroyed Cincinnati 51-24 in the Sugar Bowl that postseason.
In 2008, Alabama was No. 4 in the final BCS standings after going unbeaten in the regular season and then losing a close one to Florida in the SEC championship game. In that scenario, the Crimson Tide would have squeezed into a four-team playoff based on their ranking in the BCS standings.
However, had a search committee been in place, Alabama might have fallen out of the playoff equation. Oklahoma, USC, Texas, Texas Tech and Penn State each had just one loss, while Utah was unbeaten. Florida also had a loss, but was a lock after beating the Crimson Tide in the SEC championship game.
It's worth noting, too, that Utah whipped Alabama 31-17 in the Sugar Bowl.
The bottom line is that a second SEC team that goes 11-1 and doesn't win the league crown isn't going to be guaranteed a place at the dance just because there are two more spots now.
Every year, the teams are going to be dissected, and from the sound of it, the committee will place a large degree of importance on winning your conference title.
More than ever, SEC teams will need to have an impressive nonconference win on their resumes. Winning away from home will be important, too.
Those of us who've been around this league for years swear by how grueling the grind is of making it through eight SEC contests. Will the commissioner from the Mountain West Conference properly respect that grind when he's serving his term on the committee and making his selections? Likewise, will the athletic director from Pittsburgh take that grind into account when he's pondering his selections?
There are still details to be finalized. But my best advice for those in SEC land is to wade cautiously into this brave, new playoff world.
What might look like a sure thing through SEC eyes -- as in a team that's 11-1, ranked highly in the polls, but doesn't make it out of its own division -- might not look so attractive to those on the committee who are more impressed by conference championships.
Granted, all conferences aren't created equal, which has been the SEC's rallying cry during its streak of six consecutive national titles.
The SEC considers itself a cut above.
We'll see if those on the selection committee agree.
June, 25, 2012
6/25/12
2:30
PM ET
A new era of college football has begun, but for the ACC, the task remains the same: Win big or go home. On Tuesday afternoon in Washington, D.C., the presidential oversight committee
approved a four-team playoff
proposal that will go into effect for the 2014 season.
Will any ACC teams be in contention to play in the first national semifinals in January 2015? Will the conference benefit from the new format?

By having the top four teams instead of the top two, the ACC's chances will automatically increase, but so will everyone else's. And if a selection committee gets the final word, there's no telling how the perception of the conference will factor into the process. Those who have been paying attention to the league, though, should see it is getting stronger. The recruiting has been going well, particularly for Florida State and Clemson, but also at schools like Miami, Virginia Tech, Virginia and North Carolina.
The bottom line, though, is this: Even
the ACC's best team
hasn't been good enough
.
Since Virginia Tech joined the ACC for the 2004 season, coach Frank Beamer has compiled a record of 84-24 (.778), the highest winning percentage in league history. During that time, the Hokies have won four ACC championships (2004, 2007, 2008, 2010) and had 10 or more wins in each of the past eight seasons, the only school in the nation to have done so.
Yet the Hokies have finished in the top five of the final BCS standings once since joining the league.
If you look back at
the history of the final BCS standings
, the ACC has had two teams finish in the top five: No. 3 Virginia Tech (11-2) in 2007, and No. 2 Florida State in 2000. Miami and Virginia Tech were also top-five teams in 2000, 2001 and 2002, but that was before they joined the ACC.
It doesn't matter what system college football decides on. In order for the ACC to stand a chance at playing for the national title, it needs to produce more undefeated and/or one-loss teams. Here's a look back at the ACC's top finishers in the final BCS standings under the current system:
2011:
No. 11 Virginia Tech (11-2)
2010:
No. 13 Virginia Tech (11-2)
2009:
No. 9 Georgia Tech (11-2)
2008:
No. 14 Georgia Tech (9-3)
2007:
No. 3 Virginia Tech (11-2)
2006:
No. 14 Wake Forest (11-2)
2005:
No. 8 Miami (9-2)
2004:
No. 8 Virginia Tech (10-2)
2003:
No. 7 Florida State (10-2)
2002:
No. 14 Florida State (9-4) (No. 1 Miami)
2001:
No. 10 Maryland (10-1) (No. 1 Miami)
2000:
No. 2 Florida State (11-1) (No. 3 Miami, No. 5 Virginia Tech)
I know, I know … 2000 would have been a great year for the ACC. If it happened once, it can happen again, right?
Right??
The problem with the ACC's history in the BCS is that you have to go back to Maryland in 2001 to find the last one-loss team. The ACC has gone an entire decade without producing a one-loss team heading into the bowl season. According to David Teel at the Daily Press, the SEC has had 12 undefeated or one-loss teams during that span, the Big Ten has had 11, and the Pac-12 and Big 12 followed with 10 each.
A four-team playoff isn't going to change that, but maybe Florida State, Virginia Tech and Clemson can.