NCF Nation:

121510-bowl-miss
December, 15, 2010
12/15/10
1:04
PM ET
The most frustrating part for Ole Miss this season was that a bowl game was supposed to be built into the schedule.

That's how accommodating the Rebels' schedule looked back in August. Four of the first five games were at home, and the only road date in that stretch was at Tulane. Ole Miss figured to be favored in all of the home games, too, against FCS foe Jacksonville State, Vanderbilt, Fresno State and Kentucky.
Even better, there was a bye week after those first five games heading into the Alabama game.
Going to Tuscaloosa with a 5-0 record, not to mention some momentum and some rest, seemed like a logical expectation.
In the SEC, there's no such thing as logical expectations.
Sure enough, there was drama in the Ole Miss camp the week of the first game. Coach Houston Nutt made the decision to bring in
Jeremiah Masoli
at quarterback following his troubled past at Oregon. Initially, Masoli was ruled ineligible this season, but won an appeal a few days before the opener.
From that point on, there were very few wins for Ole Miss, which limped to a 4-8 finish.
The Rebels lost 49-48 in double overtime in the opener to Jacksonville State, a shocking loss and a telling loss. The strength of this team was supposed to be the front seven on defense, and the middle of the Rebels' defensive front played pretty well most of the season. But junior college newcomer Wayne Dorsey struggled at end, and when senior Kentrell Lockett went down at the other end with a knee injury, the Rebels were hurting on the edge. (Lockett has applied for a sixth year of eligibility.)
They were hurting even more in the secondary, where they struggled to cover people and gave up a ton of big plays.
Their final defensive numbers were ugly. They finished last in the SEC in scoring defense, giving up a league-high 52 touchdowns, and were 11th in total defense. They were also last in pass efficiency defense and gave up a league-high 24 touchdown passes.
The Rebels allowed 31 or more points in six of their eight SEC games, which means they were always having to outscore teams. That's never a good thing in this league.
In reality, they never fully recovered from their brutal start. Not only did they lose to Jacksonville State, but they lost two weeks later at home to Vanderbilt by two touchdowns.
During the middle part of the season, Ole Miss did seem to compete better and play some teams tougher. But then came the 52-14 embarrassment at Tennessee where the Rebels all but quit in the second half.
Injuries played a key role in how poorly the Rebels played on defense this season. It's a defense that had played lights out the previous two seasons under defensive coordinator Tyrone Nix.
Growing up in the secondary and getting better back there will be critical next season if the Rebels are going to get back to where they were defensively in 2008 and 2009. They also need more production from their defensive ends.
Nutt took some heat for bringing in Masoli in the first place. How much that affected team chemistry is debatable, but Masoli's gone now.
Nathan Stanley
had won the job before Masoli came aboard. He'll get his shot next season to lead this team unless junior college newcomer Zach Stoudt beats him out. There's also multi-purpose threat
Randall Mackey
, who was redshirted last season, and there's talk that West Virginia's
Barry Brunetti
is considering transferring to Ole Miss.
The Rebels showed a lot of promise in their offensive line this season, and junior running back
Brandon Bolden
had a breakout season both running and catching the ball.
Nutt has already said himself that there were too many off-the-field issues. He had to suspend several players and vows to crack down on the discipline issue.
The Rebels' schedule next season is more difficult. They open at home against Brigham Young and also have Georgia at home and then a trip to Fresno State, all during the first five weeks of the season.
If they come out of that stretch with two or more losses, it's going to be an uphill climb again to get to six wins and qualify for a bowl game.
Not much will be expected from the Rebels next season, and Nutt has traditionally been at his best in that underdog role. That said, look for Ole Miss to bounce back next season with its third bowl appearance in four seasons under Nutt.
Nix isn't going to have two bad defenses in a row. And on offense, the running game should be even more explosive in 2011.
December, 15, 2010
12/15/10
1:03
PM ET
In 2009, coach Rick Neuheisel's second season, UCLA won a bowl game and finished 7-6. That represented clear improvement from the Bruins' 4-8 finish the season before.
So that was progress.

But UCLA faceplanted in 2010, returning to its 4-8 record of two years before. Neuheisel entered the season talking about a wide-open Pac-10 and bowl hopes. At the end of the season, more than a few fans were grumbling about regression and wondering if Neuheisel was the right guy for the job.
ESPN.com is taking a look today at teams that didn't earn bowl berths in 2010, breaking down how the hopes of August were dashed by December.
What went wrong
? Lots of things went wrong, but if you want to name a starting point it was quarterback
Kevin Prince
's inability to stay healthy -- and we're not just talking about the knee injury that ended his season. During the Bruins' 0-2 start, back and shoulder injuries prevented Prince from practicing. In fact, Prince essentially missed all of preseason camp, so he had little to no preparation going into those games in the new pistol offense. And when he did practice? UCLA looked impressive in wins over Houston and Texas, scoring 65 points in the process. But he first hurt his knee at Texas, and his return for the visit to California on Oct. 2 was a disaster. Are we saying the season would have been different had Prince been healthy for 12 games? Yes. But we're not going to re-engage in the whole
Prince vs.
Richard Brehaut
debate, because there were plenty of other issues this season, including Neuheisel's obvious frustration with both coordinators -- Norm Chow on offense and Chuck Bullough on defense. And for good reason: The Bruins were sloppy -- their 29 turnovers were six more than any other Pac-10 team -- and statistically terrible. They ranked ninth in the Pac-10 in scoring offense, total defense and run defense. They ranked 10th in passing offense and total offense. But it didn't really become a lost season until a feeble effort at Washington on Nov. 18 became defeat No. 6. That was a team the Bruins beat last year, but the Huskies seemed more hungry to get bowl eligible after falling short in 2009. So the teams went off in different directions.
How can it be fixed
? First, Neuheisel has to be confident in his coaches. And his coaches need to be confident in -- and loyal to -- him. He'd take a PR hit for dumping Chow, who's darn near an offensive coaching legend, but it's his team and it might be the right call, particularly if he wants to stick with the pistol. Question is: Can he get an A-list replacement(s)? Once the coaching staff is squared away, Neuheisel needs to turn his attention to quarterback. Is it time to move on from Prince? Just like passing accuracy, durability is a requisite quality -- in fact, one of the most important -- for a football player. But if Prince is put on the backburner, can Brehaut get his mental game together? Or is it time to just hand the keys to incoming freshman Brett Hundley this fall? Oh, and by the way, the offensive line must be rebuilt. There's some young talent on defense, but the consistency will need to take about four steps forward.
Bowling again in 2011
? Just like this year, the Bruins likely will be picked in the bottom half of the conference during the 2011 preseason. The nonconference schedule includes a road opener at Houston and a visit from a Texas team that will surely be hungry for revenge. The good news on the schedule? No Oregon. If you squint hard enough at the schedule, you can see six wins. Maybe seven. More than that seems unlikely. Six might be enough for a bowl berth. And Neuheisel may need at least six wins in order to survive into season five.
December, 15, 2010
12/15/10
1:02
PM ET
Why did Purdue miss a bowl for the third consecutive season?
There's an easy answer and a more complicated one.
No college football team in the country endured more major injuries to key offensive players than Purdue did in 2010. The Boilers lost starting running back
Ralph Bolden
, the Big Ten's third-leading rusher in 2009, to an ACL tear in spring ball. All-Big Ten receiver
Keith Smith
was the next to go down,
tearing both his ACL and MCL
after recording 18 receptions in the first two games.

More bad news arrived in Week 4 as starting quarterback
Robert Marve
tore his ACL against Toledo
, marking the second knee ligament tear for the Miami transfer in 15 months. Since backup quarterback
Caleb TerBush
was ruled ineligible just before the season, Purdue had to turn to a redshirt freshman,
Rob Henry
, who had auditioned at other positions in spring ball.
But Henry wasn't immune to the injury bug, either, suffering a laceration on his throwing hand against Ohio State after leading Purdue to back-to-back Big Ten wins.
Justin Siller
, the team's No. 2 wide receiver and a former starting quarterback in 2008, was sidelined with a foot injury, so Purdue turned to true freshman
Sean Robinson
at quarterback. When Siller returned to the field Nov. 13 against Michigan, he started at quarterback but re-injured his foot on the first play from scrimmage.
It was that kind of season for Purdue.
The injury wave certainly qualifies as a valid reason why the Boilers missed a bowl.
But Purdue still had a chance to go to the postseason despite all its misfortune on the health front.
The Boilers played Wisconsin tough for a half and had chances to win each of their final three games, squandering late leads against both Michigan State and Indiana. They boasted the Big Ten's best defender in end Ryan Kerrigan, the Big Ten's top freshman defender in cornerback Ricardo Allen, an improved defensive front and several offensive playmakers.
Why couldn't the Boilers get over the hump?
They still made too many major mistakes at inopportune times, like getting a punt blocked near the goal line late in the Michigan State game. Purdue ranked near the bottom of the Big Ten in several special-teams categories and struggled on third downs on both sides of the ball.
The Boilers certainly have the potential to end their bowl drought in 2011, especially if all the injured players get healthy. Smith has applied for a sixth year of eligibility and should receive it, and the return of players like Marve and Bolden will spark the league's worst offense. A new-look secondary this fall becomes a more experienced unit in 2011 with players like Allen and safety Logan Link leading the way.
Purdue's biggest challenge will be replacing Kerrigan. Although the Boilers led the Big Ten in both sacks (33) and tackles for loss (91), Kerrigan accounted for big chunks of those totals (12.5 sacks, 26 tackles for loss). Coach Danny Hope needs linemen like Kawann Short and Bruce Gaston to keep making progress.
It's unrealistic to think Purdue will replace Kerrigan, but the team's depth throughout the defense should be better in 2011.
And if the offense gets healthy, the Boilers will be bowling next year.
December, 15, 2010
12/15/10
1:00
PM ET
We're taking a look at some of the nation's higher profile bowl misses in 2010, and no one personified that in the Big 12 more than the
Texas Longhorns
.

How it happened:
Well, for starters, Colt McCoy and Jordan Shipley took their talents to Ohio and the NFL. No receiver ever emerged to fill Shipley's void, and all other problems aside, first-year starting quarterback
Garrett Gilbert
threw 10 touchdowns and 17 interceptions. Good luck finding those kind of numbers on a winning team. No other Big 12 quarterback threw more than 13 interceptions, and only three had double-digits. Additionally, Texas' commitment to a power running game throughout the spring and fall was a certified flop. The Longhorns never found a consistent back, and the team's leading rusher,
Cody Johnson
, finished with just 592 yards. No one else had more than 400.
The defense had a good season on the stat sheet, but a first-quarter lapse against Oklahoma and a poor second half against UCLA resulted in a pair of early-season losses that derailed the season. The Longhorns still managed to beat Nebraska in Lincoln, vaulting them back into the top 25. But the win was a result of the Huskers getting caught off guard by Gilbert using his legs to jump out to an early lead, while the defense corraled
Taylor Martinez
. Texas' only win the rest of the season came over Florida Atlantic.
What needs to change:
Texas has to find offense from somewhere. Freshman receiver
Mike Davis
offers hope, but of the Longhorns touted freshman receivers from the 2010 class, he was the only one to make a real contribution.
Darius White
didn't play much, and finished with just one catch. Gilbert must improve, and look for the Longhorns to ride tailback
Malcolm Brown
, a much-hyped 2011 commitment, in next year's offense.
Will they go bowling in 2011:
Uh, we'll wait and see when they fill the coaching staff. Defensive coordinator Will Muschamp bolted for Florida, offensive coordinator Greg Davis was forced to resign and two other assistant coaches had to retire. What the Longhorns look like next year is anyone's guess. You'd like to think boatloads of top-tier recruits will get you to a bowl game regardless, but we saw this year that's not necessarily the case.
December, 15, 2010
12/15/10
12:59
PM ET
Wake Forest was one of three ACC teams that will be home for the holidays this year. Since the Demon Deacons won the ACC title and played in the Orange Bowl in 2006, Wake fans have had higher expectations. This is the second season, though, that the Deacs have been home for the holidays. Here's a breakdown of this year's situation and a look ahead:

How it happened:
A combination of factors added up to a 3-9 season, but coach Jim Grobe pointed to two main reasons. The first was a tough schedule that included nine bowl teams and back-to-back road trips to Stanford and Florida State. "I thought the schedule was as hard as it's been since I've been here in 10 years," he said. "Hands down as hard, probably." The other reason was youth. Wake had to start seven freshmen (three true) and six sophomores. Three freshmen started on the defensive line, and four freshmen were in the starting lineup in the secondary (two true at corners and two redshirts at safety). And of course, the most noticeable rookie was at quarterback, where a series of injuries forced the Deacs to turn to true freshman
Tanner Price
. It added up to a lot of growing pains. "When you do that at Wake Forest," he said, "you're in trouble. That's not our plan. Our plan is to try to play older players."
What needs to change:
The Deacs aren't off their schedule for redshirting players, but Grobe said "we've just got to have more bang for our buck when these kids get to be juniors and seniors." There were only seven scholarship seniors out of a class of 14 that were still on the roster this year, and only four of them started. In addition to getting more production out of its upperclassmen, Wake Forest has to continue to develop the younger players who were forced to play earlier than expected this year.
Bowl bound in 2011?
Wake Forest will be a good football team, but it has to get through its nonconference schedule with at least three wins. The Deacs open at Syracuse, host Notre Dame, and conclude the season with Vanderbilt again. Gardner-Webb is an FCS program the Deacs should beat, but the cross-divisional games include Virginia Tech and a road trip to North Carolina. The Deacs beat Vandy this year, and the Commodores will be in a transition next year under a new staff. They should come away with three wins, which means they'll be back in the postseason in 2011.
December, 15, 2010
12/15/10
11:00
AM ET
After two straight Big East titles and BCS game appearances, Cincinnati came crashing down to earth with a 4-8 record in 2010.
Several factors conspired against the Bearcats in this disappointing season. There was the coaching transition, of course, as Butch Jones took over for Brian Kelly. There was a difficult early schedule that included games at Fresno State and NC State and versus Oklahoma, all of which Cincinnati lost. Injuries played a part, as starting receiver
Vidal Hazelton
went down in the opener with a torn ACL, and the team's most experienced cornerback (Dominique Battle) missed most of the year with a knee injury.
The Bearcats led the league in points scored and total offense but finished last in points allowed thanks to an undersized, inexperienced defense that gave up nearly 34 points per conference game. Unlike last season, when they could win shootouts late in the year because of their prolific offense, they continually ended their own drives with mistakes. Their abysmal minus-15 turnover margin was second-worst in the FBS.
[+] Enlarge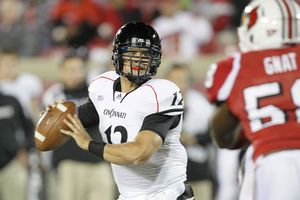 AP Photo/Ed ReinkeQuarterback Zach Collaros is part of a strong returning nucleus on offense for Cincinnati.
Intangibles were at play as well. Jones had to fight a sense of entitlement that stemmed from those two straight championships. Senior center Jason Kelce told the Cincinnati Enquirer earlier this month that the team lacked the hunger it had in previous years.
So what can Cincinnati do to get back to the postseason in 2011?
Jones has a strong nucleus returning. The team loses only six starting seniors, none of them on defense. Quarterback
Zach Collaros
, running back
Isaiah Pead
and receiver
D.J. Woods
are all among the best at their position in the Big East, so the offense should thrive again, especially with a year of Jones' system under their belts. The Bearcats will miss start wideout
Armon Binns
, but freshman
Anthony McClung
showed promise late in the year, and former star recruit Dyjuan Woods and junior college transfer
Kenbrell Thompkins
will become eligible.
The defense remains an issue, and this offseason will be crucial in the weight room for the Bearcats to add some bulk. Jones has to fill in some gaps through recruiting and may look to a junior college player or two to provide immediate help.
Next year's schedule will be slightly easier, with difficult games against Tennessee and NC State but highly winnable contests against Austin Peay, Akron and Miami of Ohio. For the first time in a few years, the Bearcats won't be picked among the favorites for the Big East. But they should improve enough to get back to a bowl in 2011.
December, 15, 2010
12/15/10
11:00
AM ET
Houston is not going bowling for the first time since 2004. Here is a quick look at what went wrong this season.

How it happened:
Easy. Heisman hopeful
Case Keenum
tore his ACL in the third game of the season against UCLA, and backup
Cotton Turner
broke his collarbone in the same game, leaving Houston with a true freshman quarterback in
David Piland
. The Cougars tried to rely on the run to take the pressure of Piland, but teams were daring them to beat them with the pass. Piland was able to throw for a bunch of yards -- 2,641 -- but he completed less than 60 percent of his passes and threw 14 interceptions. The running game was inconsistent, and so was the defensive effort under first-year coordinator Brian Stewart. The Cougars ranked No. 104 in the country in total defense, only a very slight improvement over last season. They also gave up an average of 32 points a game, up two points from last season.
What needs to change:
Houston was thrown into an impossible situation with the injuries to Turner and Keenum. Coach Kevin Sumlin had every intention of redshirting Piland this season. The Cougars are awaiting word on Keenum's status for next season. They have applied to the NCAA for a sixth year of eligibility. So much rests on what happens at quarterback. The defense has got to show signs of improvement after switching to the 3-4. A transition period is expected, but Sumlin cannot wait much longer to see improvements with this unit.
Bowling next season?
Yes, with or without Keenum. This is a no brainer of Keenum returns, but even if Turner is in charge, the Cougars have a great shot at going back to a bowl game. The backfield will be loaded, too, with the return of
Bryce Beall
and
Michael Hayes
.
Charles Sims
should also be back after he was ruled academically ineligible for this season. Leading receiver
Patrick Edwards
also returns.