NCF Nation:

2009 bowl best 011110
January, 11, 2010
1/11/10
1:23
PM ET
The Pac-10 went 2-5 during the bowl season, so it wasn't difficult to find many "worsts."
But there were some good things that shouldn't be overlooked.
Best performance, defensive player
: Oregon's undersized but quick defensive end Kenny Rowe set a Rose Bowl and Oregon bowl record with three sacks in a losing effort against Ohio State. He finished the season with 11.5 sacks, which led the Pac-10.
Best performance, offensive player
: In his final game in a USC uniform, receiver
Damian Williams
caught 12 passes for a season-high 189 yards in the Trojans' 24-13 win over Boston College in the Emerald Bowl. It's fair to say that Williams was USC's most consistent player over the entire season.
Worst performance, period
: There was nothing good about Arizona's 33-0 loss to Nebraska in the Pacific Life Holiday Bowl. Nothing. Feel free, though, to look at this
box score
and try to find something.
Best play
: With UCLA trailing Temple 21-20 in the fourth quarter, and the Owls pinned on their 8-yard line, Bruins outside linebacker Akeem Ayers -- after falling down on his initial pass-rush burst -- leaped into the air and intercepted
Vaughn Charlton
's pass and gamboled 2 yards into the end zone.
Worst play
: Trailing 19-17 in the Rose Bowl, Oregon faced a second-and-2 from Ohio State's 18-yard line. A huge hole opened. But running back
LeGarrette Blount
couldn't handle a high handoff from quarterback
Jeremiah Masoli
. The Buckeyes recovered the fumble and dominated the rest of the game.
Worst play, II
: After BYU tied Oregon State 7-7 in the MAACO Bowl Las Vegas, the Beavers took over at their 40-yard line. On second down, running back
Jacquizz Rodgers
couldn't handle a backward pass from
Sean Canfield
, and Matt Bauman returned the loose ball 34 yards for a touchdown. That was the first fumble of Rodgers' career, and the Cougars dominated the game from then on.
Best performance under tough circumstances
: Oklahoma knew Stanford had no passing offense without quarterback
Andrew Luck
. So it ganged up on running back
Toby Gerhart
. Nonetheless, the Heisman Trophy runner-up rushed for 135 yards and two touchdowns on 32 carries in a rugged effort in the Sun Bowl loss.
Worst pass defense
: California made Utah true freshman quarterback
Jordan Wynn
look like an All-American in the Poinsettia Bowl. Against what was supposed to be one of the nation's best secondaries heading into the season, Wynn completed 26 of 36 passes for 338 yards with three touchdowns. He shook off an early pick-six to run the Bears ragged.
Best second-half defense:
UCLA held Temple to 41 yards and zero points in the second half of the EagleBank Bowl.
Worst performance you didn't see coming
: Canfield, Oregon State's quarterback, earned first-team All-Pac-10 honors this season. He has been invited to the Senior Bowl and is going to have an NFL career. Nonetheless, he had a horrible Las Vegas Bowl and was outplayed by BYU's
Max Hall
, who threw three touchdown passes. Canfield completed just 19 of 40 passes for 168 yards with an interception and no touchdowns, and he seemed completely befuddled by a strong wind and the Cougars' secondary.
Best unsung performance
: USC fullback
Stanley Havili
always seems to sneak up on folks. In the Trojans' win over Boston College, he caught six passes for 83 yards with two touchdowns, including a 53-yard jaunt on a screen pass. He also had a critical tackle after one of
Matt Barkley
's two interceptions.
January, 11, 2010
1/11/10
1:20
PM ET
The 2009 bowl season has come and gone, but it's not too late to take a look at the highlights and lowlights involving the SEC's postseason experience thanks to our annual bowl edition of Best/Worst:
Best player:
Tim Tebow
is a repeat selection, which is probably fitting given the marvelous career he had at Florida. The Gators' senior quarterback went out in style by carving apart Cincinnati in the Allstate Sugar Bowl. He racked up 533 yards of total offense, breaking Vince Young's record for total offense in a BCS bowl game, and was 31-of-35 passing for a career-high 482 yards and three touchdowns in Florida's 51-24 rout.
Best hit:
Most people in and around the Alabama football program already knew that sophomore defensive end Marcell Dareus was a star in the making. But he played a starring role in Alabama's 37-21 victory over Texas in the Citi BCS National Championship Game. It was Dareus' crunching hit on
Colt McCoy
that knocked Texas' star quarterback out of the game on the Longhorns' fifth offensive play, totally changing the complexion of that contest.
Worst Gatorade shower:
Not only did the Alabama players dump most of it on Nick Saban's shirt, but they bonked him upside the head with the big cooler. Good thing Eryk Anders is a senior. Otherwise, I could see some serious sprints in his future. "The intensity of the dump was the problem," Saban joked.
Best special teams:
In its 44-20 win over Texas A&M in the AdvoCare V100 Independence Bowl, Georgia blocked a field goal attempt, returned a kickoff for a touchdown, recovered a high punt snap by Texas A&M to set up a touchdown and blocked a punt, which led to another touchdown. Brandon Boykin had the kickoff return for a touchdown, his third of the season, which tied an SEC record.
Worst offense:
South Carolina probably should have won this award last year. But there's no probably to it this time around. The Gamecocks were about as anemic offensively as you can be in their 20-7 loss to Connecticut in the Papajohns.com Bowl. They were held to 205 yards of total offense and didn't gain a first down until their sixth offensive series. South Carolina coach Steve Spurrier called it a "sad" effort, and that pretty well sums it up.
Best interception:
Auburn's Walter McFadden actually had two interceptions in the 38-35 overtime win against Northwestern in the Outback Bowl. His first one set up the Tigers' first touchdown, but his second one was the real gem. Northwestern looked like it was about to tie the game when McFadden played the pass perfectly in the end zone, tipped it to himself and raced 100 yards down the sideline for a touchdown.
Worst field:
Not only was it the worst field of the bowl season, but the turf at the Florida Citrus Bowl Stadium for the Capital One Bowl matchup between LSU and Penn State was as bad as I've ever seen – and that includes high school games. There were clumps of turf flying up twice as big as footballs. In a word, shameful.
Best run:
Ole Miss'
Dexter McCluster
gave us something to remember him by with his finish to this season. It's been a while since the conference has seen a player as electrifying as McCluster. His 86-yard touchdown run against Oklahoma State in the AT&T Cotton Bowl was vintage McCluster. One or two moves, and then he's gone. McCluster also became the first player in SEC history to rush for 1,000 yards and have 500 yards receiving in the same season.
Worst catch:
Tennessee's
Denarius Moore
dropped what would have been a sure touchdown pass on a deep ball with just under 13 minutes to play. He was several steps behind the defense, and the pass hit him in his hands. A touchdown there would have gotten the Vols right back into the game. Instead, they wilted and were pummeled 37-14 by Virginia Tech in the Chick-fil-A Bowl.
Best field goal defense:
East Carolina kicker Ben Hartman was just 1-of-5 on his field goal attempts in Arkansas 20-17 overtime win over the Pirates in the AutoZone Liberty Bowl. Hartman missed his last three attempts, including a 39-yarder that would have won it at the end of regulation and a 35-yarder during the Pirates' possession in overtime.
January, 11, 2010
1/11/10
1:05
PM ET
By
Tim Griffin
| ESPN.com
Here a look back at some of the highs and lows of the Big 12's bowl games.
Best game:
In the grand scheme of things, Iowa State's 14-13 triumph over Minnesota in the Insight Bowl was a matchup of two 6-6 teams. But the Cyclones' pulsating victory still provided much excitement for the Cyclones.
Alexander Robinson
rushed for 137 yards in the victory that was settled by a late fumble recovery by ISU cornerback Ter'ran Benton, who was playing in his first game since breaking his leg on Oct. 24. Benton pounced on the turnover by Minnesota's
MarQueis Gray
and the ISU did the rest with a clock-killing drive that provided an unexpected bowl victory for coach Paul Rhoads. Yes, that's the same team that was expected to struggle to stay out of the North Division cellar before the season.
Best relief performance:
Texas Tech starting quarterback
Taylor Potts
had a strong game in the Valero Alamo Bowl, but the Red Raiders needed a spark as they trailed Michigan State 31-27 early in the fourth quarter. Backup quarterback
Steven Sheffield
responded by completing his first six passes after relieving Potts, driving for two touchdowns to claim the victory. Potts earned the game's most valuable player honors, but Sheffield finished by completing 9-for-11 passes for 88 yards as he directed the comeback.
Best use of bowl practice:
Nebraska's maligned offense showed some unexpected punch against Arizona in the Pacific Life Holiday Bowl. Nebraska offensive coordinator Shawn Watson took advantage of bowl preparations to rebuild quarterback Zac Lee's confidence and incorporate freshman
Rex Burkhead
into the Wildcat formation. The result was a 33-0 victory over the Wildcats with 223 yards of rushing -- most for the Cornhuskers since the first game of the season.
Best bow to youth:
Injuries forced Oklahoma to employ freshmen defenders including defensive linemen David King, defensive tackle Jamarkus McFarland and cornerback Demontre Hurst against Stanford in the Brut Sun Bowl. The trio came up big throughout the game to spark the Sooners' 31-27 victory over the Cardinal. "The future's bright," Oklahoma defensive ends coach Chris Wilson understated to the Oklahoman after the game.
Most significant injury:
Texas moved the ball smartly against Alabama, gaining 26 yards on five plays with
Colt McCoy
in charge. But McCoy went down with nerve damage to his right shoulder, the Longhorns' offense unraveled during the rest of the half with backup
Garrett Gilbert
at quarterback. Alabama took advantage to charge a 24-6 halftime and take control of the Citi BCS National Championship Game.
Worst reaction to a defensive formation:
Navy defensive coordinator Buddy Green dared Missouri to run the ball by using an alignment with two down linemen. Even with
Derrick Washington
in the backfield, the Tigers could produce only 65 yards rushing as they repeatedly passed and sputtered in a 35-13 loss to the Midshipmen.
Worst finish:
Mississippi's defense took over down the stretch, forcing turnovers on the Cowboys' final six turnovers. Zac Robinson's offense contributed four interceptions and his team lost two fumbles as the Rebels claimed a 21-7 victory over Oklahoma State in the AT&T Cotton Bowl.
Worst play call:
Texas could have gone to halftime trailing by only 11 points. But Texas coach Mack Brown elected to have Garrett Gilbert attempt a seemingly safe shovel pass to
D.J. Monroe
. The ball was batted around and finally ended up in the arms of Alabama defensive lineman Marcell Dareus, who then stiff-armed Gilbert to the ground and pirouetted around Kyle Hix en route to a 28-yard touchdown return.
Worst officiating call:
With about nine minutes remaining in a tie game, Oklahoma State had the ball on the Ole Miss 19-yard line and appeared poised to claim the lead. Ole Miss defensive tackle Jerrell Powe looked to have obviously jumped offsides on a snap as he charged past center Andrew Lewis before the snap was completed. Feeling that he had a free play, Oklahoma State quarterback
Zac Robinson
threw to the end zone, where he was intercepted by Ole Miss free safety Kendrick Lewis in the end zone. Robinson begged to have the call overturned, but the officials didn't do it. The Cowboys unraveled from that point in the game.
Worst special teams:
Texas A&M's struggles on special teams were the biggest reason the Aggies dropped a 44-20 loss to Georgia in the AdvoCare V100 Independence Bowl. The Bulldogs blocked a field-goal attempt, returned a kick for a touchdown and blocked a punt in the first half. The Aggies capped the debacle by snapping the ball over A&M punter Ryan Epperson's head in the third quarter, leading to another Georgia touchdown. The special-teams meltdown was the major reason the Aggies dropped their 11th game in their last 13 bowl games.
January, 11, 2010
1/11/10
1:04
PM ET
Here's a quick look at some of the top highlights -- and lowlights -- of the ACC's 2009 bowl season:
Best story:
Nothing can top Bobby Bowden's sendoff against his former team, West Virginia, in the Gator Bowl. There was even a "wide right," only this time it was in Bowden's favor. The Seminoles weren't given much of a chance to stop West Virginia and its star running back,
Noel Devine
, but FSU's defense finally clamped down and helped rookie quarterback
E.J. Manuel
end the careers of Bowden and longtime defensive coordinator Mickey Andrews with a 33-21 win.
Best quote:
"We've got Heisman Trophies. We've got national championship trophies. We've got ACC trophies. I've got a box at home, must have 50 rings, must have 50 rings like that. I can't wear but one of them. … When I die, I can't take it with me. There are things in life more important. There are just things more important than that to me. That's why I'm at peace with myself." -- Former FSU coach Bobby Bowden after his final game.
Best coaching job:
Frank Beamer. The Hokies had a great game plan, they showed improvement offensively, and played hard in all three phases against Tennessee. Virginia Tech's win in the Chick-fil-A Bowl gave the program its first consecutive bowl wins, and the Hokies left no doubt who was the better team. Virginia Tech gave a complete, convincing effort against a neighboring SEC program and put the program in position to enter 2010 as a top 10 team.
Best stat:
Virginia Tech's defense hasn't allowed any second-half points in its past five games, with the exception of Maryland's fumble recovery in the end zone with 11:25 remaining on Nov. 14.
Best senior sendoff:
Clemson running back
C.J. Spiller
went out a winner, breaking more records along the way. Spiller scored a touchdown and had 172 all-purpose yards, leading Clemson to a 21-13 win over Kentucky in the Music City Bowl. He scored a touchdown for the 14th straight game, setting a school record.
Worst penalty:
On fourth-and-2 from the North Carolina 30-yard line, Pitt tried to draw UNC offsides and it worked. Cam Thomas jumped, handing Pitt a first down. The costly mistake helped lead the Panthers to their fourth and final field goal, and a 19-17 win. UNC led 17-16 at the start of the fourth quarter.
Worst excuse:
It was cold. So Miami had to wear long sleeves and play in 50-degree weather against Wisconsin. That doesn't quite explain the 430 yards of total offense the defense allowed the Badgers, or the fact that
Jacory Harris
was sacked five times.
Worst stat:
In two bowl games under coach Paul Johnson, Georgia Tech has been outscored 62-17.
Worst injury/field conditions:
Miami running back
Graig Cooper
, the Canes' leading rusher, could miss all of next season with a severe right knee injury, thanks in large part to a misstep on the poor field conditions on the Florida Citrus Bowl turf at the Champs Sports Bowl. Cooper was deciding whether or not to leave Miami early for the NFL.
Worst turnover:
Boston College had been able to hang with USC for four quarters, and it was a winnable game for the Eagles until quarterback
Dave Shinskie
threw a costly interception early in the fourth quarter. The Trojans scored two plays later in what would be the final touchdown of the game to win 24-13.
January, 11, 2010
1/11/10
1:00
PM ET
Reviewing some of the highs and lows of Big East bowl season:
Best defensive performance:
Connecticut clamped down on South Carolina in the Papajohns.com Bowl, shutting the SEC opponent out until the final four minutes, and holding the Gamecocks to just 205 total yards. They play a little defense in the Big East, too.
[+] Enlarge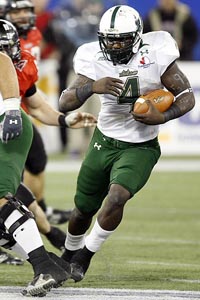 John E. Sokolowski/US PresswireSouth Florida running back Mike Ford rushed for 207 yards and a touchdown in the International Bowl.
Worst defensive performance:
Well, maybe they don't play defense in the Big Easy. Cincinnati's late-season struggles to stop anyone reached a nadir in the Allstate Sugar Bowl as the Bearcats allowed 51 points and 659 total yards to Florida. The plan going in was to make
Tim Tebow
strictly a passer; he gleefully accepted the challenge by throwing for a BCS record 482 yards while completing 31 of his 35 attempts.
Best out-of-nowhere performance:
Mike Ford
hadn't done a whole lot for South Florida in two years, and rushed for only 243 yards in the regular season. Then the Bulls tailback rumbled for 207 yards -- nearly all of it in the second half -- against Northern Illinois in the International Bowl. Maybe he just likes Canada. Alert the CFL.
Worst into-nowhere disappearing act:
West Virginia's
Noel Devine
was nearly unstoppable for three quarters against Florida State. But Devine, who had 168 yards on 16 carries, never touched the ball in the fourth quarter of the Mountaineers' futile comeback attempt.
Worst break:
Jarret Brown's injury at the Konica Minolta Gator Bowl. The senior waited patiently behind Pat White for three years but couldn't play after the first half of his bowl game because of an ankle problem. He deserved to finish his career in better fashion.
Best statement:
Pitt and North Carolina both pride themselves on hard-nosed football. Well, Dave Wannstedt's team got the upper hand in the Meineke Car Care Bowl. Trailing by one in the fourth quarter, the Panthers went on an epic, 17-play, 8:47 drive for the winning field goal. It was old-school, smash-mouth football at its finest.
Best atmosphere:
The Gator Bowl. A record crowd of 84,129 packed the Jacksonville Municipal Stadium for Bobby Bowden's last game. The sight of Bowden throwing the flaming spear into the turf before the game was undeniably cool. You can forgive West Virginia for not enjoying some of the over-the-top Bowden tributes, though, such as having the Florida State coach's picture on all the buses transporting people to the stadium.
Worst atmosphere:
International Bowl. Who thought pitting South Florida and Northern Illinois in Canada would be a good idea? Fewer than 1,500 fans from either school made the trip across the border, and the announced crowd of 22,185 was the smallest of any bowl game this year.
Best future preview:
It's a four-way tie. Two true freshmen -- quarterback
Tom Savage
and receiver
Mohamed Sanu
-- formed a potent duo for Rutgers in the St. Petersburg Bowl. Redshirt freshman quarterback
B.J. Daniels
had a solid game against Northern Illinois. And West Virginia fans got to see their next quarterback when freshman
Geno Smith
took over for Brown in the second half.
Worst bowl week buildup:
Urban Meyer's seemingly unnecessary Sugar Bowl retirement/non-retirement drama overshadowed much of the pregame talk and excitement. Add in Cincinnati's own coaching controversies, and hardly anybody focused on the actual game (though from the Bearcats' standpoint, maybe that was a good thing). What happened to bowls being rewards for all the players' hard work?
January, 11, 2010
1/11/10
1:00
PM ET
The 2009 bowl season was a historical one with two non-AQ teams making a BCS bowl in the same season for the first time. It's one of the moments many will point to as a changing of the guard when it comes to college football's postseason, but it's not the only memorable non-AQ moment from the bowl season. There were several memorable -- and forgettable -- moments this year. Here's a look back at the best and worst of the non-AQ bowl season:
Best game:
There were a lot of good games this bowl season, but the one everyone was talking about was the Roady's Humanitarian Bowl between Idaho and Bowling Green. The game delivered a lot of offense, very little defense and maybe one of the craziest finishes in quite some time. The two teams combined for 15 points in the final 32 seconds, but Idaho's decision to go for two and the win with 4 seconds remaining made the game a memorable one.
Best upset:
Navy dominated Missouri to win the Texas Bowl and notch the third 10-win season in school history. No one gave the Midshipmen a chance against the Tigers and their quick-strike offense. But the Midshipmen shut down Missouri's offense and wore down the Tigers' defense with a running game led by quarterback
Ricky Dobbs
, who finished with three rushing touchdowns.
Worst individual performance:
Houston quarterback
Case Keenum
, who led the nation's top offense, had the worst game of his career, throwing a bowl-record six interceptions and a season-low 222 yards in a loss to Air Force in the Bell Helicopter Armed Forces Bowl. Keenum threw six interceptions through Houston's 12 regular-season games.
Best defensive game plan:
This award goes to two teams that had their opponent figured out and confused during their respective games. Boise State's defense made TCU's stellar offense look pretty awful. Quarterback
Andy Dalton
threw three interceptions, the most since his freshman season, and TCU was held to a season-low 10 points. Also, Air Force held Houston, the nation's most prolific offense, to its lowest offensive output of the season and forced Keenum into six interceptions.
Best halftime speech:
The best part of the Humanitarian Bowl was Idaho coach Robb Akey finishing his halftime interview with ESPN's Heather Cox and then telling fans, "Watch the second half, you're gonna love it" as he backed away from the camera. Akey has a very distinctive, raspy voice, and listening to him say that was perhaps the funniest moment of the bowl season, especially since he was right.
Worst luck:
For the second consecutive season, Troy saw its bowl victory hopes dashed because of a blocked field goal in overtime. Michael Taylor had his 31-yard attempt blocked in the second overtime, and Central Michigan kicker Andrew Augila hit a 37-yarder to win the GMAC Bowl. Last year, Troy kicker Sam Glusman had a 28-yard attempt blocked by Southern Miss in overtime of the R+L Carriers Bowl.
Best overtime game:
The New Mexico Bowl started the bowl season with a double-overtime thriller. Wyoming trailed Fresno State 28-17 in the fourth quarter, but tied the game on a field goal with 20 seconds remaining. In the first overtime, Fresno State failed on fourth down, leaving the door open for Wyoming, but kicker Ian Watts missed the field goal. He got a second chance in the next overtime, made the kick, and then the Wyoming defense stopped Fresno State on downs.
Worst showing:
There were a lot of teams that had poor showings, but Ohio's performance against Marshall in the Little Caesars Bowl was one of the most uninspired performances of the bowl season. Ohio, which won nine games and the Mid-American Conference East, managed just 123 yards of total offense. It had 12 yards rushing and two turnovers. Marshall, which squeaked into a bowl with six wins and was playing with a lame-duck coach, jumped out to a 21-0 lead and Ohio couldn't overcome it.
Best individual performance:
Bowling Green receiver
Freddie Barnes
came into the Roady's Humanitarian Bowl needing just five catches to become the all-time FBS leader in receptions for a season -- he finished the game with 17. Barnes had 219 yards and three touchdowns, including what appeared to be the game-winning score with 32 seconds remaining before Idaho won the game in the final seconds. Barnes' performance was the best by a receiver during the bowl season.
Best conference showing:
TCU couldn't cap the Mountain West's stellar bowl season with a win over Boise State in the Tostitos Fiesta Bowl, but the Mountain West still won ESPN's Bowl Challenge Cup with a 4-1 record. It's the second time in the past three years the Mountain West has won the award. Two of the conference's wins came against Pac-10 teams and one against a Houston team that spent most of the season ranked. Wyoming won despite being one of the biggest bowl underdogs against Fresno State. The Mountain West has won the award three times since the award was created in 2002. It's the only non-AQ conference to win it.
January, 11, 2010
1/11/10
1:00
PM ET
After a successful Big Ten bowl season, let's take a look back:
Team of the postseason:
Ohio State. The team everyone loves to hate silenced its critics with a terrific performance on both sides of the ball against a favored Oregon team in the Rose Bowl Game presented by Citi. Ohio State snapped the Big Ten's six-game slide in BCS games and the league's six-game slide in the Rose Bowl.
Best game:
The Outback Bowl. It didn't result in a Big Ten win, but arguably no bowl game had more plot twists as Northwestern made a furious comeback against Auburn. Wildcats quarterback
Mike Kafka
set an NCAA record for most plays by one player (98 -- 78 pass, 20 rush), and Auburn had to win the game three times in overtime before finally prevailing 38-35 after Northwestern's trick play on fourth down didn't reach the end zone.
[+] Enlarge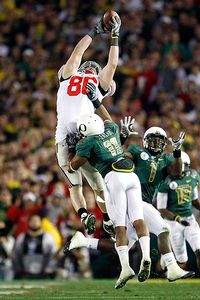 Jeff Gross/Getty Images Jake Ballard's catch on third-and-13 helped keep Oregon's offense off the field.
Biggest play:
Terrelle Pryor
's 24-yard pass to a leaping
Jake Ballard
on third-and-13 in the fourth quarter of the Rose Bowl. Ohio State led by only two points at the time, and Ballard's catch kept the drive alive, as Ohio State eventually went in for a touchdown.
Best drive:
Two really stand out to me. Ohio State marched 81 yards in 13 plays and burned 6:01 off of the clock in the fourth quarter against Oregon Pryor hit
DeVier Posey
for a 17-yard score to cap it all off. Penn State trailed 17-16 in the fourth quarter when
Daryll Clark
led a 12-play, 65-yard drive that ended with the game-winning field goal and burned 5:57 off of the clock.
Offensive Player of the Postseason:
Ohio State's Pryor. He finally turned in the complete performance we've all been waiting for, and he did it on a huge stage. Pryor set career highs in both completions (23) and passing yards (266) as he fired two touchdowns against Oregon. He also had a game-high 72 rushing yards. Pryor earned Offensive Player of the Game honors.
Defensive Player of the Postseason:
Iowa defensive end Adrian Clayborn. As we mentioned countless times during Virtual Pressbox, Clayborn was a beast against Georgia Tech. Clayborn recorded nine tackles and two sacks in Iowa's FedEx Orange Bowl victory and helped derail Georgia Tech's triple option offense. He was named Orange Bowl MVP.
Special Teams Player of the Postseason:
Penn State kicker Collin Wagner. The horrible field conditions at the Capital One Bowl were a major story, but they didn't bother Wagner, who went 4-for-4 on field-goal attempts in Penn State's victory.
Coach of the postseason:
Iowa defensive coordinator Norm Parker. The veteran defensive guru rendered the triple option offense totally ineffective for most of the game. Parker had his players prepared for Georgia Tech, and it showed in a dominant defensive performance. Honorable mentions go to Ohio State defensive coordinators Jim Heacock and Luke Fickell and Wisconsin defensive coordinator Dave Doeren.
Surprise performance:
Everybody knew about
Garrett Graham
, but it was another Wisconsin tight end,
Lance Kendricks
, who stole the show in the Champs Sports Bowl. Kendricks became
Scott Tolzien
's go-to receiver, recording a career-high 128 receiving yards on seven receptions. He had the second most receptions by a Wisconsin player in a bowl game, behind only Pat Richter's 11 in the 1963 Rose Bowl.
Bowled over:
Fortunately, Minnesota quarterback
MarQueis Gray
and Northwestern kicker Stefan Demos will have other opportunities to step up for their teams. But the postseason will sting both men for a while. Gray fumbled deep in Iowa State territory as Minnesota was driving for the potential game-winning field goal late in the fourth quarter of the Insight Bowl. Speaking of field goals, Demos missed three, including the potential game-winner, plus an extra-point attempt in the Outback Bowl.
Best calls:
They didn't result in victories, but I loved Michigan State's fake field goal and Minnesota's fake punt call. Michigan State's fake to
Charlie Gantt
went for 18 yards and set up the go-ahead touchdown on the next play. Minnesota punter Blake Haudan passed to safety Kyle Theret, who had a monster performance in the Insight Bowl. The play went for 40 yards and Minnesota scored its first touchdown moments later.
Second guessing:
I'm still somewhat in shock about Iowa's decision to run a fake field goal midway through the fourth quarter when it led Georgia Tech by only three points. The decision didn't end up hurting the Hawkeyes, who forced a turnover on the ensuing possession, but it could have been disastrous. Also, Michigan State seemed to lose the momentum in the fourth quarter against Texas Tech when it ran the ball on third-and-long to set up a field-goal try. Yes, quarterback
Kirk Cousins
had struggled and left tackle Rocco Cironi was out, but field goals weren't going to beat the Red Raiders.
Craziest stat line:
Northwestern's Kafka completed 47 of 78 passes for 532 yards with four touchdowns and five interceptions. He added 30 rush yards and a touchdown on 20 carries. He had thrown 117 consecutive passes without an interception until his first pick in the opening quarter.
Memorable post-game quote:
After an odd question about Iowa representing the heartland, quarterback
Ricky Stanzi
, standing on the victory podium, replied, "Of course. There's nothing better than being American. So, this is the greatest feeling. If you don't love it, leave it! USA, No. 1!"
Fresh faces:
Two freshmen running backs stood out in their postseason debuts. Iowa's
Brandon Wegher
had 113 rush yards and a touchdown on 16 carries in the Orange Bowl, while Michigan State's
Edwin Baker
went for 97 rush yards and a score on just 12 carries in the Valero Alamo Bowl.