NCF Nation:

2009 what we learned bowls 011210
January, 12, 2010
1/12/10
4:16
PM ET
After watching these teams play for 13 or 14 games this season, we thought we knew everything about them.
[+] Enlarge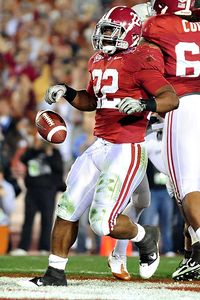 Mark J. Rebilas/US PresswireAlabama will bring back the key pieces on offense, including Heisman winner Mark Ingram.
But not everything.
Here's a look at five things we learned during the SEC bowl season:
1. Alabama has what it takes to win again:
Repeating as national champion isn't easy. Just ask Florida. For that matter, winning back-to-back SEC titles isn't exactly a walk in the park. Once again, just ask Florida. There's a reason it hasn't happened in more than 10 years. Tennessee last pulled it off in 1997 and 1998. Alabama will almost certainly start next season No. 1 in the polls. But more importantly, the Crimson Tide have everything in place to make a serious run at not only a second straight SEC championship, but a second straight BCS national championship. Just about all the key parts are back on offense, and the
Mark Ingram
-
Trent Richardson
combo in the backfield ought to be scary. Defensively, losing three All-Americans -- Terrence Cody, Rolando McClain and Javier Arenas -- will hurt. But we'll all be reminded these next couple of seasons of just how well Nick Saban recruits and develops. He's pretty good at keeping a team focused, too, which only strengthens Alabama's chances of repeating.
2. Don't count Tebow out in the NFL:
There are always going to be doubters about
Tim Tebow
at the next level. You're going to hear a lot over these next few months about his funky throwing motion, his flawed delivery and the fact that he's operated out of the shotgun for almost all of his career. But before anybody prematurely labels Tebow as a guy who can't play quarterback in the NFL, go back and watch the tape from the Allstate Sugar Bowl. Granted, it was against a porous Cincinnati defense, but completing 31 of 35 passes against air is pretty impressive. And he made every kind of throw, too, on his way to a career-high 482 passing yards. Somebody's going to give Tebow a shot at quarterback in the NFL, and don't be surprised if it's in the first round. He's a guy that can beat you in a number of different ways, and the stat that will always separate quarterbacks at any level is how many games they win. In three years as a starter at Florida, Tebow was 35-6.
3. McCluster was the second-half MVP:
With all due respect to Alabama's Heisman Trophy winner, Mark Ingram, the Most Valuable Player in the SEC for the second half of the season was Ole Miss'
Dexter McCluster
. In fact, had Houston Nutt played McCluster at running back from the beginning, McCluster might have made his own run at the Heisman Trophy. He was simply sensational once he moved full time to running back. Not counting the Northern Arizona game where he was essentially given the day off, McCluster rushed for 1,003 yards in his last six games. He lit up Oklahoma State for 227 all-purpose yards in the AT&T Cotton Bowl, including 182 rushing yards, and became the first player in SEC history to rush for 1,000 yards and have 500 receiving yards in the same season.
4. Mallett made the right choice:
Listen,
Ryan Mallett
has gobs of talent and showed his skills often this season with his 30 touchdown passes. He's big, has an even bigger arm and can make all the throws. But he's not quite ready for the NFL, and the AutoZone Liberty Bowl was further proof of that. He needs another year of seasoning and should have a great chance at the end of next season to be a surefire first-round pick. Mallett still needs to work on his accuracy and his consistency. There were times that he threw the ball like Dan Marino this season, and there were other times when he looked utterly confused. He also finished the season completing just 55.8 percent of his passes. Mallett still tends to try for the home-run throw too often, although he got better as the season progressed on taking the underneath stuff. But the Hogs were 0-of-13 on third down in the Liberty Bowl, and part of that was Mallett simply not doing a good enough job of moving the chains. He thought long and hard about declaring for the draft after just one season in the SEC, but made the right call in deciding to stick around.
5. Miles better get offense fixed or else:
Give LSU coach Les Miles credit for doing what he needed to do last offseason to get his defense up to speed. He didn't retain his two co-coordinators and brought in veteran John Chavis to run the Tigers' defense. The result was a much more aggressive defense and a defense that gave the Tigers a chance to win every game it played this season. Miles has another challenge this offseason -- reviving an offense that went belly-up this season. The Tigers were woefully bad on that side of the ball in key games against Florida, Alabama and finally Penn State in the Capital One Bowl. The problems start up front in the offensive line and filter all the way down to getting younger playmakers such as
Russell Shepard
and
Rueben Randle
more involved. Quarterback
Jordan Jefferson
should be a year better. But as bizarre as it sounds after winning a national championship in 2007, the last thing Miles needs is another four- or five-loss season next year. To avoid that kind of finish, the Tigers will need to improve dramatically on offense.
January, 12, 2010
1/12/10
2:17
PM ET
What did we learn from the Pac-10's bowl season?
1.
A 5-0 bowl season is more fun than a 2-5 one
: Last year, the Pac-10 rolled through the bowl season 5-0. Pac-10 fans crowed, while Pac-10 critics said bowl games don't prove anything. This year, the Pac-10 went 2-5 in the bowl season. Pac-10 fans said bowl games don't prove anything, while Pac-10 critics crowed. Who's right? Both. Bowl games in large part operate as a separate season, and issues such as motivation and focus are telling. But bowl games are also football games. And if you lose, you lost. Shut up and stop making excuses. That said, I picked BYU to beat Oregon State in the Las Vegas Bowl, foreseeing a Civil War hangover. If they played on Saturday, I'd pick the Beavers.
2.
It's fair to question Pac-10 defenses
: As I
wrote here
, only USC beat its defensive season averages in yards and points allowed in its bowl game. UCLA eclipsed its season average in yards allowed and matched its points number (21). It's legitimate to raise questions about the performances of Pac-10 defenses, just as it was legitimate to point out the regular-season numbers, which went
a different direction
. Still, for the Pac-10 to genuinely enter the argument as the nation's best conference, it must get better on defense. Or, at least, it can't opt to take the bowl season off.
3.
Oregon isn't ready to take over the Pac-10 -- and the nation -- just yet
: The Ducks will be the Pac-10 favorites next year. They also could become national title contenders. But they need to get more physical on both lines and they need to refine their passing game to take the next step. The Ducks' offensive line was young. It will be better -- and more physical -- next fall. The defensive line is less certain. There's plenty of hope for the passing game, with the return of quarterback
Jeremiah Masoli
and a host of talented receivers. Still, potential is just a word. Got to make it happen on the field over a 13-game schedule, which, of course, includes the bowl game.
4.
We still don't know what USC will be like in 2010
: Beating Boston College 24-13 in the Emerald Bowl shouldn't make USC fans think that the Trojans' ship has been righted. The game showed many of the same issues that the Trojans had all season -- inconsistency from quarterback
Matt Barkley
, the offensive line and the defense. And it also provided glimpses of Barkley's and the defense's upside. But when you combine the regular season, bowl game and the departure of Pete Carroll and a number of key players, 2010 feels like a great mystery.
5.
The bowl flops may help the 2010 effort
: For weeks preceding the bowl season, national pundits were touting the Pac-10 as the nation's best conference. Then: Splat. Maybe the talk went to a few teams' heads? The conference has rightfully taken some tweaks since going 2-5. But a quick review of what's coming back next fall suggest the Pac-10 should be even deeper and better top to bottom in 2010. With another rugged slate of nonconference games ahead, the conference should be plenty motivated to put the bowl implosion behind it with some marquee victories over other BCS conferences.
January, 12, 2010
1/12/10
2:08
PM ET
By
Tim Griffin
| ESPN.com
After watching all of the Big 12's bowl games, I came away with a clearer picture of the conference and it's relative position in college football.
[+] Enlarge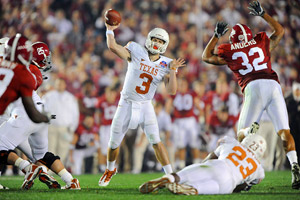 Kirby Lee/US PresswireAfter a rough start to the BCS title game, Garrett Gilbert showed why he was such a highly sought recruit.
Here are some specific observations I gleaned after watching the conference's bowl games.
Garrett Gilbert looks like a keeper at quarterback. Although the national championship game was a difficult learning laboratory, the freshman Texas quarterback showed the kind of flashes that helped make him last season's most heralded quarterback recruit. Gilbert will still be learning as he goes into his sophomore season, but appeared to have confidence in throwing the ball downfield against the tough Alabama secondary as the game progressed. That success was the major reason the Longhorns were able to improbably climb back into the game against the Crimson Tide. With speedsters Malcolm Williams, Marquise Goodwin and D.J. Monroe back for next season, expect the Longhorns to employ a more vertical passing game with Gilbert in charge than the short-passing game that was favored with Colt McCoy during his career.

Texas Tech's quarterback battle in 2010 will be the most interesting in the conference. Taylor Potts and Steven Sheffield both were productive in the Red Raiders' Valero Alamo Bowl victory over Michigan State. Potts claimed the Valero Alamo Bowl's most valuable offensive player honors and Sheffield directed the Red Raiders' comeback over the Spartans. But both quarterbacks will come in even with new coach Tommy Tuberville and a new offensive coordinator taking over. The job is there for the taking for either one of them.

Iowa State's surprising success likely will be short lived. The Big 12's feel-good story of the season was capped with Iowa State's victory over Minnesota in the Insight Bowl. Paul Rhoads' victory should resonate for the ISU program for the next several months. And the way it finished couldn't have been more fitting as cornerback Ter'ran Benton, who missed most of the season with a broken leg, iced the victory by recovering a Minnesota fumble in the final minutes. But as sweet as the bowl victory might have been for ISU fans, a significantly more difficult schedule looms next season. They better enjoy the spoils of a bowl victory while they can with Texas, Oklahoma, Texas Tech, Utah and Northern Illinois looming on the 2010 schedule.

Nebraska offensive coordinator Shawn Watson had the best bowl game of anybody around the Nebraska program. And he needed it. Complaints about Watson's offensive philosophy were growing after the Cornhuskers' offense limped toward the finish line at the end of the regular season. Watson utilized the time off before the Holiday Bowl to help rebuild Zac Lee's confidence, find a way to get Niles Paul involved and utilize a Wildcat attack with Rex Burkhead running the ball. All worked masterfully in the Cornhuskers' 33-0 victory over Arizona in their top offensive performance of the season. That production should help turn around public perception about Watson's offense and catapult the Cornhuskers into spring practice with some badly needed offensive confidence.

Missouri's refusal to run the ball against Navy was the biggest shock in the Texas Bowl. The Tigers had all kinds of chances to take control of the game, utilizing their superior size in the trenches against Navy's undersized read-and-react defense. And they still didn't do it in a stunning 35-13 loss to the Midshipmen. Even as Navy defensive coordinator Buddy Green used a two-man defensive front, Missouri offensive coordinator David Yost stubbornly tried to keep throwing the ball. Missouri's running backs only ended up with 16 carries in the game. It was understandable that Yost thought the Tigers could keep passing with Blaine Gabbert and Danario Alexander. But a little balance would have kept the game from getting away from them.
January, 12, 2010
1/12/10
2:05
PM ET
1. Cincinnati wasn't a national championship-caliber team:
At least not without Brian Kelly as head coach. The Bearcats went 12-0, finished No. 3 in the final BCS standings and certainly had a claim to be playing for the title. But they looked overmatched athletically and schematically by Florida in a 51-24 Allstate Sugar Bowl loss. We'll never know what difference having Kelly remain as coach would have made, but the Bearcats did not answer the bell in the postseason.
2. Regular-season momentum doesn't necessarily carry over:
Pitt lost its final two regular-season games in heartbreaking fashion, but rebounded to beat North Carolina in a road environment in a close game. West Virginia was on a high at the end of the year, beating Pitt and Rutgers to secure the Gator Bowl bid. But the Mountaineers lost to a 6-6 Florida State team riding its own wave of emotion. South Florida lost its last two regular-season games, had the Jim Leavitt controversy swirling but still won the International Bowl going away. Just goes to show that the postseason is unpredictable.
3. The league needs stronger competition at the bottom:
Credit the Big East for winning the games it should win. But playing also-rans from the MAC and Conference USA doesn't excite anybody. For the second straight year, a Big East team blew out the C-USA opponent in the St. Petersburg Bowl, while the conference improved to 4-0 against the MAC in the International Bowl. The Big East needs more prestigious opponents in its lower-tier bowls; having the new Yankee Bowl replace the International Bowl next year with a Big 12 affiliation -- albeit a bottom-of-the-barrel Big 12 team -- is a step in the right direction.
4. UConn is on an uptick:
Nobody had a better bowl season in the Big East than Connecticut, which dominated Steve Spurrier's South Carolina team in a 20-7 Papajohns.com Bowl triumph. That made it three straight wins to end the year for a team that was in every single game it played this year. With the majority of the two-deep returning next season, the Huskies have to be considered among the favorites to win the league in 2010 and should garner serious Top 25 consideration.
5. The future is bright for the Big East:
Just take a look at my
all-bowl team
, which includes five freshmen and four sophomores. And that's not counting freshmen quarterbacks
B.J. Daniels
and
Geno Smith
, who played for South Florida and West Virginia in their bowl games, or several other promising youngsters around the league. The Big East will return a lot of young talent that gained valuable experience in 2009 and in the postseason. The fight for 2010 bowl spots should be highly competitive and fun to follow.
January, 12, 2010
1/12/10
2:05
PM ET
The bowl season is always revealing, hence your final edition of "What we learned" for this season:
1. The ACC is still searching for respect.
With its 3-4 record in bowl games and 2-10 record in BCS bowls, the conference didn't do much this year to improve its status in the BCS pecking order. (Hey, it was one more win than the Pac-10 got.) Georgia Tech, the best the ACC had to offer, had only 155 yards of total offense in the Orange Bowl. Instead of having at least two teams enter 2010 in the preseason top 10, the Hokies will likely be the only ones representing the conference there.
2. North Carolina and Miami remain status quo.
Instead of taking a step forward to 2010 with a bowl win, both programs looked much like they did a year ago. This year, both teams were playing in their home states, and were in the third seasons under Butch Davis and Randy Shannon. Both teams had chances to win in the fourth quarter, but turnovers, mistakes and penalties did them in. Both defenses allowed a 100-yard rusher and both offenses were held under 100 rushing yards. More should be expected in Year 4.
3. Virginia Tech is the team to beat in 2010.
For the first time in school history, Virginia Tech won back-to-back bowls. And much like the Orange Bowl gave the Hokies a boost heading into winter conditioning and summer camp, the win over Tennessee should do the same. The Chick-fil-A Bowl also solidified the fact that the Hokies made significant offensive strides this year under quarterback
Tyrod Taylor
.
4. FSU has two capable quarterbacks.
When the MVP of the Gator Bowl is your backup quarterback, it's a pretty good sign for the offense. Rookie
E.J. Manuel
proved capable of leading the Noles' offense in the win over West Virginia, but FSU will be pushing starter
Christian Ponder
for Heisman in 2010. The question now is how much Manuel will be pushing Ponder. Both of them, though, should only make each other better.
5. Georgia Tech needs a passing game.
It doesn't have to be a so-called "balanced offense." The passing game just has to be more efficient when it is used. If an opposing defense like Iowa is disciplined enough to take away Georgia Tech's running game, the Jackets need an alternative, and two completions for 12 yards and an interception isn't going to cut it. If the program is going to take the next step, a respectable passing game has to be part of it.
January, 12, 2010
1/12/10
2:00
PM ET
Five lessons from the Big Ten's strong performance in the bowls.
[+] Enlarge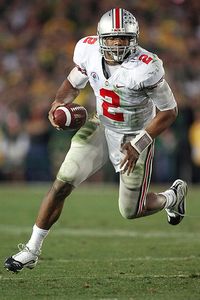 Stephen Dunn/Getty ImagesTerrelle Pryor's Rose Bowl performance portends good things for next season.
1. The Big Ten is filled with elite defensive coordinators:
We already knew that the Big Ten was a defense-oriented league, but we saw just how good these coaches can be in the bowls. Defensive coordinators like Dave Doeren (Wisconsin), Tom Bradley (Penn State), Norm Parker (Iowa) and Jim Heacock and Luke Fickell (Ohio State) crafted tremendous game plans to slow down offenses featuring supposedly better athletes and more speed. The Big Ten's four bowl winners allowed an average of only 15.5 points and 211.5 yards, and totally shut down opposing quarterbacks like Miami's
Jacory Harris
and Oregon's
Jeremiah Masoli
. Offense sells in today's college football, but you can't beat the defensive coaching in the Big Ten.
2. A shorter layoff and expansion aren't totally necessary for bowl success:
The Big Ten's strong performance in the bowls might have put a damper on the expansion movement, at least for a little while. Many people both inside and outside the league have cited the long layoff before bowls and the lack of a championship game as detriments to postseason success. But this year, the layoffs seemed to benefit teams like Iowa and Ohio State as they prepared to face tricky offensive schemes. All four bowl winners started quickly in their games, showing no signs of sluggishness, and while Northwestern, Minnesota and Michigan State all fell behind in the first half, all three teams played competitive games. Expansion might benefit the league in the long run, but it doesn't automatically equal bowl wins or bowl losses.
3. Terrelle Pryor can be a complete quarterback:
He's not quite there yet, but the Ohio State sophomore showed the nation what he could eventually become with a terrific effort against Oregon in the Rose Bowl. Pryor surprised everyone by coming out of the gate slinging the ball, and he made several clutch throws while maintaining his presence as an effective rusher and scrambler. Pryor recorded career highs in completions (23), attempts (37) and passing yards (266) as he outgained Oregon's entire team in yards (338-260). If Pryor continues to evolve as a passer, he'll contend for national honors in 2010.
4. Big Ten quarterbacks can be difference-makers:
Quarterback play was a huge question mark in the Big Ten entering the season, and quite frankly, it didn't get much better after the games started. But several teams received big boosts from their signal-callers in the bowls. In addition to Pryor, Wisconsin's
Scott Tolzien
had an extremely efficient performance as he made tough throws and featured tight ends
Lance Kendricks
and
Garrett Graham
in a Champs Sports Bowl victory. Iowa's
Ricky Stanzi
more than made up for one major mistake with clutch passes and runs against Georgia Tech. Penn State's
Daryll Clark
notched the signature win he had waited for and led the game-winning drive against LSU. Northwestern's
Mike Kafka
had the ultimate Jekyll-and-Hyde performance against Auburn, but he totally carried the offense and nearly completed a miracle comeback.
5. There's a clear upper tier in the Big Ten entering the 2010 season:
The four bowl winners set themselves apart from the rest of the league, and will remain that way entering this fall. Ohio State, Iowa and Wisconsin all return most of their core players, while Penn State needs to rebuild a bit but get a big boost as running back
Evan Royster
comes back for his senior season. The Big Ten could enter the fall with three top-10 teams and most likely four top-20 squads. The league could be top heavy in 2010, so it will be up to teams like Northwestern, Michigan State, Purdue and Michigan to challenge the upper tier.
January, 12, 2010
1/12/10
2:00
PM ET
1. The MWC is still strong:
The Mountain West has been all about making statements since the season's opening game at Dallas Cowboys Stadium. And the conference continued that trend into bowl season with a 4-1 record, including two wins over teams from the automatic qualifying conferences. However, the Mountain West did lose the Tostitos Fiesta Bowl to Boise State, which means that while the conference as a whole is the best, the Broncos are the best non-AQ team.
2. Boise State reigns supreme:
It's time to party like it's 2007! That's the last time Boise State could claim non-AQ supremacy after a big win in a BCS game. The Broncos 17-10 win over TCU might have been criticized by some, but it's clear that Boise State was the best team on the field that day and deserved to win the game. Now it will be interesting to see what this means to the future of the Broncos and the Mountain West. There have been rumors about Boise State joining the conference and it will be intriguing to see whether the win hurts or helps that cause.
3. Minor uprising:
Three teams went to bowls this season after more than a decade drought and two came away with victories. Idaho and SMU both made the country sit up and take notice after their big wins in the their respective bowl games. SMU's dominant win over Nevada has piqued interest because the Mustangs have not been relevant for 25 years. Coach June Jones is known for his ability to turn programs around, but what he's done at SMU in such a short amount of time, has created a lot of optimism.
4. New coaches split bowl games:
First-year coaches Dave Christensen and Dave Clawson split their respective bowl games with Christensen's
Wyoming Cowboys
beating Fresno State in double overtime and Clawson's
Bowling Green Falcons
losing to Idaho on one of the craziest plays of the bowl season. However, both coaches finish the season as the only new head coaches with winning records and there will be great optimism, especially in Wyoming, that both coaches can continue the winning trend.
5. Let the record show:
Several non-AQ players set records during their various bowl games. Middle Tennessee quarterback
Dwight Dasher
became just the third FBS quarterback to rush for 1,000 yards and throw for 2,000 yards. Bowling Green receiver
Freddie Barnes
set the FBS single-season reception record. Navy's
Ricky Dobbs
set the single-season FBS record for touchdowns by a quarterback. SMU quarterback
Kyle Padron
set the SMU record for passing yards in a game. And then there's Houston quarterback
Case Keenum
, who has the unfortunate distinction of tying the bowl interception record with six.