NCF Nation:

2010 ACC media days
July, 28, 2010
7/28/10
11:39
AM ET
The ACC released the 2010 preseason all-conference team, as voted on by 52 members of the media at the conference media days in Greensboro, N.C. UNC led all schools with five players selected, followed by Boston College with four players.
Clemson safety DeAndre McDaniel got the most votes, being named on 48 of the 52 ballots, while North Carolina defensive end Robert Quinn (47 votes) and Virginia Tech tailback
Ryan Williams
(45) were the next highest. Virginia and Wake Forest were the only two schools not represented here.
Offense
WR
Donovan Varner
, Duke
WR
Torrey Smith
, Maryland
TE
George Bryan
, NC State
T Anthony Castonzo, Boston College
T Chris Hairston, Clemson
G Rodney Hudson, Florida State
G Thomas Claiborne, Boston College
C Sean Bedford, Georgia Tech
QB
Christian Ponder
, Florida State
RB Ryan Williams, Virginia Tech
RB
Montel Harris
, Boston College
Defense
DE Robert Quinn, North Carolina
DE Allen Bailey, Miami
DT Marvin Austin, North Carolina
DT Jarvis Jenkins, Clemson
LB Alex Wujciak, Maryland
LB Quan Sturdivant, North Carolina
LB Luke Kuechly, Boston College
CB Kendric Burney, North Carolina
CB Brandon Harris, Miami
S DeAndre McDaniel, Clemson
S Deunta Williams, North Carolina
Specialists
PK Matt Bosher, Miami
P Matt Bosher, Miami
SP Torrey Smith, Maryland
July, 26, 2010
7/26/10
5:02
PM ET
GREENSBORO, N.C. -- Miami coach Randy Shannon said injured leading rusher
Graig Cooper
has been able to work out completely with his teammates this offseason, and that there's nothing he hasn't been able to do. Still, Shannon said the staff will be cautious about actually giving him the green light to play again. They want to ease him back into it.
"He's running, he's squatting, he's lifting, he's jumping," Shannon said. "He's full go at everything. Now, will that day come when he gets on the football field and plays? I don't know. That's a process that we're going to take it slow and give him certain drills to build his confidence up and get him where he needs to be at. If he's healthy, he'll play."
Georgia Tech coach Paul Johnson said Virginia Tech quarterback Tyrod Taylor "would be great in our offense. We couldn't grab him in a phone booth when we played them."
Beamer said he "wished like heck" he would have redshirted Taylor, and they tried it twice, but at the time it was in the best interest of the team not to. Barquell Rivers still hasn't been cleared to play in the Boise State game.
Virginia coach Mike London compared Morgan Moses to a tractor trailer and said he could play right or left tackle.
July, 26, 2010
7/26/10
1:16
PM ET
GREENSBORO, N.C. -- Well, it looks like I'm not the only one questioning Georgia Tech's ability to defend its 2009 ACC title. But guess what, Georgia Tech fans?
We don't know what we're doing.
The media has only correctly predicted the ACC champ once in the past four years -- in 2007, when the Hokies won. Virginia Tech is a safe pick. It's an easy pick. Bud Foster's defenses always reload and this offense looks like it has the potential to be spectacular. Add that up and it's a smart pick.
I just sense it's time for a shift in the balance of power in the league. While Virginia Tech has to replace six starters on defense, Miami has some of the best depth it's had under coach Randy Shannon. While Georgia Tech is in the midst of a coordinator and scheme change, Miami finally has staff stability. While North Carolina is answering more questions about off-field distractions, Miami has finally dropped any baggage Shannon inherited.
In the Atlantic Division, Boston College is being overlooked. Again. Here's my main reason for picking the Eagles third behind Florida State and Clemson, respectively: BC still has something to prove at quarterback. Anthony Castonzo told me on Sunday that
Dave Shinskie
has improved tremendously, and that he made a visible leap. He's going to have to if the Eagles are going to beat the likes of
Christian Ponder
and
Kyle Parker
.
As for buying into the Florida State hype? You better believe it. Even if that defense is only marginally better -- which it should be -- the offense is talented, experienced and deep enough to put up some eye-popping numbers this fall. Heisman numbers.
Truth is, nobody can predict this league. Not you, not me, not Paul Johnson or anyone else. Not with five ranked teams and a Coastal Division comprised of four teams that can legitimately contend for the conference title this year.
Despite the overwhelming vote of confidence in Virginia Tech from the media here, it's a slim margin that separates each of these teams, which is why ACC fans should be treated to another down-to-the-wire season.
Tiebreaker scenarios, anyone? It's about the only thing you can count on in this race.
July, 26, 2010
7/26/10
12:48
PM ET
GREENSBORO, N.C. -- The votes are in. Virginia Tech was picked by the media to beat Florida State and win its fourth ACC title in seven seasons. FSU finished second with 26 votes, followed by Miami (10), Georgia Tech (8), Boston College (2) and North Carolina (2).
FSU quarterback
Christian Ponder
was voted the preseason ACC Player of the Year with 45 votes compared to 16 for Virginia Tech running back
Ryan Williams
.
A record 98 media members voted. The Hokies received 62 first-place votes for the Coastal Division title, and Miami had 20. Florida State was the runaway favorite for the Atlantic Division with 78 first-place votes compared to Clemson's 16.
The Hokies were also chosen by the media to win it all in 2007 and 2009.
Here are the official results:
ACC Championship votes:
1. Virginia Tech (50)
2. Florida State (26)
3. Miami (10)
4. Georgia Tech (8)
5. (tie) Boston College and UNC (2)
Atlantic Division
1. Florida State (78)
2. Clemson (16)
3. Boston College (4)
4. NC State
5. Wake Forest
6. Maryland
Coastal Division
1. Virginia Tech (62)
2. Miami (20)
3. Georgia Tech (11)
4. North Carolina (5)
5. Duke
6. Virginia
ACC Player of the Year
1. Christian Ponder (45)
2. Ryan Williams (16)
3.
Tyrod Taylor
(11)
4.
Russell Wilson
(6)
Robert Quinn (6)
6. Joshua Nesbitt (4)
7.
Kyle Parker
(3)
8. Mark Herzlich,
Jacory Harris
(2)
10.
Montel Harris
,
Darren Evans
, Bruce Carter (1)
July, 26, 2010
7/26/10
10:01
AM ET
GREENSBORO, N.C. -- There's a reversal of roles in Blacksburg this fall, where the expectations for Virginia Tech's offense are higher than that of the Hokies' traditionally stout, nationally ranked defense, which has to replace six starters.
"The offense can win games for Tech right now," quarterback
Tyrod Taylor
said. "That's something the offense wants to hear, but it's nothing that our defense can't do. Our defense is just as strong as any other year. It's just that we have more experience and more talent on the offensive side of the ball."
More talent? Yep, he said it. That should motivate some of his defensive teammates if film of Boise State hasn't already.
If history repeats itself, Virginia Tech's defense should have no problem reloading under defensive coordinator Bud Foster, but the more interesting storyline could be the breakout season for this usually stagnant offense. Taylor is surrounded by two 1,000-yard rushers, a talented group of wide receivers and a smaller, more athletic offensive line. He said he has made strides in his passing game, his footwork in the pocket, and reading the defenses faster. With the duo of
Darren Evans
and
Ryan Williams
drawing the attention of defenses, Taylor said he is hoping that attention will open more doors in the passing game.
"Guys are going to stack the box expecting us to run, and we have to pass," Taylor said. "It's comfortable to know you've got those guys behind you."
It will take more than just a potent offense to defeat Boise State in the Labor Day season opener. The Hokies have been watching film of the Broncos regularly, and the defense has only the summer to work out the kinks.
"We really need to prepare," said defensive tackle John Graves. "We had a great offseason. Now we're about to really kick it up to another gear. We're looking to prepare the best we can to see what happens."
July, 25, 2010
7/25/10
9:30
PM ET
Day 1 is officially in the books.
We put it all into a nifty, one-stop shopping package for you, and there's more coming. There was more media here today than I've ever seen more. More flip-cams. More dot-coms. Radio row was buzzing.
Among several hot topics today were:
1) UNC and agents
2) Everyone else and agents
3) Mark Herzlich's return
4) First media day in eons without Bobby Bowden
5) Mike London taking over at Virginia
Most of the players were very well-spoken, and mum's the word at North Carolina regarding the NCAA investigation. Of course, we're here to talk about football, too, and some official predictions have been made. Here's what my final ballot looked like for predicted order of finish in each division:
ATLANTIC
1. Florida State
2. Clemson
3. Boston College
4. NC State
5. Wake Forest
6. Maryland
COASTAL
1. Miami
2. Virginia Tech
3. Georgia Tech
4. North Carolina
5. Duke
6. Virginia
Predicted ACC champ: Miami
Predicted ACC Player of the Year:
Christian Ponder
.
There you have it. The full votes from the media will be tallied tonight and released tomorrow, so check back then. The coaches' interviews begin at 2 p.m. tomorrow.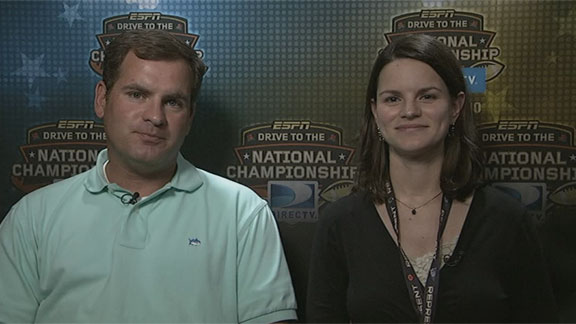 July, 25, 2010
7/25/10
12:57
PM ET
This is a little unusual.

Ponder
Not the freebies -- conferences and bowls hand out hats and shirts and whatnot all of the time. But tucked in the ACC's bag of goodies (that's not an NCAA violation, is it?) is a leather notebook cover with the CP7 Heisman campaign logo on the front. Inside is a mini Ponder resume with "references." (you know, your typical Bobby Bowden, Chris Weinke, Charlie Ward list. Go ahead and give 'em a buzz.) A Florida State football schedule. And, well, a
Christian Ponder
business card with his position, degrees, Web site, and a number to call for media inquiries.
Last year, Clemson brought life-sized posters of C.J. Spiller. But that was Clemson's deal. Take it or leave it.
This year, because it's being handed out by the ACC, it shows the entire conference has agreed to embrace Ponder as its Heisman hopeful. The question now is whether or not the media will, too.