NCF Nation:

2010 Big Ten spring meetings
May, 20, 2010
5/20/10
1:00
PM ET
CHICAGO -- Three days of meetings at the Hotel Sofitel didn't provide many major revelations about the Big Ten's expansion study, which is a little more than five months old.
League sources said there's little doubt the Big Ten will go through with some sort of expansion, but the questions about candidates and the size and scope of an expansion remain largely unanswered.
"Eastern Illinois and Toledo State," one Big Ten athletic director jokingly told a small group of reporters as he left the hotel Wednesday.
[+] Enlarge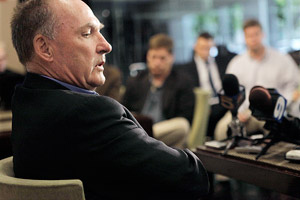 AP Photo/M. Spencer GreenBig Ten commissioner Jim Delany will have plenty to decide when it comes to basketball scheduling.
Expansion wasn't on the official agenda at the Big Ten's spring meetings, but commissioner Jim Delany brought the league's athletic directors and coaches up to speed on the process. Delany insists the Big Ten is still in the information-gathering stage of the study, and the formal invitation/application process is "months away," if and when it happens.
Meanwhile, speculation will continue as everyone asks: Who will end up joining the Big Ten?
"There's not a person in the world," Michigan athletic director Dave Brandon said, "who knows the answer to that question."
The week still provided some takeaways about the expansion study, and here are five lessons learned:
1. The Big Ten still wants to land a big fish
It would be tough to see the Big Ten being satisfied with an expansion that didn't include Notre Dame, Texas or Nebraska.
Several Big Ten athletic directors said that Notre Dame makes a lot of sense for the league both athletically and academically. One league source told ESPN.com that Nebraska would be a great fit for the league. Texas brings some challenges because of its location, but the Big Ten is well aware of UT's obvious strengths.
Ohio State AD Gene Smith, a former Notre Dame player and coach, made some interesting comments about how
times have changed in South Bend
and how players miss out on the chance to play for conference championships.
The Big Ten knows it can add some smaller-name programs, but the league isn't going to give up on the big boys.
May, 19, 2010
5/19/10
3:15
PM ET
CHICAGO -- Back in 2007, Michigan and Notre Dame announced a
continuation in their annual football series
from 2012-31.
Michigan athletics director Dave Brandon said Wednesday that a contract for the extension hasn't been signed, but he has no plans to adjust the rivalry series with Notre Dame. Michigan will host Notre Dame in 2011 in the first ever night game to be played at Michigan Stadium. The two schools will
take a break in 2018 and 2019
, but plan to meet in every other season until 2031.
"We don't really have a contract right now," Brandon said. "We announced we had kind of reached a meeting of the minds for a 20-year extension with the potential for a two-year hiatus, but that was never codified into a contract. That was what I was handed when I came into this job. So what we're going to need to do with Notre Dame is sit down and hammer out some specifics."
Brandon plans to work with Notre Dame athletics director Jack Swarbrick on finalizing a contract. Both men weren't in their current positions with Michigan and Notre Dame announced the 20-year extension.
Would Michigan ever stop playing Notre Dame every year?
"We love our rivalry with Notre Dame," Brandon said. "Never say never, but we've had a lot of discussions with Notre Dame about the future."
Many fans wonder why Big Ten teams continue to play Notre Dame after the Irish have rejected several chances to join the conference. Three Big Ten teams -- Michigan, Michigan State and Purdue -- play Notre Dame almost every season.
Would a boycott of the Irish make a statement to them?
"Words like boycott are silly," Brandon said. "I don't agree with that. I don't think it's going to accomplish anything helpful. The Notre Dame series is one that's really important to us and one that we would like to continue for a long time."
May, 19, 2010
5/19/10
1:35
PM ET
CHICAGO -- For the second consecutive year, Big Ten coaches and administrators have discussed a proposal that would allow football recruits to take official visits in June.

The plan wouldn't adjust the number of official visits a prospect can take (five), but it would allow recruits, many of whom make verbal commitments during or shortly after their junior years, to get on campuses as soon as their junior years end. Right now, many prospects take unofficial visits in June, which can take a financial toll.

NCAA recruiting rules only allow prospects take official visits after their senior years have begun.

"It's something we'd like to do," Illinois head coach Ron Zook said. "Particularly if everyone keeps pushing the early signing date, it just makes sense. It gives you an opportunity to get to know them a little bit better, it gives you an opportunity to get them on your campus. Otherwise, they might be signing before their families get on campus."

Zook said one of the questions about the proposal is whether prospects would take official visits in June and then stay for football camps at schools. He thinks the rule should be written to prohibit prospects from doing both.

"Everybody in our room is in favor of it," Zook said.

"So many kids are taking unofficial visits right now and the cost to families is astronomical trying to go see X amount of schools in June," Northwestern head coach Pat Fitzgerald said. "It only makes sense. How many of these kids are making early decisions, making verbal commitments, without ever taking an official visit that you can pay for to be on campus for that 48-hour window?"

Wisconsin athletic director Barry Alvarez said the proposal would be discussed further at meetings Wednesday afternoon. It could be tweaked a bit before moving up the ladder toward the NCAA.

Alvarez supports June official visits, adding that an early signing period in recruiting seems more and more likely.

"The coaches are in favor of [an early signing period], most of the leagues are in favor of it," Alvarez said. "Somehow it got stopped in legislation last year. We're not really sure where, but everyone seems to be in favor of it. That wasn't the case a few years ago. A few years ago, it was split 50-50.

"Most of our [teams] have five to 10 commitments now. The kids that have committed know where they want to go. Why not let them sign in December?"
May, 19, 2010
5/19/10
9:01
AM ET
CHICAGO -- Perhaps the strongest endorsement for the Big Ten Network doesn't come from the coaches who benefit from it the most.
When Northwestern's Pat Fitzgerald talks with his colleagues from outside the Big Ten, they often express the same sentiment about the network.
"There's a lot of jealousy," Fitzgerald said. "We've got our own network, and [each school] has got one-eleventh of it. Instead of having to worry about NBA, NFL, NHL and Major League Baseball, it's just a [network] that covers just our universities.
"So it's a huge asset to us. Huge."
It's an asset that makes the Big Ten appealing to outsiders, who might have a chance to join the league in the coming months.
Not surprisingly, Big Ten commissioner
Jim Delany on Tuesday listed the Big Ten Network
as one of the two major driving forces behind the league's expansion study. Although he pointed out that the Big Ten had explored expansion before launching its own network in August 2007, the network's success has created new opportunities for growth.
Expansion candidates such as Rutgers are mentioned primarily because of a location either in or near a major media market that could boost the Big Ten Network.
"The Big Ten Network is a relevant factor ... in looking at expansion," Delany said. "It's something you have to manage because we're a part owner of it. It's a successful entity after three years."
Fitzgerald has heard other conferences talk about how they're excited to have four or five games a week on national TV. Big Ten teams never have to worry about getting on the air every Saturday, which Fitzgerald said helps in national recruiting.
"I don't know if [non-Big Ten coaches are] jealous of it, but they realize it has benefited and been an important tool for all sports," Illinois head coach Ron Zook said. "My daughter lives in L.A. and she watches it all the time. My mother's in Florida and she watches it all the time. The exposure that you have has really helped us all."
May, 18, 2010
5/18/10
7:08
PM ET
CHICAGO -- Day 2 of the Big Ten's spring meetings is in the books, and before I head home, here are some notes, quotes and takeaways from the Hotel Sofitel Chicago.
If you haven't done so already, check out my story on Big Ten commissioner Jim Delany and the non-accelerated timetable for league expansion. There will be no vote on expansion at the June 6 meeting of Big Ten presidents and chancellors at Big Ten headquarters in Park Ridge, Ill.

[+] Enlarge

AP Photo/M. Spencer GreenBig Ten Commissioner Jim Delany laughs as he talks with the media on Tuesday.

One thing I wanted to clarify about Delany's comments. Just because he talked about a population shift to the South doesn't mean the Big Ten will start pursuing a bunch of southern schools. It's more likely the Big Ten will become even stronger in the northern half of the country (Midwest, East Coast) to offset the changing demographics. That said, the Big Ten would be crazy not to want Texas if the school was interested in joining.

One question I keep getting: Why such a long timetable to study expansion? In hearing Delany and looking over an "expansion fact sheet" provided by the Big Ten today, it's clear that the league wants everyone to know it's being as thorough as possible with this study. College athletics are hardly foreign to expansion, and Delany spent a ton of time detailing what has happened in other leagues. He's basically saying, "We're not the first ones to do this, OK?" The problem is how messy the previous expansions have been (i.e. ACC-Big East in 2003). "A lot of these things that we've studied have been, in my view, improperly studied [by other leagues]," Delany said. "Didn't understand the logistics, didn't understand the culture, didn't understand the academic fit, didn't really understand whether they were doing a merger or whether they were doing an expansion. Expansion is very difficult, and we're learning how to do it better, I think."

Delany declined to comment when asked if new members to the Big Ten would receive the same revenue as existing members or need to buy their way into the league. But I would be very, very surprised if the Big Ten didn't keep revenue issues even for all its members. The equal revenue sharing is a big reason why the Big Ten is so appealing. The Big 12 should take notice. "I'm huge on where we are," Ohio State athletic director Gene Smith said. "Philosophically, we share evenly in order to help everyone in this league have a quality environment for their student-athletes and ultimately rise all the ships. ... I think what we have really helps all the ships rise. I would have a very difficult time going through expansion and ultimately changing our revenue-sharing model. I would struggle with that."

Delany on the expansion process: "This is no more than a study, and it's a serious study. It's a thorough study, it's a time-consuming study, and it's one that has created a lot of public interest, and I get that."

Delany on the invitation/application process: "Schools would have to apply, and then they would have to receive eight votes [for admission]. But I would presume that nobody would apply without knowing they were welcome to apply. We're not interested in embarrassing ourselves, or embarrassing anyone else. So the process of due diligence is a long one, but the process of formal conversations about it is a shorter one. The head's up [other conference commissioners] would get would be before a public announcement, but probably not months before a public announcement."

Delany on the potential for super conferences: "It's like saying everybody is going to go to a 12-team conference. We didn't. We stayed at 11. I don't necessarily see why if one group does something it thinks is in its best interests, somebody else would imitate it. Unless there were good reasons to imitate it. ... I would be shocked if we would get larger, that other people would automatically get larger."

There actually was some non-expansion talk Tuesday, as I got some injury updates from Big Ten coaches. Wisconsin coach Bret Bielema said backup quarterback Curt Phillips underwent knee surgery to repair a torn ACL and could be available for the fall, which would be a big boost for the Badgers. Minnesota coach Tim Brewster said starting safety Kim Royston should be ready for the season opener Sept. 2 after suffering a broken leg in April.

Michigan coach Rich Rodriguez said preserving the annual Michigan-Ohio State game is paramount when discussing potential division alignments in the Big Ten. "For us, it's always been at the end [of the regular season] and that's always had a great buildup and excitement to that," he said, "so you would think that would be part of the conversation. But there's a lot of factors in play."

Illinois coach Ron Zook on the potential ripple effect of expansion: "I don't think the SEC is concerned, although it sounds like they're getting their ducks in a row, trying to see what would happen in case there was a change in the landscape."
May, 18, 2010
5/18/10
5:30
PM ET
CHICAGO -- From the minute the Big Ten announced its expansion study, many believed the league would only look at candidates that are members of the Association of American Universities.
Big Ten commissioner
Jim Delany didn't discuss any specific expansion candidates
Tuesday, but he stressed the importance of AAU membership for the conference.
"It's very important," Delany said. "AAU membership is an important part of who we are. It was an important part of who we are [when the Big Ten added] Penn State, and it's an important aspect of what makes an institution a research institution, an undergraduate school, a school that serves the public at a high level."
Asked if AAU membership was mandatory for expansion candidates, Delany said, "We're not there. I'm not going to qualify or disqualify, but it's a very important factor."
All 11 current Big Ten institutions are part of the AAU, a collection of 63 leading public and private research institutions in the United States and Canada. The Big Ten's last known expansion target, Notre Dame, is not an AAU member but brings a very strong academic reputation to the table.
Most of the rumored Big Ten expansion candidates -- Rutgers, Nebraska, Missouri, Pittsburgh, Syracuse -- are
part of the AAU
, while Connecticut is not.
"It's very important," Ohio State athletics director Gene Smith said of AAU membership. "But at the same time, the academic reputation is more important.
"The academic piece of this, do not underestimate that."
May, 18, 2010
5/18/10
4:17
PM ET
CHICAGO -- Gene Smith finds himself in a unique position when it comes to Big Ten expansion and Notre Dame.
Smith is the athletic director at Ohio State, one of the nation's largest and most powerful athletic departments. Ohio State has thrived as a member of the Big Ten, especially in recent years and particularly in football, where the Buckeyes have won or shared the last five conference championships.
[+] Enlarge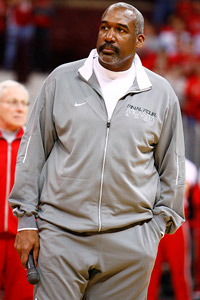 Andy Altenburger/Icon SMIOhio State athletic director Gene Smith played and coached at Notre Dame. He thinks Irish players may be missing a "memorable experience" by not joining a conference.
But Smith doesn't forget his roots.
"I'm just the guy that was in Room 325, Cavanaugh Hall," he said Tuesday.
Cavanaugh Hall was Smith's dormitory at Notre Dame, where he played defensive end for the Fighting Irish and won a national championship in 1973. After graduating from Notre Dame in 1977, Smith joined the coaching staff and helped the team win another national title that fall.
Those were the glory days for Notre Dame football, a fact not lost on Smith. Times have changed, but Notre Dame remains steadfast in its desire to remain independent in football.
As the Big Ten pushes forward with its expansion study, Notre Dame once again has been mentioned as a potential candidate. The Big Ten made two unsuccessful attempts to add the Irish in the past 15 years, and Notre Dame officials, at least publicly, are
stating their desire to remain independent
.
What does Smith think?
"I've always struggled with my alma mater," he said. "I love them deeply. I've always struggled with the quality of experience today, in this landscape, for football players. If they end up being one of the schools [invited to the Big Ten], I hope they would consider what a conference championship means to a young person. I was blessed to be there when we won national championships -- we won two -- but the landscape has changed."
Smith thinks winning conference championships can't be undervalued and should be celebrated more. Notre Dame football players don't get that chance.
"I've just got to believe that a Notre Dame football player winning a conference championship and having that conference ring, is a memorable experience," Smith said. "And then, chasing a national championship. You can do both, but when you only have one, I struggle with that.
"Now back in the day when I was playing, different deal. The landscape was different. You didn't have the BCS, you didn't have the bowl alliance. Notre Dame could dominate. When I coached there, we selected, we didn't recruit. It's a different time space."
Notre Dame officials and fans might beg to differ and want to remain on their own, a position Big Ten commissioner Jim Delany respects.
"I was glad we approached Notre Dame [years ago]," Delany said. "I felt it was the right thing for us to do. And I've respected, from the day that they indicated what their decision was, until today, the reasons for them doing that."
May, 18, 2010
5/18/10
2:49
PM ET
CHICAGO -- Commissioner Jim Delany outlined two major forces behind the Big Ten's expansion study in his meeting with reporters Tuesday.

The first is obvious: The Big Ten Network, a project that faced plenty of initial skepticism but has not only survived, but thrived. The potential to grow the network in new markets or potentially strengthen existing markets is a huge part of what the Big Ten has been studying the last five months.

The second force is bigger than the Big Ten and impacts numerous industries in America.

People are heading south in larger numbers, and the population shift has put northern institutions like the Big Ten on notice.

"As far as the shifting population, that is reason, by itself, enough, to look at the concept of expansion," Delany said. "We've been blessed in many ways by the economy and the density of the population in the 20th century. Our schools have benefited by healthy economies, by strong markets, by growth, by integration. ... In the last 20, 30 years, there's been a clear shift in movement into the sun belt. The rates of growth in the sun belt are four times the rates they are in the East or the Midwest.

"You do want to look forward to 2020 and 2030 and see what that impact would be on our schools."

Delany has brought up the demographic shift several times in recent years when talking about recruiting and other topics. He knows that in order for the Big Ten to maintain its national standing, its alumni base and its brand, the league might need to get bigger.

Iowa athletics director Gary Barta said shifting demographics were one of the first subjects brought up when league officials decided to push forward with an expansion study.

"Without going into any specific school, it's just projecting ahead," Barta said. "Do we need to grow the business in the next 20 years, and, if so, does adding schools make any sense? That's part of the principle of whether or not we look at expansion."

Aside from Texas, most of the rumored expansion candidates are located in the Midwest or toward the East Coast.

It begs the question: Should the Big Ten look to the South to capitalize on the population shift, or is the league best served by getting stronger in its existing footprint?

"It depends," Ohio State athletics director Gene Smith said. "You could address the census issue by getting [stronger] where we are."
May, 18, 2010
5/18/10
9:00
AM ET
CHICAGO -- The last time a major expansion hit collegiate athletics, Michigan head coach Rich Rodriguez had a front-row seat.

Rodriguez
Rodriguez was coaching West Virginia in the summer of 2003 when the ACC swiped three programs from the Big East, shaking the league to its core. After losing powers Miami and Virginia Tech as well as Boston College, the Big East and its members were momentarily stunned.
"It was more of a blindsided shot," Rodriguez said at the Big Ten's spring meetings. "You didn't really see it coming. You heard maybe a rumor or two, but it happened so fast. There was a lot of doom-and-gloom scenarios, and we fought that in recruiting.
"The solution then, and I remember talking to our people, was, 'We've got to do all we can to take care of us.'"
West Virginia and the remaining Big East schools decided to upgrade their revenue-generating programs, making greater investments in facilities and in other areas. Those league-wide upgrades along with the successes of programs like West Virginia, Louisville, Rutgers and South Florida sustained the Big East through some lean times. Pittsburgh is back in the spotlight, and Connecticut has quickly built itself into a solid FBS program behind coach Randy Edsall.
As the Big Ten continues its expansion study, several Big East schools have been brought up as potential candidates, namely Rutgers, Pitt, Syracuse and Connecticut.
"There's a lot of schools of value in the Big East, and some have been mentioned [as expansion candidates]," Rodriguez said. "When the three schools left, there were questions on worthiness from a BCS bid standpoint and all that, and you could understand from a coaching standpoint why the public was saying that. We said we've got to prove ourselves in nonconference games and in bowl games.
"Fortunately, the league had some big wins and helped us quell some of that."
After helping the Big East survive, Rodriguez now finds himself on the other side of a potential expansion push.
"It's certainly good," he said, "to be in a spot where we're dealing from a position of strength in the league."
May, 17, 2010
5/17/10
7:30
PM ET
CHICAGO -- When it comes to potential conference expansion, Big Ten commissioner Jim Delany seems to have all the answers.
The league's head football coaches don't, although they're anxious to find out.

Delany
"The commissioner always does a great job of letting us know what we need to know," Indiana head coach Bill Lynch said. "There's certain things we don't need to know."
Right now, Lynch and his coaching colleagues don't know much. The same goes for the league's athletic directors.
"I'm not only curious, I'm intensely interested," Michigan athletic director Dave Brandon said. "There's a lot of rumors out there. Based on what I've been told, they're just that, rumors. It's a process that has taken place for quite some time. It has become public more recently, and it will be great to get an update on where we stand in the process.
"That's what I hope to accomplish."
Expansion is not part of the official agenda this week at the Big Ten spring meetings, but Delany is expected to provide updates about the league's expansion study, which just entered month No. 5. The Big Ten laid out a 12- to 18-month timetable for the study back in December and remains committed to it, despite speculation that action could be taken sooner.
"At the end of the day, I don't think anybody can be real certain how this is all going to shake out," Brandon said. "And there's always a possibility that nothing will happen. The one thing I learned in my business career, a deal is never a deal until it's over, and this deal is far from being over."
Delany will address the media Tuesday morning.
For years, expansion seemed to be brought up with the goal to add a 12th team and a conference championship game like the Big 12, SEC and ACC. But the Big Ten's expansion study has taken on a different tone, especially after the success of the Big Ten Network.
"I'm sure it comes down to finances," Illinois head coach Ron Zook said. "Who's going to bring money into the league? Commissioner Delany has got himself a little gold mine [the Big Ten Network]. Even though everyone thought it was going to be great, I think it's maybe a little bit better.
"Now, all of a sudden, the Big Ten is the talk of college football with expansion. It's kind of neat to be able to sit back and watch."
The coaches and athletic directors plan to sit back, watch and learn about the expansion process this week. But they are well aware that the ultimate decision is not in their hands.
"This is a presidents' decision," Wisconsin athletic director Barry Alvarez said. "This is not an athletic directors' decision."
Big Ten presidents and chancellors meet June 6 at the league's headquarters in Park Ridge, Ill.
"With the success of the Big Ten Network and the position we're in, I'm sure the powers that be will only add universities that bring value," Michigan head coach Rich Rodriguez said. "Any time you add value to a league, everybody will be better off."
May, 17, 2010
5/17/10
1:27
PM ET
CHICAGO -- Greetings from the site of the Big Ten spring meetings of coaches and athletic directors.

The first set of meetings begins early this afternoon, as basketball coaches and athletic directors convene. The ADs and coaches are rolling through the lobby, and several have stopped to talk with a growing group of reporters, including yours truly and ESPN colleague Joe Schad.

Expansion is obviously the hot topic around the Big Ten and will be on the agenda this week. Athletic directors Dave Brandon (Michigan) and Barry Alvarez (Wisconsin) both expressed curiosity about the expansion study and expect to receive updates on the process from league commissioner Jim Delany.

"There's a general feeling that change is in the wind," Brandon said. "Obviously, the prospects for change are out there, or there wouldn't be as much time spent. There's clearly energy around change, but that doesn't mean it's going to manifest itself in an outcome that's either immediate or as significant as what's been rumored.

"We'll see."

Keep it right here for coverage of the spring meetings all week.