NCF Nation:

2010 car care bowl
December, 31, 2010
12/31/10
3:41
PM ET
Instant analysis of the Meineke Car Care Bowl, which
South Florida won 31-26 over Clemson
.


How the game was won:
South Florida had to manufacture offense all season because it lacked a big-time passing game and got lackluster play from the quarterback position. The return of a healthy
B.J. Daniels
worked wonders. Daniels, who had to battle freshman
Bobby Eveld
just to earn the start, threw an interception on his second pass but was terrific after that. The USF offensive line controlled one of the ACC's best defenses, and Clemson was the team marred by erratic quarterback play in Charlotte. USF led 31-13 in the fourth quarter and held on after the Tigers tacked on two scores in the final two minutes.
Turning point:
After a late first-half fumble by
Demetris Murray
helped Clemson cut the halftime lead to 17-13, the Bulls responded with an impressive 13-play, 83-yard drive on the first possession of the second half to regain command. And with Tigers quarterback
Kyle Parker
sidelined for the second half with a rib injury, the Bulls' defense nearly pitched the second-half shutout until Clemson scored in the final two minutes.
Player of the game:
Daniels. The sophomore has had his ups and downs this season, but he looked like the confident, athletic leader who makes people excited about his potential. He made good decisions, crisp throws and moved away from trouble. He was 19-of-26 for 188 yards and two touchdowns and also ran for a score. If the Bulls had this kind of performance from their quarterback all year, they might have won the Big East.
Stat of the game:
South Florida was one of the worst teams in the country on third-down conversions this season, succeeding on less than 29 percent of those downs. In the bowl, the Bulls were 9-of-14 on third downs, while Clemson was 5-of-16.
What it means:
South Florida finishes with eight wins in its first year under Skip Holtz, an excellent accomplishment considering how little he had to work with in the passing game, all the losses on defense from a year ago and the Jim Leavitt controversy that could have split the team apart. This is still a relatively young bunch at most positions, and the Bulls could make a run at the Big East title if they continue to make the kind of improvements they did in the second half of the year and during bowl season. Daniels may have established himself as the starter over Eveld now and appears to be grasping the Holtz system. The Big East improves to 3-1 in bowls and went 1-1 against the rival ACC this year in the postseason.
December, 31, 2010
12/31/10
3:30
PM ET
Here's a quick recap of South Florida's
31-26 win
against Clemson:


How the game was won:
Clemson's final attempt at a comeback fell short when the Tigers touched the onside kick before it went 10 yards, sealing the win for South Florida. Clemson's inability to run the ball, get anything going on offense and convert third downs ended any hopes the Tigers had at a winning season. Quarterback
Kyle Parker
left the game early with broken ribs, but even when he was in the game he made poor decisions, including an interception that landed the Bulls on Clemson's 10-yard line. The turnover led to a field goal and 10-3 lead for South Florida that it never relinquished.
Turning point:
Clemson was penalized 11 yards for pass interference in the third quarter, moving South Florida to the Tigers' 2-yard line. The Bulls scored on the next play, and had all the momentum with a 24-13 lead.
Stat of the game:
Clemson converted just 5-of-16 third down conversions.
Player of the game:
South Florida quarterback
B.J. Daniels
. He completed 19 of 26 passes for 188 yards, two touchdowns passing, one rushing, and an interception. In a game in which Clemson's quarterbacks struggled through both injuries and rookie mistakes, Daniels was the difference with both accuracy and timing.
What Clemson learned:
The Tigers have a lot of work to do offensively this offseason, starting with some growing pains at quarterback, where the
Tajh Boyd
era has already begun. Clemson lacks an offensive identity, and needs to find one before the 2011 season begins.
What it means:
Clemson's streak of 10 straight winning seasons came to an end, and the coaching staff will face even more scrutiny heading into an offseason which could bid farewell to some of the top players on the team. Clemson also now has a losing record in bowl games, as the Tigers dropped to 16-17.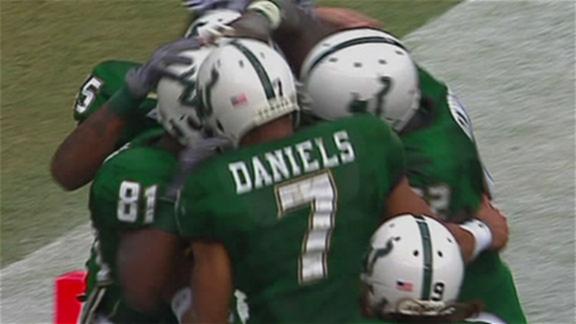 December, 30, 2010
12/30/10
11:33
AM ET
Here are three keys for South Florida when the Bulls take on Clemson in Friday's Meineke Car Care Bowl:

Control Da'Quan Bowers:
Maybe Bowers will be weighed down from carrying all those trophies he won this season. Not much else has worked. Bowers leads the nation with 15.5 sacks and should command a tremendous amount of attention from the South Florida offensive linemen, tight ends and backs. The Bulls have had enough trouble passing the ball under ideal circumstances and will have almost no chance of success if Bowers is in the face of
B.J. Daniels
and
Bobby Eveld
all afternoon. If they can keep him contained, they could find some big plays against the much more vulnerable Clemson secondary.
Stop the Clemson running game:
The Tigers'
Jamie Harper
is a load at 230 pounds, and he ran for more than 140 yards against both Florida State and Wake Forest late in the year with
Andre Ellington
injured. But the Clemson offense really struggled when the running game wasn't working. The Bulls did a great job slowing down UConn All-American back
Jordan Todman
in the regular-season finale. They need that same kind of effort in this game to force
Kyle Parker
and/or
Tajh Boyd
to beat them.
Create unorthodox opportunities:
Odds are that neither offense is going to march up and down the field in this one. The Bulls could use something big out of the return game, where Terrence Mitchell and
Lindsey Lamar
have been tremendous this season. Or perhaps the defense can come up with a turnover to step up a score. Somehow, some way South Florida needs to find other ways to put points on the board.
December, 30, 2010
12/30/10
9:00
AM ET
Skip Holtz had South Florida playing very well down the stretch this season. Can the Bulls coach cap his first year in Tampa with a bowl victory? Here's a quick preview of Friday's Meineke Car Care Bowl:


WHO TO WATCH:
Whoever starts at quarterback for South Florida.
B.J. Daniels
has apparently recovered from a quadriceps injury that kept him out for the final game and a half; now he just has to win the job back from freshman walk-on
Bobby Eveld
. Holtz hasn't announced a starter but has indicated that both will play. Quarterback play has been erratic for the Bulls all season long, and whoever gets the bulk of the snaps could have a difficult time against Clemson's highly-skilled defensive front seven. Daniels might be able to cause the Tigers some problems with his mobility, while Eveld has shown a better ability to throw the ball downfield. Both must avoid mistakes.
WHAT TO WATCH:
Can either team score? The Bulls have had to manufacture offense all season with an inexperienced receiving crew and those quarterback problems. They will be severely challenged by a Clemson crew that allowed fewer than 18 points per game and is led by national sack leader, Da'Quan Bowers. The Tigers are nearly a carbon copy, with their own quarterback issues and an offense that struggled to generate much down the stretch. South Florida's defense is underrated and mostly anonymous but can play with anybody. Terrell McClain is one of the best run stuffers in the Big East. First one to 14 points wins?
WHY TO WATCH:
If you like fast, athletic defenses then you will be entertained. It will be the final college game for Bowers, a likely Top 5 NFL draft pick next spring. Either Daniels or Eveld could get an early leg up in the USF quarterback battle next year. And it's another ACC vs. Big East showdown, where league pride is always on the line.
PREDICTION:
This game is almost guaranteed to be a low-scoring slugfest. South Florida needs to find a way to come up with some explosive plays, whether it's on special teams or in the passing game, because Clemson's defense is too stout in the trenches. That will be the difference as the Bulls fall 14-13.
December, 29, 2010
12/29/10
9:00
AM ET
Before South Florida left for the Meineke Car Care Bowl, Bulls players peppered running back
Mo Plancher
with questions about Charlotte and the experience at the game.
[+] Enlarge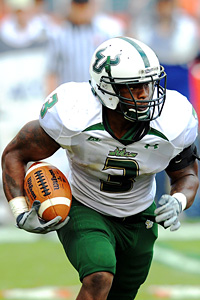 Steve Mitchell/US PresswireSouth Florida running back Mo Plancher is attending his sixth postseason game for the Bulls.
Plancher has been on this trip before -- way back in 2005. In fact, he might be one of college football's foremost experts on postseason travel.
Mo knows bowls.
Win one for the thumb? Nah, Plancher is already on his second hand when it comes to bowl rings. Having been redshirted and granted an extra year of eligibility by the NCAA, the senior is now attending his sixth straight postseason game. Not many current players can say that.
"I've gotten a ring for every single one," he said. "I let my brother wear one, and I gave one to my dad. I let them sport it."
Plancher has picked up some pretty good swag along the way, too. He got a portable DVD player way back at that first Meineke game -- "that was a pretty good gift at the time," he says -- and later picked up a flip video camera "before they became popular." Yes, Plancher has been at this so long that his high-tech bowl gifts have become outdated.
Or to put it another way, Plancher remembers watching NC State's Mario Williams play in that first bowl game. The future No. 1 NFL draft pick is completing his fifth pro season.
But Plancher hasn't just hung around South Florida. Like a fine wine or Betty White, he's gotten better with age.
He was the team's top running back last year, though quarterback
B.J. Daniels
was the main ball-carrier. This season, as new coach Skip Holtz went to a more conventional running approach, Plancher split time with sophomore
Demetris Murray
at tailback. He leads the team with a career-best 743 rushing yards heading into Friday's game against Clemson, averaging a solid 4.6 yards per carry. His 162 carries this year are only 40 fewer than his career number of attempts coming into 2010.
"It's definitely better than sitting back as we're throwing the ball 50 times a game," he said. "As a player, you always want the ball in your hands with a chance to help the team win."
After several injuries earlier in his career -- he tore his ACL as a redshirt freshman and dealt with other bumps and bruises along the way -- Plancher has become much more durable, appearing in all 25 of the Bulls' games the past two years. He says he has done a better job of staying on top of the little aches and pains that could lead to something more serious, while also doing a better job managing his nutrition.
"My career has definitely had its ups and downs," he said. "But I felt like the times I was healthy and able to produce, I helped the team as best I could. Looking back on it, it's been a great experience."
Plancher will play an important role for South Florida against Clemson's physical, fast defensive front. He can help slow down the Tigers' pass rush with some effective running, and he'll be needed for extra protection on passing downs against guys like Da'Quan Bowers.
He surely won't be distracted by the setting. After a half-dozen of these things, Mo knows bowls.
December, 20, 2010
12/20/10
4:37
PM ET
Who will start at quarterback for South Florida against Clemson in the Meineke Car Care Bowl? At this point, Bulls coach Skip Holtz says he doesn't know.
True freshman
Bobby Eveld
started the finale against UConn and played well late in that game after leading the team to victory a week earlier against Miami. But incumbent starter
B.J. Daniels
has recovered from his quadriceps muscle injury and is back to 100 percent, Holtz said.
"He's been sharp," Holtz said Monday. "Both of them are doing some great things."
Eveld and Daniels have been taking equal reps with the starters in practice. Holtz said he'll determine the starter based on who he thinks will give the team the best chance against Clemson's athletic defense.
While there is a competition going this month, Holtz said he doesn't think it will have a big impact on who starts under center in 2011.
"There will be eight months of competition after this, with spring practice and a long fall camp, to figure out who is the starter," he said.
So it sounds like this battle is just beginning.