NCF Nation:

2010 CFB Live IP main
June, 9, 2010
6/09/10
1:39
PM ET
Now that Alabama has one Heisman Trophy on display, thanks to
Mark Ingram
's memorable 2009 season, could No. 2 be too far behind?
And better yet, is it too outlandish to think that Ingram's backup could be the one winning it?
[+] Enlarge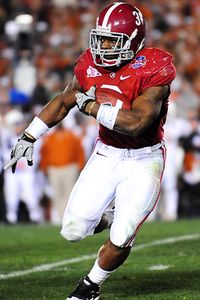 Gary A. Vasquez/US PresswireTrent Richardson rushed for 751 yards and eight touchdowns during his freshman season.
Trent Richardson
is that good, that explosive and that talented. If Ingram is the best running back in college football, Richardson would make a strong case as the second best back.
Before it's all over, he may well find himself at the top of that list.
Talk about good problems to have.
Alabama's only concern offensively entering the 2010 season is finding enough carries for both Ingram and Richardson, and it doesn't sound like it's really a concern at all.
"We shouldn't be anything but a headache for other teams," said Ingram, noting that the two-back system makes both of them better.
In other words, Alabama always has a fresh, NFL-caliber back pounding away and pulling away from the opposing defense.
"Whenever I'm tired, he's coming in fresh," Ingram said. "Whenever he's tired, I'm coming back in fresh. That defense is going to have a fresh pair of legs coming at it all game, and all that's going to do is make both of us better.
"They wear down, especially when it gets in the fourth quarter. You can tell by their body language, and they don't want to tackle you anymore. That's how we play as a team. We want to wear teams down. The wide receivers play that way. The offensive line plays that way, and we play that way."
The 5-foot-11, 220-pound Richardson is coming off a freshman season in which he rushed for 751 yards and eight touchdowns. He averaged 5.2 yards per carry and possesses that perfect blend of power and speed.
He's had an exceptional offseason in the weight room and will be even more difficult to tackle in 2010. But over and above his ability as a runner, Richardson figures to broaden his entire game as a sophomore.
"I think his knowledge, experience, confidence and tremendous ability … all those things have improved tremendously," Alabama coach Nick Saban said. "He's a great team guy, a hard worker and really does a great job for us. He really has some great leadership skills, and I think all his teammates would agree."
The best thing Ingram and Richardson have going is the genuine respect they have for each other.
They combined for 416 carries last season. Ingram had 271 and Richardson 145. There's a good chance those carries will be more evenly distributed next season. But even if they're not, nobody's complaining.
"They both know it's important for our team that both of them play well," Saban said.
It won't stop with just Ingram and Richardson next season, either. The Crimson Tide will also unveil redshirt freshman
Eddie Lacy
as a third option.
For a lot of teams, he'd be the No. 1 option.
But Alabama isn't a lot of teams, not with Ingram and Richardson back there turning missed tackles into touchdowns.
June, 7, 2010
6/07/10
9:01
AM ET
Stephfon Green
knew what his role would be in the 2010 season before anyone else did.
When fellow Penn State running back
Evan Royster
decided in January to
return for his senior season
, Green got the news directly from the source.
[+] Enlarge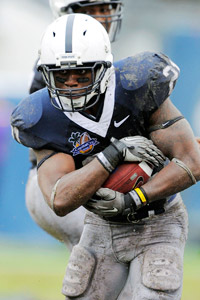 Scott A. Miller/US PresswireStephfon Green carried the ball 71 times as Evan Royster's backup last season.
"He told me first, before he told anybody," Green said, "so I wasn't surprised."
Royster's message meant that Green, in all likelihood, would be handling backup duties for Penn State for the third consecutive season.
Royster has been Penn State's featured back since 2008, rushing for 2,405 yards and 18 touchdowns during the span. The first-team All-Big Ten selection from last season is on pace to break Curt Warner's team rushing record this fall.
Bottom line: barring injury, Royster will carry the rock for Penn State in 2010, and Green will spend more time waiting his turn.
"I can't control what happens," Green said. "I just try to prepare myself so if anything was to happen [to Royster], I could step in and play that starting role. I don't have any animosity toward it, I'm not mad or anything like that.
"We just have a real good running back sitting in the backfield this year. It's good for our team."
Here's why Green shouldn't be too upset about another year as the second-stringer.
Penn State will turn to a young, unproven quarterback this season following the graduation of standout
Daryll Clark
. To ease the pressure, Joe Paterno and his offensive staff will turn to the running backs.
While Royster boasts an impressive career yards-per-carry average (6.1), he has only averaged 15.2 carries per game in his two seasons as the starter. He has received 20 or more carries just three times in his career. Green, meanwhile, has recorded 176 carries in the past two seasons and should continue to receive a decent number this fall.
"We're young at quarterback, and we're probably going to have to rely on the running game a lot this year," Green said. "I'm happy with the touches I get."
The 5-foot-10, 197-pound
Green generated buzz during spring practice in 2008
after recording several breakaway runs in scrimmages. His A-plus speed and mesmerizing moves made him a coveted recruit coming out of Kennedy High School in Bronx, N.Y.
Green said his style often draws comparisons to that of a certain NFL back.
"Everybody keeps telling me Thomas Jones," he said. "I try to go for LaDainian Tomlinson, but I haven't quite got there yet."
Some expected Green to challenge for the starting job as a freshman, but Royster established himself as Penn State's No. 1 ball carrier and has never looked back. Green still rushed for 578 yards and four touchdowns on 105 carries (5.5 ypc average), logging 269 plays.
A dislocated ankle in the Rose Bowl against USC slowed Green, who missed spring ball following surgery. He seemed to be hitting his stride last season with strong performances against Illinois and Eastern Illinois before reinjuring the ankle and missing two games. Green didn't feel 100 percent again until the Capital One Bowl, a 19-17 Penn State win against LSU.
The junior spent this spring working on his blocking, specifically picking up blitzes from different angles.
"I'm trying to be a smarter player, be a student of the game," he said. "Seeing things, talking to the linebackers, asking them what their keys are when they're blitzing, things like that. The overall aspect of blocking, I improved on."
Although he's not a big back, Green added a few pounds to his frame and hopes to be more durable. Just in case he moves up a spot on the depth chart.
"Hopefully, my ankle holds up and I can be more durable," he said. "If you really look at it, I haven't had any other problems but my ankle. If that holds up, I can be more of an asset to this team."
June, 4, 2010
6/04/10
9:00
AM ET
USC got a look at what its offense might look like without starting quarterback
Matt Barkley
during the spring game. The verdict? Not too shabby.
[+] Enlarge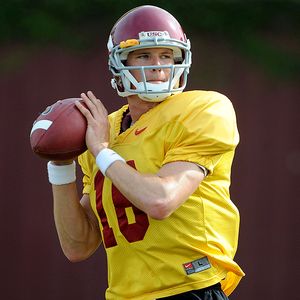 Kirby Lee/Image of Sport-US PRESSWIREIf Matt Barkley were to get injured or falter, the USC coaching staff would "be very comfortable" turning to Mitch Mustain, above.
With Barkley sidelined by a bruised hand,
Mitch Mustain
threw five touchdown passes while completing 19 of 29 for 299 yards to lead his team to victory.
While ESPN's College Football Live rates Barkley as "irreplaceable," the Trojans coaches doesn't seem too worried about the prospect of potentially turning to Mustain, a fifth-year senior.
"We'd be very comfortable," quarterbacks coach Clay Helton said.
Mustain is probably the nation's best known backup quarterback. He went 61-2 at Springdale (Ark.) High School and was named the 2005 Gatorade, USA Today and Parade Magazine National Player of the Year before becoming the biggest recruit in Arkansas history. He went 8-0 as a true freshman starter, yet things turned sour between Mustain and Razorbacks coach Houston Nutt -- let's just say it was complicated -- and Mustain opted to transfer to USC.
The Trojans offered a new start, but Mustain couldn't manage to win the starting job after sitting out a season, per transfer rules. He first served as Mark Sanchez's backup in 2008 and then failed to beat out Barkley last fall. He saw limited action in 2008 -- he passed for 157 yards with two TDs and two interceptions -- but didn't throw a pass last year and was a mostly a forgotten man under coach Pete Carroll and offensive coordinator Jeremy Bates.
With the arrival of new coach Lane Kiffin, however, the message was no job was safe. Even Barkley's.
"Mustain really wanted to come and compete and show that he's a big-time quarterback who can help the team in any way," Helton said. "We were very proud of the way Mitch responded during the spring."
While few expected Mustain to beat out Barkley, who emerged as a clear No. 1 when spring practices ended, he impressed the coaching staff, Helton said.
"I thought he really put in the extra effort and the extra time of really understanding the system," he said. "We're extremely pleased with him."
The good news is that Mustain's game experience likely means he won't be too wide-eyed if he's needed to step in for an injured Barkley. The bad news is that he's the last line of defense -- or offense. This spring, after
Aaron Corp
opted to transfer to Richmond, he and Barkley were the only two scholarship QBs on the roster, though
James Boyd
was moved from defensive end to fortify depth. In the fall, touted freshman
Jesse Scroggins
arrives, but turning to a true freshman quarterback is rarely a good thing in the Pac-10.
If Barkley is lights out and doesn't get hurt, it seems unlikely that Mustain will see much playing time. His future hope, of course, is to copy the path of Matt Cassel, Matt Leinart's backup at USC, who signed a six-year, $63 million contract in July 2009 with the Kansas City Chiefs.
But Helton isn't writing off Mustain.
"I think he is going to be a guy who definitely helps us in his last year," he said.
June, 3, 2010
6/03/10
9:00
AM ET
No true freshman made a bigger impact last season than Pittsburgh's
Dion Lewis
, who became the first Big East player to win both the league's rookie of the year and offensive player of the year awards since Michael Vick.
[+] Enlarge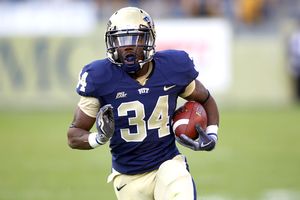 AP Photo/Keith SrakocicRay Graham adds depth to Pitt's running back corps.
Yet, if you asked Pitt coaches and observers this time a year ago who their best freshman running back would be, you probably would have gotten a mixed reaction. Like Lewis,
Ray Graham
came from a New Jersey high school. Graham was rated slightly higher than Lewis by most recruiting services.
Lewis, though, had the upper hand in one main area: maturity. Not only was Lewis highly focused, he enrolled in January and got a head start on his college initiation, while Graham arrived in the summer as a typical, confused teenager.
"Ray came in here with a lot of talent," Panthers coach Dave Wannstedt said. "He just wasn't up to to speed in terms of learning the offense and with his training exercises. There were a lot of instances last year where we would have liked to put him in and hand him the ball some. But most of our games were close, and we did not want to jeopardize a game by sticking a freshman in there and have it go the wrong way."
And so it was Lewis who seized the opportunity, rushing for 1,799 yards and 17 touchdowns. He carried the ball 75 times in Pitt's final two games alone. He'll enter the 2010 season as a potential Heisman Trophy candidate.
But don't forget about Graham. He has learned the offense now and put on more than 20 pounds in the weight room. He broke off big play after big play in the spring. Even in limited duty last season, he led all Pitt tailbacks by averaging 5.7 yards per carry. Lewis is a workhorse who's incredibly tough to bring down. Graham may have more home run potential.
No one is suggesting that Lewis won't still be the focal point of Pitt's offense. But Wannstedt says the team has "a good one-two punch" with Graham and that the Panthers will look for ways to get him more involved. If something were to happen to Lewis, Pittsburgh would feel comfortable using Graham as its main ball carrier.
Graham said he never thought seriously about transferring last year even as his classmate ran off with postseason honors and accolades. He's hoping to follow the same path as Lewis, even if he has to wait a while to do so.
"He understands that he's got ability to be a big-time player, and that will happen," Wannstedt said. "He just has to have faith that his opportunity is going to come."
June, 2, 2010
6/02/10
9:00
AM ET
By most measures,
Joe Bauserman
qualifies as a veteran.
You can start with his birth certificate. It reads Oct. 4, 1985. That means he'll turn 25 years old two days after Ohio State visits Illinois this season.
[+] Enlarge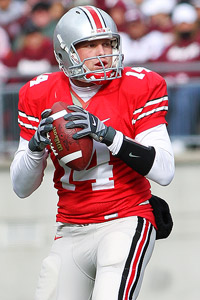 D. Jay Talbott/Icon SMIOhio State quarterback Joe Bauserman doesn't complain about being Terrelle Pryor's back-up.
Bauserman also is no stranger to high-level athletic competition. Aside from Ohio State teammate Devin Barclay, a 27-year-old former Major League Soccer player, no Buckeye has had a more extensive athletic career.
Bauserman was part of Ohio State's 2004 recruiting class but delayed his arrival to play minor league baseball in the Pittsburgh Pirates organization. A fourth-round draft pick by the Pirates, Bauserman pitched three years in the minors, compiling a 14-12 record with a 3.42 ERA. He finally joined the Ohio State football program as a walk-on in 2007.
About the only place where Bauserman can't be called an old hand is the football game field. He has only 25 pass attempts in two seasons as
Terrelle Pryor
's backup, racking up 146 pass yards with no touchdowns or interceptions.
"It's hard when you're the backup," quarterbacks coach Nick Siciliano said.
Pryor is as entrenched as any quarterback in the country, having started 22 of Ohio State's last 23 games. Other signal callers like Antonio Henton and Rob Schoenhoft left Columbus after Pryor signed, sensing the inevitable, but Bauserman has stuck around.
"Joe's been in a tough position ever since Terrelle got here," Siciliano said. "From a maturity standpoint, I don't think you can be any better than he has. He hasn't whined, he hasn't complained, he's been a total team guy.
"He loves to compete, and that's why Joe has a chance."
Bauserman's right arm gives him that chance. He's not the runner that Pryor and fellow reserve Kenny Guiton are, but the former pitcher can sling the football.
Siciliano stopped short of proclaiming Bauserman has the strongest arm on the team, saying, "If I say yes, Terrelle might get offended, so I'll leave that one." But the coach added, "Joe's ball gets up to speed as fast as it can and comes out really easily. He can chuck the thing with the best of 'em."
The 6-1, 233-pound Bauserman spent the spring working on his decision-making and his footwork, trying to get his drops in sync with the receivers' routes. Like the other quarterbacks, Bauserman struggled in the team's jersey scrimmage, completing 4 of 13 passes with an interception, though he did connect on passes of 32 and 25 yards.
Bauserman's woes continued in the spring game, as he completed 6 of 15 passes with two interceptions and no touchdowns. Guiton, who Siciliano praised for being quick to absorb information and instructions, turned heads by tossing two touchdown passes.
Pryor is Ohio State's clear starter, but Bauserman is being challenged for the No. 2 job.
"I would say it's Joe 2 and Kenny 3 with Kenny pushing the gap a little bit," Siciliano said.
Many think an injury to Pryor would torpedo Ohio State's national title hopes, but Siciliano has faith in the men behind him.
"I don't think I'd bat an eye because the other 10 guys around [the new quarterback] in the huddle would step up their game," Siciliano said. "Don't get me wrong, there'd be some level of difficulty with Terrelle leaving the game. Our mind-set's got to change a little bit, but I've got the utmost confidence that those guys would do a great job."
June, 1, 2010
6/01/10
9:00
AM ET
Tyler Wilson
came to Arkansas as one of the most decorated passers in Arkansas high school history.
He enters the 2010 season next in line to one of the best passers in all of college football.
[+] Enlarge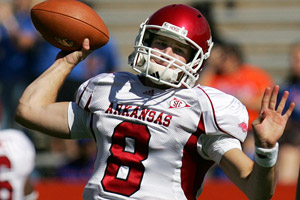 Cliff Welch/Icon SMI Sophomore Tyler Wilson gives Arkansas another solid option at quarterback.
Ryan Mallett
is the Hogs' quarterback. There's no question about that. He's mentioned prominently among the top quarterbacks in the country along with Stanford's
Andrew Luck
and Washington's
Jake Locker
.
But a year ago at this time, Mallett was still battling with Wilson for the Arkansas starting job.
And while Mallett has clearly separated himself with a 30-touchdown season a year ago, Wilson is more than capable as a backup. He passed for more than 8,000 yards and threw 93 touchdown passes in leading Greenwood High School to state championships his junior and senior years.
He's had plenty of work as the Hogs' first-team quarterback each of the last two springs and has played in seven games, albeit mostly in mop-up roles.
With Mallett sitting out this spring with a broken bone in his foot, Wilson took over as the Hogs' No. 1 quarterback with mixed results. Initially, he pressed a bit too much and didn't throw the ball consistently enough, but settled down two weeks into the spring.
Arkansas coach Bobby Petrino is comforted by the fact that Wilson knows the offense much better now than he did at any point last season.
Garrick McGee, the Hogs' offensive coordinator, said Wilson has also successfully made the transition from being a shotgun quarterback in high school to an under-the-center quarterback in Arkansas' system.
Early on, simply taking the snap from center was one of Wilson's biggest problems because he was in the shotgun the whole time he was in high school.
"His freshman year, we put him out there against Alabama and Texas, and he got beat up pretty good," McGee said. "Our team, our players and our coaches have confidence in Tyler. If Tyler were to run out there, our team has confidence he'd get the job done."
McGee said the 6-3, 215-pound Wilson is a classic drop-back passer.
"He can deliver the ball with different release points," McGee said. "He doesn't have to be standing square with his receiver to throw accurately. He can take a five-step drop and throw the ball down the field. There are some throws he makes better than Ryan Mallett."
Even though Wilson played as a true freshman, he did so in just two games before coming down with mononucleosis and ended up receiving a medical hardship from the NCAA for that season. So he'll only be a sophomore in 2010.
He won't be able to coast when preseason practice resumes, which is a good thing for the Hogs. Redshirt freshman quarterback
Brandon Mitchell
had some big plays in the spring game, and talented true freshman Jacoby Walker was also on campus for spring practice.
In other words, Petrino will have some options at quarterback, and he's looking forward to seeing how the competition plays out in the fall for those No. 2 and No. 3 jobs.