NCF Nation:

2010 Hawaii Bowl
December, 25, 2010
12/25/10
12:02
AM ET
Tulsa beat Hawaii
62-35
in the Sheraton Hawaii Bowl on Friday night. Here is a quick instant analysis:


How the game was won:
As expected, there were plenty of points in this one, but it was not the offensive showcase Hawaii wanted. The Warriors were a turnover machine in the first half, with five interceptions and one fumble. Quarterback
Bryant Moniz
threw two interceptions on the first two drives, then injured his back on a sack. Backup
Shane Austin
came on and threw an interception that was returned for a touchdown. Moniz came back in and also threw an interception that was returned for a touchdown. In all, Moniz had four interceptions -- two to linebackers that he simply never saw when he dropped back. He had never thrown more than two in a game. He also missed one of his top targets,
Kealoha Pilares
, who hurt his knee early in the game and never returned. Tulsa scored 24 of its 27 first-half points off the turnovers despite a sluggish offensive performance. Tulsa had more takeaways (6) than first downs (5). But the Golden Hurricane offense got going in a big way, racking up 437 second-half yards to win their seventh straight game. Ultimately, those first-half mistakes proved too costly for the Warriors to overcome.
Turning point:
The third quarter proved to be the biggest turning point in the game. Twice, Hawaii cut the lead to six, but Tulsa had quick responses each time. In fact, Tulsa scored three touchdowns on six plays that covered 206 yards on its first three drives of the third quarter to put the game out of reach.
Player of the game:
The Tulsa defense has to get the nod as the collective players of the game. Curnelius Arnick had two interceptions, including one that was returned for the touchdown. John Flanders also had an interception return for a touchdown. Hawaii put up its fair share of yards and points, but those takeaways proved to be the difference. Tulsa all-purpose player
Damaris Johnson
gets a nod, too. See below.
Second-guessing:
Hawaii receiver
Royce Pollard
caught a 33-yard touchdown pass with 9:27 to go in the fourth quarter, which cut the lead to 48-35. Rather than try for an onside kick, the Warriors kicked the ball deep, hoping for a stop. Tulsa ended up scoring a touchdown five plays later to go ahead by 20 points.
What it means:
Tulsa finished the season on an incredible streak and should be ranked at the end of the season as a 10-win team. With
G.J. Kinne
, Damaris Johnson and 15 other starters returning, the Golden Hurricane should be the favorites to win Conference USA going into 2011. As for Hawaii, the Warriors return Moniz, who ended up throwing for more than 5,000 yards this season. But many of their top playmakers are gone, including
Greg Salas
, Pilares and
Alex Green
. Still, with Boise State moving on to the Mountain West and Nevada also losing its three best players in
Colin Kaepernick
,
Vai Taua
and Dontay Moch, Hawaii should be in the hunt for another WAC title.
Record performance:
Damaris Johnson added yet another NCAA record to his collection, becoming the career leader for all-purpose yards. Johnson, who already owns the NCAA record for kickoff return yards, broke the career all-purpose record of 7,764 yards set by Western Michigan's Brandon West (2006-09). Johnson had 329 all-purpose yards against Hawaii and three touchdowns. ... One other player to note: Salas had 12 catches and two touchdowns in his final game, the first 200-yard receiving game of his career.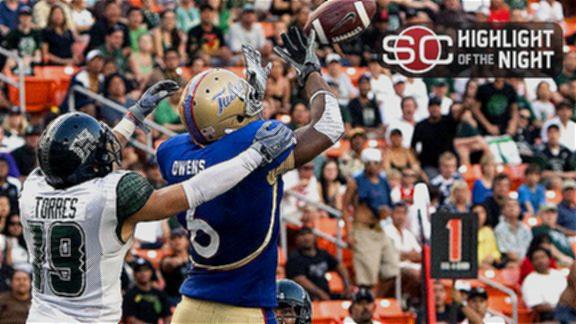 December, 23, 2010
12/23/10
3:30
PM ET
Their pedigrees are as different as the offenses they run.
[+] Enlarge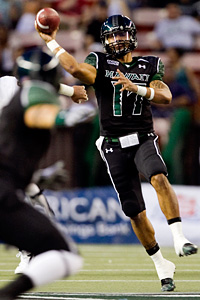 AP Photo/Marco GarciaHawaii's Bryant Moniz has thrown for 4,629 yards this season.
G.J. Kinne
was a three-time high school player of the year in his Texas division and spent one season at the University of Texas before transferring to Tulsa.
Bryant Moniz
went the junior-college route after being unrecruited out of high school, then walked on at Hawaii and delivered pizzas to pay the bills.
Yet here they are, the two centerpieces of their prolific offenses as Tulsa and Hawaii prepare to meet in the Sheraton Hawaii Bowl on Friday night in Honolulu. Kinne has led Tulsa with his arms and his legs, as the Golden Hurricane rank No. 5 in total offense in the country.
Moniz has led Hawaii with his arm, as Hawaii ranks No. 8 in total offense, but No. 1 in passing offense. He has thrown for 4,629 yards this season. Their play is a big reason why their teams are playing in a bowl game this season after sitting home in 2009.
So what has been the difference for both? Let's start with Kinne. He started last season as a sophomore with a very young team behind him, and was learning a new spread-style offense. This season, Tulsa added assistant coach Chad Morris, whom Kinne credits for helping him get on track. Kinne has started all 24 games he has played at Tulsa.
"He helped tremendously," Kinne said. "He's a great teacher. Now I feel like I'm playing my best ball toward the end of the year, as far as reading the coverages and feeling comfortable in the system."
Or as coach Todd Graham said, "This became his offense this year."
Kinne also cites his maturity, his teammates' hard work in the offseason to turn around a 5-7 season and his increasing role as a leader. "I was never a vocal person even in high school," he said. "Seeing that role blossom like that, I can tell the difference in the team and the way the team looks at me."
The Golden Hurricane have done that and more, winning six straight games to close the season. Kinne was named Conference USA Offensive Player of the Year after throwing for 3,307 yards and 28 TDs this year, along with a team-high 557 yards rushing and seven touchdowns. Tulsa was the hottest team in Conference USA down the stretch. Think about this – if East Carolina had not completed a Hail Mary with no time left in the season opener, the Golden Hurricane would have been playing for the conference championship.
Still, Graham deserves credit for keeping his team together after that heartbreaking defeat and a 1-2 start to the season. The 28-27 Notre Dame win served as a turning point.
"Everything changed that day," Graham said. "The buy-in, the belief, it's changed everything. That's why we put so much emphasis on that game. To get your first BCS win, but to get it at Notre Dame on national television and how we did it on the last play of the game was really spectacular."
Moniz, on the other hand, did not go into last season as the starter. He was No. 6 on the depth chart in the spring, but worked his way up. After injuries to two players, Moniz was thrown into the starting job, but he really has flourished this season with a full year in the complicated and pass-heavy run 'n' shoot-style offense.
Unlike Kinne, he is little threat to run. Instead, Moniz leads the nation in passing (356.1) and total offense (361.9), and credits his work in the offseason with receivers
Greg Salas
and
Kealoha Pilares
for helping him get better.
"I guess that's what's expected in this offense, but I never expected even playing or starting at the University of Hawaii," Moniz said. "When I accomplished that, anything after that was icing on the cake. To me, the big accomplishment was to make the team and start. If someone told me I'd throw for how many yards we have this year, I wouldn't believe them."
Both players are juniors this season, and though they will be losing some of their top receivers, they will have one thing in common in 2011 – high expectations for another outstanding season.
December, 16, 2010
12/16/10
2:15
PM ET
I know what you are thinking. Rushing machine and Hawaii football go together about as well as rival coaches sharing a beach house.
Not so much.
But something special happened on the islands this season.
Alex Green
ran for more than 1,000 yards -- the first 1,000-yard rusher in the version of the run-and-shoot offense Hawaii has been playing since 1999.
Green said the run-and-shoot is the reason why he was so successful this season.
"We have a really good receiving corps, really good offensive line, and opponents focus on our receivers a lot," he said in a phone interview. "I get the ball as much as I can, and usually it's open."
Here is a look a the milestones he has reached this season:
Green has run for 100 yards in four of his past six games.
That includes a career day against New Mexico State on Nov. 27, when he ran for a school-record 327 yards and won the Capital One Impact Performance of the Week. Green broke a 60-year old mark previously held by Pete Wilson (270) in 1950.
His 1,168 yards rushing this season is the second-highest single-season total in school history. He also became just the seventh player in school history to rush for 1,000 yards and the first since Travis Sims in 1992.
His team-leading 17 touchdowns is two shy of the single-season school mark for a running back.
All that success even caught quarterback
Bryant Moniz
off guard. Moniz threw for more than 4,000 yards this season.
"I'm surprised myself, and I think a lot of fans are surprised," Moniz said. "To have that many rushing yards says something about Alex, especially because he has to block so much."
Indeed, Green's first responsibility is blocking in the complicated offense. But when his opportunities are there, he takes advantage. Going into the season, Green knew how rare it was for a running back at Hawaii to get 1,000 yards, but he set his goals there because "I reach for the highest goals."
He has one game left in his Hawaii career, against Tulsa in the Sheraton Hawaii Bowl on Dec. 24. Many expect the game to be a shootout because the two offenses are prolific at passing.
But if we have learned anything this season, it is to not underestimate Green.