NCF Nation:

2010 media day
July, 29, 2010
7/29/10
9:45
PM ET
PASADENA, Calif -- They amassed two-deep around the table of the new coach of the team that finished tied for fifth in the Pac-10 last year. And they waited. And waited. Other coaches were available. Chip Kelly, leader of the defending Pac-10 champions and 2010 conference favorites, stood off to the side casually chatting with a couple of reporters.

But USC coach Lane Kiffin seems like a controversial story waiting to happen. You don't need to add water. You just wait and listen.

"You better say something interesting for as long as we've waited," said one reporter as Kiffin sat down.

"We've made up a bunch of quotes for you," said another.

It was all in fun for the most part, but everyone knows the media mantra "if it bleeds it leads," and the perception -- with justification -- is Kiffin and the Trojans are bleeding. There are severe NCAA sanctions. There are transfers that have left the Trojans with just 71 scholarship players. There are NFL teams filing lawsuits against Kiffin and the program.

Kiffin acknowledges that some view USC as a dynasty in decline. The term he uses to describe the perception is "crumbling." But he also doesn't make any effort to plead for patience or to warn USC fans that tough times might be ahead.

"I cannot imagine USC fans ever lowering their expectations," Kiffin said. "And we like it that way. I'd be shocked if they ever lowered their expectations. I hope they don't. We didn't come here just to make it through this. We came here to play at a championship level, regardless of the sanctions."

Yes, Kiffin was surprised by how severe the NCAA sanctions -- 30 scholarships over three years, a two-year bowl ban -- were. But, yes, he still believes USC is his dream job.

As for the controversies that seems to seek him out like moths to a flame, Kiffin repeatedly returns to a simple and mostly meaningless phrase that amounts to a "whatever": "It is what it is."

What he really wants to do is direct. Everything, he said, will feel much better when he and the Trojans return to the field next week and a tumultuous offseason gets pushed to the background as practices begin. Perhaps the football part of football will offer an escape.

"It will be exciting to get to next week so we can get to football and get on the field," he said.
July, 29, 2010
7/29/10
9:34
PM ET
PASADENA, Calif. -- It's one thing to beat out USC for the Pac-10 title. It's another to change perception. Oregon did the first in 2009, and it opens 2010 seemingly doing the second by earning the top spot in the preseason Pac-10 media poll.
[+] Enlarge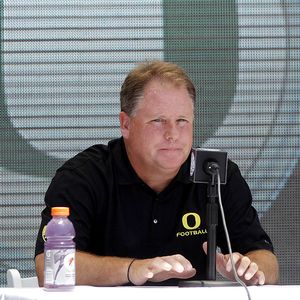 AP Photo/Damian DovarganesChip Kelly and Oregon are looking to defend their 2009 Pac-10 championship.
For the first time in seven years, a team other than USC is the favorite.
But there's a third step for Oregon: Replacing the now wounded Trojans as the lead dog -- lead Duck? -- in the Pac-10 pecking order. To do that the Ducks need only repeat as champs in a conference that features seven teams, that at least one reporter, deemed worthy of a first-place vote.
The Ducks can't motivate themselves by trying to prove their doubters wrong, an approach many coaches and players adopt when they are unhappy with the perch in media polls. They can't claim they are being disrespected. They are the favorites.
"What do you say when you're on top?" defensive tackle Brandon Bair said with a shrug.
Oh, but you know what they do say: Uneasy lies the head that wears a crown. Or not.
"Preseason rankings don't mean anything to us," coach Chip Kelly said.
Thing is, Oregon might have been an overwhelming favorite instead of just nipping USC by three points and three first-place votes -- one pollster even dumped the Ducks into ninth place. If Jeremiah Masoli hadn't thrown what had been an outstanding career into the dumpster, he would have been hanging out in New York this week with the other Pac-10 quarterbacks, answering a hundred questions about his Heisman Trophy candidacy.
As it is, the Ducks still have 18 starters back and appear deeper and faster than any other team in the conference. But quarterbacks are, you know, important.
"It's always a question mark when you lose your quarterback," Kelly said. "We have two competent players in
Nate Costa
and
Darron Thomas
who will battle it out in preseason camp."
Bair said the Ducks are treating Masoli's, er, departure like a graduation -- next guy steps up. But Bair rejected the notion that it's "Rose Bowl or bust" for the new conference frontrunners. Sort of.
"I'm not going to say Rose Bowl or bust -- I'm shooting for Arizona," Bair said. "If we can be the best that we can, the Rose Bowl is the worst that can happen to us."
Arizona, by the way, is the site of this year's national title game.