FT. LAUDERDALE, Fla. -- It's impossible to ignore the fact last night's 24-14 loss to Iowa in the FedEx Orange Bowl marked Georgia Tech's fifth straight bowl loss. No, that's not good, but it's also not fair to put that entire burden on coach Paul Johnson, as he has only been responsible for the past two.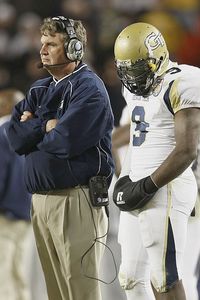 AP Photo/J.Pat Carter
Georgia Tech coach Paul Johnson is 0-2 in his first two bowl games with the Yellow Jackets.What does it say that Johnson has lost his first two bowl games with Georgia Tech?
That the program isn't where he wants it to be yet -- not necessarily that LSU and Iowa and any other team the Jackets face with a month to prepare will always win. It's not accurate to compare this year's bowl loss with last year's, when Georgia Tech lost in embarrassing fashion to LSU, 38-3 in the Chick-fil-A Bowl. That game was more about the points Georgia Tech surrendered from poor special teams play than it was about LSU's defense shutting down the spread option. LSU turned a fumbled punt and a stop on a fake punt into quick touchdowns. LSU also pulled off a successful fake punt in the fourth quarter. The Jackets lost three turnovers in that game. This year, they had just one interception, but beat themselves with nine penalties.
"Last year I think we self-destructed on special teams early in the game," Johnson said. "This one we kind of hung in there until we had a chance at the end. We had a couple of possessions (when we were) down three. We were way backed up, but we did have the possessions. You know, we just couldn't seem to get anything going or couldn't hit a pass play to get a jump start or couldn't hit a big play."
Iowa's defense had a little something to do with that. The Hawkeyes allowed just 155 yards, the lowest total in Iowa bowl history. And Georgia Tech's 12 passing yards were a bowl record for the fewest passing yards. That's not what Georgia Tech does, though. The bottom line is simply that Iowa took away what Georgia Tech does best and executed better in the process. The Hawkeyes lined up in similar fashion to what Clemson did, but they did it better. The problem with the triple option is that once defenses figure it out, you lose if you can't pass. And that was evident on Tuesday night.
As Johnson continues to recruit the players he feels are best suited for his system -- on both sides of the ball and in the passing game -- the Jackets will improve. And so will Johnson's 0-2 record in bowl games.