NCF Nation:

2010-season-moments
January, 18, 2011
1/18/11
11:46
AM ET
It's a difficult task to narrow down a season into 10 moments. My definition of the "top" 10 is the 10 moments that we'll look back on from this season and remember them, good or bad. So, here goes.
1. A&M makes the switch.
College football can be a cruel game. Texas A&M entered the season with the Big 12's Preseason Offensive Player of the Year,
Jerrod Johnson
, hoping to
lead the Aggies to their first Big 12 title
since 1998. But offseason surgery
sapped the zip from his throwing shoulder
and produced an ugly start to his season, leading the Aggies to switch to
Ryan Tannehill
. Tannehill set the school record for passing yards in his first start, a win over Texas Tech, and
helped the Aggies finish the regular season with six consecutive wins
and a berth in the Cotton Bowl.
2. Texas' loss to UCLA.
The red flags were there. Texas looked uninspired in wins over Wyoming and Rice, but looked dominant on defense in a road win over Texas Tech. Then the cellar-dwelling Bruins and their Pistol offense came to town. The Longhorns got rolled 34-12 in their own stadium. The loss
shocked just about everyone, but it was a sign of what was to come
: a 5-7 season the Texas faithful would rather forget.
3. Don't call it a comeback.
Actually, you could probably call it a comeback. It was no Cam Newton in the Iron Bowl, but
Landry Jones
helped rally Oklahoma from a 17-0 deficit to Nebraska in the Big 12 Championship
to knock off the Huskers, 23-20. The win gave Oklahoma its seventh Big 12 title of the decade.
[+] Enlarge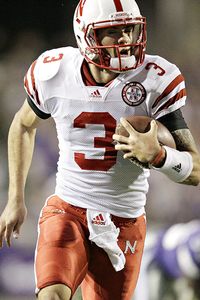 AP Photo/Charlie RiedelTaylor Martinez's career night included 241 rushing yards and five touchdowns.
4. T-Magic runs wild.
Kansas State packed Bill Snyder Family Stadium for a Thursday night game with its eyes on an upset of the undefeated Huskers.
Taylor Martinez
had other ideas. The Nebraska quarterback ran for 241 yards and five touchdowns, injecting himself into the Heisman race and
making people think very seriously about Nebraska as a national title contender
. Who would have thought Martinez would go the season's final nine games without a rushing touchdown after scoring 10 in the first four? Yes, K-State ended up finishing the season as the Big 12's worst defense, but Martinez put on a show and previewed what Nebraska fans hope is to come in the future.
5. We got a tip drill.
Oklahoma quarterback Landry Jones thought he'd thrown it away cleanly. Not so, said Brodrick Brown. The Oklahoma State corner
skied for Jones' pass headed for the sideline, tipped it back inbounds
to his teammate, linebacker Shaun Lewis, who caught it as one of Jones' three interceptions in the first half of the Big 12 South's deciding game.
6. Taylor Martinez's injury.
Nebraska already had a loss on its record, but one harmless-looking hit late in the first half of a big win changed Nebraska's season. Martinez was running laterally looking for a crease in the defense when Missouri safety Kenji Jackson flew in from the secondary and laid a hit on his lower body. Martinez sat the entire second half, and later revealed he had a sprained ankle. The freshman quarterback was never the same, and aggravated the injury again in a loss to Texas A&M.
7. Saluting your fans is bad, mmmmk.
Adrian Hilburn
made one of the biggest plays of Kansas State's season, catching a short pass and taking it 30 yards for a possible game-tying score with his team down eight. But after scoring, he saluted a group of Kansas State fans in the stands, and the
official tossed a flag for excessive celebration
after telling Hilburn he'd made the "wrong choice, buddy." The 15-yard penalty moved the Wildcats back, and
Carson Coffman
's pass on the conversion fell incomplete. Kansas State lost by two.
8. Moe's miracle.
Missouri's season already looked off the rails.
Blaine Gabbert
threw a pair of fourth-quarter interceptions. The Tigers trailed San Diego State 24-20 with a minute to play and 68 yards between them and the end zone. Don't worry about it, said
T.J. Moe
. The sophomore receiver caught a short pass, made two defenders slam into each other and
sprinted for the game-winning score that helped Missouri jump out to a 7-0 start
to its season. Teammate Carl Gettis told Moe in the end zone, "Thank you for saving our season."
9. Last five minutes of Bedlam.
Bedlam lived up to its moniker with a crazy finish that ended with the Sooners on top. Four touchdowns were scored within 92 seconds in the game's final five minutes. Oklahoma State scored to get within two points with just over four minutes to play, but on 3rd-and-long, Landry Jones found
Cameron Kenney
over the middle for an 86-yard touchdown pass. The ensuing kickoff? Oklahoma State's Justin Gilbert took it 89 yards to get back within two. But 17 seconds later, Jones found tight end
James Hanna
down the left sideline for a 76-yard touchdown that all but sealed the Sooners' win.
10. The Jayhawks win one for the ages
. Kansas and Colorado were the Big 12's only teams still without a win in conference play. Something had to give. Few figured the Buffaloes 28-point lead would be what buckled. Colorado led 45-17 with just over 11 minutes to play, but the Jayhawks scored a frenzied 35 points to finish with a 52-45 win, their only conference win of the season. Buffaloes coach
Dan Hawkins never got to coach another game for Colorado
after being fired following the loss.
January, 18, 2011
1/18/11
11:26
AM ET
As we look back one more time at the 2010 college football season, I'm faced with an impossible task.
Picking the top 10 moments this season in the SEC.
How about the top 25 or the top 50?
Anyway, here goes, and we'll count them down in reverse order:
10. South Carolina ends Alabama's streak:
Alabama rolled into Williams-Brice Stadium on Oct. 9 as the unquestioned team to beat this season in college football and sporting a 19-game winning streak. The Gamecocks played a near perfect game that day and knocked off the Crimson Tide 35-21, setting off a party for the ages in Columbia.
9. The perfect bounce:
In what had to be one of the plays of the year in college football, LSU kicker Josh Jasper took the over-the-head toss from his holder -- on the bounce, no less -- and scurried for a first down on a fake field goal to keep alive the Tigers' game-winning drive in their 33-29 win over Florida in the Swamp.
[+] Enlarge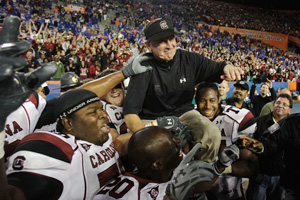 AP Photo/John RaouxSteve Spurrier was carried onto the field by his players after defeating Florida 36-14.
8. Spurrier carried off at the Swamp:
South Carolina went to its first-ever SEC championship game this season, and the Gamecocks clinched the Eastern Division title in the Swamp of all places. As the final seconds ticked down, the South Carolina players hoisted Steve Spurrier on their shoulders and carried him off the sidelines at a place he once ruled in the 1990s.
7. Meyer steps down at Florida:
After two national championships in six seasons, Urban Meyer stepped down as Florida's coach. And this time, he didn't change his mind. Meyer initially resigned a year ago, only to change his mind a day later. But for a combination of health-related and family reasons, he didn't turn back this time after a dizzying six-year run at Florida, and the Gators brought in Will Muschamp to replace him.
6. The chaotic end to the LSU-Tennessee game:
We know now that it's never dull with the Mad Hatter. Just when it looked like another clock management blunder had cost Les Miles' LSU football team at the end of the Tennessee game, the Vols were penalized for having 13 men on the field. So the Tigers got another play from the 1 and scored the game-winning touchdown in one of wildest endings you'll ever see in any football game. The Vols' players were on the field celebrating when the officials made the call for having too many men on the field.
5. The comeback:
Simply, it was the greatest comeback in the storied history of the Iron Bowl. Auburn, trailing 24-0 and its national championship hopes flickering, rallied for an improbable 28-27 victory over bitter rival Alabama, leaving the crimson-coated crowd at Bryant-Denny Stadium stunned in silence and paving the way for the Tigers to complete a perfect season.
4. Remembering Nick Bell:
Following Mississippi State's 52-14 rout of Michigan in the Gator Bowl and the acceptance of the trophy, the players lined up on the 36-yard line in memory of their fallen teammate, Nick Bell, who died in November after a battle with cancer. Bell wore No. 36 during his career. His mother, Linda, attended the Gator Bowl, and Mississippi State coach Dan Mullen went over to speak to her as the players stood silently in his memory on the 36.
3. Newton wins the Heisman:
For the second straight year, the Heisman Trophy went to an SEC player. In his only season at Auburn, quarterback Cam Newton put together a record-setting season, accounting for an astonishing 51 touchdowns, and walked away with the top individual honor in college football.
2. The NCAA reinstates Newton:
Amid an NCAA investigation that continues, the NCAA announced the week of the SEC championship game that Newton had been reinstated after Auburn declared him ineligible for a day. Both Auburn and the NCAA agreed that Newton's father, Cecil Newton, attempted to shop his son to Mississippi State for money, but that there was no evidence of money exchanging hands or that Cam Newton knew anything about the pay-for-play scheme.
1. Auburn wins the national championship:
Auburn reached college football's pinnacle with a 22-19 victory over Oregon in the Tostitos BCS National Championship Game. Not only was it Auburn's first national title since 1957, but it was the fifth in a row for the SEC.
January, 18, 2011
1/18/11
11:00
AM ET
It's time to look back at some of the top moments from the 2010 Big Ten season. I struggled to get this down to just 10, but here are the moments that made the cut.
[+] Enlarge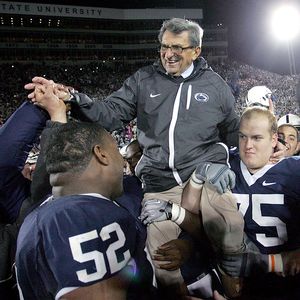 Charles LeClaire/US PressiwreJoe Paterno is the only FBS coach with 400 wins.
1. JoePa wins No. 400:
It took a little longer than expected, but Penn State gave coach Joe Paterno his 400th career victory in dramatic fashion. The Lions rallied from a 21-0 halftime deficit and mounted the biggest comeback of the Paterno era to beat Northwestern 35-21. Beaver Stadium remained full as almost everyone stuck around to witness an unforgettable postgame ceremony honoring JoePa.
2. Little Giants:
Mark Dantonio made the call of the year to help Michigan State beat Notre Dame in overtime Sept. 18. Rather than attempt a potential game-tying field goal, the Spartans went with "Little Giants," a fake where punter/holder Aaron Bates passes to a (hopefully) open receiver. Tight end
Charlie Gantt
sneaked behind Notre Dame's defense, caught the ball and trotted in for the game-winning score.
3. Pryor's fourth-down scramble:
Ohio State's run of five consecutive Big Ten titles was in serious jeopardy in a Nov. 20 game against Iowa. The Buckeyes trailed 17-13 late in the fourth quarter and receiver
DeVier Posey
had dropped a wide-open pass in the end zone, setting up fourth-and-10. But quarterback
Terrelle Pryor
scrambled 14 yards for a first down and Ohio State went on to record the game-winning score moments later.
4. Runaway Robinson:
Michigan's
Denard Robinson
had a record-setting start to the season, and his signature play came Sept. 11 at Notre Dame. Late in the first half, Robinson shot through a gap and raced 87 yards for a Michigan touchdown. It marked the longest run in Notre Dame Stadium history as Robinson broke his own record for Big Ten quarterback rushing. Robinson also led Michigan's game-winning touchdown drive in the closing minutes.
5. Gilreath's opening statement:
Special teams plays largely defined Wisconsin's run to the Rose Bowl, and Gilreath made a huge one to open an Oct. 16 game against No. 1 Ohio State. The senior receiver returned the opening kickoff 97 yards for a touchdown as Camp Randall Stadium quaked. The return set the tone for Wisconsin's 31-18 win, its first against a top-ranked team since 1981.
6. Divisions set, division names decried:
The Big Ten revealed its
new division alignment
on the eve of the regular season, and for the most part the league received praise for its efforts. It was a very different story in December when the
Big Ten revealed its new division names
, Legends and Leaders, which failed to connect with fans and brought an onslaught of criticism.
7. Spartans win one for Dantonio:
Dantonio was supposed to return to Spartan Stadium on Oct. 2 after recovering from a heart attack that took place following the Notre Dame win, but a blood clot forced him back to the hospital. Offensive coordinator Don Treadwell guided the Spartans to a huge win against Wisconsin, make several gutsy play calls along the way. After the game,
Dantonio spoke to the team through a cell phone
in the locker room. Michigan State showed incredible composure during Dantonio's absence.
8. Bittersweet end for Persa:
Few players in the country meant more to their teams than quarterback
Dan Persa
did to Northwestern, a fact underscored Nov. 13 and in the weeks that followed. Persa led a furious fourth-quarter rally against Iowa and fired the go-ahead touchdown pass with 1:22 left. He also ruptured his Achilles' tendon on the play, ending his season. Although Northwestern held on to beat Iowa 21-17, the Wildcats weren't the same without Persa, dropping their final three games.
9. Bowl heroics from Hyde, Thomas:
I'll combine two huge moments into one as Big Ten defenders made game-saving plays in bowls. Iowa's season appeared headed toward a fitting end before cornerback Micah Hyde picked off a pass and raced 72 yards for the winning touchdown against Missouri in the Insight Bowl. A week later, Ohio State defensive lineman Solomon Thomas, one of five suspended players allowed to play in the Sugar Bowl, recorded the first interception of his football career at any level to preserve a Buckeyes' win against Arkansas.
10. Wisconsin trounces Hoosiers:
Wisconsin's 83-20 pasting of Indiana on Nov. 13 became one of the more talked-about games of the Big Ten season. Some contended that Wisconsin coach Bret Bielema ran up the score, a common criticism of Bielema this fall. Those who actually studied the game saw it more as a culmination for Wisconsin's record-setting offense, which produced three 1,000-yard running backs.
January, 18, 2011
1/18/11
11:00
AM ET
It wasn't the best Big East season in memory by any measure, but there were still a lot of memorable events in 2010. Here are my top 10 moments from the season:
[+] Enlarge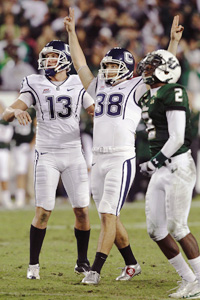 AP Photo/Chris O'MearaDave Teggart (38) celebrates after kicking a 52-yard field goal to help defeat South Florida.
Teggart's toe lifts Huskies:
One of the very last plays of the 2010 regular season registered as the most exciting. Connecticut's Dave Teggart drilled a 52-yard field goal with 17 seconds left to give his team a 19-16 win at South Florida and send the Huskies into a BCS game for the first time. It's a kick that will be relived and remembered in and around Storrs for a long time.
Eric LeGrand:
The spinal injury to the Rutgers' defensive tackle engulfed the Scarlet Knights' season and in many ways cast a shadow over the entire year in the Big East. I choose to remember it not for the injury itself, but for the amazing generosity of spirit that many showed and continue to show in support of LeGrand. And for the incredible optimism that LeGrand himself still has. (If you haven't watched
Tom Rinaldi's interview
with LeGrand yet, what are you waiting for?) We can only hope for an even greater moment ahead as LeGrand continues his recovery efforts.
Texas heads East:
The biggest news in the Big East this season happened not on the field but in the board room, as the league joined forces with TCU. The Horned Frogs would go on to finish No. 2 nationally and win the Rose Bowl Game presented by VIZIO. The conference made a splash by looking outside its geographic footprint, and 2012 can't come soon enough.
Coaching chaos:
The Big East coaching carousel this offseason should have been accompanied by the demented carnival music that scores "Curb Your Enthusiasm." What a wild, weird time it was. There was Bill Stewart publicly campaigning to keep his job after he had already privately signed it away, while helping court his own successor in the process. There was Pitt firing Dave Wannstedt, hiring Mike Haywood only to see him get arrested a little more than two weeks later and earning his own pink slip. Wannstedt wouldn't announce until the Monday before the BBVA Compass Bowl that he wasn't coaching the game. Finally, the Panthers hired Todd Graham in what looks like a pretty good do-over. And of course there was Randy Edsall deserting his UConn players on the way home from the Tostitos Fiesta Bowl and heading to his "dream job" at Maryland. It all seemed like a bad dream.
Rise of the Orange:
I can't decide which Syracuse moment was the most memorable. There were many candidates, from the win at South Florida to the upset victory in Morgantown to the blowout of Cincinnati to the New Era Pinstripe Bowl thriller. For me, just the fact that the Orange generated so many big wins and memorable moments is what will stick out in my mind down the road.
Strong statement:
In back-to-back weeks, Louisville coach Charlie Strong decided to go for it on fourth-and-1 from his own 39 at Syracuse (leading to a victory) and on fourth down in the first possession of overtime against South Florida (leading to defeat). It was part of the message Strong sent to his team: We're not backing down from anybody. Strong infused confidence and bravado into the Cardinals, who exceeded expectations with a seven-win season capped by the Beef 'O'Brady's Bowl win.
Edsall's gamble:
Speaking of fourth-down gambles, Connecticut's Edsall -- normally about as radical as argyle socks -- went for it on fourth-and-1 from his own 19 late in the fourth quarter against Pittsburgh. The ploy worked, and the Huskies went on to beat the Panthers 30-28 to shake up the Big East race.
Backyard Blowout:
Pitt still had a chance to win the league, but West Virginia came into Heinz Field and owned the place with a 35-10 beatdown. That was the last straw for Wannstedt and the last real high point for Stewart, whose team would watch helplessly as UConn won out to take the BCS bid.
Bulls on parade:
Beating Miami doesn't hold the cachet it once did. Still, South Florida notched the league's best nonconference victory when it knocked off the Hurricanes in overtime on the road Nov. 27. The fact that the Bulls did it behind freshman walk-on quarterback
Bobby Eveld
made it even more impressive. Skip Holtz got his first signature victory, and USF could tick off another milestone triumph against an in-state power.
Mascot mayhem:
In Cincinnati's final game, the Bearcat mascot was arrested and escorted out of Nippert Stadium for throwing snowballs and ignoring police orders to stop. Video of the mascot being handcuffed quickly went viral. Such furry foolishness underscored what type of season it was for the 4-8 Bearcats and seemed like a good way to cap what was an odd year in the Big East.
January, 18, 2011
1/18/11
11:00
AM ET
There were plenty of memorable moments this past season, but some always find a way of sticking with us longer than others. There were plays, moments, games and people who helped define the season. Some were good, some we'll remember for all of the wrong reasons. Feel free to
share yours in the mailbag
and I'll highlight them later this afternoon.
Here's a look at the top moments from the 2010 season:
[+] Enlarge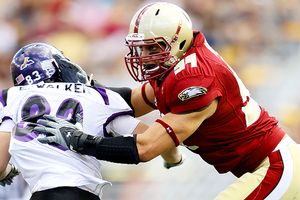 Elsa/Getty ImagesBoston College LB Mark Herzlich made his return to the field this season after missing all of 2009.
1. The linebackers' return:
NC State linebacker Nate Irving and BC linebacker Mark Herzlich both made miraculous recoveries in 2010. After missing the entire 2009 season while receiving treatment for Ewing's Sarcoma cancer, Herzlich returned to the team last offseason only to miss part of camp while recovering from a stress fracture in his right foot. Unsure of whether he would be available for the season opener against Weber State, it was one of the biggest comebacks in college football when Herzlich ran out of the tunnel and later made two tackles in the first quarter.
2. The NCAA investigation.
Unfortunately for UNC, this season will forever be linked to an NCAA investigation into agent-related benefits and academic misconduct that eventually sidelined 14 players for at least one game, including seven players who missed the entire season. Assistant coach John Blake resigned, star defensive tackle Marvin Austin was dismissed, and while a bowl win over an SEC team was something to be proud of, this season will always be remembered for what could have been had the entire roster remained intact.
3. Virginia Tech's loss to James Madison.
Face it: it's one we'll never forget. A positive spin? It changed the Hokies' season. This loss was the catalyst for an unprecedented turnaround in the FBS. No other program has ever started out 0-2 and finished the regular season undefeated. Virginia Tech rallied to become the first ACC team since 2000 to breeze through the ACC schedule undefeated, but the poor start quickly knocked Virginia Tech out of the national title conversation.
4. Florida State's state championship:
FSU's combined wins over Miami and Florida marked the first season sweep of state rivals since 1999 -- by the widest combined point margin in school history. Jimbo Fisher became the only FSU coach to pull off that sweep as a first-year coach. The Seminoles' 31-7 win over Florida snapped a six-game losing streak to their in-state rivals, beating the Gators for the first time since 2003 -- also the last time FSU was able to score that many points against Florida. With the win, Jimbo Fisher clinched the most wins by a first-year FSU coach in 50 years. Not even Bobby Bowden won his debut against Florida.
5. John Kevin Dolce's hit on Miami quarterback Jacory Harris:
This hit changed Miami's season. Not only did it knock the Canes' starting quarterback out for a few weeks, it also dashed Miami's hopes at winning the Coastal Division and gave Virginia its first win over a ranked team since defeating No. 21 Georgia Tech in 2008. Said Dolce: "When you chop the head off a giant, the rest of the body goes with it."
6. Military Bowl crowd chanting Ralph Friedgen's name.
The ACC coach of the year had been fired, but in his final game at Maryland -- a 51-20 drubbing of East Carolina -- Friedgen lived up to the title he had earned with the second-best turnaround in the FBS in 2010. After winning just two games in 2009, Friedgen led his team to a nine-win season, and his players and fans thanked him for it on a cold day in RFK Stadium.
7. David Wilson's kickoff return against Georgia Tech:
With 2:23 remaining, Virginia Tech running back
David Wilson
scored on a 90-yard kickoff return to give the Hokies a 28-21 win over the then-defending ACC champs. It was a dramatic play that answered Georgia Tech's 80-yard, game-tying drive, and one that separated Virginia Tech from the rest of the Coastal Division. Also in this game, Georgia Tech star quarterback
Joshua Nesbitt
broke his right forearm late in the first half, leaving the Jackets without the heart of their offense for the rest of the season, and ending Nesbitt's record-setting career too early.
8. Tyrod Taylor's ACC title-game performance:
There were trademark scrambles, big plays and no interceptions from the ACC's player of the year, who finished with four touchdowns and 267 total yards in a 44-33 championship game win over Florida State.
9. North Carolina's double-overtime win against Tennessee in the Music City Bowl:
The Tar Heels have a flair for the dramatic when it comes to bowl games, but this one was one of the most bizarre. After declaring the game over, officials reviewed the clock and determined there was still one second remaining. It gave kicker Casey Barth just enough time to tie the game at 20 and send it into overtime.
10. Dustin Hopkins' 55-yard game-winner:
A week after missing the game-winning field goal against North Carolina, FSU's kicker made a career-best 55-yard field goal to beat Clemson, 16-13, as time expired. Hopkins had missed two fourth-quarter field goals in a loss to the Tar Heels the previous week. It was the third-longest field goal in Florida State history.
January, 18, 2011
1/18/11
11:00
AM ET
What would a season wrap be without a list of the top 10 moments of the non-AQ season? So here it goes.
1. Tank Carder bats down Scott Tolzien's 2-point conversion attempt.
The best moment of the season simply because it preserved TCU's 21-19 win over Wisconsin in the Rose Bowl, allowing the Horned Frogs to finish No. 2 in the final rankings as the top non-AQ team in the nation.
[+] Enlarge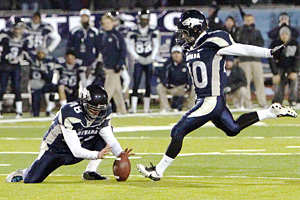 AP Photo/Cathleen AllisonAnthony Martinez's game-winning kick in overtime shocked Boise State and led Nevada to its best season ever.
2. Anthony Martinez kicks a 34-yard field goal in overtime to beat Boise State.
In one of the biggest upsets of the season, Nevada took advantage of two misses from Broncos kicker Kyle Brotzman to pull off the 34-31 win. It was Martinez, a redshirt freshman, who calmly delivered the game-winning kick, triggering a wild celebration and helping the Wolf Pack finish with the best season in school history.
3. Kellen Moore delivers the game-winning touchdown over Virginia Tech.
Moore threw the 13-yard touchdown pass to
Austin Pettis
with 1:09 remaining, lifting the Broncos to a 33-30 win over Virginia Tech. The win may have lost its luster at the end of the season, but at the time, it kept Boise State in the national conversation and proved once again the Broncos had what it took, not only to compete, but to beat the teams from the automatic qualifying conferences.
4. TCU smacks Utah.
The stakes were high. College GameDay was in Salt Lake City for the huge clash between No. 3 TCU and No. 5 Utah, two undefeated non-AQs jockeying for BCS positioning. The Horned Frogs dismantled Utah 47-7 as
Andy Dalton
threw for 355 yards, including a 93-yard touchdown pass to
Josh Boyce
early in the first quarter that set the tone for the game.
5. Brandon Burton blocks BYU's game-winning field goal attempt.
Not only was this the last game between BYU and Utah as conference rivals, it's also presumably the last time they will end the season against each other. Burton delivered a classic finish, blocking a 42-yard attempt by Mitch Payne to help Utah hold on for a 17-16 victory. Utah had erased a 13-0 deficit to come from behind and win.
6. Austin Boucher throws a 33-yard touchdown pass to Armand Robinson with 33 seconds left to help Miami (Ohio) win the MAC title game.
This was supposed to be Northern Illinois' night. The Huskies finished unbeaten in league play and were the overwhelming favorites to win. But Boucher, a redshirt freshman, converted a fourth-and-20 on the final drive, then hit Robinson for the game-winning touchdown as Miami (Ohio) completed the best turnaround in college football. The RedHawks went 1-11 last season.
7. Navy beats Notre Dame.
Alexander Teich
had his way against the Irish, running for 210 yards as the Midshipmen won in a 35-17 rout. It was Navy's third win over Notre Dame in four years, as it racked up 367 yards on the ground – the most ever for Navy against the Irish. Teich also became the first fullback in school history to run for over 200 yards in a game.
8. Dominique Davis' prayer answered.
Trailing 49-45 with seconds remaining in the season opener for both teams, the only option East Carolina had to win was to throw a Hail Mary into the end zone. Davis heaved the football into the end zone, and James Jones came up with the 33-yard touchdown to complete the improbable 51-49 victory. The teams combined for 1,117 yards and swapped the lead 12 times. If Tulsa had won, the Golden Hurricane would have played in the C-USA championship game and East Carolina would not have made a bowl.
9. Air Force knocks off Navy.
When the Falcons beat the Midshipmen 14-6 early in the season, they got the upper hand in the race for the Commander-In-Chief Trophy. Air Force beat Navy for the first time since 2002 and also ended the Midshipmen's 15-game service academy win streak. It was an emotional win for the Falcons, whose win over Army later in the season ended Navy's seven-year hold on that CIC Trophy.
10. FIU kicks a last second field goal to beat Toledo.
In what was one of the best finishes during bowl season, FIU kicker Jack Griffin booted a 34-yard field goal with no time left to give the Panthers a 34-32 win over the Rockets in the Little Caesars Pizza Bowl. It was a great moment not only because of the heart-stopping ending, but because FIU won its first bowl game in its first bowl appearance and finished with its first ever winning record.
January, 18, 2011
1/18/11
10:19
AM ET
How can a football season be reduce to top 10 moments? It certainly isn't easy.
You might have your own ideas. There certainly are a few that were difficult to leave out.
We tried for diversity here: Games, performances, teams and plays. We came up with a list of 18 and then whittled things down.
Feel free to disagree.
1. Dyer circumstances
: Was
Michael Dyer
down? Oregon fans say yes, but the game -- and replay -- officials said no in the Tostitos BCS National Championship Game. The end result was a 37-yard run for the Auburn running back to Oregon's 23-yard line late in the fourth quarter, which set up the Tigers game-winning field goal in a 22-19 Ducks defeat.
2. The tying drive
: What was the biggest moment that led to Oregon tying the national title game at 19-19? First came Ducks linebacker Casey Matthews forcing a fumble from Auburn quarterback
Cam Newton
on a first-down run. Then came a 29-yard pass from
Darron Thomas
to
D.J. Davis
on a fourth-and-5 play. Or maybe it was the third-down shovel pass to
LaMichael James
that gave the Ducks a 2-yard TD. And don't forget
Jeff Maehl
's leaping catch for the 2-point conversion. It was a magnificent moment of almost.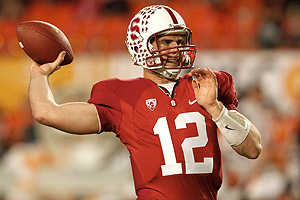 Joel Auerbach/Getty ImagesAndrew Luck threw for 3,338 yards and 32 touchdowns this season.
3. Pleasant fumble return
: Oregon safety Eddie Pleasant's 51-yard fumble return against Stanford was the turning point of the Ducks' Pac-10 game of the year win over Stanford. It was tied 31-31 in the third quarter, but Stanford was driving into Oregon territory after an
Andrew Luck
pass to
Chris Owusu
converted a third down. But Owusu fumbled on a hit from Javes Lewis and Pleasant rumbled to the Cardinal 3-yard line. A James run later and the Ducks took control.
4. It's better to be Luck than merely good
: Luck was masterful in the Discover Orange Bowl, completing 18 of 23 passes for 287 yards with four touchdowns in a 40-12 win over Virginia Tech. So that's what all those NFL scouts were talking about.
5. Polk's plunge
: You don't get much more basic than this: Fourth-and-goal from the 1 with just two seconds left, the game -- and bowl eligibility -- on the line. When Washington running back
Chris Polk
scored a TD as time expired to give the Huskies a 16-13 win at California, it became the centerpiece of a late-season surge that got Washington to its first bowl game since 2002. And it knocked the Bears out of the postseason.
6. Locker hurts Nebraska:
Washington quarterback
Jake Locker
's 25-yard TD run against Nebraska on the first possession of the third quarter of the Bridgepoint Education Holiday, which came immediately after he completed a 26-yard passing to wide receiver
D'Andre Goodwin
on third-and-8, gave the Huskies a 17-7 lead. It was the moment when everyone went, "Wow, the Huskies might beat a team that stomped them 56-21 on Sept. 18."
7. UCLA pounds Texas
: While it ended up not meaning a thing -- Texas wasn't that good; UCLA finished 4-8 -- don't forget how shocking UCLA's dominant 34-12 win at Texas was. No one -- no one! -- saw it coming.
8. For the defense
: Stanford's defense held Locker and Washington to just 107 total yards in a 41-0 shutout win in Husky Stadium, the Huskies' first shutout home loss since 1976. It was one of three shutouts for the Cardinal, whose transformation on defense was (almost) as big a story this year as Luck.
9. Five at the half
: USC quarterback
Matt Barkley
passed for a school-record-tying five touchdowns ... in the first half ... in USC's 48-14 blowout win over California. Barkley finished with 352 yards passing, but the Trojans, who led 42-zip at the half, opted not to run the score up.
10. Blowing PATs in the desert:
Arizona State beat rival Arizona 30-29 in double-overtime because James Brooks blocked two extra point attempts from Wildcats kicker Alex Zendejas. The first PAT probably would have won the game for Arizona in regulation. The second ended the game in the second OT. While the Sun Devils didn't earn bowl eligibility, the win sent them into the offseason with momentum for what figures to be a promising 2011 campaign. For the Wildcats, it was the fourth of what would become five consecutive defeats to end the season.