NCF Nation:

2010 SEC spring meetings
June, 4, 2010
6/04/10
2:18
PM ET
DESTIN, Fla. -- Now that the SEC spring meetings are concluding, let's whip through a 20-point inspection from the meeting rooms, lobbies (and beaches) at the Sandestin Hilton:
1. There's no doubt that some type of expansion is coming in college athletics, and there's no doubt that SEC Commissioner Mike Slive has a plan in place.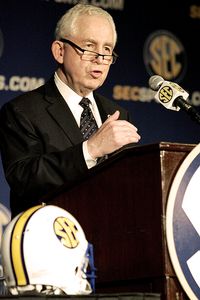 AP Photo/Butch DillSEC commissioner Mike Slive surely has a plan for expansion, but he's not sharing it with the media.
2. No, he's not divulging that plan and doesn't feel like there's any rush to do anything at this point. But he won't be slow to pull the trigger if he thinks the league can strengthen itself. The SEC feels like it's very much in the driver's seat no matter what happens.
3. Two of the possibilities that popped up the most during casual conversation with coaches, athletic directors and other league officials were Texas and Virginia Tech. Both are tailor-made for the SEC in football, and it would be two brand new markets you'd be adding to the league.
4. Noting how crazy it's been in the Big 12 for the last several weeks, Slive said there was a "sense of calm and sense of togetherness" within the SEC.
5. There was far too much talk in the league last season about the officiating to suit Slive. As far as he's concerned, nobody (at least nobody he can control) will be talking about it in 2010. "We're through with public comments about officiating. The conference is through with public comments. The coaches are through with public comments about officiating, and in terms of accountability, we've walked the walk and talked the talk."
6. Florida coach Urban Meyer looks like a completely different guy than the one I remember from last December at the SEC championship game. I still don't know if he'll coach a lot longer than five more years, but he's ready to go this season in what will be a bit of a change for the Gators. Suddenly, they're not the team everybody is talking about in the national championship race. But they're still the Gators. "There's not many stadiums we walk into where it's not the game of the year," Meyer said. "That's the way it is. The one thing about this league is they're a bunch of hunters in this league."
7. Losing to Alabama in last season's SEC championship game wasn't the hardest part for Meyer. It was the way his team performed in that game (or didn't perform) that was so difficult to accept. "We missed over 20 tackles and had a couple of turnovers, so we didn't play the way we took great pride in," Meyer said. "That's what happens when you play that way against great people. You get exposed." The Gators were 45-2 under Meyer in games where they had single-digit missed tackles going into that Alabama contest.
[+] Enlarge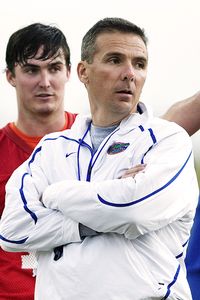 AP Photo/Phil SandlinUrban Meyer said the "Tim Tebow package" isn't going away even though Tebow is now in the NFL.
8. Even though he no longer has Tim Tebow, Meyer is adamant about keeping the "Tim Tebow package" as a part of Florida's offense. He said converted tight end
Jordan Reed
and true freshman quarterback Trey Burton both looked good in the spring. "We'll certainly have two elements. We believe at Florida that one dimension is not who we are and how we're going to move the ball. We're going to have that element that's not Johnny (Brantley) that you have to prepare for."
9. Imagine that. Even Auburn athletic director Jay Jacobs thinks Alabama is getting the shaft this season in having to face six teams in the league coming off bye weeks. "It's unfair and has to be fixed," Jacobs said. "I don't know when it will be fixed. None of us want to be in that position, even though they won them all [in 2009]."
10. You gotta love LSU coach Les Miles' response when asked if he considered cowbells an artificial noisemaker. "Maybe not in a pasture," Miles said.
11. Alabama coach Nick Saban had the word of the week, referring to stuff he doesn't want to deal with as "mouse manure."
12. Georgia coach Mark Richt said
Logan Gray
would get most of his work this fall at receiver. But right now, he would still be the Bulldogs' No. 2 quarterback behind redshirt freshman
Aaron Murray
.
13. The more you hear Richt talk about Murray, the more obvious it is that he was going to be the guy all along. "He led his team to a state championship and understands the team concept," Richt said. "He's got a very strong arm, a quick release and is more mobile than most people give him credit for. He's very strong. If you saw him with his shirt off, you'd be surprised how physically strong he is."
14. South Carolina coach Steve Spurrier had every chance to back off on some of his tough talk concerning junior quarterback
Stephen Garcia
, but the closest the Head Ball Coach would come to saying anything positive about Garcia was something along the lines of "Maybe he'll come around. We hope he will. We'll just have to see."
15. Speaking of Spurrier, he's as funny as ever … even when he's not trying to be. He's one of those rare head coaches who says whatever's on his mind and doesn't care who's standing around to hear it. I don't think I've ever heard him say something was off the record.
16. It sounds like Barbara Dooley, the mother of first-year Tennessee coach Derek Dooley, has been talking a little too much for Dooley's taste. "My mom showed up at the Atlanta Big Orange Caravan wrapped in orange," Dooley said. "I had to remind her that the event was not for her. She's developed a little bit of an icon status in Tennessee, and I've had to ban her from the state." Asked why he banned her, Dooley cracked, "Because she violated the media policy, and she doesn't really give a damn what I say."
17. While Dooley is careful not to criticize his predecessor, Lane Kiffin, it's obvious he wasn't too keen on Kiffin's "Lil Wayne talking trash" approach. "It wasn't my style. It was Lane's style, and that's not to be critical," Dooley said. "I just don't think it helps you win football games getting in verbal attacks with other people."
18. Ole Miss coach Houston Nutt said the Rebels will have a package in place at quarterback for incoming junior college transfer Randall Mackey. "He'll get a crash course. We'll give him a small package and see if we can't get him a role. He looks beautiful on film and has some unbelievable talent. Now, he's just stepping on our campus, and SEC speed is different. There's the playbook. So let's see how he adjusts and how mature he is. Hopefully, there's a role for him. We've got to give him the ball."
19. Vanderbilt coach Bobby Johnson said it's going to be critical that younger players come through in the offensive line and at receiver this season. The Commodores signed a pair of 6-4 receivers in Chris Boyd and Jordan Matthews, and Johnson is also eager to see what incoming freshman receiver Trent Pruitt of Fitzgerald, Ga., can do when preseason practice begins.
20. The SEC athletic directors approved a proposal that would still allow Mississippi State fans to ring their cowbells next season. But here's the catch: They won't be allowed to ring them while the game is being played. Timeouts are fine. The pregame is fine. Change of possessions are fine. But with the other team facing third-and-12 and backed up against its own goal line is not fine. It's a compromise of sorts, and Mississippi State could potentially face fines if cowbells continue to clang away while the game is being played. Something tells me the Mississippi State athletic department had better be ready to ante up.
June, 3, 2010
6/03/10
8:01
AM ET
DESTIN, Fla. -- Even when he was being ridiculed for hiring a guy with a 5-19 career head coaching record, Auburn athletic director Jay Jacobs knew he'd hired the right guy.
More precisely, he knew he'd hired the right guy for Auburn.
The momentum in Auburn's program right now is pretty obvious as Gene Chizik gets set to enter his second season. The Tigers are coming off a top-5 recruiting class nationally and won eight games a year ago, including an Outback Bowl victory over Northwestern, in Chizik's debut season as the head man.
[+] Enlarge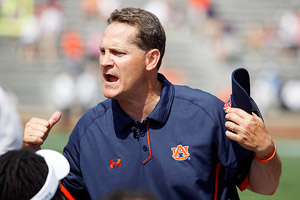 John Reed/US PresswireAuburn's selection of Gene Chizik as its head coach is looking pretty good right now.
But there was a time when some on the Plains wanted Jacobs' head for hiring Chizik in the first place.
Who could ever forget the footage of that obnoxious fan booing as Jacobs returned to the airport after completing the deal with Jacobs in December 2008?
And if you'll remember, Charles Barkley wasn't too kind to his alma mater, either.
Jacobs flashed an easy smile this week at the SEC spring meetings when asked if there were an extra sense of satisfaction for him to see the program prospering under Chizik.
"From the outside looking in, I can see how some people might think there's extra satisfaction," Jacobs said. "But from the beginning, I knew he had a plan and knew what it was. He's just working the plan he submitted to me back in the very beginning. So 'satisfaction' is not the right word. He's just working his plan to build us back to where we need to be."
In other words, if you think Jacobs is going to be one of those guys to say, "I told you so," think again.
That's not his style.
What's more, he knows it's way too early to be making any hard and fast evaluations on the program after just one season.
"We're still two signing classes away from having a team like we had in 2004," said Jacobs, who was already plenty familiar with Chizik when he started his search because Chizik was the defensive coordinator on that unbeaten 2004 Auburn team.
Still, Jacobs knew Chizik would be a tough sell initially to the fans, and he was. But Jacobs never wavered in his belief that Chizik's character traits made him an ideal fit for Auburn.
"The thing was that we were here to win football games, not to win press conferences," Jacobs said. "There's a fine line there because you can lose your fans. The Auburn people are passionate people, and their passion came to the top ... which it should."
Many of those people who voiced their displeasure over the hire, including Barkley, have changed their tune.
How many?
Well, just like Jacobs wasn't keeping count when he was being told how bad a hire he'd just made, he's not keeping count now when people applaud the hire.
"I'm just here as a steward to this athletic department and am going to do what's right," Jacobs said. "That's how it's going to be, but I appreciate the passion of the Auburn people and appreciate how this coaching staff has come in and ignited the Auburn people.
"The Auburn people have come together, and we're as unified now as we've ever been."
June, 2, 2010
6/02/10
9:00
AM ET
DESTIN, Fla. -- For the time being, SEC commissioner Mike Slive will let everybody else speculate about expansion and what many are predicting will be a significant shift in the landscape of college athletics.

Slive's stance is the same as it has been, and he's not coming off that stance.

The SEC will sit, wait and watch and allow the Big Ten to make the first move -- or moves.

"Obviously, we will talk about it, and I'll share some thoughts," Slive said concerning any expansion discussion this week at the SEC spring meetings. "But, basically, what we're going to say is what we've said. Given our success over the last decade, we're pretty comfortable, as I think you all know.

"Having said that, if there's a significant shift in the conference paradigm, we will be thoughtful. We'll be strategic, and our goal is for us to maintain our position as one of the most successful conferences in the country. People have been drawing inferences from that. They'll continue to draw inferences from that, but really that's about all we're going to say about it this week."

Many of the SEC's football coaches have asked as many questions about possible expansion scenarios the past couple of days as they've answered.

Nobody seems overly eager to bring in more teams to a conference that has already won the past four BCS national championships in football.

"This is just one man's opinion, but I kind of like the way things are," Florida's Urban Meyer said. "The SEC has elevated itself to one of the top conferences, if not the top conference, in the last five years. I know nothing about expansion. I'm kind of curious what you guys are hearing about it.

"I can't imagine making it a little stronger, a little tougher to win a few games. I don't see it happening."

Alabama's Nick Saban suggested that the Big Ten's longstanding pursuit of Notre Dame is what's driving most of the expansion chatter.

"I don't really know a lot about what's going on out there," Saban said. "Even when I was back in the Big Ten [at Michigan State], and I really think that's the key to all this stuff, it was always about Notre Dame then. Each year, there was a big discussion about trying to get Notre Dame to join the Big Ten, and I think that's a lot of what it's about now."

Several SEC officials have made it clear this week that they have no desire to start invading conferences just for the sake of adding teams.

The 1992 SEC expansion included a South Carolina team that was an independent and an Arkansas team that was part of a decaying Southwest Conference.

Now, if the Big 12 starts to crumble as a result of the Big Ten expanding, then clearly Texas and/or Texas A&M would be attractive to the SEC, especially when you consider the television market in Texas and the population numbers in that state.

The coaches say they will leave those decisions up to Slive and are confident he will make the right call.

And if it's status quo that Slive decides on, it doesn't sound like any of the football coaches in this league would be pouting.

Whatever happens, Georgia's Mark Richt said he wouldn't be in favor of adding additional conference games.

Eight is enough.

"I'd be shocked if we started looking around and saying, 'Hey, what team do you think would be fun to add?'" Richt said. "I don't think we'll do that."
June, 1, 2010
6/01/10
6:36
PM ET
DESTIN, Fla. -- Florida coach Urban Meyer ventured out and experienced things this offseason that he's never previously done during his head-coaching career.
He took his daughter to The Masters, visited Rome, even took in a Jimmy Buffett concert.
Meyer
But, no, he didn't meet the Pope, as was suggested in some media reports.
"We went on a little family trip and got to see him, big Gator fan. We talked about third down and 6," beamed Meyer, who was obviously joking.
"No ... I did not meet him."
Meyer, looking relaxed and fit, met with several reporters Tuesday prior to the start of the SEC spring meetings at the Sandestin Hilton.
For the first time, he expounded on what was at the root of his chest pains last December that initially led to his shocking resignation. He changed his mind the next day and said he would instead take an extended leave of absence.
"The biggest thing was I wanted to find out what those darned chest pains were, and I did … esophageal spasms," revealed Meyer, who was rushed to the hospital with severe chest pains the morning after Florida's SEC championship game loss to Alabama.
"They've got me on some medication. I've just got to be smarter in the future, and I'm going to be. I'm not going to let that happen again."
According to MedlinePlus, esophageal spasms are abnormal contractions of the muscles in the esophagus, preventing food from effectively moving to the stomach. The cause is unknown.
Meyer said he hasn't had any issues with chest pains since the end of January, but said it was like "waking up every morning with a toothache in your chest" for the last three years.
Even though his extra time away during the offseason was termed a leave of absence by Florida, Meyer stopped short Tuesday of referring to it as a full-fledged leave.
"I don't know about 'leave,'" Meyer said. "I'm not quite sure 'leave' is the right word. I talk to a lot of coaches, and a lot of them do it without saying 'leave.' They take a couple of weeks off here or a couple of days off here.
"What I've got to do is learn to really trust our staff and empower people and give them opportunities to grow. They've done a great job. We have a great staff. We have the best strength coach in America. To sit there and micro-manage our strength program would be nonsense, and I did that for a few years. I'm very pleased with the way it's going right now."
Meyer said being able to get away with his family this offseason was soothing. It was also a reminder that he didn't need to be at the office every waking second.
"I feel fantastic, and I have a better appreciation for the guys around me, to just bolt for five days," Meyer said. "I've never done that in my life, to say, 'Here, you guys got it.'
"The stadium's still standing. Guys are working out, getting faster, graduating. It's going well."