NCF Nation:

2010 weekend rewind Week 1
September, 6, 2010
9/06/10
3:38
PM ET
It's back for another year: Who's hot and who's not?
EN FUEGO
LSU cornerback Patrick Peterson:
I guess I need to add return specialist to his duties as well, although I doubt many teams will be kicking it to him the rest of the season. He is truly a special football player, and is off the charts as an athlete. First of all, you just don't see cornerbacks pushing 220 pounds who can run like that. And then he steps back there to return kicks for the first time since high school and rolls up 244 return yards by halftime, including an 87-yard punt return for a touchdown. Hey, I'd hand it to him a few times on offense, too. Peterson said Saturday night after the 30-24 win against North Carolina that he was game.
HOT
Mississippi State's offense:
The Bulldogs were pretty close to perfect in thrashing Memphis 49-7.
Tyler Russell
threw four touchdown passes, and Mississippi State finished with 569 yards of total offense. The Bulldogs did have one interception, Chris Relf's first throw of the night, but had just three penalties for 30 yards.
NOT
Florida's offense:
Here's how bad it was: The Gators had 13 total yards at the half. They couldn't get the snap right. Their running game, especially when it comes to getting the tough yards, looks suspect, and the receivers look even more suspect. Where's
Andre Debose
? He didn't play a snap.
HOT
Georgia's kickers:
There are weapons in the kicking game, and then are Drew Butler and Blair Walsh. Butler, the Bulldogs' All-America punter, punted six times for a 46.7-yard average. He launched a 59-yarder and had three downed inside the 20. Walsh's day consisted of a 52-yard goal and then a 48-yard field goal. You don't want to get into a kicking contest with the Bulldogs.
NOT
Auburn's defense:
It's hard to be too picky about a 52-26 win, but Auburn needs to tighten up defensively if the Tigers are serious about making a run in the West. Arkansas State moved the ball well at times and kept it for more than 34 minutes, finishing with 366 yards of total offense. Auburn has to play more consistently on defense and tackle better.
HOT
Les Miles' seat:
I wasn't one of those who was necessarily ready to concede that Miles was really on the hot seat. But after watching the Tigers nearly give that game away in the fourth quarter last weekend to a depleted North Carolina team, he better see to it that this team plays to its talent level the rest of the way, plays with more discipline – and most importantly – plays all four quarters. And one other thing: Quit saying that
Russell Shepard
should have gotten the ball more. Make it happen. You're the head coach.
NOT
Vanderbilt's luck:
One game in, and we're already debating an official's call. Looking at the replay from Saturday night, Vanderbilt safety Jay Fullam delivered his hit to the Northwestern quarterback's shoulder pads, not his head. Yet, the official called a head-to-head personal foul penalty, which sealed the Commodores' fate. Of course, they didn't help themselves earlier in the game by missing an extra point.
HOT
South Carolina's staff:
The Gamecocks' coaches did a terrific job last week of preparing for that Southern Miss game and keeping their players on point despite not knowing who would be available to them until about an hour before game time on Thursday.
NOT
Tennessee's chances:
The Vols are a two-touchdown underdog to Oregon this coming Saturday at Neyland Stadium. Can anybody remember the last time Tennessee was such a prohibitive underdog at home?
FREEZER BURN
Ole Miss:
The Rebels went from feeling as if they were wronged by the NCAA in the initial
Jeremiah Masoli
decision last week to wondering what in the world went wrong in a 49-48 double-overtime loss to FCS foe Jacksonville State. Losing to an FCS team is embarrassing enough. But to blow a 21-point lead at home and give up 355 yards of total offense is inexcusable. Jacksonville State scored on its last six possessions, and Ole Miss turned the ball over three times in the game. In a word – ugly!
September, 6, 2010
9/06/10
2:27
PM ET
Welcome to your Instant Replay of Week 1 (in HD, of course), and a sneak peek at Week 2. Yes, there are still two games to be played in the ACC – biggies – so consider this an abbreviated version of what you'll see next week.
[+] Enlarge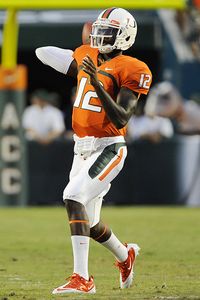 Richard C. Lewis/Icon SMIJacory Harris threw three touchdown passes in Miami's opener on Thursday.
The good:
ACC quarterbacks. Granted, most of these top performances came against less-than-stellar competition, but most of the signal callers in the league proved worthy of the preseason hype. Florida State's
Christian Ponder
, Miami's
Jacory Harris
, and NC State's
Russell Wilson
all put up eye-popping numbers. UNC's
T.J. Yates
showed dramatic improvement and leadership in the loss to LSU, and Duke's
Sean Renfree
proved more than capable of taking over for Thaddeus Lewis. Virginia's
Marc Verica
also got away from the interceptions that had plagued him in 2008.
The not-so-bad:
Georgia Tech quarterback
Joshua Nesbitt
. Wow. He averaged 8.1 yards on 16 carries and rushed for 130 yards and three touchdowns. All but 12 of the Jackets' 372 total yards came on the ground. But Nesbitt was only 1 of 6 passing for eight yards and an interception.
The ugly:
John Blake's resignation. It's only the first week of the season, and UNC has already suffered another repercussion from the NCAA's investigation into possible improper contact with agents. The team lost its defensive line coach and its recruiting coordinator.
Top three games to watch in Week 2:
1. Miami at Ohio State (3:40 p.m. ET, ESPN/ESPN3):
This is the can't-miss game of the week nationally, too. If the Hurricanes pull the upset in the Shoe, they should be considered national-title contenders. Quarterbacks Jacory Harris and
Terrelle Pryor
are coming off impressive performances against lesser opponents and will be one of the hot topics all week.
2. Florida State at Oklahoma (3:30 p.m. ET, ABC):
We'll know a lot more about where Jimbo Fisher and his program stand after this one. The Sooners looked beatable, but a road trip into Big 12 territory is never easy. The Bowden Bowls are over, but the Stoops Bowl is just beginning.
3. Duke at Wake Forest (Noon, ET, ESPN3):
It's the first conference game of the season, and don't snooze on it – it means something. If either one of these programs is going to make it to a bowl game this season, this game is a must-win. It will feature new quarterbacks for both programs.
September, 6, 2010
9/06/10
2:24
PM ET
Let's put a bow on Week 1 before looking ahead to a more challenging slate of games in Week 2.
[+] Enlarge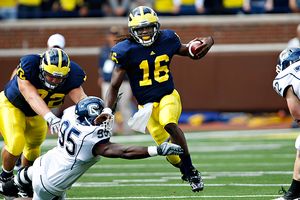 Scott Boehm/Getty ImagesQuarterback Denard Robinson had a record-breaking day in Michigan's opening win.
Team of the Week:
Michigan. Many picked the Wolverines to lose its opener against UConn, and almost no one thought the Wolverines would win convincingly. Behind do-it-all quarterback
Denard Robinson
, a powerful offensive line and an opportunistic defense, Michigan stormed out of the gate and never looked back, beating Connecticut 30-10. The Wolverines still have some issues on defense, but if Robinson stays healthy and keeps this up, the Maize and Blue will be tough to beat.
Best game:
Minnesota-Middle Tennessee. Considering nine of the 11 games were decided by more than one score, there were not many choices here. At least the Gophers brought some drama in Murfreesboro, rallying from a 17-14 second-half deficit to
win 24-17
. Minnesota also provided the most touching story of the weekend, as fullback
Jon Hoese
rushed for three touchdowns and recovered a fumble just days after his father suffered a severe stroke. Hoese nearly didn't make the trip.
Biggest play:
After a somewhat sloppy first 30 minutes by Penn State, Chaz Powell created some distance on the scoreboard with a 100-yard kickoff return for a touchdown to open the third quarter. Powell, back at wide receiver after being moved to cornerback this spring, had Penn State's longest kick return since Rich Mauti's 100-yard runback in 1975. Honorable mention goes to Wisconsin defensive end J.J. Watt, whose forced fumble led to a touchdown early in the third quarter against UNLV after the Badgers led by only three points at halftime.
Best call:
Joe Paterno and his staff made a historic call by starting true freshman quarterback Rob Bolden in the opener, and it paid off. Bolden showed impressive skills and poise, completing 20 of 29 passes for 239 yards with two touchdowns and an interception. Rich Rodriguez's decision to go with Robinson at quarterback for Michigan also looked good.
Game balls
(given to players not selected for helmet stickers)
How bizarre:
Northwestern's victory at Vanderbilt was sealed on a very questionable penalty call by Big Ten officials. Quarterback
Dan Persa
appeared to be stopped just short of a first down with less than two minutes left, bringing up fourth-and-1 and a likely punt. But officials called Vandy's Jay Fullam for a helmet-to-helmet hit -- replays showed he led with his shoulder -- and the penalty allowed Northwestern to run out the clock and escape with a
23-21 victory
.
Now, let's take a quick look at the Week 2 slate ...
[+] Enlarge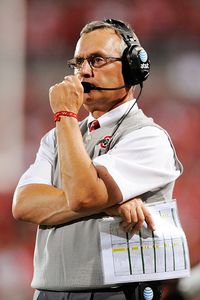 Jamie Sabau/Getty ImagesCoach Jim Tressel and Ohio State face a tough early test against the Hurricanes.
Miami (1-0) at Ohio State (1-0):
The nation's top matchup pits
Jacory Harris
and the Canes against
Terrelle Pryor
and the Buckeyes
(ESPN, 3:40 p.m. ET)
. Miami and Ohio State meet for the first time since the 2003 Fiesta Bowl, which gave the Scarlet and Gray their last national title. Buckle up.
Penn State (1-0) at Alabama (1-0):
Joe Paterno heads to the home of the Bear, although this time he'll face Nick Saban and the defending national champs
(ESPN, 7 p.m. ET)
. Bolden surprised a lot of folks with his play in the opener. Now he'll try to shock the world against the Tide.
Michigan (1-0) at Notre Dame (1-0):
Who ever thought this matchup of tradition-rich powerhouses would feature two spread offenses? If Michigan's Robinson pulls off a repeat performance against Manti Te'o and the Irish defense, the Wolverines should be 2-0.
Iowa State (1-0) at Iowa (1-0):
Adrian Clayborn didn't mean to tick off Iowa State with his "only team in the state" comment, but you can bet the Cyclones will use it as motivation Saturday
(ABC, 3:30 p.m. ET)
. Iowa's Hampton plays his first game since 2008.
Michigan State (1-0) vs. Florida Atlantic (1-0) at Detroit:
How weird will it be to see the Spartans wearing their road unis for a game in nearby Detroit? Florida Atlantic is the home team Saturday
(ESPNU, noon ET)
.
San Jose State (0-1) at Wisconsin (1-0):
After a few hiccups in the opener, Wisconsin aims for a cleaner performance at home
(ESPN, noon ET)
against a San Jose State team that lost by 45 to Alabama in Week 1.
Illinois State (1-0) at Northwestern (1-0):
The Wildcats try to revive their anemic run game against an Illinois State team filled with Big Ten connections, from head coach Brock Spack, the former Purdue defensive coordinator, to former Michigan State running back
Ashton Leggett
.
Southern Illinois (1-0) at Illinois (0-1):
Can you say must-win? SIU is typically one of the nation's top FCS programs, and the Salukis would love to score an upset against the state's top public school. Illinois quarterback
Nathan Scheelhaase
tries to bounce back from a rough opener in front of the home crowd.
Western Illinois (1-0) at Purdue (0-1):
Something tells me
Robert Marve
and the Boilers offense figure things out in a big way this week, although Western Illinois blanked Valpo 45-0 in its opener.
South Dakota (0-1) at Minnesota (1-0):
The Gophers barely escaped last year against South Dakota State, winning 16-13. They'll shoot for a more convincing win against South Dakota, which got pummeled by Central Florida in its opener.
Bye:
Indiana
September, 6, 2010
9/06/10
2:00
PM ET
Let's take a look at the good, the bad and the incredible in a nearly complete Week 1.
The good:
The Mountain West and WAC were the only two conferences to win games against AQ opponents. The Mountain West had the best record against teams from those automatic qualifying conferences, going 3-3 with big wins from TCU, BYU and Utah. Fresno State had the lone WAC win, over Cincinnati. Of course, there is still one WAC team yet to play. The other conference records against other AQ schools:
[+] Enlarge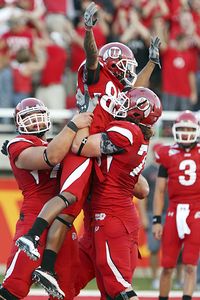 AP Photo/Steve C. WilsonUtah's upset of No. 15 Pitt was just one reason for Non AQs to celebrate in Week 1.
Conference USA: 0-5; 0-6 against all FBS opponents.
MAC: 0-5; 0-7 against all FBS opponents.
Sun Belt: 0-5; 2-5 against all FBS opponents.
The bad:
Nobody could possibly have had a worse weekend than New Mexico, which lost 72-0 to Oregon. This is the perfect example of why many people believe the Mountain West should not get an automatic qualifying bid into the BCS. The league is so top heavy it gets weighed down with the teams at the bottom that simply cannot compete. Show me a team at the bottom of any AQ conferences that could lose as badly as this. Not even Duke, Vanderbilt or Syracuse qualifies.
The incredible:
You probably have all seen the highlights, but it bears repeating that East Carolina's last-second win over Tulsa is why fans of the sport love it so much. Time winding down, hopes all but gone, and then a ball dropped from the heavens right into the arms of the 6-foot-8
Justin Jones
. "That was the greatest experience of my life," quarterback
Dominique Davis
said after the game. "There was probably people in the stands -- our fans -- who probably thought the game was over. But I told the team, 'Just trust.' As soon as I let it go, I knew he was going to catch it."
The new:
Several new starters at quarterback seemed to do all right for themselves on opening weekend.
Jake Heaps
of BYU,
Corey Robinson
of Troy and
Logan Kilgore
of Middle Tennessee all had decent outings. So did
Ryan Radcliff
of Central Michigan and
Jerry Davis
of Buffalo.
A few more helmet stickers:
Belated helmet stickers to Davis of East Carolina, who went 27-of-46 for 383 yards with five touchdown passes. He also had a score on the ground. Also, much was made of the way Hawaii was able to hang around USC. The offense looked great, even after starting quarterback
Bryant Moniz
took a hit to the helmet and was forced to leave the game.
Kealoha Pilares
had five catches for 176 yards and 3 TDs in the win. Two of his touchdowns went for over 50 yards.
A few injury items to note:
UTEP running back
Donald Buckram
missed the opener against Arkansas Pine-Bluff after bruising his knee in practice. A MRI on his knee was negative, and he clearly was not needed in the win over an FCS team. Hawaii's Moniz didn't practice Saturday but said he expects to play this week against Army. Air Force cornerback Reggie Rembert was carted off the field with a neck injury in the opener against Northwestern State, and it's unlikely that he plays this weekend against BYU. Tests on his neck were negative.
Week 2 look ahead:
There are several in-conference games scheduled for this week, the biggest being BYU at Air Force. On Thursday night, Central Michigan plays Temple in the MAC; UTEP is at Houston on Friday night in a big divisional game. You can bet the Miners will need Buckram in this game. FIU, New Mexico State and Louisiana-Monroe were the only three idle teams in the country Week 1. They play their first games this weekend.
September, 6, 2010
9/06/10
1:58
PM ET
One week is in the books, and it wasn't a good one. The Pac-10 went 6-4 and ended up frowning in each of its major tests.
Team of the week
: Other than a brief first-half lull, Arizona looked like a good team in midseason form, despite losing both of its coordinators and rebuilding its defense. The 41-2 blitzing of a solid Toledo team featured dominance in all three phases. Goodbye bad taste from the Holiday Bowl. The Wildcats outgained the Rockets 518 to 183. Nuff said.
Best game
: It's very possible that Oregon State lost to a TCU team that will play for the national title. I came away more impressed with the top-to-bottom quality of TCU than believing the Beavers got exposed. As it was, it was a competitive, well-played, entertaining game. And if Beavers fans need to vent for the sake of venting -- as we all sometimes do -- I'd suggest wondering how might the Beavers' defense have looked if end Matt LaGrone and middle linebacker David Pa'aluhi, returning starters from 2009, hadn't decided to quit the team.
Biggest play(s)
: Washington twice had fourth-down plays in the fourth quarter inside BYU's 30-yard line. Both times QB
Jake Locker
threw an incompletion. The Huskies lost 23-17. Great QBs need to make those plays.
[+] Enlarge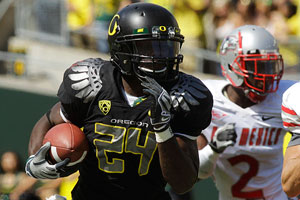 AP Photo/Rick BowmerKenjon Barner rushed 17 times for 147 yards and four touchdowns Saturday.
Offensive standout(s)
: Wow. Lots to choose from. USC QB
Matt Barkley
completed 78 percent of his passes at Hawaii with five TDs. Arizona's
Nick Foles
and Stanford's
Andrew Luck
also were outstanding. But the top notice has to go to Oregon's "backup" running back
Kenjon Barner
, who was a force of nature against New Mexico, rushing for 147 yards on 17 carries -- 8.6 yards per tote -- with four TDs. Oh, he also caught a short pass he turned into a 60-yard TD.
Defensive standout
: Wow. Not a lot to choose from. While it's hard to laud a player from UCLA's defense after it got pushed around by Kansas State, OLB Akeem Ayers showed why so many NFL scouts are salivating over him. He piled up 11 tackles with a sack and a pass breakup. But what really stands out is his ability to get his hands on the football -- he recovered two fumbles. He might want to refrain in the future, however, from pushing a running back when he's out of bounds.
Special teams star
: USC receiver
Ronald Johnson
not only caught three TD passes against Hawaii, but he also went 89 yards for a TD on a punt return. It's notable that UCLA kicker Kai Forbath ignored a preseason injury that was supposed to keep him on the bench and went 3-for-3 on field goals at Kansas State, with a long of 44.
Smiley face
: The QBs lived up to the preseason hype. The known guys -- Barkley, Foles, Locker and Luck -- each played well. The new guys -- Arizona State's
Steven Threet
, Oregon's
Darron Thomas
and Oregon State's
Ryan Katz
-- were solid. California's
Kevin Riley
played well, and Washington State's
Jeff Tuel
was hardly the reason the Cougars went down hard at Oklahoma State. The only QB who played poorly was UCLA's
Kevin Prince
, and he probably looked rusty because he sat out most of fall camp with a back injury.
Frowny face
: Defense. The top two rushers in the nation at present --
and three of the top 14
-- played against Pac-10 defenses this past weekend. And
look who ranks 106th in the nation in total defense
, two slots below Washington State.
Thought of the week
: This is a quiet week with few marquee games, other than the start of the Pac-10 slate with Stanford's visit to UCLA. But next week will define how the Pac-10 is perceived nationally this season. Consider the slate:
Iowa at Arizona
ASU at Wisconsin
Nebraska at Washington
Cal at Nevada
Wake Forest at Stanford
Houston at UCLA
USC at Minnesota
Washington State at SMU
Louisville at Oregon State
Five at home, four on the road. Three ranked teams. No patsies. The Pac-10 needs to get at least six wins or you'll start to hear how it's a "down year" instead of folks lauding the conference's depth.
Questions for the week:
Can California (vs. Colorado), USC (vs. Virginia) and Washington (vs. Syracuse) take care of business against inferior BCS conference foes at home? Same for Oregon: Will the Ducks be able to handle the atmosphere at Neyland Stadium against a Tennessee team the Ducks shouldn't have too many problems against? How will the Trojans' defense react after a terrible effort at Hawaii? Who's got the advantage between UCLA's new pistol offense and Stanford's new 3-4 (which the Cardinal didn't use vs. Sacramento State)? How do the Huskies react to a disappointing loss at BYU?
September, 6, 2010
9/06/10
12:09
PM ET
We'll start a weekly Monday morning feature this week, handing out awards, some general, some very specific.
Best individual offensive performance:
Kendall Hunter
, RB, Oklahoma State. Hunter made a big return, rushing for 208 yards in the first half on the way to 257 for the game. Who knows how many he would have had if the game was closer?
[+] Enlarge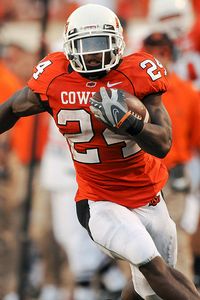 AP Photo/Brody SchmidtKendall Hunter rushed for 257 yards and four touchdowns against Washington State.
Best individual defensive performance:
Three-way tie. Keenan Robinson, LB, Texas. Aldon Smith, DE, Missouri. Brian Duncan, LB, Texas Tech. Robinson earned a sack, an interception and a fumble recovery for a touchdown in the first half of Texas' win over Rice. Smith made 10 tackles, including two sacks and three tackles for loss. And two of Duncan's sacks in Sunday's win came on the final drive with Texas Tech trying to protect an eight-point lead. All three deserve it.
Best individual play:
Carl Gettis, CB, Missouri. Up just four in the fourth quarter, Gettis pulled in a ridiculous one-handed interception,
immortalized by a photo
in the Columbia Tribune and
a story in the Columbia Missourian.
Best confidential performance:
Tie, Texas A&M and Baylor. The Aggies and Bears cleanly dispatched FCS foes in untelevised games, 48-7 for the Aggies and 34-3 for the Bears. Vintage performance from both teams' quarterbacks,
Jerrod Johnson
and
Robert Griffin
.
Worst confidential performance:
Kansas. The Jayhawks dropped a 6-3 game to FCS foe North Dakota State on Fox College Sports. Everyone heard about it, but raise your hand if you saw it (and not on the internet). That's what I thought.
Runner-up
: Oklahoma, who charged fans $40 to watch them need a late defensive stop to secure a 31-24 win over Utah State.
Best debut:
Taylor Martinez
, QB, Nebraska. Martinez snatched hold of the lead for Big 12 Freshman of the Year, piling up 263 yards of offense and three touchdowns. He's the team's leading passer and rusher, helped by a 46-yard touchdown run on his first carry as a Husker.
Best impression of himself:
Daniel Thomas
, RB, Kansas State. Thomas got back to business, but a better version of business. He ran with vision, power and proved elusive, even though Kansas State's passing game struggled. His career-high 234 yards featured a career high 44-yard run.
Worst impression of himself:
DeMarco Murray
, RB, Oklahoma. Murray was everything his critics said he was not against Utah State: a durable every-down back. Murray took 35 of the 37 carries given to Oklahoma running backs and turned them into 218 yards, 90 more than his previous career high, 128 yards as a freshman against Texas. We'll see if he can continue that as the season moves on, but he's off to a nice start.
Biggest identity crisis:
The Big 12. Known for it's stellar quarterback play, a
shift to ground has been in the works
since Sam Bradford and Colt McCoy left the league. After Week 1, the nation's three leading rushers are all from the Big 12: Kendall Hunter, Daniel Thomas and DeMarco Murray.
Worst identity crisis:
Texas, whose desire to establish a downhill running game hit a few speed bumps against Rice. The Longhorns most-used running backs,
Cody Johnson
and
Tre' Newton
averaged just 3.6 yards on 33 carries, though Newton did score three touchdowns. Johnson was denied by the owls on a fourth-down sweep from the 1-yard line early in the game.
Best disregard of history:
Taylor Martinez, QB, Nebraska who threw the bones to the Nebraska crowd after his third rushing touchdown, an elbow-crossing gesture usually reserved for defensive players.
September, 6, 2010
9/06/10
9:45
AM ET
The season's first chapter is complete. Here's the book report.
Team of the week:
Syracuse. Bet you didn't think you'd see those words together after Week 1. But the Orange were the only Big East team to beat an FBS opponent in the first week, handily dispatching
Akron 29-3
. Yes, the Zips are bad. But the game was on the road, and Syracuse won its opener for the first time since 2003.
[+] Enlarge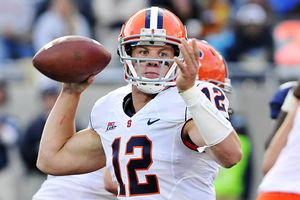 Jason Miller/US PresswireQuarterback Ryan Nassib led Syracuse to the most impressive Big East victory of Week 1.
Best game:
It was sloppy on both sides, with botched coverages and too many yellow flags. But
Utah's 27-24 overtime win over Pitt
was never short on drama, especially at the end when the Panthers mounted a comeback to tie the game.
Biggest play:
Tino Sunseri
's interception on the first play of that overtime game for Pitt.
Mike Shanahan
was open, but Sunseri waited a beat too long to deliver the ball and then put it in the wrong place. That sealed the Panthers' fate, and started the downward Week 1 spiral for the Big East.
Best call:
Rich Rodriguez's decision to go with
Denard Robinson
as his starting quarterback. Rodriguez had declined to officially name a starter before Saturday. Then he unleashed Robinson, who brought back Pat White nightmares for Connecticut's torched defense.
Big Man on Campus (Offense):
Bilal Powell
, RB, Louisville. I don't like to give this award to players whose teams lost. I really don't like giving it to players whose teams played FCS opponents. So, um, yeah. I had to break Rule No. 1 and go with Powell, who's now leading the Big East in rushing after 153 yards -- and an 80-yard touchdown -- in the
23-16 loss to Kentucky
.
Big Man on Campus (Defense):
Brandon Hogan, CB, West Virginia. And I had to break rule No. 2 for this award. Hogan's interception near the end of the first half helped keep Coastal Carolina at bay, and the entire Mountaineers defense was dominant in a
31-0 win
.
Big Man on Campus (Special teams):
Brandon Bing, Rutgers. Bing blocked two punts, including one that teammate Joe Lefeged recovered for a touchdown, in the
31-0 win over Norfolk State
.

Worst hangover:
The Big East office in Providence, R.I. Half the league is already 0-1, including three of the teams considered among the top contenders. National championship hopes for the conference are already dim after one weekend. Maybe someone should send John Marinatto flowers this time.
Strangest moment:
This one's a tie, and both involve field goal attempts at the end of halves on Thursday night.
At Rutgers,
Mohamed Sanu
caught a pass near the goal line with one second left in the first half, and the Scarlet Knights were out of timeouts. They tried to hurry to the line to get one more play off, but officials ruled the half was over. Or not. The officials then decided to review whether San went out of bounds. He was not. So the half was over. Or not.
Greg Schiano argued that the clock should have stopped on the first down pickup, and Rutgers was allowed another play, in which it kicked a field goal. Norfolk State coaches, whose team was sent off the field and recalled twice, protested -- and rightly so. Hey, it was opening night for the refs, too.
[+] Enlarge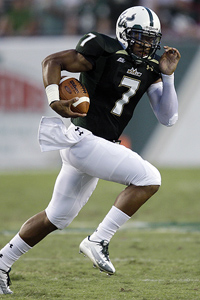 AP Photo/Chris O'MearaB.J. Daniels led South Florida to 59 points in Week 1, but this week's opponent (Florida) will pose more of a threat than last week's (Stony Brook).
In the Pitt game, Utah coach Kyle Whittingham tried the old "icing-the-kicker" with a last-second timeout routine not once but twice as Dan Hutchins attempted the field goal that would send the game to overtime. Hutchins made the first and missed the second, and there was confusion on the field and in the stands both times.
He finally hit the third one -- best two out of three, anyone? I don't know about you, but that last-second timeout garbage may be my least favorite ploy in football.
Now here's a sneak peek at the second week (Games listed in descending order of importance/interest):
South Florida (1-0) at Florida (1-0) (ESPN3.com, Noon ET):
The Gators' offensive struggles and USF's 59-point outburst against Stony Brook have this game looking a bit more interesting than it did a few days ago. The Bulls still have a mighty difficult assignment in going to The Swamp with so many young players.

Syracuse (1-0) at Washington (0-1)
(7 p.m. ET): The Fightin' Jake Lockers fell on the road to BYU in their opener. The Orange could gain a breakthrough with a win here, but they must travel across the country to do so.
West Virginia (1-0) at Marshall (0-1) (ESPN, 7 p.m. ET, Friday):
The in-state rivalry that isn't. Marshall was handcuffed by Ohio State's defense on Saturday, and the Mountaineers will look to give them some more of that medicine. Former West Virginia assistant Doc Holliday will at least have some trade secrets on his former team.
Rutgers (1-0) at Florida International (0-0) (ESPN3.com, 8 p.m. ET):
The pickin's get real slim in a hurry in Week 2. This is the only other game featuring an FBS opponent. Rutgers has to go on the road and will need to play better at the start of the game than it did versus Norfolk State.
New Hampshire (1-0) at Pitt (0-1) (ESPN3.com, 1 p.m. ET):
This will be notable to see what adjustments the Panthers made after the opening loss, with Miami looming in the third game. And New Hampshire has been a solid FCS program.
Eastern Kentucky (0-1) at Louisville (0-1) (ESPN3.com, 3:30 ET):
Home fans will see Charlie Strong's first victory as Louisville head coach.
Texas Southern (0-1) at Connecticut (0-1) (ESPN3.com, Noon ET):
This game will be .... sorry, I dozed off there for a minute.
Indiana State (1-0) at Cincinnati (0-1) (ESPN3.com, Noon ET):
Zzzzzzzzz.