NCF Nation:

2011-ACC-Champ
December, 2, 2011
12/02/11
3:10
PM ET
CHARLOTTE, N.C. -- Clemson has allowed 11 sacks in each of the past two games, and while it hasn't all been the fault of the offensive line, the Tigers weren't at full strength without injured veteran left tackle Philip Price, who has been out with a knee injury. He played sparingly last week against South Carolina, but was yanked early to his dismay. Price is listed as probable on this week's injury report, and coach Dabo Swinney said Price has had a good week of practice leading up to Saturday's Dr Pepper ACC championship game.

"Well, he's looked actually very well in practice, and he didn't get a lot of good on good last week," Swinney said. "Most of his work last week was versus the scout look guys. He just got in the game and coach Caldwell just didn't feel good about the way he was reacting, especially with kind of the early start that we had as far as how he performed, and just didn't like the match up. So we felt like we needed to go in a different direction.

"But he's come back this week and he's had a really good week, and he's gone full speed pass rush and inside and all that kind of stuff," Swinney said. "I feel much better about him, but he's got to go and compete and play four quarters tomorrow night."
December, 2, 2011
12/02/11
3:04
PM ET
CHARLOTTE, N.C. -- The 2012 and 2013 Dr Pepper ACC championship games will continue to be held here at Bank of America Stadium, commissioner John Swofford announced on Friday. The venue received a unanimous vote from the athletic directors and faculty representatives in the conference.

Saturday's game between No. 5 Virginia Tech and No. 20 Clemson will be the game's second-straight sell-out, and leauge officials have been so pleased with the city that it did not open the bidding for future seasons.
"I think it's pretty telling when all 12 of our schools vote in favor of continuing this relationship without even taking it out to be in consideration," Swofford said. "We've found something that certainly in its first two years has worked extraordinarily well for us, and we want to continue that."
Swofford said the two-year timeline is to keep the ACC title game in sync with the league's bowl contracts.
"Well, I'll tell you why we went two years, is that it'll put us totally in sync with our bowl contracts and whatever happens with the postseason football nationally, whether it's an extension of the BCS or something else," he said. "And that'll put the whole thing in a chronological sync that we thought was a wise way to go as we look toward the future."
There's no doubt the city has been a success so far, but it's also no secret that the ACC championship game is a matchup-sensitive event. When you've got Virginia Tech, Florida State and Clemson fan bases to draw from, filling seats should be easy. Boston College vs. Virginia? Not so much. The Pac-12 has decided to play its championship games on the home campus of the division winner with the best overall conference record. Swofford said the ACC prefers a neutral site.
"I think that's something you take a look at if you don't really find a home," he said of the campus sites. "We prefer a quality neutral site where the game can be consistently successful year in and year out, and hopefully we have found that here in Charlotte. That's been what we've pursued from the very first championship game. And certainly our first two years in Charlotte indicate to us that this may well be that home. So we didn't really seriously consider that in terms of going to campus, but obviously it is something that the Pac-12 is doing on the West Coast, and we'll see how that goes. But from a pure competitive standpoint, we very much prefer a neutral site."
For at least two more years, the ACC will have its top choice.
December, 2, 2011
12/02/11
3:00
PM ET
CHARLOTTE, N.C. -- Clemson coach Dabo Swinney sent the state of South Carolina into a frenzy this week with his rant responding to alleged -- note the word alleged -- comments made by rival coach Steve Spurrier.

Somebody
said something kind of sort of like this, and it got back to Swinney: "We're not LSU. We're not Alabama. But we sure ain't Clemson."
According to SEC blogger Edward Aschoff,
the quote in question
came from South Carolina play-by-play man Todd Ellis, who actually said: "As Coach Spurrier says, we might not be LSU or Alabama, but we ain't Clemson, folks."
Swinney was asked again about it today -- the first question of his news conference for Saturday's Dr Pepper ACC championship game -- and Swinney hasn't backed down.
"It is what it is," he said. "I heard today that it supposedly wasn't said, and that's great. It's awful convenient on Thursday. I know this, that if my media put something out that I said, and if it was nationally perceived that I said it, I promise you I would correct it. I would make sure that it was made known -- especially something that is derogatory that I wouldn't want my name attached to -- I would make sure that it was clear. Or I'd pick up the phone, and I'd call and say, 'Hey, there's something out there that people are saying I said, and I didn't say it.' That's really all there is to it. I said that last night. I don't know if he said it or not, but there certainly hasn't been any rebuttal. That's it on that."
Actually, sounds like it's just the beginning of a beautiful relationship.
December, 1, 2011
12/01/11
5:00
PM ET
One of the bright spots for the Hokies in their 23-3 loss to Clemson this season was the standout defensive effort against true freshman receiver
Sammy Watkins
, who was held to three catches for 38 yards in that game. Redshirt senior cornerback Cris Hill was tasked with defending Watkins for most of the game, and the veteran obviously had the edge.
"It wasn't like we had to pay a little more attention to him," safety Eddie Whitley said of Watkins. "We knew he was a dynamic player and he was going to make his plays when possible.
"It didn't matter who was on him," he said. "We just had to trust our technique and our coaches to put us in the right position to make plays."
The Hokies held Watkins to his lowest receiving total of the season in Week 5, as he entered that game averaging 108.3 yards and 92.3 yards after the catch per game. What the Hokies excelled at was minimizing Watkins' gains after the catch.
The question now is, can Virginia Tech do it again?
"Virginia Tech in particular, they have a unique style of defense with what they play, and they mix it up well with kind of conventional defense and their Robber coverage that they play, and I thought they did a good job of taking away some of the short-game stuff to Sammy, but he still made a couple of big plays, made a big play down the middle against them," Clemson coach Dabo Swinney said. "But he's one of those guys where you just have to keep giving him at-bats, and sooner or later he's going to put the bat on it."
ESPN's Stats & Info department took a closer look at Watkins' production against Virginia Tech compared with how he fared during the rest of the season:
Despite his lack of production against Virginia Tech, Watkins has proven to be dangerous after the catch all season long. According to ESPN's Stats & Info, amongst AQ receivers in the BCS Top 25, only
Tavon Austin
of West Virginia has gained more receiving yards after the catch than Watkins. He enters Saturday's Dr Pepper ACC championship game with 666 yards after the catch on 72 receptions, and 61.7 percent of his 1,073 yards have come after the catch.
December, 1, 2011
12/01/11
1:00
PM ET
ESPN's Stats & Info department took a closer look at the recent trends of Virginia Tech quarterback Logan Thomas and Clemson quarterback Tajh Boyd heading into Saturday's Dr Pepper ACC championship game:

Boyd lost his magic

Boyd has lost his comeback magic. In three of Clemson's final four games, Boyd was unable to lead comebacks, throwing five interceptions while the Tigers were trailing in the three losses. This after Boyd and Clemson were able to win its first six games of the season in which they trailed. Clemson never trailed to Virginia Tech when the teams met earlier this season.

Thomas improves deep ball since Clemson game

Since losing to Clemson in Week 5, Logan Thomas has been more efficient when throwing downfield. After failing to complete a pass thrown 15 yards or more downfield against Clemson, Thomas has completed two such passes in every game since.



Clemson's three other ranked opponents this season had much more success when throwing the ball downfield against the Tigers. Auburn, Florida State and South Carolina combined to complete 52.2 percent of its throws of 15-plus yards against Clemson with five touchdowns and no interceptions.
December, 1, 2011
12/01/11
11:04
AM ET
The regular-season picks are in the books, and I closed it out last week with a 6-2 record, striking out on Miami and Wake Forest, which both lost. That brought the grand total to 72-25 for a winning percentage of .742. It's respectable, but it's not the championship-caliber performance I had hoped for. Still, I'm packing my bags for Charlotte. There's only one prediction to make this week, and it's the Dr Pepper ACC championship game. They say history repeats itself. I say not this season.

Virginia Tech 35, Clemson 14: The Hokies are soaring and the Tigers are sinking. This prediction isn't just about momentum and the better defense, which Virginia Tech has – it's about confidence, which Clemson doesn't. The staff and the players have both conceded in recent weeks that a lack of confidence has infiltrated the locker room, and that's tough to regain after back-to-back losses, including to an in-state rival. Clemson has been held to 13 points in each of the past two games, and turnovers have been a trend in the past four.

Based on the way these two teams have been playing lately, Virginia Tech is the smart pick. The Hokies have won seven straight games, and they've got more than enough motivation on the line. Virginia Tech has wanted to avenge their regular-season 23-3 loss to the Tigers since that game ended, and now they've got their chance. Virginia Tech will come out determined to prove it's the better team now. Until proven otherwise, the defending ACC champs remain the team to beat.
December, 1, 2011
12/01/11
11:00
AM ET
Virginia Tech senior receiver
Danny Coale
remembers the same storyline from a year ago – the senior class had a chance to finish the season as the winningest in school history.
Now it's his turn.
[+] Enlarge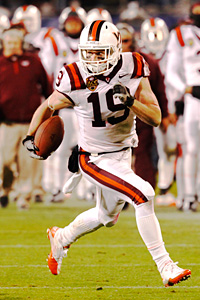 AP Photo/Chuck BurtonWide receiver Danny Coale and his fellow Virginia Tech seniors have a chance to set a school records for victories by a four-year class.
Winning at Virginia Tech has become as much of a tradition as defensive coordinator Bud Foster's storied lunch pail – so much so that the four of the past five senior classes – including this year's – have reached the 42-win mark in their careers. The winningest class in school history is currently the 2007 class, which finished 42-11. The Class of 2008 went 42-12 and the Class of 2010 went 42-13. This senior class is currently 42-11 heading into Saturday's Dr. Pepper ACC championship game against Clemson.
Not only would a victory on Saturday break a school record for the most wins in a four-year span by a senior class, the 2011 seniors would also become only the second group in school history to win consecutive outright conference championships, and the redshirt seniors would go to their fourth BCS bowl game and fifth bowl overall.
"I guess it's kind of like a big brother/little brother type of thing," starting safety Eddie Whitley said. "You don't want to disappoint the guys that's been here before you. And they put their hard work into it. And we just want to keep the winning tradition going as much, as far as we can. And that's probably basically the whole thing, is we just don't want to let the alumni that's put their work in in trying to get this program to where it's at right now, we don't want to put them, let them down.
"So that's probably the biggest thing is just knowing that the guys out there that paved the way for us to get where we are at now and give the opportunities that we have to play in big-time games and things like that, we don't want to let them down. So that's probably the reason that we just keep topping each other year in, year out."
Senior receivers
Jarrett Boykin
and Coale have certainly done their part along the way. Coale is best remembered for an 81-yard catch against Nebraska in the waning moments of the teams' 2009 meeting that set up Dyrell Roberts' clinching 11-yard touchdown catch in the 16-15 victory. Boykin's 39-yard touchdown reception gave the Hokies the lead for good in the 40-31 win at NC State last year, the team's biggest comeback under coach Frank Beamer.
They are the top two at Tech in both all-time receptions and receiving yards.
"I think it comes down to a few things," Coale said of the program's recent senior success. "But I think there's an expectation around here that when you come, in you're being recruited into a program that's had a lot of success, that prides itself on excellence and winning and getting to championships.
"So when it's your turn to be called upon and you want to add to that winning, you don't want to be the class that lets down that tradition. So I think there comes high expectation coming in here, and it's something that we pride ourselves on. It's something we expect to win, and we work really hard to do that. That's kind of the mentality of the program around here."
Boykin enters Saturday's game 127 yards shy of becoming just the fourth player in ACC history to have three seasons with 800 receiving yards. Boykin now has 54 catches, two away from breaking the school record for catches in a season (55 by Ernest Wilford in 2005).
In last year's ACC championship game, Coale had six catches for 143 yards and a touchdown against Florida State. He needs six more catches to break Wilford's record.
"Yeah, I'm proud of a lot of our seniors classes here lately, but this crowd does have a chance to go out as the winningest senior class ever," Beamer said. "We've been fortunate to have a lot of good kids through here and to be able to win a lot of football games, and you don't do that without good players."
Or high expectations.
December, 1, 2011
12/01/11
10:15
AM ET
There's only one game to watch in the ACC this week, but there are plenty of storylines within the game. Here's a closer look at what to keep an eye on during the Dr Pepper ACC championship game on Saturday night:
1. The quarterbacks.
They have been the focus leading up to this game, and they will be the difference-makers in the outcome of it. Clemson's
Tajh Boyd
has struggled recently, throwing four touchdowns and seven interceptions since the eight-game winning streak ended, and Virginia Tech's
Logan Thomas
has accounted for 23 touchdowns and just two turnovers since the Hokies last lost to Clemson.
[+] Enlarge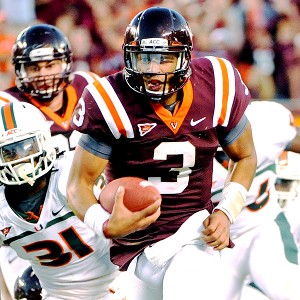 AP Photo/Don PetersenLogan Thomas' performance helped vault the Hokies back into the Coastal Division race.
2. Third downs.
Clemson's defense hasn't been stellar this year, but it's been stingy on third downs. The Tigers are No. 1 in the ACC and No. 9 in the FBS in third-down defense, holding opponents to 31.52 percent. Virginia Tech, however, has converted 46.55 percent of its third downs this season, good for third in the ACC and No. 22 in the country. The last time these teams played, Virginia Tech was just 4-of-16 on third downs.
3. Clemson's pass protection.
The Tigers have allowed 11 sacks in the past two games, and Virginia Tech is No. 8 in the country and leads the ACC with 3.08 sacks per game. The absence of veteran left tackle Phillip Price, who has been out with an injury, hasn't helped, and his status is still in question for Saturday. Boyd was sacked five times last week in the loss to South Carolina.
4. Turnovers.
They have been an issue for Clemson over the past four weeks, with 12 in four games. It wasn't the reason the Tigers lost to South Carolina, but they were major factors in the losses to NC State (four) and Georgia Tech (four). Virginia Tech enters the game leading the country in turnover margin. The Tigers were plus-nine in turnover margin in the season's first eight games and minus-10 in the next four.
5. The all-purpose stars.
This game will feature two of the nation's top five leaders in all-purpose yardage in Virginia Tech's Wilson and Clemson receiver
Sammy Watkins
. Watkins averages 174.55 yards per game to rank fourth in the nation, while Wilson is fifth at 173.58 yards per game. Watkins has 1,920 yards rushing/receiving and in kick returns in 11 games. He missed the NC State game due to injury. Wilson has 2,083 yards in 12 games for his 173.58 average. Both have a higher all-purpose average than Alabama Heisman candidate
Trent Richardson
, who averages 164.67 yards per game.
November, 30, 2011
11/30/11
9:00
AM ET
There is one key statistic that helps explain Virginia Tech's recent surge:
Since Virginia Tech
lost to Clemson 23-3
on Oct. 1, quarterback
Logan Thomas
has accounted for 23 touchdowns and thrown just two interceptions.
It's no coincidence that the Hokies haven't lost in that stretch.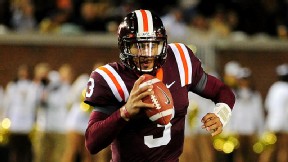 Scott Cunningham/Getty Images)Since the ugly October loss to Clemson, Virginia Tech quarterback Logan Thomas has thrown just two interceptions while racking up 23 touchdowns.
While the entire team has improved since that game, Virginia Tech's ascension to No. 5 in the
latest BCS standings
has mirrored the maturation of Thomas. It's not that Thomas was bad – the Hokies have only lost one game all season – but he made the mistakes early expected of a first-year starter, and he has grown into one of the best quarterbacks in the conference heading into Saturday's Dr Pepper ACC championship game against Clemson. The Hokies have been a different and better team since the last time they faced Clemson, and it all starts with Thomas.
"I've seen a lot of progress," Virginia Tech receiver
Danny Coale
said. "You have a guy who has all the tools in the world and all the athletic ability along with the right mental approach to the game. So as you would expect, he has a little bit more comfort. He gains a little bit more experience each and every time, and you see him become more comfortable as the games go on. And I think he's just matured quickly into a very good quarterback."
There was plenty of blame to go around in Virginia Tech's home loss to Clemson, but Thomas took the brunt of the criticism from many outside the program. He completed 15 of 27 passes that day for 125 yards and was sacked four times. He also threw an interception and the Hokies were held without a touchdown in Lane Stadium for the first time since 1995. It was the second-fewest points in a home game since Frank Beamer took over the program in 1987.
Following that loss, Thomas had a little heart-to-heart with quarterbacks coach Mike O'Cain.
"Coach O'Cain just called me into his office afterwards or on Monday after the game was just like, 'Hey, keep your head up. You're still our quarterback. We have no doubts in you. You're going to be a great one.'
"And it was definitely good to hear that from my coach. But I think it was better that all the guys on the team had my back as well. And nobody was down on me. Everybody was picking me up, saying: Hey, we got it. We just gotta take it one game at a time. And the next week I came out and probably had one of the best games I've had or will have. So I think it was just a confidence boost just knowing that everybody had my back."
The following week, Thomas had a jaw-dropping performance in a thrilling
38-35 victory over Miami
. He ran 19 yards for the game-winning touchdown on fourth-and-1 with 56 seconds to play, and completed 23 of 25 passes for 310 yards, three touchdown passes and two rushing — more touchdowns than he had incompletions. His only two blemishes were a short pass that
David Wilson
dropped, and a ball that he threw away after picking up a botched snap.
Clemson is wary of Thomas' improvement.
"He was a young player coming to our first game," said Clemson safety Rashard Hall. "Looks like he's just been improving over games as you would expect players to do, especially at the quarterback position. He played a good game against us and watching him throughout the season and on film last night, he seems to be doing a great job as their quarterback."
Beamer has no doubts.
"He's a guy that's very smart," Beamer said. "He's always in control on the football field, and I think as he's gained experience, he knows where he wants to go with the ball. He's more accurate … and it all just comes with experience."
The biggest experience of his rookie season, though, has yet to come.
November, 29, 2011
11/29/11
9:00
AM ET
The Clemson team that will face Virginia Tech on Saturday in the Dr Pepper ACC championship game is not the same Clemson team that beat the Hokies 23-3 earlier this year.
That Clemson team was ranked No. 13 in the country and undefeated.
This
Clemson team is ranked No. 20 and has lost three of its past four.
"I feel like ever since obviously Virginia Tech's only loss, ever since that game they've been -- the sky's the limit for them they've been doing nothing but great things," said Clemson offensive lineman Landon Walker. "Every game they've played their offense has just gotten better every game.
[+] Enlarge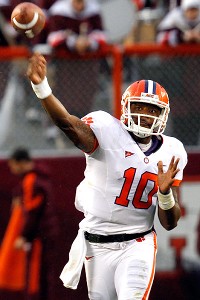 AP Photo/Steve HelberClemson needs Tajh Boyd to return to his early-season form if it hopes to knock off Virginia Tech.
"And it seems like we were going that way until about three weeks ago. Georgia Tech kind of was a downfall for us. We didn't play as good as we wanted to at Wake and obviously NC State and South Carolina. We haven't been ourselves the last three, four weeks."
There is only one game left for Clemson to determine which team it wants to be, and it's no mystery where the Tigers have come unraveled in the past month. It started with turnovers, as Clemson had 11 during a three-game span against Georgia Tech, Wake Forest and NC State. Turnovers, though, didn't entirely explain the program's third straight loss to rival South Carolina. Pass protection was a bigger factor, as quarterback
Tajh Boyd
was sacked five times. Three of those were the fault of the offensive line, which has allowed 11 sacks in two games and struggled without injured starter and senior left tackle Phillip Price, whose status is still questionable for Saturday.
"We're missing some plays, we're not protecting quite as well, and there's a combination of things, got a few guys that aren't playing quite as well as maybe they played earlier in the season," coach Dabo Swinney said. "But big-picture wise, again, we certainly didn't finish the way we wanted to, but we did finish with the second-best record in this league, and we're 9-3, and we've earned the right to play for the league title, and that's what we're focusing on, these four quarters."
Clemson's most complete performance of the season remains its 23-3 win over Virginia Tech on Oct. 1. The defense hasn't come anywhere near that kind of domination since, allowing an average of 35.5 points per game over the past six games. The only time one of Clemson's opponents hasn't scored more than 30 points during that span was in the win over Wake Forest, which lost 31-28 on a last-second field goal. The defense has also allowed an average of 420.3 total yards and 246 rushing yards in the three losses.
The focus, though, has been on Boyd, who earlier in the season had played his way into the Heisman Trophy conversation. Through the first eight games, Boyd had 24 touchdowns and three interceptions and the Tigers were undefeated. Since the win over North Carolina on Oct. 22 -- the last of the eight-game winning streak --Boyd has four touchdown passes to seven interceptions.
"I would say he's not playing with the confidence that he was at that time," Swinney said. "I think just the pressure and the sacks, quarterback pressure and the sacks, have been a problem, and then the turnovers. You know, all of those things affect especially a young player. He's a first-year starter and everything was going perfect for him, and then all of a sudden he's had some mistakes, and he's got to fight his way through it. That's his part of the growing pains of having a young quarterback. It's disappointing, but we've got to do a good job this week of making sure we give him a chance and make sure our protection is shored up."
That's not going to be easy against a Virginia Tech defense that is No. 8 in the country with 3.08 sacks per game.
Clemson has a lot of work to do if it's going to beat Virginia Tech twice this year, but if it does, the mistakes of the past four weeks will be overshadowed by the program's first ACC title since 1991.
"One of our goals was to win the state championship and beating South Carolina," tight end
Dwayne Allen
said. "But a bigger one, one that comes after that, is to win the ACC championship. And winning the championships, which is something that hasn't been done here in over 20 years, will wipe away the aches that we've been having with the taste of defeat the past couple of weeks."
There's only one championship left to win.
November, 28, 2011
11/28/11
4:02
PM ET
Virginia Tech receiver
Danny Coale
was actually surprised to hear that the No. 5 Hokies are favored over No. 20 Clemson in the ACC championship game.
After all, Clemson beat Virginia Tech soundly in October, 23-3.


"I mean, to me they came in here and they played better," Coale said. "They won. And so to me we have something to prove. We have to play better. And I think for us we're the kind of underdogs in the situation because we've played them once and they came out on the winning end."
Coale is one of the best interviews in the league. Nice guy. Very well-spoken and thoughtful. But he's not playing for the underdogs in this game.
The Tigers' win against Virginia Tech may as well have happened last year, considering how much weight it holds right now -– at least for many outside the program. Clemson and Virginia Tech have spun in different directions since the last time they met, and look like two entirely different teams. The Hokies, propelled by improved offensive play, have won seven straight games entering Saturday's Dr Pepper ACC championship game, while Clemson has lost three of its last four. The two programs have also switched positions in the BCS standings. Clemson was undefeated and ranked No. 5 team in the country in the BCS standings in Week 9. Now that honor of No. 5 in the country belongs to Virginia Tech, while the Tigers have dropped like a rock to No. 20.
Virginia Tech has earned its way back to the top of the ACC standings, and regardless of what happened during the regular season, should now be considered the team to beat on Saturday.
"We can't do anything about what's happened," Clemson coach Dabo Swinney said. "We're focusing on Virginia Tech, and we know a lot about them, they know a lot about us having played already this year, but that game is irrelevant to this one. We've just got to get our team's confidence back and get our focus back on execution and fundamentals and technique and try to just get back to playing winning football because right now we're not doing that."
And they're not doing it very well.
It all began on Oct. 29 with a 37-17 loss at Georgia Tech. It was Clemson's first loss of the season and snapped an eight-game winning streak, but it wasn't a bad loss. Georgia Tech played lights-out, probably its best game of the season. A bad loss came two weeks later to NC State, when Clemson fell, 37-13, and allowed 27 points in the second quarter. Considering everything else that had happened that weekend in college football, the then-ranked No. 7 Tigers could have risen as high as No. 4 in the BCS standings. Instead, they were left to regroup before travelling to rival South Carolina.
You know how that one ended.
"We've both earned the right to be in this game, and like I say, it's irrelevant what we've done, good or bad," Swinney said. "You know, it's about this game Saturday night and trying to find a way to win it, and that's what we're going to try to do."
It's been a while since they've won and looked good in the process -- too long since they've done it against Virginia Tech for it to matter on Saturday.