NCF Nation:

2011 BE meetings
October, 23, 2014
Oct 23
10:15
AM ET
Join ESPN.com reporters Edward Aschoff, Heather Dinich, Adam Rittenberg and host Chantel Jennings as the discuss who should be in the top four when the College Football Playoff committee's first rankings come out next week. They will also preview Week 9's best games and take your questions.
May, 25, 2011
5/25/11
9:00
AM ET
The Big East spring meetings are over, and there is nothing new on the expansion front. Yet the topic continues to generate speculation, fan interest and even some comments from a Hall of Fame basketball coach.
Commissioner John Marinatto declined to discuss any developments on the expansion front following the first two days of meetings in Ponte Vedra Beach, Fla. The league appears to be on hold as it continues to research whether to add no teams, one team or three teams in advance of negotiations for a new media-rights deal beginning in September 2012. Marinatto did say he wants a decision by then.
All that is left is speculation, something even Connecticut basketball coach Jim Calhoun did. When asked about the topic, Calhoun said UCF was "
not a sexy name right now
." He also predicted a basketball/football split. A recent blog poll put the question of who to add to the league to the fans, generating an enormous response. Not surprisingly,
East Carolina is leading the vote
.
UCF, East Carolina and Houston have been three names speculated the most as possible additions to the league, but each school has its pros and cons. Then there is Villanova, which was all set to accept an invitation until some league schools began questioning whether its addition was the smartest move.
The bottom line is the Big East has to figure out where it will get the greatest value. Any team that is added will have to bring in enough to add value to any future TV deal -- enough to offset splitting the revenues pie by one or more additional teams.
It makes no financial sense to add a team for the sake of adding it, or to add teams with a net result of decreased revenue distribution. East Carolina and UCF fans are passionate about the topic, and the schools no doubt would love to join the league. The same goes for any team in a non-AQ league. But from here, it appears adding TCU was the only no-brainer decision to be made at the time. After all, TCU adds instant football credibility and a major television market.
Fans are no doubt getting antsy, but the league also has to consider the basketball side of it because it has so many more teams. So it is understandable why there is no decision right now. The Big East has got to get this right.
May, 24, 2011
5/24/11
4:39
PM ET
PONTE VEDRA BEACH, Fla. --
Zach Collaros
is firmly entrenched as the starting quarterback at Cincinnati, but there will be a wide-open competition to become his backup.

Coach Butch Jones said he anticipates
Munchie Legaux
and Jordan Luallen will get the bulk of the reps come fall practice, with the hope that
Brendon Kay
will be healthy enough when he returns from a knee injury. The backup job came open when senior
Chazz Anderson
decided to transfer this month, leaving the Bearcats with inexperienced players behind Collaros.
When asked how he would pick his starter, Jones said, "It's the individual who can manage the offense. Overall command, the knowledge and execution, being able to make the basic plays and be in a situation where they don't have to win the game for us, just manage the game for us. Take the classroom to the field and run the offense."
Jones also must decide how to split the reps during fall camp, because he does not want to take any away from Collaros.
"We'll do some different things in training camp to maximize each of those individuals' reps with different scenarios," Jones said. "When you're trying to find who you're second quarterback is going to be, you can't take away the reps Zach will receive. We'll manufacture some different things in how we practice and our practice schedule."
May, 24, 2011
5/24/11
1:38
PM ET
PONTE VEDRA BEACH, Fla. -- Pittsburgh linebacker Dan Mason is working hard to strengthen his leg, but there is still no timetable for when he will be able to play again.

Coach Todd Graham said Tuesday from the Big East spring meetings that Mason is progressing, but still has a long way to go in his recovery from a dislocated knee.
"If any kid can do it, he can do it," Graham said. "He tells me every day he's going to get there. He's progressing, but if we had a game today, he wouldn't be able to play."
When asked whether he had hope Mason would be ready in time for the season opener against Buffalo on Sept. 3, Graham said, "I think he will be, and he thinks he will be, but the medical people are not so sure. He has got a lot of work to do to strengthen the leg. I believe he can do it."
Graham also said cornerback Antwuan Reed (concussion) has been cleared and is good to go.
The first-year coach also talked about being at his first Big East meetings. He did get to see a few familiar faces, having coached against USF coach Skip Holtz in Conference USA and working as an assistant with Bill Stewart at West Virginia.
I asked him if he felt right at home, and he said, "We hope so. We'll see. I know it's a very competitive league. I've spent my whole life working to get this job. This is the best job I've ever had. Our staff, not just me, the guys I've been in this business with, to get an opportunity in a conference like this in a place like Pitt where you can compete to win it all, our goal is to win championships. We're extremely motivated."
May, 24, 2011
5/24/11
10:30
AM ET
PONTE VEDRA BEACH, Fla. -- One of the big problems for many schools during bowl season is ticket sales. Each school is required to purchase a set among from nearly every bowl game. Any unsold tickets are eaten at the expense of the school.

For BCS games, each school is required to purchase 17,500 tickets. That is a big reason Connecticut lost a reported $1.6 million on its trip to the Fiesta Bowl. The school lost some $2.7 million on unsold tickets alone. Oklahoma, which beat the Huskies in the game, also lost money on ticket sales, though the Big 12 helped absorb some of the cost.

Big East commissioner John Marinatto addressed this topic during the spring meetings, and said he would not be surprised if the ticket-sales requirement was addressed during the next BCS cycle. He also added it was a misnomer to believe that schools in the Big East lost money on bowl trips because of the league's revenue distribution.

"The way we've done it in the past, we assign a certain amount of money for certain bowl placement," Marinatto said. "But all of the bowl money is divided equally. So if you add up what you get from your revenue pool and then add it to what you get for participation in a certain bowl and then compare it to your expenses, nobody loses money. The problem is the easy exercise is, 'What do I get for the bowl game?' Sometimes it leaves a negative. But you're not factoring in what you get from all of the bowl games."

As for whether you can make the argument that a team that stays home stands to benefit more financially than one that does go to a bowl, Marinatto said, "I don't know if you can. I shouldn't speak for major conferences. But for us anyway, you're provided with a lump sum of dollars and that lump sum was designed by us at our annual meetings because of what we thought the projected costs were. Now the issue I think that's come up was selling tickets.

"And that's really what mitigated the dollars, if you don't sell the tickets, and that's where other conferences have a mechanism in place. I think if you look at what the Big East Conference pays, and I know this is the case because I've reviewed all the figures, what we pay for going to a bowl game is bigger than what any other conference pays for going to a bowl game. It's just the equation is distorted I think when you don't look at the overall dollars and just look at the amount we pay, especially when you deal with the question of unsold tickets."
May, 24, 2011
5/24/11
9:00
AM ET
PONTE VEDRA BEACH, Fla. -- Connecticut coach Paul Pasqualoni is not exactly a newbie when it comes to the Big East meetings. He was here many times before during his time at Syracuse.

In fact, the spring meetings have been held in the same place for some 20 years. While the setting is the same, the faces are not. Greg Schiano is the only coach still with his team dating to Pasqualoni's final season at Syracuse in 2004. Pasqualoni is familiar with the coaches in the league, but his time here has been spent getting to know them a little bit better.

"The meetings are great," Pasqualoni said Monday. "It's good to get acquainted and reacquainted with everybody and get to know the guys and be back into the swing of things. Opportunities to be a head coach don't come around every day, especially in high-quality conferences and quality institutions, so we feel very fortunate to have the opportunity. I've always loved college football. We're excited to have the chance to be back in it again."

Now that he has been in his job for a few months, I asked Pasqualoni what has been the biggest change since the last time he was a head coach.

"The technology has changed quite a bit," he said. "I think the amount of information that was available and reported on when I left in 2004 was pretty high, but I think now there's even more out there, which presents more challenges in recruiting so it's probably the biggest change, the information and trying to keep up with it."
May, 23, 2011
5/23/11
5:33
PM ET
PONTE VEDRA BEACH, Fla. -- Big Ten commissioner Jim Delany set off a hot topic of conversation last week when he mentioned league officials had discussed the
possibility of giving student-athletes money
in addition to their scholarships to cover living expenses.
That is a topic that has yet to be addressed at the Big East spring meetings, but commissioner John Marinatto is aware of it.
"There's a lot of discussion among all the conferences as to whether or not the current model that defines scholarship as being scholarship, room and board should be adjusted," Marinatto said Monday. "We haven't had that discussion, but we're open-minded about all of that because that's something moving forward the NCAA also wants to explore. We've not had any in-depth discussions about it to this point, so it's hard to define a position."
The Big Ten and its bigger conference brethren are in a different position than the non-AQ leagues. Delany suggested the league could use some of its growing television money to help give the student-athletes more money. Some leagues have more money than most, so you are talking about potentially
widening the gulf between the haves and have nots.
There also are questions about whether to give more money to all student athletes or just those in revenue-generating sports.
"Are there gender equity consequences if you limit it to football?" Marinatto said. "Are there fairness issues if you limit it to certain sports? If you only do it for the revenue generating sports, you're going to have to define what those are and how they impact the other programs. Are there economic issues associated with it because not everybody may be able to support that model? It's premature to get into specifics about whether or not you support it. You have to analyze all the components and what it might mean moving forward."
Marinatto also was quick to point out that the topic was only discussed at the Final Four in a brainstorming session as something that should be looked at further. "I don't know how it was reported but I don't think there's been a real discussion about it," he said.
May, 23, 2011
5/23/11
5:18
PM ET
PONTE VEDRA BEACH, Fla. -- The college football landscape is a much different place than it was the last time the Big East convened for its spring meetings.
But some questions remained the same – what form will the Big East take and how will that impact its future media rights?
Of all the conferences that have reshaped themselves in the last 12 months, only the Big East remains a big question mark. The league has added TCU, but appears to be in a holding pattern with Villanova because of concerns about what it adds to the football equation.
[+] Enlarge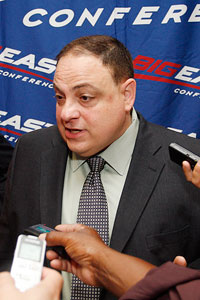 AP Photo/Stew MilneJohn Marinatto believes the Big East will benefit from other conferences setting the market for media rights deals.
Commissioner John Marinatto declined once again Monday to discuss expansion, except to say it was a topic of conversation and one he wants resolved quickly. The few football coaches who stopped to chat also were mum, saying the decision was out of their hands.
Nothing can be decided here without the university presidents, anyway. Expansion to at least 10 teams is an inevitability, and something that needs to be in place by September 2012 when the league begins to look at negotiating a new media rights deal.
"That's our goal," Marinatto said. "We need to before we go into that discussion, know what it is we are. We have to have an identity. We have to obviously have our membership squared away. And we will."
Expansion and media rights go hand in hand. The Big East and any future TV partners have got to know what form the league is going to take. That is what allowed the Pac-12 to negotiate its blockbuster deal, reportedly worth $3 billion over 12 years. That is what allowed the Big 12 to ink a 13-year deal worth reportedly over $1 billion -- even as a streamlined conference.
No question the pressure is now on Marinatto in the face of such massive deals.
"I think it's healthy for intercollegiate athletics for all of us to generally be in that same field, in that same area," he said. "Obviously it raises the bar, but it also raises the challenge. So in many ways, it's healthy and positive, but in other ways it increases the challenge that we need to get to that point."
For his part, Marinatto cited the big media markets that encompass the Big East, saying he felt optimistic about where his league stands as it begins to consider how much money it will get from a new media rights deal.
"There's a distinct advantage in going last," Marinatto said. "With the marketplace continually resetting, we sat here 12 months ago and we were envious of what the ACC was able to do because we thought that reset the marketplace. We sit here 12 months later and in less than a year the Pac-12 has reset the marketplace once again.
"It's setting the stage for us provided that we're deliberate and aggressive in order to monetize our rights in a fashion that's as similar to what they've done. Now that there are three potential bidders in the marketplace, has changed the dynamics as well. The college rights have been undervalued for a very long period of time. It's come to the forefront now that that's been the case given where everybody's ending up.
"Each and every time our competitors go to the table and test the market and consequently reset it puts us in a very positive position. Our future is very optimistic. We need to plan accordingly and make sure we're in a position to take advantage of that."
There also remains the possibility of establishing a Big East network.
"As we move forward for the next year and a half, that's one of the things we're going to be looking at and following what the Pac-12 does because I don't know if they're going to follow the model the Big Ten did or if there's a different model they're going to follow," Marinatto said. "Based on what they do, their growth, their challenges, will be something we'll learn from so we'll be following what they're doing and how they do it very closely."
Remember back to a year ago, and these discussions were not even happening. Instead, many wondered whether the Big East would survive as a football league thanks to speculation that the Big Ten might poach Pittsburgh, Syracuse or even Rutgers to form a 16-team super-conference.
In fact, super-conferences seemed a foregone conclusion. But the cataclysmic changes many hypothesized never happened, and the Big East is now in a position to improve itself financially.
First, it must figure out what it wants to be.
May, 23, 2011
5/23/11
3:38
PM ET
PONTE VEDRA BEACH, Fla. -- The Big East spring meetings have wrapped up for today and I will be providing a much more in-depth story in a bit. But first, I wanted to give you some bullet points from commissioner John Marinatto.

-- The hot topic is expansion, but there is no news on that front. Expansion was discussed, but that is about all Marinatto was willing to say about the current situation. Not much can be done here, anyway, because any decisions have to include the university presidents. About all we know is that the Big East needs to have its expansion plans in place before it begins negotiating its new media-rights contract. Villanova, of course, is in a holding pattern, but as a basketball member is at these meetings. I asked Marinatto how it was to have Villanova in the same room with members who are not so hot on its entry as a football program, and he discussed the longstanding relationship between the league and the school. "The relationship has overcome the adversity," he said.

-- Renegotiating the next media-rights deal dominated the conversation. After seeing what the Pac-12 and Big 12 received in recent months, Marinatto said the league felt optimistic about its future.

"There's a distinct advantage in going last," Marinatto said. "With the marketplace continually resetting, we sat here 12 months ago and we were envious of what the ACC was able to do because we thought that reset the marketplace. We sit here 12 months later and in less than a year the Pac-12 has reset the marketplace once again. It's setting the stage for us provided that we're deliberate and aggressive in order to monetize our rights in a fashion that's as similar to what they've done."

-- Marinatto said the topic of giving athletes more money to cover living expenses on top of their scholarships has yet to be addressed at the league meetings, and he has no position on it just yet. The idea became a hot topic of conversation last week when Big Ten commissioner Jim Delany said league officials have discussed whether to give athletes more money based on their increasing TV dollars.